Are barista courses worth it?
You may learn the skills you need to feel comfortable working as a skilled home barista or in a coffee shop that prioritizes quality by taking barista training programs.
Of course, investing time and money to attend barista training is necessary.
Do barista training classes merit the expense?
We'll go through who barista training can help, what it teaches, how it increases the likelihood that your coffee business will succeed, and how to tell if the training you're paying for is of high quality.
Is the barista course worth it?
It is worthwhile to invest in a barista course since it makes it simpler to pick up the knowledge and abilities required to become an expert at creating the perfect espresso shot. If the right talents are learned and honed, further opportunities can possibly emerge.
Who can benefit from a barista course?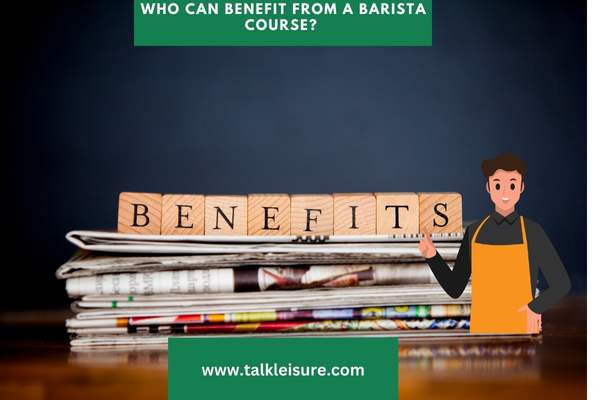 You may quickly develop your skill set by taking barista training classes. It's a way to get involved in the dynamic, close-knit coffee scene.
Interacting with other passionate, astute, and bright individuals in a coffee class can be motivating!
The specialty coffee business is brimming with knowledgeable, encouraging experts that can help you develop your art, whether you're opening a coffee shop or just like to experiment with coffee at home.
The following three groups of people can benefit from a barista course:
Coffee shop owners are willing to train their workers.
Those aspiring to be professional baristas
Baristas that wish to expand their skill set.
Home enthusiasts
Regardless of your level of experience, spending time and money on a reputable barista training course shows that you value your profession.
The practical instruction and connections to the professional coffee scene can stoke the passion of home enthusiasts.
Individual baristas can demonstrate their devotion to their careers and level of ability by successfully completing a course.
You might use it to advance your career or land your first job.
Offering your workers exceptional professional development and ongoing training is one of the most effective strategies for coffee shop operators to guarantee long-term success.
What does a barista course teach?
Basic techniques for making espresso and high-quality coffee should be covered in barista training programs.
In-depth instruction in practical espresso and milk skills is provided in professional barista courses.
They first study the background information, theories, and correct equipment usage before applying their expertise to the actual process of preparing espresso.
learning how to make all the traditional espresso and milk-based drinks that have stood the test of time, as well as proper steaming, texturing, and pouring procedures for milk.
and will be instructing on the history of coffee, coffee farming, coffee tasting, and coffee evaluation.
They will next delve further into the crucial components of high-quality coffee brewing.
Students will be able to recognize and solve off-tasting results through supervised hands-on experimentation and tasting exercises.
They should then apply these abilities to common coffee brewing equipment.
Why is barista training important?
Similar to any other hands-on training program, barista training is crucial to provide students with the information base necessary to understand their tasks with assurance.
A conceptual grasp of how everything interacts to produce the best coffee beverages and customer experiences that they'll keep coming back for is provided via training.
Practically speaking, training makes you more productive and effective at work.
You can operate more effectively with your team if you train to reduce your stress and energy output.
When you master the art of making good coffee, you will be able to do it while closing your eyes.
It also gives you more confidence because you won't have to make any educated guesses about how to mix drinks and you'll be able to give reliable client service.
Gaining more self-confidence can help you develop your own sense of style and a special way of completing tasks that gives clients a more personalized experience.
Contrarily, if you lack training, you'll be more likely to struggle with the job, feel overwhelmed when things get hectic, and provide drinks of lower quality.
Better interactions with clients go hand in hand with the confidence you will receive from barista training.
You'll be able to unwind and take pleasure in your work more as a result of these relationships with others, and you might even get paid.
Online barista training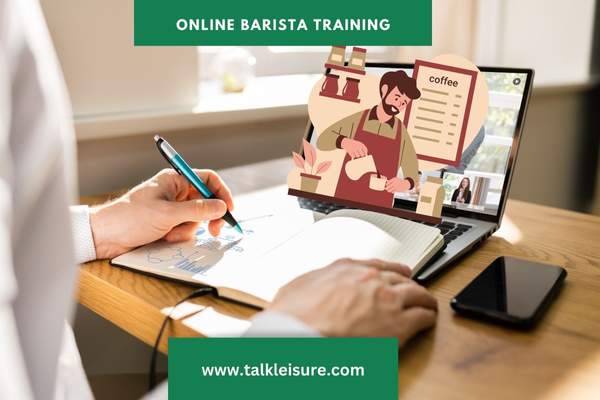 You can learn a ton about the coffee industry and job requirements with online barista training.
This is due to the fact that an online barista training course can go in-depth on a variety of barista-related topics that aren't always feasible to address during in-person barista training.
As a result, you can pick up knowledge more thoroughly and broadly at your own pace.
You will have the groundwork in place at this point to begin learning techniques like how to calibrate coffee and extract the perfect espresso shot.
In-person barista training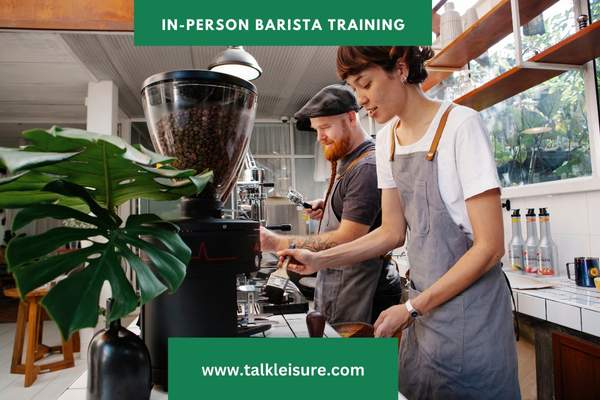 In some circumstances, hands-on barista instruction could be the best option.
To use a grinder, espresso machine, and other coffee equipment, everyone must first have the knowledge and experience to do so before serving their first customer.
However, each café or coffee shop is unique.
They might only adopt a certain approach or style, and they expect their staff to do the same.
Therefore, if you work at a separate coffee shop, in-person training there might not be the ideal choice.
No matter what coffee shop you work at, you should expect to get some time to train on their equipment.
Despite online courses coming a long way in recent years, there is truly no replacement for dedicated face-to-face training and trying the equipment for yourself.
How does a barista benefit from training?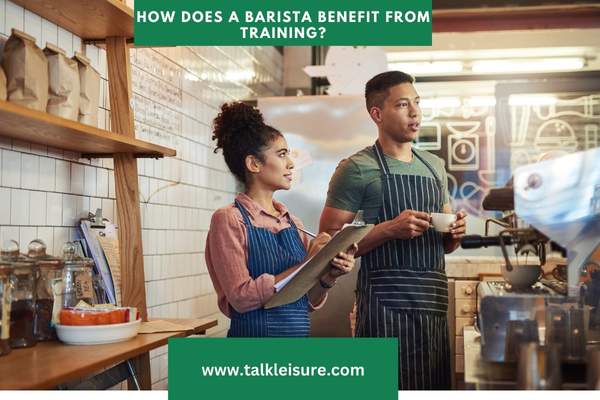 Baristas can master the fundamental abilities required to prepare coffee through training.
This covers activities like honing the art of brewing espresso, creating latte art, and using various machinery.
Additionally, it increases trustworthiness, making it simpler to find employment after the course.
If you want to work as a barista, education and training are important.
The nature of that training and its potential advantages can change.
Getting started
The cost of barista training programs can vary for both on-site and online programs.
Upon completion of some programs, a certificate is provided. Additionally, Google searches and YouTube videos can be used to master barista techniques.
If you're still debating whether or not becoming a barista is worthwhile, start your research online.
Look up words and get acquainted with the barista's vocabulary.
When you start your search, take into account the following:
There are how many distinct kinds of coffee makers?
Do various varieties of espresso beans exist?
How do you prepare an espresso shot?
What varieties of beverages can be produced with espresso shots?
This will inform you of the potential difficulty of the work and whether it is something you should pursue.
Barista training and pay
In addition, training strengthens your résumé and increases your credibility, helping you stand out from other candidates for the same job.
Before being employed, having the necessary skills and expertise demonstrates dedication and frequently leads to a better starting salary.
Additionally, barista compensation will vary by location, with well-known chains paying more than independent cafes and coffee shops.
Higher tips can be earned regardless of where you work if you make a good shot of espresso and create specialty beverages that entice customers to come back.
Learn how to get better.
The advantages of completing training classes for baristas include knowing what to anticipate as a professional barista and how to advance in developing your abilities.
It takes practice to understand how to operate the machinery, accept orders, and customize beverages, whether you're making espresso at home or at a cafe.
It's crucial to understand what has to be fixed and how to fix it.
It informs you of your strengths and areas for improvement in coffee brewing.
Very enjoyable
Learning how to be a barista is an enjoyable experience.
You get to work with people who are learning the same things you are.
You can discuss what works and what doesn't.
You will be able to taste and appreciate both successful and unsuccessful shots.
A task well done is enjoyable.
It's even more enjoyable to do it with others.
But doing anything to improve at it is the most fun because you can take pride in your accomplishments and feel good about yourself.
The Best 3 FREE COFFEE BARSITA COURSES ONLINE WITH CERTIFICATES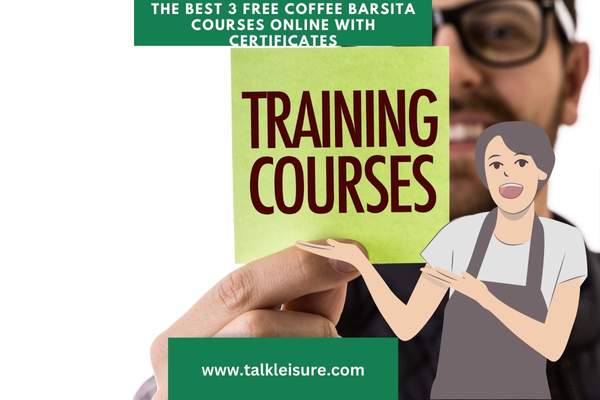 1. FROM PLANT TO CUP: BREW AN AMAZING CUP OF COFFEE
From: SkillShare
You may learn about coffee brewing methods by enrolling in this online course for professionals.
You'll discover how to create the best cup of coffee at home, starting with the plant.
Learn about beans and the grinding process.
Additionally, become familiar with the various ways to make coffee, including the espresso, la cafeteria, vacuum infusion, instant, and jug methods.
You can learn to tell the difference between quality coffee beans.
Finally, you discover how to prepare cappuccino using contemporary or novel methods or variations.
What You'll Learn from This Course:
You gain knowledge of coffee brewing methods.
Discover how to make the best coffee at home, from the plant to the cup.
Find out how to taste and roast coffee beans.
You can pick up fresh methods and tools for producing coffee.
Course Duration: Only 1 hour
Certificate of completion: Yes
                             Enroll in this Course>>  [Most Recommended]
2. BECOME A COFFEE EXPERT: HOW TO MAKE THE PERFECT CUP
        From: Udemy
Richard Hardwick, a renowned coffee expert and former judge of the UK Barista Championship, will teach you how to make coffee through this online course.
You will learn about coffee's origins as well as procedures for roasting and grinding through this online course.
Through a series of videos, Richard Hardwick and Henry Ayers, London's top barista trainers, will provide you with comprehensive knowledge on coffee in this course.
You will learn about coffee beans and how they are ground in this course.
You will also learn about several coffee brewing methods, like the syphon method, the aeropress method, the Chemex method, and the V60 method.
Additionally, you'll learn how to create good flat whites, cappuccinos, Americanos, and how to tell good espresso from bad.
Through this online course, Richard will also impart some priceless advice that will enable you to steer clear of common barista blunders.
So if your goal is to become an expert in coffee, you should absolutely enroll in this online, complete coffee training course.
What this course will teach you:
You gain knowledge of new methods for brewing coffee.
making the ideal cup of coffee.
You learn about bean grinding.
You'll learn to distinguish between quality and subpar espresso.
Discover various methods for making coffee.
Learn how to make a cappuccino with a contemporary twist.
Course Duration: 2 hours
Certificate of completion: Yes
3. PROFESSIONAL BARISTA LEVEL 1 CERT. PROGRAM – ESPRESSO COFFEE
From: Udemy
This online barista certification course basically gives you the best information, techniques, abilities, and best practices for brewing coffee.
Through this course, you may learn everything from espresso shots to the right ways to stretch and steam milk for lattes, cappuccinos, and other coffee drinks.
The various ways to make coffee are also covered. Discover the process for making espresso shots.
Learn how to stretch and steam milk properly for lattes, cappuccinos, and other coffee beverages.
You learned about several coffee varieties from this barista coffee course, including espresso, vacuum infusion, coffee latte, coffee arabica, and coffee robusta.
There are multiple sections in each of the six modules that make up the course.
Additionally, you gain practical knowledge.
Finally, you'll take an online test, following which Umbria Coffee Roasters will issue you a certificate.
What You'll Learn from this Course:
You will learn how to make simple, easy coffee.
Learn to build or develop the skills, needed to run the operations of an espresso coffee bar.
You discover the secrets of coffee roasting.
You learn about various types of coffee.
Discover how to make espresso shots.
Learn proper techniques for stretching and steaming milk for lattes, cappuccinos, and other coffee drinks.
Course Duration: 2.5 hours
Certificate of completion: Yes
CONCLUSION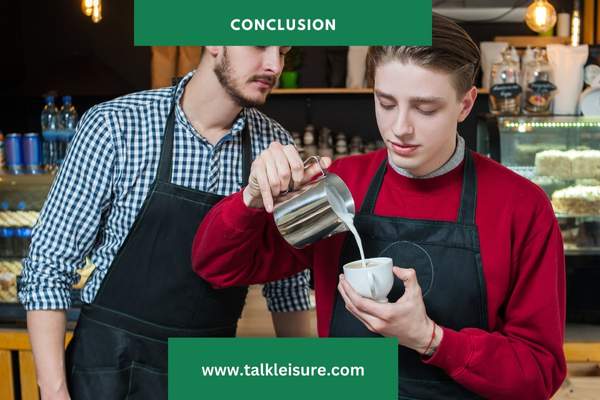 If barista courses adequately prepare you for success at your first barista job, they can be absolutely worthwhile.
This entails giving you the information and self-assurance you need to provide clients with the greatest beverages available.
The baristas who have taken the courses believe they have gotten a lot out of them.
Among the advantages they noticed were:
Comprehensive education
Effective education
High caliber
Comfort and versatility
Individual strategy
Acquiring fundamental abilities
Inspiration and confidence
FAQ
Are barista jobs in demand?
Yes, barista jobs are in demand. The job market for analysts is projected to grow 14% from 2018 to 2028.
Does a barista have a future?
A skilled, talented barista will be sought after by employers, either to promote a brand, a business or to teach their staff.
This will lead to other opportunities, and a career can open up without you realizing it.
Is barista a skilled job?
Throughout your career as a barista, you will gain a vast cross-section of transferable skills such as communication, teamwork, organization, problem-solving, multitasking, reliability, and attention to detail that can be utilized in many roles and industries.