Hey there, tea enthusiasts and wanderlusters! If you're ready to embark on a whimsical journey filled with delicate china, delectable treats, and the finest brews, you've come to the right blog post.
We're about to spill (pun intended) the tea on the "best high tea in Las Vegas—an experience that's as extravagant as the city itself.
Las Vegas, the land of dazzling lights and high-stakes adventures, might not be the first place that comes to mind when you think of afternoon tea. But hold onto your saucers, because this desert oasis has a hidden treasure trove of high tea havens waiting to be explored.
Whether you're in the mood for a lavish escape at Four Seasons, a royal affair at Queen Of Hearts, or a sip of sophistication at the Tea Lounge in Waldorf Astoria, Las Vegas has more to offer than just slot machines and blackjack tables.
So, buckle up your tea hats, and get ready to steep yourself in the luxurious world of high tea, where scones are fluffy clouds, and tea cups hold secrets as rich as the city itself.
We've brewed up a list that will have you clinking cups and raising pinkies in no time. Let's dive into the crème de la crème of tea experiences that Sin City has to offer!
Meanwhile, if you are wondering about the best high tea in Kuala Lumpur, you can read all about that in this article I have written.
Indulgence takes on a new meaning at the Four Seasons Las Vegas, where high tea isn't just a meal – it's a transcendent experience. Nestled in the heart of the Strip, this elegant oasis offers a refined twist on traditional afternoon tea.
Imagine savoring handcrafted pastries and finger sandwiches while gazing out at the iconic cityscape and distant mountains. The harmony of flavors is matched only by the serene ambiance, making it a perfect respite from the lively Vegas energy.
Four Seasons raises the tea game by blending sophistication with a touch of whimsy, creating a symphony for your senses that's sure to leave you steeped in delight.
Meanwhile, if you are wondering about the best high tea in Inverness, you can read all about that in this article I have written.
Curiouser and curioser! Tumble down the rabbit hole of enchantment at the Queen Of Hearts, a high tea wonderland that Lewis Carroll would approve of. This charming spot infuses the magic of Wonderland into every teacup and tier.
From whimsically themed treats that might make the Cheshire Cat grin, to teas that transport you to fantastical realms, it's an experience fit for royalty. Decked in ornate decor, it's as if the Mad Hatter himself orchestrated the ambiance.
So, don your most eccentric hat and join the Queen for an afternoon that promises curious flavors and a dash of whimsy, making your Vegas adventure truly extraordinary.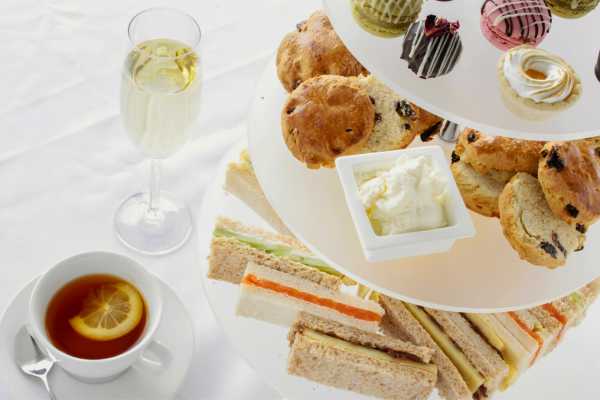 Elevate your tea sipping to new heights at the Tea Lounge, nestled within the luxurious Waldorf Astoria. This is more than tea time; it's a symphony of elegance and flavor.
Amidst the plush surroundings, you'll discover a curated selection of teas from around the world, each steeped to perfection. The artistry extends to the treats – miniature masterpieces that are almost too pretty to eat.
With a backdrop of city panoramas through floor-to-ceiling windows, it's a tête-à-tête with both sophistication and the iconic Las Vegas skyline. The Tea Lounge is where tranquility meets taste, offering an unforgettable experience that's haute couture for your taste buds.
Step into a realm of eclectic coolness at the Shag Room in Virgin Hotels Las Vegas, where high tea gets a rock 'n' roll makeover. This vibrant space exudes a retro-chic vibe, making it the perfect spot to groove while you sip.
The traditional teatime treats get a playful twist here, with a menu that's as funky as the décor. It's a collision of eras – think vintage glam meets modern edge.
So, if you're looking to swap classical for unconventional and prim for a party, the Shag Room promises a tea-infused shindig that's as audacious as the city it calls home.
Hold onto your saucers and brace for a tea experience that's truly divine – welcome to Coffee Religion, where tea is worshipped with devotion. Despite the name, this spot is a haven for tea enthusiasts seeking a spiritual connection with their cuppa.
The rituals here involve not only exquisite teas but a reverence for the art of brewing. With every sip, you're drawn into a ceremony that awakens the senses.
In a city known for its extravagance, Coffee Religion stands out by offering a serene sanctuary where the focus is on the purity and depth of the tea experience.
In a city that thrives on opulence, the Petrossian Bar at Bellagio adds a touch of Parisian elegance to your Vegas escapade. This high tea haven is a symphony of sophistication, where caviar and champagne meet delicate tea selections.
The ambiance whispers of old-world charm, offering a retreat from the vibrant chaos outside.
The teas are as diverse as the city's nightlife, ranging from classic blends to exotic infusions. With a backdrop of the iconic Bellagio Fountains, this spot marries European grandeur with Las Vegas allure, proving that tea can be just as dazzling as a poker hand.
Prepare to be charmed by Coffee Lola, a cozy retreat that's a sweet escape from the neon glitz. While the name might suggest a java-centric haven, don't be fooled – tea takes center stage here.
It's a quaint spot that feels like a friend's living room, with an array of teas that cater to every mood. From comforting classics to daring infusions, Coffee Lola's selection is a tea lover's dream.
The atmosphere is as warm as the tea, making it the ideal place to unwind with a cuppa and a treat or two. Sometimes, the coziest corners hide the most delightful surprises.
La Luna Tea and Dessert Bar
For a slice of celestial indulgence, La Luna Tea and Dessert Bar beckons with its ethereal charm. This hidden gem weaves together the art of tea with the delight of decadent desserts.
Picture dainty teacups clinking with heavenly concoctions, while the aroma of freshly brewed blends dances through the air. The menu is a symphony of flavors, with teas that mirror the phases of the moon – from delicate whites to bold blacks.
It's a sensory journey where tea mingles harmoniously with divine desserts, proving that the stars have aligned in the heart of Las Vegas.
In the heart of the bustling city, LaPostté stands as a serene oasis for tea enthusiasts. With a blend of French elegance and contemporary chic, it's a destination that combines tea with a touch of je ne sais quoi.
The tea menu reads like a love letter to flavors, offering a curated selection that ranges from delicate floral notes to robust earthy profiles.
As you sip, the world outside fades, replaced by an ambiance that's both inviting and rejuvenating. LaPostté invites you to pause, savor, and discover the simple pleasure of tea in a world that's constantly on the move.
Elevate your tea experience to a whole new level at The Tea Terrace, where indulgence meets panoramic perfection. Perched high above the city, this enchanting spot offers not only a sumptuous tea spread but also breathtaking views that stretch as far as the imagination.
It's a bird's-eye rendezvous with the iconic Vegas skyline, creating a backdrop that's as remarkable as the flavors you're savoring.
Whether you're there for a leisurely afternoon or a sunset rendezvous, The Tea Terrace promises a sensory journey that's as vast as the vistas you'll be gazing upon. Tea with a view? Absolutely, darling.
In the heart of the Aria Resort, the Lobby Bar isn't just a pit stop – it's a sophisticated celebration of tea. The setting exudes contemporary elegance, with an ambiance that effortlessly fuses modern chic with classic comfort.
Here, tea isn't just a beverage; it's a conversation starter, a moment of tranquility in the bustling city. The menu boasts an array of curated teas, each served with finesse and complemented by delectable bites.
Whether you're people-watching or simply seeking solace, the Lobby Bar at Aria offers a refined retreat, where the art of tea meets the art of living.
Prepare to be whisked away to the Emerald Isle at RÍ RÁ, a Celtic-inspired haven within Mandalay Bay. While it might be known for its Irish pub vibes, it's also a surprising contender for high tea excellence.
The setting is cozy and convivial, a place where hospitality flows as freely as the tea. The tea offerings encompass a mix of traditional blends and spirited infusions, creating a menu that's as diverse as the Irish folklore itself.
So, if you're looking to blend a bit of Las Vegas glitz with a touch of Irish charm, RÍ RÁ promises a spirited tea affair that's one for the books.
Frequently Asked Questions
What is a royal high tea?
A royal high tea, also known as a "royal afternoon tea" or "royal tea service," is a luxurious and elaborate tea experience that goes beyond the traditional afternoon tea. It typically features a grand assortment of exquisitely prepared sweet and savory treats, accompanied by an extensive selection of fine teas.
The term "royal" often signifies the opulence and elegance associated with the offerings, making it a regal and indulgent affair.
What is the best time for high tea?
High tea is usually enjoyed in the late afternoon, typically between 3:00 PM and 5:00 PM. This time frame allows for a delightful break between lunch and dinner, making it a perfect opportunity to relax, socialize, and savor a variety of tea blends along with sweet and savory treats.
Do you eat everything at high tea?
At a high tea, you're not expected to eat everything on the table. The spread typically includes an assortment of sweet pastries, savory finger sandwiches, scones with clotted cream and jam, and various desserts.
Guests can choose what they'd like to enjoy, but it's common to have a bit of each type of item to experience the diverse flavors and textures offered during the tea service.
Why do people love high tea?
People love high tea for its blend of indulgence, tradition, and social experience. It's a chance to relish exquisite teas, savor delectable bites, and embrace a leisurely break. The elegance and charm associated with high tea provide a sense of escapism, making it an opportunity to unwind in a refined setting.
Additionally, the tradition of high tea often carries a touch of nostalgia and offers a unique way to connect with friends and family.