Greetings, tea enthusiasts and seekers of delightful experiences!
Today, we embark on a journey through the charming and elegant world of high tea in the City of Angels, Los Angeles! Buckle up your taste buds, because we're about to take a sip of sophistication and indulge in the finest brews and delectable treats this vibrant city has to offer.
Now, you might be wondering, "Why high tea? What's so special about it?" Oh, my dear readers, high tea is not just any tea; it's a whimsical ritual, a delightful escape from the mundane, and a chance to experience a touch of British charm right here in sunny California.
You might be thinking, "Well, Los Angeles is all about movie stars and glamour, what's high tea got to do with it?" Ah, my curious friends, the city has a penchant for blending the classic with the contemporary, and high tea is no exception.
Here, you'll find unique tea rooms, each with its own personality and flair, where Hollywood charm meets timeless tradition.
But wait, before we delve into the exquisite venues that serve these delightful afternoon affairs, let me offer a quick tip for the uninitiated: High tea is often confused with its cousin, "afternoon tea," but fear not, we've got you covered.
Afternoon tea is a lighter, more casual affair with just tea, scones, and some sweet treats, while high tea, on the other hand, is a heartier affair that includes both savory and sweet delicacies.
So, buckle up, keep your pinkies at the ready, and let's immerse ourselves in the delights of "Best High Tea in Los Angeles"! From hidden gems to iconic hotspots, we'll be your trusty tea guides through this delightful journey.
Remember, dear readers, a good cup of tea can solve many of life's conundrums, but a truly exceptional high tea experience in Los Angeles? Well, that's simply priceless! Stay tuned, and let the tea party begin!
Meanwhile, if you are wondering about best high tea in Jacksonville FL, you can read all about that in this article I have written.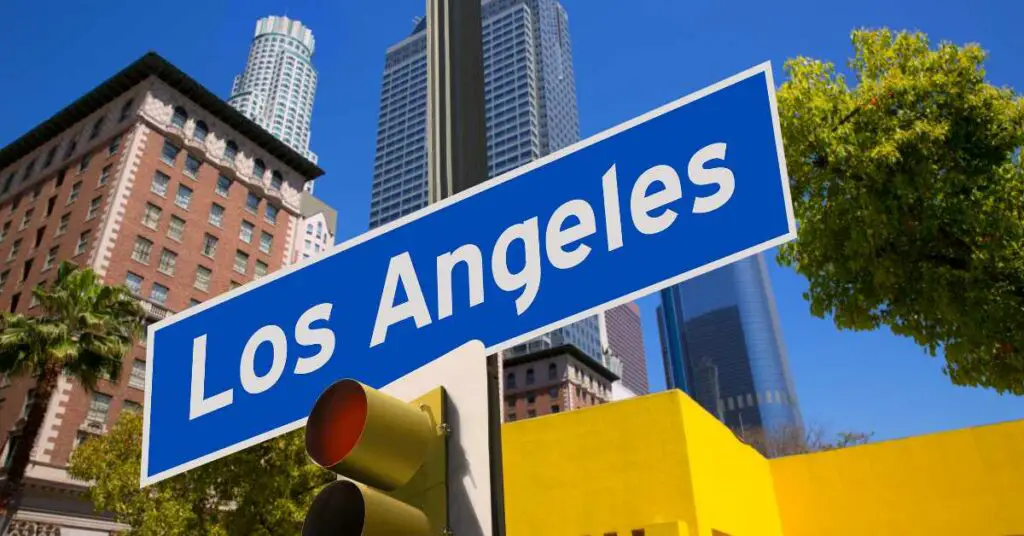 Rose Tree Cottage
Welcome to Rose Tree Cottage, a quaint English escape nestled in the heart of Los Angeles. This enchanting tea room exudes Old-World charm, transporting you to a bygone era.
Indulge in their signature Afternoon Tea, featuring a delightful selection of teas and traditional treats, all served on vintage china. Don't miss their heavenly scones topped with clotted cream and preserves—a true delight!
The Cat & Fiddle Pub & Restaurant
Looking for a touch of whimsy and Hollywood allure? Look no further than The Cat & Fiddle Pub & Restaurant. Known for its lively atmosphere, this iconic spot offers a unique twist on high tea.
Sip on their flavorful teas and enjoy a fusion of British and California flavors, complemented by a relaxed setting that's perfect for catching up with friends.
The London West Hollywood
For a dose of modern luxury and high tea with a view, The London West Hollywood is the place to be. Indulge in the afternoon tea served in their rooftop oasis, offering breathtaking views of the city. With a delectable array of treats and a curated tea selection, it's an experience fit for royalty.
The Peninsula Beverly Hills
Prepare to be pampered at The Peninsula Beverly Hills, where high tea is an art form. The elegant ambiance and impeccable service make this a must-visit destination for tea connoisseurs. Treat yourself to an opulent afternoon with their handcrafted delicacies and extensive tea menu from around the world.
Ye Olde King's Head
Step into Ye Olde King's Head, an authentic British pub in Santa Monica, to savor a taste of England. Their Classic High Tea boasts a mouthwatering assortment of sandwiches, pastries, and freshly brewed teas. It's the perfect spot to unwind and immerse yourself in British hospitality.
Meanwhile, if you are wondering about best high tea in DC, you can read all about that in this article I have written.
Biltmore Los Angeles
Step into a historical haven of grandeur at Biltmore Los Angeles. Their opulent afternoon tea features a mix of traditional and contemporary flavors, all presented with utmost sophistication.
Marvel at the lavish decor as you sip on their specialty teas and savor the culinary delights.
The Langham Pasadena
Prepare to be enchanted by The Langham Pasadena's legendary afternoon tea. With a stunning setting and a tea sommelier to guide you through their exceptional tea selection, this experience is unparalleled.
From delicate finger sandwiches to divine pastries, each bite is a journey to gastronomic bliss.
Chado Tea Room
For a tea lover's paradise, Chado Tea Room is an absolute must. With a vast range of teas from around the world, this modern tea room caters to every palate. Pair your tea of choice with their scrumptious scones and delicate desserts, and you've got a match made in tea heaven.
Rose & Blanc Tea Room & Venue
End our high tea adventure on a high note at Rose & Blanc Tea Room & Venue. A hidden gem in LA, this elegant tea room exudes romance and charm. Their themed afternoon teas are a treat for the senses, offering an immersive experience that will leave you enchanted and craving more.
Meanwhile, if you are wondering about best high tea in Chicago, you can read all about that in this article I have written.
The Four Seasons Tea Room
The Four Seasons Tea Room is a delightful oasis of tranquility, offering an enchanting high tea experience in Los Angeles. Tucked away in a serene corner, this hidden gem is a haven for tea aficionados.
Immerse yourself in their elegant ambiance as you savor a selection of premium loose-leaf teas from around the world.
The Four Seasons Tea Room crafts a symphony of flavors with their delectable pastries, finger sandwiches, and scones.
With impeccable service and a touch of sophistication, this charming tea room promises an unforgettable escape into a world of refined indulgence. A must-visit for anyone seeking an exquisite tea affair in LA.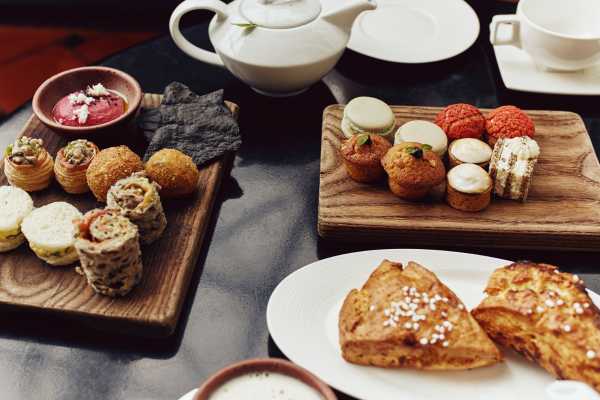 Frequently Asked Questions
Is high tea for the rich?
High tea is not exclusively for the rich. While some upscale venues offer luxurious high tea experiences, there are also more affordable options available. High tea can be enjoyed by people from all walks of life, as it offers a delightful and unique way to savor tea and delicious treats.
What time is high tea in the US?
High tea in the US is typically served in the late afternoon or early evening, usually between 3:00 PM and 5:00 PM. However, the specific timing can vary depending on the establishment and region, so it's best to check with the tea room or hotel to confirm their serving hours.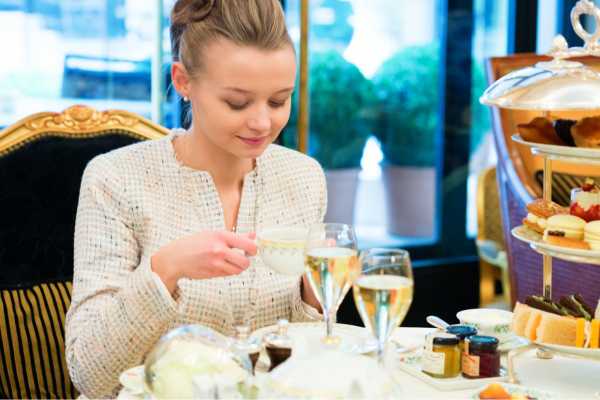 What food to expect at high tea?
At high tea, you can expect a delightful assortment of finger sandwiches, such as cucumber, smoked salmon, and egg salad. Scones with clotted cream and jam are a staple, accompanied by a variety of sweet treats like cakes, pastries, and petits fours. The menu may vary depending on the venue.