Are you looking for a change of scenery and some excitement without leaving New York City? 
Look no further! There are plenty of fun and interesting places to visit just a short ride away. 
Whether you want to explore historic landmarks, enjoy outdoor activities, or indulge in delicious food and drinks, there's something for everyone. 
You can visit the historical monument liberty statute and ride a bicycle on the Brooklyn Bridge Also, the Manhattan skyline and whole sky view from a helicopter trip will be memorable.
So grab your friends, family, or even go solo and discover the best-kept secrets in the surrounding areas of NYC. 
Here are some of the best places to explore and have unforgettable experiences in your backyard.
New York City
New York City, also known as the Big Apple, is one of the most visited cities in the world.
With its iconic landmarks, such as the Empire State Building and the Statue of Liberty, and neighborhoods like Chinatown and Harlem, the city offers many experiences for visitors of all ages. 
New York City has something for everyone, from rooftop bars to Broadway shows, museums, and sporting events.
Apart from that, you can try indoor skydiving at iFly Westchester, go on a helicopter tour, or explore the catacombs of the Basilica of St. Patrick's Old Cathedral.
Additionally, visitors can enjoy outdoor theater at Shakespeare in the Park, visit the Metropolitan Museum of Art, or take a walk in Central Park.
And other popular attractions include the New York Botanical Garden, Cooper Hewitt Museum, and Frick Museum.
New York City is truly an unforgettable destination in the USA, with so much to see and do. 
What Are The Interesting Places To Visit In New York City?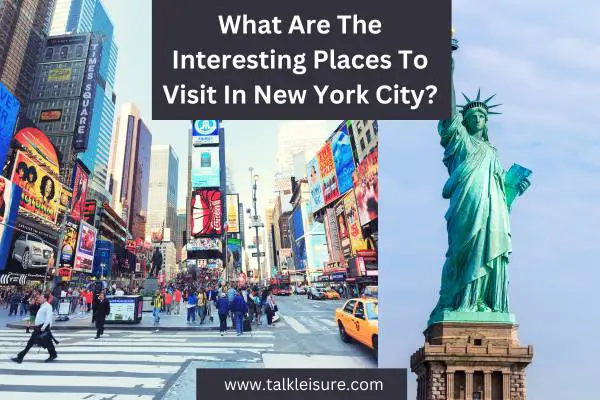 New York City is a place of endless fun and adventure, with plenty of amazing sights and experiences for tourists.
For starters, visitors can take in the spectacular view of Manhattan from one of the several observation decks around the city.
Or, they can stroll around the city's most famous park, Central Park, which offers stunning views and plenty of places to explore.
Theatre lovers can head to Broadway, the heart of the city's performing arts scene, to watch a world-famous musical.
For those who want something more unusual, the city offers places like the iFLY Westchester, where visitors can try indoor skydiving or take a spin on The Beast, a luxury jet boat ride that bounces along to live music.
New York City also boasts some world-class museums like the Metropolitan Museum of Art and the Cooper Hewitt, which will satisfy the appetite of culture enthusiasts.
With so much on offer, it's no wonder New York City is on many people's bucket lists. 
| | |
| --- | --- |
| Place | Why You Should Visit? |
| Statue of liberty | You can experience historical symbols while getting amazing views from New York and New Jersey. |
| Times Square | You will see some of the world's largest billboards on the seventh avenue and Broadway. |
| Metropolitan Museum of Art | Experiencing historical monuments with the arts of famous artists in one of the world's largest museums will be memorable. |
| Manhattan Skyline | You can take the world-famous skyline of New York City |
| Broad Way | You will experience theatrical artistry performances by some of the most talented stars in the world. |
| New York Aquarium | Your whole family can get the best aquarium experience. |
| Summit One Vanderbilt | View of the city 1000 feet over the streets will be eye-catching. |
| Edge Observation Deck | It is the highest outdoor observation deck in the Western Hemisphere  |
| Little Island | Visiting one of the best destinations for outdoor music, theater and dance performances, and art programs is essential. |
| Empire State Building | You must see and experience this famous New Yorks Land Mark. |
What Are The Interesting Places To Visit In New York City?
Best Things To Do In NYC For Locals And Tourists
New York City is a top tourist destination, but there are still many unique things to do for both locals and tourists.
To help create an unforgettable itinerary, there are numerous non-touristy places to visit, such as checking out NYC photo tours, influencer shoots, and custom photo shoots.
Additionally, exploring parks around the city is a great way to enjoy free entertainment with various programs such as Summerstage, Free Summer Movies, and BRIC Celebrate Brooklyn!
Exploring parks, museums, and restaurants can offer fantastic experiences for both tourists and locals.
Essential eats, drinks, culture, and parks are famous among many visitors.
And they can easily find popular food and beverage places like Star Bucks with cheap price offers.
The city has much to offer, especially its unbeatable dining and drinking scenes, boasting killer bars and restaurants offering creative new inventions.
Whether you are visiting NYC for the first time or a local looking for something different, there are many fun and interesting places near you in New York City. 
What Are The Cool And Unusual Things To Do In New York City?
New York City is a hub of excitement and adventure, with plenty of unusual and cool things to do.
Visitors can explore the city's hidden gems, such as the abandoned City Hall subway station, the High Line park, and the hidden whiskey bar.
For a unique experience, stroll through the Coney Island boardwalk or attend a thrilling show at the Sleep No More immersive theater production.
For those seeking a taste of the city's diverse food scene, check out the trendy taco spot Los Tacos No. 1 or the iconic Katz's Deli.
Whether art, history, food, or entertainment, New York City always has something new and exciting to discover. 
Ten Fun Places To Visit In New York City?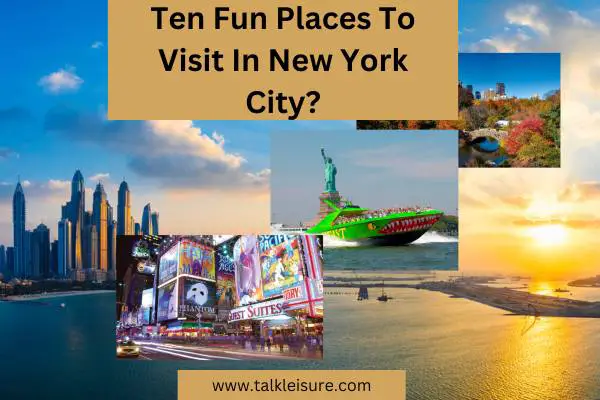 New York City is exciting and vibrant, with so much to see and do. Here are ten fun places to visit in NYC.
First, take a ride on The Beast, a jet boat that will have you bouncing along the waves of New York Bay.
Next, head to Central Park, one of the world's largest and most famous parks, with plenty of outdoor activities.
For a different kind of adventure, try indoor skydiving at iFLY Westchester, or explore the catacombs of the Basilica of St. Patrick's Old Cathedral.
Take a helicopter tour and see the Manhattan skyline from above for a unique view of the city.
Broadway is a must-visit location to catch one of the many world-renowned musical productions.
Admire the view of Manhattan over the Hudson River from one of the observation decks around the city.
Try solving an art heist in an escape room for a fun challenge.
And, of course, don't forget to see the iconic Statue of Liberty, a symbol of freedom and welcome to all. 
Have Fun In Central Park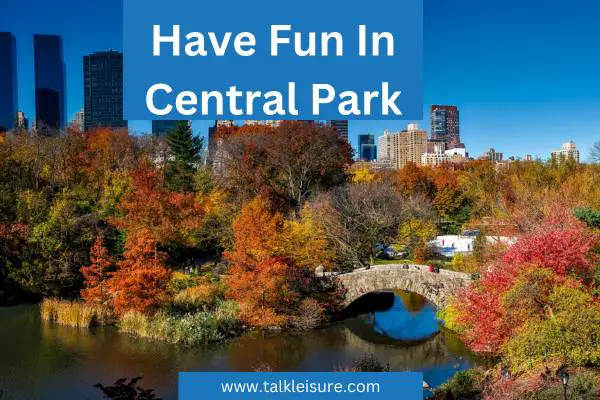 Central Park in New York City offers a wide range of fun and interesting activities for visitors of all ages.
A stroll around The Lake or renting a rowboat to experience the tranquil surroundings is a perfect way to unwind.
And, Exploring the Central Park Zoo's 130 mammals, insects, birds, and amphibians species is another exciting activity.
Also, Pondering Peace at Strawberry Fields and the Imagine Mosaic, which honors John Lennon, is an excellent reflection opportunity.
Not only that, but also the Conservatory Garden, with its French North Garden, Italian Center Garden, and English South Garden, is the only formal garden in the park and is a must-visit destination.
Sheep Meadow offers a relaxing atmosphere, with plenty of mature trees providing shade and 15 acres of green space for picnics and games.
These are just a few of the many attractions that Central Park has to offer.
Visitors will surely find something fun and exciting in this expansive 843-acre wonderland in the city's heart. 
Try Indoor Skydiving At IFLY Westchester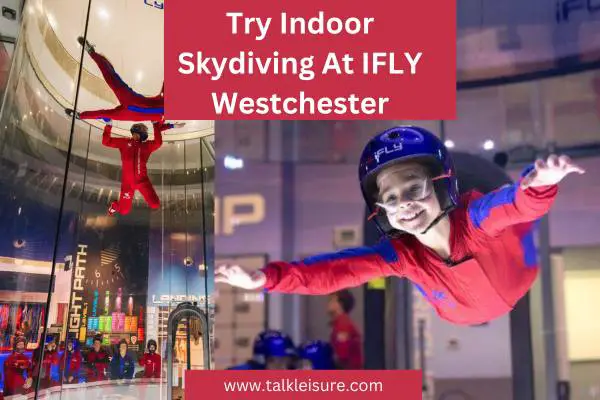 Indoor skydiving is a thrilling experience that everyone should try at least once.
iFLY Westchester in New York offers state-of-the-art vertical wind tunnels that give people the sensation of flying.
It is an excellent venue for various events, such as birthday parties, team-building activities, and corporate events.
There is no need to worry about the weather with indoor skydiving because the events can go ahead, rain or shine.
iFLY Westchester provides an unforgettable experience for guests of all ages.
The instructors are skilled and patient, making the experience more enjoyable.
While the price may seem high, it is worth the money for the lifetime experience you will remember forever.
Whether you are flying for the first time or the tenth time, indoor skydiving at iFLY Westchester is always a unique adventure.
Take A Spin On The Beast Luxury Jet Boat
Looking for an adrenaline rush? Look no further than The Beast Luxury Jet Boat in New York City.
This 30-minute ride takes you on a thrilling journey along the Hudson River, reaching speeds of up to 45 mph.
Led by comic captains Mad Dog and Wild Thing, the tour includes playful narration and loud music, making it feel like a roller coaster on water.
You'll even screech to a halt within 100 feet of the Statue of Liberty for a picture-perfect photo.
While this experience is not recommended for travelers with back problems or heart conditions, it is a must-do for thrill-seekers.
Be sure to arrive at least 30 minutes before departure and leave food and drinks at home, as they are not allowed on board. Book now for an exciting adventure on The Beast Luxury Jet Boat! 
Visit The Cauldron NYC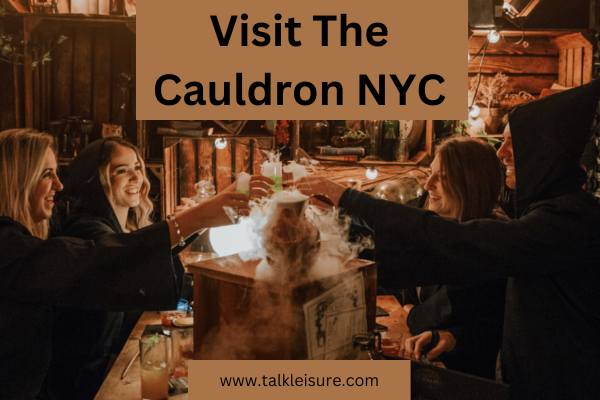 If you want a unique and fun experience in New York City, visiting The Cauldron NYC is a must.
This immersive cocktail class takes you on a magical journey where you can don a cloak, wield a working magic wand, and use molecular mixology to brew drinkable elixirs.
The experience starts with a welcome drink that you pour with your wand, and then you brew two molecular cocktails from various options, each with different properties and effects.
The potions list changes seasonally, so there is always something new to try.
The interactive experience is largely self-guided, but a potion's master is always on-hand to ensure you don't poison yourself.
The best part? All potions can be made with or without alcohol, and vegan and gluten-free options are available.
Book in advance and get ready to immerse yourself in a world of magic and mixology. 
Fly On A Helicopter And Be Amazed By The View Of NYC
If you want to see New York City from a different perspective, try a helicopter tour.
With options ranging from 15 to 30 minutes, you can choose the length of your tour depending on your budget and schedule.
The views are breathtaking, with the towering skyscrapers and famous landmarks like the Empire State Building and Statue of Liberty visible from above.
Also, some tours even offer a sunset or nighttime experience, allowing you to see the city shimmering with lights.
While prices can be steep, many tour providers offer discounts and promotions online, so it pays to do your research.
So, whether you're a first-time visitor or a seasoned New Yorker, a helicopter tour offers a unique and unforgettable way to experience the city. 
Joining The Roller Wave For Skating
Roller skating is a fantastic way to unwind and have fun while staying active.
The Roller Wave in New York City is a popular roller skating destination featuring live performances, DJs, food, drinks, and an arcade.
And the 24,000-square-foot rink is a pop-up roller skating experience at the LeFrak Center in Lakeside, Brooklyn.
Alongside the Roller Wave, New York offers several other fantastic roller-skating rinks.
The Rink at Rockefeller Center boasts a beautiful, retro-themed roller skating rink, while Brooklyn Bridge Park's Pier 2 Roller Skating Rink offers stunning views of Manhattan while you skate.
The Standard High Line also has its roller skating rink, a 1960s-themed ambiance and a restaurant surviving hot dogs, french fries, and more.
So, put on your skates and join the roller wave for a day filled with fun and nostalgia in New York City. 
Cycling Over Brooklyn Bridge
Cycling over the Brooklyn Bridge is a must for anyone visiting New York City.
The bridge spans over the East River, connecting Manhattan and Brooklyn.
It offers stunning panoramic views of the city skyline and the river.
The bike lane is separated from the pedestrians' walkways, ensuring a smooth and safe ride. It's a popular route, so riders should be prepared for some crowds.
The ride is not too challenging, and the bridge offers a gentle incline one way and a gentle descent the other way.
Those who prefer a more leisurely ride can take their time and enjoy the views.
The bridge is also a great starting point for further exploration of Brooklyn.
Bike rental shops are available near the bridge, making it easy for anyone to enjoy this iconic ride. 
Check Out The Ghostbusters HQ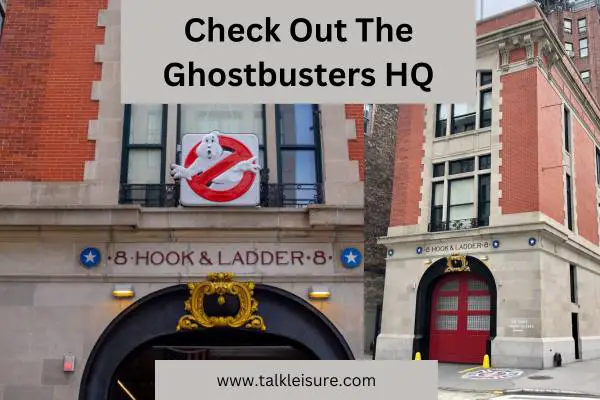 If you're a fan of the classic movie Ghostbusters, check out the Ghostbusters HQ in New York City.
The building is actually a fully functional fire station, so unfortunately, you won't be able to go inside.
However, plenty of photo opportunities are outside, including some Ghostbusters street art.
The Ghostbusters HQ is located near the Franklin St/ Varick St and Canal St/ 6 Av subway stations, making it easily accessible for visitors.
This quirky and unique location is just one example of the many fun and interesting places in NYC.
Whether a local or a tourist, explore all these vibrant city offers. 
Visit Ice Cream Museum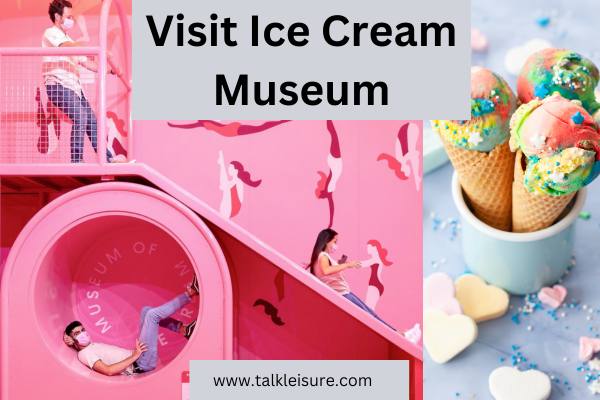 Are you feeling nostalgic for your childhood?
Visit the Museum of Ice Cream in New York City to satisfy your sweet tooth and rediscover the kid in you.
Also, this museum offers hands-on activities for children and adults, including making and taking edible slime home.
You can also enjoy unlimited ice cream treats in various forms and shapes with your loved ones while learning about the history of ice cream through multi-sensory installations.
Don't forget to visit the world-famous sprinkle pool and ride the animal cookie carousel.
The Museum of Ice Cream also offers add-on goodies, exclusive discounts, and packages for birthdays, weddings, and corporate parties. Top off your visit at the vibrant retail store for the perfect gift and keepsakes.
Don't miss the sweetest experience in New York City, where anything is possible at the Museum of Ice Cream. 
Final Thoughts
In conclusion, visiting New York City is an experience like no other.
With hundreds of fun and unique things to do, there's something for everyone in the Big Apple.
From indoor skydiving to exploring the catacombs of St. Patrick's Old Cathedral, there's never a dull moment in this bustling metropolis.
Adrenaline junkies will enjoy taking a spin on The Beast or flying on a helicopter for a stunning city view.
Cultural enthusiasts can immerse themselves in the city's world-class museums and Broadway shows.
And foodie fanatics will savor the flavors of Little Italy and the many rooftop bars around the city.
Whether you're a local or a visitor, New York City's attractions will leave you in awe.
With its diverse boroughs and array of experiences, it's no wonder that over 8.5 million people call this city home. 
FAQ
What Are Interesting Places To Visit In New York City?
Some interesting places to visit in New York City are the Statue of Liberty, Central Park, Times Square, the Metropolitan Museum of Art, the High Line, Broadway, the Empire State Building, the 9/11 Memorial and Museum, the Brooklyn Bridge, and the Museum of Modern Art (MoMA)
What Is The Most Visited Place In New York City?
With its iconic neon billboards, bustling crowds, and vibrant energy, Times Square reigns as the most visited place in New York City. Its dazzling lights, Broadway theaters, and lively atmosphere make it a magnet for tourists and locals alike, offering a quintessential New York experience.
What Is The Best Time To Visit New York?
The best time to visit New York City is spring (April to June) and fall (September to November). The weather is pleasant, and you can enjoy outdoor activities like strolling through Central Park or exploring the city's vibrant neighborhoods without extreme temperatures or heavy crowds.
What Is The Most Famous New York Street?
Broadway is the most famous street in New York City. Known for its iconic theaters and the bustling Times Square, Broadway is synonymous with the city's vibrant entertainment industry. It has become a symbol of New York's cultural and artistic heritage, attracting millions of worldwide visitors.
Best Wishes!