Summer season is almost here, and everyone is eager to pack their bags and go on a trip to get some respite from their mundane lifestyle.
July is the perfect time to travel as schools are out, and many people take advantage of the warm and sunny weather to explore new countries and cultures.
But with so many options, how do you decide on the perfect destination for July?
To help you, we've compiled a list of the best international destinations to visit in July.
From soaking up the sun on pristine beaches to exploring historical landmarks, these destinations offer something for everyone.
So get ready to add some exciting places to your travel bucket list!
Traveling In July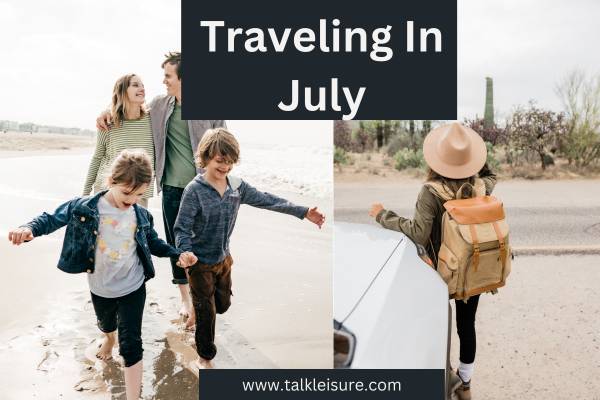 July is the perfect month to travel and explore the world.
The weather is usually at its warmest and sunniest, schools are out, and it's the ideal time to take a break from your busy routine.
From sunny beaches to stunning mountain views to cultural hotspots, travelers have limitless options in July.
You can escape into nature, immerse yourself in local culture, or bask in the sun on a tropical island.
Plus, various festivals and events take place during this month that draw crowds worldwide.
There is something for everyone, whether with family, friends, or solo.
Some destinations have lower prices and hassle-free bookings during this time, making it even easier to plan a trip.
So pack your bags, grab your passport, and prepare for a memorable adventure. 
10 Top July Holiday Destinations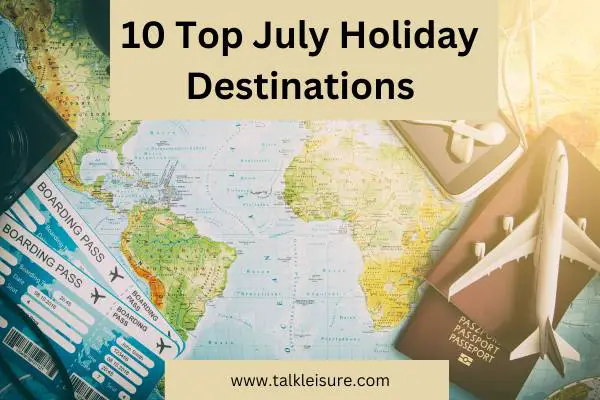 July is upon us, and with it comes the perfect time to pack your bags and take a well-deserved break. Here are ten of the best holiday destinations to visit in July:

1. Seychelles: With its stunning natural beauty, Seychelles is the perfect place to escape the heat and revel in the crystal-clear waters of the Indian Ocean. 
2. Germany: Known for its beer gardens and flea markets, Germany is a perfect mix of culture and nature.
3. Mexico: Head to this charming country in July for the perfect indulgence in Mexican culture.
4. France: Treat yourself to the charm of French culture and art and enjoy the beauty of Corsica and Sardinia.
5. Indonesia: Bali Island's rich culture and scenic beauty offer the ideal escape in July.
6. Peru: Less crowded than during peak season, Peru's natural beauty is perfect for exploring in July, from Machu Picchu to more offbeat routes.
7. Thailand: With its stunning beaches and laid-back atmosphere, July is a perfect time to enjoy the tropical paradise of Thailand.
8. USA: The ultimate destination for family-friendly events, the USA offers a variety of July 4th celebrations and national parks.
9. Croatia: With Beaches, islands, and hiking trails, Croatia is the perfect mix for an unforgettable July vacation.
10. Kenya: Experience the best of wildlife and adventure with a Kenyan safari to Masai Mara National Reserve in July 
Which Country Is Best To Visit In July?
If you're looking for the best country to visit in July, there are plenty of options. Here are some factors to consider when making your decision:

1. Climate: If you're looking for warmer weather, consider countries in the southern hemisphere, such as Australia or New Zealand. Europe can also be a great summer destination, with countries like France, Italy, and Spain offering plenty of sun and warmth.
2. Festivals and events: July is a popular festival time. If you're looking for a cultural celebration, consider visiting Thailand for the Wan Khao Phansa festival or Japan for the Tenjin Matsuri festival. Other options include the Running of the Bulls in Spain or the Calgary Stampede in Canada.
3. Outdoor activities: If you're an outdoor enthusiast, consider visiting countries like Canada for hiking and camping or Costa Rica for rainforest adventures and surfing. Australia and New Zealand also offer plenty of outdoor activities, from bungee jumping to skydiving.
Ultimately, the best country to visit in July depends on your preferences and travel style. Whether you're looking for adventure, culture, or relaxation, there's a perfect destination. 
| | |
| --- | --- |
| Factor | Country You Can Visit |
| Climate | Australia, New Zealand, France, Italy, Spain, South Korea, Indonesia and Sri Lank |
| Festivals and Events | Thailand, Japan,Spain and Canada |
| Outdoor Activities | Thailand, Japan, Spain and Canada |
Which Country Is Best To Visit In July?
What Are The Best Summer Holiday Destinations In The World?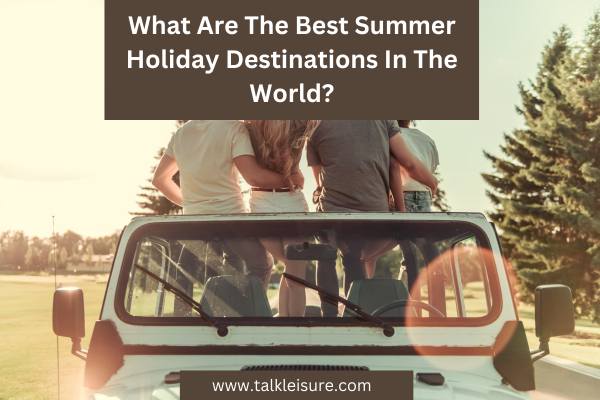 When it comes to summer holidays, everyone's preferences are different.
Some prefer beaches, while others like exploring cities or experiencing diverse cultures.
Here are some of the best summer holiday destinations in the world that cater to all kinds of travelers:

1. Bali, Indonesia: Famous for its beaches, rich culture and stunning scenery, Bali offers a perfect tropical getaway.
2. Santorini, Greece: With its breathtaking sea views, whitewashed houses and cobblestone streets, Santorini is a picture-perfect island.
3. Marrakech, Morocco: Explore the bustling markets, savor the delicious local cuisine and stay in a beautiful Riad in the heart of Marrakech.
4. Barcelona, Spain: This vibrant city boasts colorful architecture, delicious tapas and a stunning beach.
5. Amalfi Coast, Italy: With its dramatic cliffs, sparkling blue waters and charming towns, the Amalfi Coast is a must-visit destination for a summer holiday.
These five destinations are just a small taste of what the world offers for summer travel.
Whatever your preference, there are endless possibilities for a memorable trip. 
What Are The 10 Most Popular International Travel Destinations To Travel In July?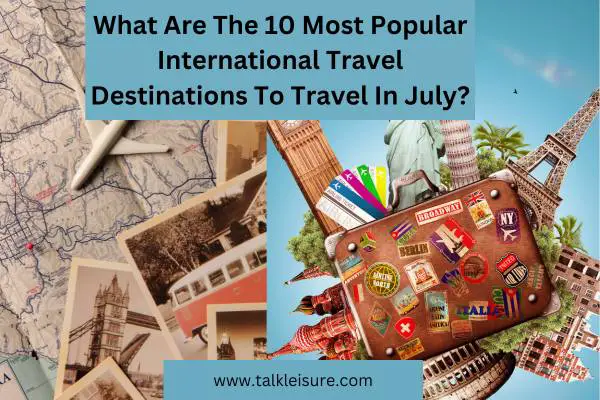 July is an ideal time to pack your bags and experience exploration in the world's most popular international travel destinations.
Here's a list of the top 10 places to travel in July:

1. Italy – This destination is known for the historical sites of Rome, the art of Florence, and the canals of Venice. July is the perfect time to savor the beautiful Italian countryside and enjoy its sunny beaches.
2. Spain – Madrid and Barcelona come alive this month with amazing food, music, and a cheerful crowd. You can't miss visiting the famous beaches along Costa del Sol and Costa Brava.
3. France – During July, you can experience France's most vibrant festivals, including Bastille Day in Paris. You can also visit the southern part of the country, where you'll find lavender fields in full bloom.
4. Mexico – Enjoy the beach, margaritas, and the rich Mexican culture in Cancun and Los Cabos.
5. Portugal – July is the perfect time to explore the vibrant architecture of Lisbon, enjoy the tasty Portuguese cuisine, and relax on the sandy beaches.
6. Canada – Explore attractive cities such as Toronto and Vancouver. Canada is also known for its scenic lakes and national parks.
7. Caribbean – July is a great time to soak up the sun and explore the cultural landmarks and traditions of the Caribbean. The Virgin Islands, Jamaica, and the Bahamas are popular destinations.
8. Japan – Explore the land of the rising sun in July and witness the beautiful cherry blossom of Hokkaido. Make sure to go to Tokyo to experience the summer festivals and fireworks.
9. Thailand – This month, Thailand celebrates the Buddhist celebration of Asanha Bucha and Buddhist Lent. July is also the perfect time to bask on the country's lovely beaches.
10. Croatia – Croatia is the perfect summer destination, from its stunning beaches to its historic architecture. The Dubrovnik Summer Festival in July is a must-visit for culture enthusiasts. 
What Are The Best Summer Holiday Destinations For Families In July
Regarding summer holiday destinations for families in July, there are plenty of options worldwide.
Some of the best destinations that cater to both adults and children include:

1. Orlando, Florida: With its theme parks, water parks, and other kid-friendly attractions, Orlando is a top destination for families.
2. Hawaii: The tropical paradise of Hawaii offers endless outdoor activities, such as hiking and snorkeling, and cultural experiences for the whole family.
3. Costa Rica: From exploring rainforests to zip-lining, families can partake in various exciting activities in Costa Rica.
4. Barcelona, Spain: With its beautiful beaches, world-renowned architecture, and vibrant culture, Barcelona offers something for everyone in the family.
5. Yellowknife, Canada: For families who love adventure and the great outdoors, Yellowknife offers a chance to see the Northern Lights and experience dog sledding, fishing, and more.
Regardless of where families choose to go, it's important to do research ahead of time to ensure that there are a variety of activities available for both adults and children to enjoy together. 
Best Places To Visit In July For Couples
July is popular for couples to travel and escape their daily routines.
Choosing the right destination that suits both partners' interests and preferences is essential for a successful romantic getaway.
Here are some of the best places to visit in July for couples:

1. Bali – This Indonesian island is popular among couples for its breathtaking scenery, exotic culture, and luxurious resorts.
2. Santorini – With its white-washed homes and stunning views of the Aegean Sea, Santorini is a dream destination for couples who appreciate the finer things in life.
3. Amalfi Coast – This Italian gem boasts magnificent coastal views, charming villages, and some of the world's best cuisine.
4. Paris – Known as the city of love, Paris offers endless romantic experiences, from strolling along the Seine River to enjoying a candlelit dinner in a Michelin-star restaurant.
5. Maui – With its golden beaches, tropical gardens, and stunning sunsets, Maui is a paradise for couples seeking a romantic escape.
No matter which destination couples choose, traveling in July enables them to enjoy perfect weather and abundant activities, making it an ideal time to explore new places with their loved ones. 
Best Places To Visit In July With Children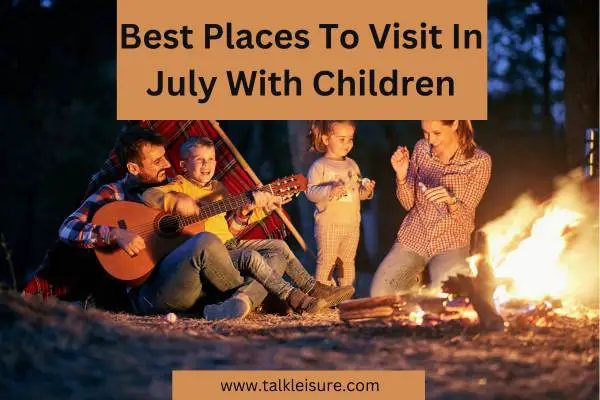 Traveling with children can be a memorable experience for the entire family, and July offers a variety of destinations that cater to parents and kids alike.
Here are some of the best places to visit in July with children
Orlando, Florida: Home to theme parks such as Walt Disney World, Universal Studios, and SeaWorld, Orlando is a haven for families with children. The city also has many resorts, restaurants, and outdoor activities to keep everyone happy.
Tokyo, Japan: With its mix of traditional and modern attractions, Tokyo offers something for everyone in the family. Visit the bustling Shibuya Crossing, explore the fascinating Tokyo National Museum, or enjoy the thrill rides at Tokyo Disneyland and DisneySea.
San Diego, California: With its mild weather and beautiful beaches, San Diego is a great choice for families looking to spend time outdoors. The city also has plenty of family-friendly activities, including the San Diego Zoo and Safari Park, Legoland California, and SeaWorld.
Vancouver, Canada: This scenic city in British Columbia is known for its family-friendly attractions, such as the Stanley Park Seawall, the Vancouver Aquarium, and the Capilano Suspension Bridge.
Algarve, Portugal: Boasting beautiful beaches, warm weather, and family-friendly resorts, the Algarve region of Portugal is a great choice for families looking to relax and unwind. The region also has many outdoor activities, such as hiking, cycling, and water sports.
Planning with your kid's interests in mind can create a successful and fun-filled family regardless of your destination choice. 
Where To Travel In July To Avoid Crowds?
July is peak travel season, so popular vacation destinations can be overcrowded and expensive.
But don't worry! We've got you covered with some great options for where to travel in July to avoid crowds.
Here are some ideas based on the latest travel trends and industry data:
Instead of big European and Asian cities like Paris, Rome, and Tokyo, consider going south to Argentina.
Fares to South America are down almost 10 percent from pre-pandemic prices, and you'll find destinations that offer as much history, culture, and food as many European cities.
For a quieter and cooler summer vacation, head to Montreal. This Canadian city has a constellation of neighborhoods with unique characters, and you'll find Brooklyn vibes in Little Italy, downtown comparisons to Manhattan, and Central Park-style greenery.
Laughlin, Nevada, is just a 100-mile drive south of Las Vegas and is known for its casinos and outdoor activities. You'll find plenty of dining options, entertainment, hotels, fishing, hiking, and kayaking.
Albania is a great alternative to the popular Greek island of Mykonos.
You'll find crystal-clear water, Mediterranean beaches along the Albanian Riviera, and idyllic mountains for hiking and cycling. Plus, your dollar goes further.
These are just a few examples of where to travel in July to avoid crowds.
With some research and planning, you can find off-the-beaten-path destinations that offer great experiences without the crowds and high costs. 
And also you can find the best places to travel in any month.
What Are The Best Summer Vacation Spots For Young Adults?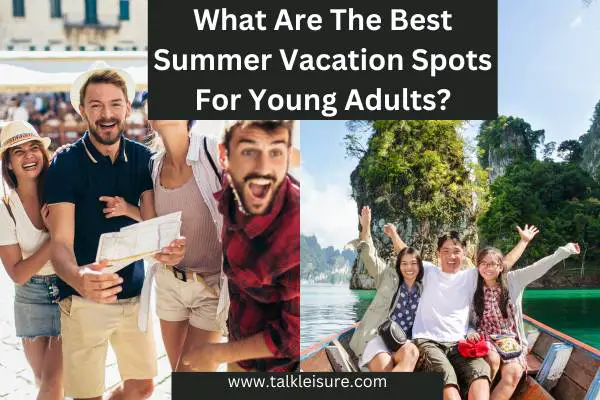 Summer vacation allows adults to explore new destinations and have fun.
Some of the best summer vacation spots for young adults include:

1. Miami, Florida: With its sunny beaches, buzzing nightlife, and vibrant culture, Miami offers something for everyone.

2. Ibiza, Spain: Known for its legendary party scene, outrageous nightclubs, and stunning beaches, Ibiza is a popular summer destination for young adults.

3. Cancun, Mexico: Famous for its crystal-clear waters, white-sand beaches, and lively party scene, Cancun is the perfect place for young adults looking to enjoy the sun.

4. Tokyo, Japan: With its dazzling technology, mouth-watering cuisine, and quirky street fashion, Tokyo is a fascinating destination for young adults seeking adventure and excitement.

5. Amsterdam, Netherlands: Known for its stunning canals, vibrant nightlife, and liberal outlook, Amsterdam is a popular destination for young adults seeking a unique and unforgettable experience.
No matter where you choose, summer vacation is the perfect time for young adults to explore new destinations, meet new people, and create lifelong memories.
So pack your bags and prepare for an adventure you'll never forget! 
Best Places To Travel In July 2023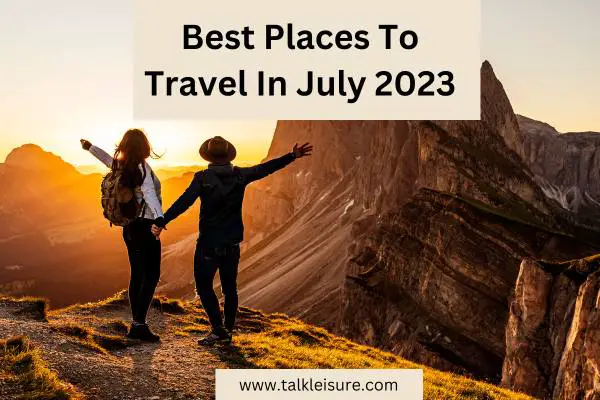 July is a fantastic time to travel, and there are some amazing destinations to choose from around the globe.
Whether you are looking for a romantic getaway, a family vacation, or an adventure-packed trip, July has something for everyone. Here are some of the best places to travel in July 2023:

– Michigan, USA: Known for its beautiful clear beaches and cute historic small towns, Michigan is the perfect place to spend time with your loved ones. The state has four seasons, but summer is magical, with temperatures ranging between 70-80 °F all day.
– Mozambique: This charming African nation brings something unique, making it an adventurous traveler's paradise. The dry season in July is the best time to visit, with cooler and comfortable temperatures.
– Langkawi, Malaysia: This group of 99 breathtaking islands in the Andaman Sea showcases the best of tropical rainforests and unique geological formations. The midseason in July offers pleasant weather, occasional rain showers and fewer crowds.
– Banff, Canada: The summer month of July offers warm temperatures, sunshine and long days in Banff. Visitors can enjoy camping, hiking, wildlife spotting, and more outdoors.
– Amsterdam, Netherlands: The city offers good food, good weather, and good vibes in July, with open-air comedy, dance, and musical performances in Vondelpark and street food markets around the city.
– Greenland: This world's largest and wildest island is perfect for travelers to get off the beaten track. Join a nighttime cruise to see the glowing icebergs or enjoy the relative solitude of the island.
– New Zealand's South Island: The cold winter months offer ski slopes, luxury hot springs, and the chance to witness the southern lights dancing along the horizon.
– Central Coast, Vietnam: The monsoon rains fall in and around Ho Chi Minh City, but the central coast offers warm, dry weather, beautiful beaches, ancient cities, national parks, and ancient teahouses.
These destinations offer a range of experiences that can make your July vacation unforgettable.
Each destination offers something unique to explore and discover, whether seeking adventure or relaxation. 
Top 5 Things To Do In July 2023 In Nice Vacation Destinations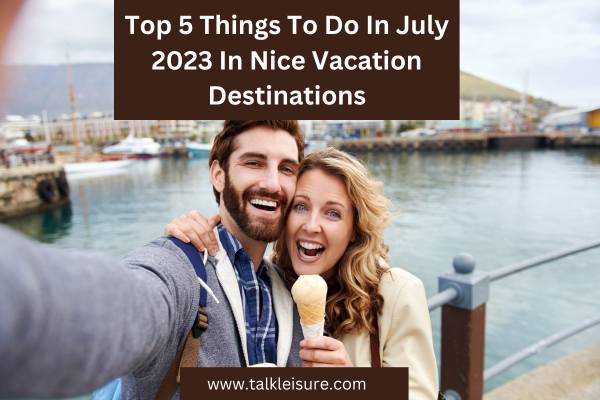 Traveling in July 2023 can be exciting, especially if you know the best places to visit and the top things to do in those destinations.
If you are still undecided on where to go, here are the top 5 things to do in July 2023 in nice vacation destinations:

1. Visit Banff National Park, Canada, and explore the natural beauty of the mountains, lakes, and forests. You can go hiking, camping, or enjoy a scenic drive along the Icefields Parkway.
2. Discover the exotic wildlife of the Galapagos Islands, Ecuador. July is a great time to see the famous giant tortoises, blue-footed boobies, and other unique species.
3. Relax on the beautiful beaches of Seychelles, where the crystal-clear waters and pristine sand offer a perfect backdrop for sunbathing, snorkeling, and swimming.
4. Experience the vibrant culture of Mexico City, Mexico. Attend the local festivals, taste the delicious cuisine, and visit historical landmarks such as the Templo Mayor and the Zocalo.
5. Enjoy Nice, France's art, culture, and nightlife. Attend the famous jazz festival, explore the museums and galleries, and savor the local cuisine and wine at the best restaurants and bars in town. 
How To Find Cheap Tour Packages At Incredible Low Prices To Travel In July?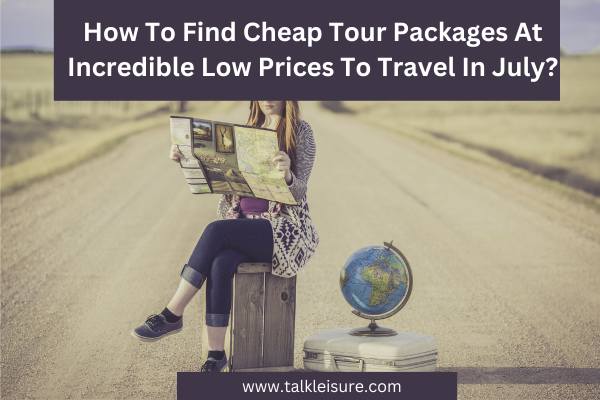 You can try a few things if you're looking for cheap tour packages at incredibly low prices to travel in July.
Firstly, consider booking your trip early.
Many travel companies offer early bird discounts, saving you significant money.
Another option is to book a package deal, which typically includes flights, accommodations, and sometimes even activities at a discounted rate. You can also consider traveling off-season, as prices are often lower when fewer people are traveling.
It's also good to compare prices from different travel companies and airlines to find the best deal.
Final Thoughts
In conclusion, July offers many amazing travel options for couples, families, and young adults seeking a summer holiday.
From the sun-soaked beaches of Madeira and the Azores to the bustling cities of Quebec and Ohio, plenty of destinations exist. For those looking to avoid crowds,
Albania's stunning natural scenery and wild rivers make for a unique and off-the-beaten-path adventure.
And let's not forget about the food festivals in Gibraltar and lavender festivities in Croatia!
When planning your July vacation, consider your travel type and preferences.
Whether you're after nature, culture, or adventure, there is a destination that caters to your needs.
And with many countries and cities offering discounted tour packages and affordable accommodations, traveling in July doesn't have to break the bank.
With many options, start exploring the world and experience a summer vacation. 
FAQ
What Are The Best Dates To Travel In July?
The best time to travel in July depends on your tastes and where you want to go. But it's usually best to avoid big holidays and busy travel times to find better deals and fewer people. If you want a quieter trip, try going during July's first and last weeks. Also, traveling during the week is often cheaper than on weekends. Make sure you know what's going on and the weather where you want to go so you can make the most of your trip.
Where Is Not Too Hot In July In Europe?
The Faroe Islands are in the North Atlantic Ocean between Norway and Iceland. They are a nice place to go in July to escape the heat in Europe. The normal temperature on these beautiful islands is between 10°C (50°F) and 15°C (59°F), which is cooler than many other European destinations. Visitors can enjoy the beautiful landscapes, towns, and outdoor activities without worrying about the high summer temperatures common in other parts of Europe.
Which Country Is The Best Summer Destination?
It depends on the person and what they like, but Greece, Italy, Spain, Croatia, and Thailand are popular summer vacation spots. During the summer, these countries offer beautiful beaches, rich cultural events, and many things to do. In the end, the best summer location is the one that fits your interests and gives you the experiences you want, whether you want to relax on the beach, learn about history, or get lost in a busy city.
Best Wishes!