Many Americans are eagerly planning their next adventure as the summer season gets underway. 
With warmer weather and longer days, June is the perfect time of year to explore all that the United States has to offer. 
From the natural splendor of national parks to the vibrant cultural scenes of bustling cities, there's no shortage of places and things to do. 
So whether you're looking for a relaxing beach getaway or an action-packed outdoor adventure, we've got you covered with our list of the best places to travel in June within the USA. 
Get ready to pack your bags and hit the road for the trip of a lifetime!
Traveling In USA
June is the perfect month to travel in the USA; plenty of beautiful destinations exist.
The Blue Ridge Parkway is a great option for those who want to enjoy a calming drive through rhododendrons, mountain views, and natural water slides. 
Box Canyon State Park in Idaho offers waterfalls, swimming holes, and a small beach area. Anza-Borrego Desert State Park in California is perfect for outdoorsy travelers who want to witness the intricately carved landscape of the desert. 
Boston is the go-to destination for travelers who want to experience baseball season at Fenway Park while enjoying the city's rich history, including the USS Constitution Museum, the Old North Church, and Faneuil Hall. I
n June, Cape Cod offers spacious beaches, whale watching, and attractions like Plymouth and Lexington.
Finally, the charming Mackinac Island in Michigan provides visitors with lilacs in full bloom and old-world Victorian homes. 
Ten Best Places To Visit In The USA In June
June is the month of gentle summer and holds a lot of promise for travelers in the USA. The month offers pleasant temperatures, smaller crowds, and fun festivals to explore.
One of the best places to visit in the USA in June is the Blue Ridge Parkway, known for its relaxing drive through clouds and rhododendrons.
The beautiful mountain views, hiking trails, and natural water slides are some of the attractions that make this journey worth taking.
Box Canyon State Park, Idaho, may be easy to miss, but the area boasts stellar waterfalls, swimming holes, and even a small beachy zone.
The park is surrounded by farmland, allowing visitors to explore beyond the typical tourist spots.
Anza-Borrego Desert State Park, California, is a testament to the jaw-dropping land formations the American West offers.
Famous for its epic sunrises, this park is a dream destination for outdoor enthusiasts.
The warm and sunny weather in June makes Cape Cod one of the best places to visit – take advantage of fewer crowds and lower rates for hotels and attractions.
The spacious beaches, whale-watching tours, and historical landmarks offer the perfect summer escape. Boston is an ideal place for a patriotic traveler to visit in June.
The city offers a chance to enjoy baseball season in full swing, historic landmarks, and whale-watching tours.
Glacier National Park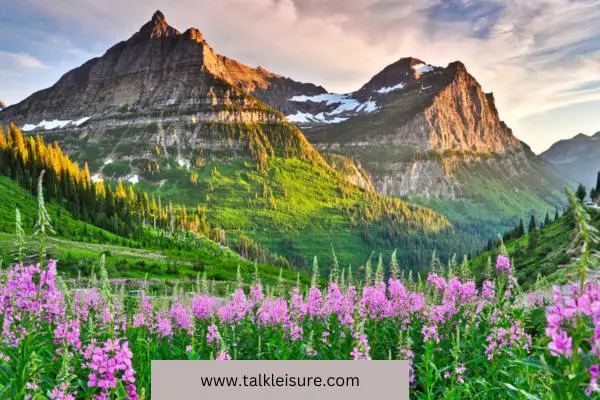 June is the perfect time to explore Glacier National Park in Montana.
With the snow melted and wildlife abundant, this park offers a beautiful outdoor experience.
The park has over 700 hiking trails, allowing visitors to see glaciers, waterfalls, and alpine meadows.
Going-to-the-Sun Road is a must-see, offering stunning views of the park, especially during sunrise and sunset.
Get adventurous and enjoy rafting on the Flathead River or kayaking on Lake McDonald.
You might spot elk, moose, bears, or bighorn sheep along the way! There are also many campsites and lodges, with fantastic park views.
With so much to explore, Glacier National Park is the perfect destination for nature lovers seeking a peaceful retreat. 
Cape Cod, Massachusetts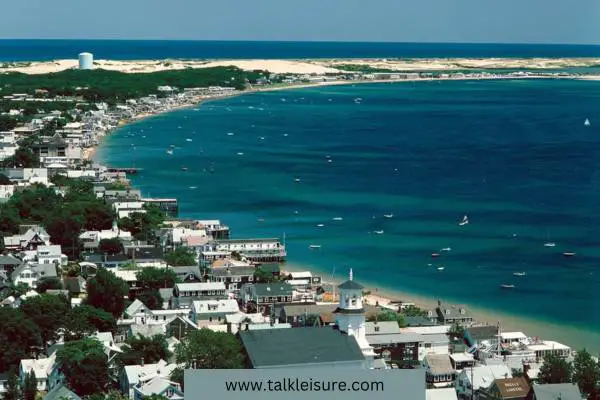 During June, Cape Cod in Massachusetts is a fantastic destination to visit.
The region becomes less crowded during this time of the year, and hotels offer lower rates.
Although the weather may still be chilly, it is perfect for enjoying the spacious beaches.
Visitors can take a whale-watching tour to see humpback whales or explore the many lighthouses in the area.
For those who enjoy history, there is plenty to experience in and around Boston, including the Old North Church, Faneuil Hall, the Paul Revere House, and Bunker Hill.
Can also take a day trip to Plymouth, Salem, and Lexington to make the most of their trip.
Overall, Cape Cod is a charming place to visit in June, with cozy accommodations, beautiful beaches, and plenty of historical sites to explore. 
Seattle, Washington
Seattle, Washington, is a great place to visit in June. As the gateway to the Pacific Northwest, Seattle boasts a stunning landscape and a vibrant culture.
The weather is mild and pleasant in June, perfect for outdoor activities like hiking, biking, and kayaking.
One of the top attractions in Seattle is the iconic Space Needle, which offers a spectacular view of the city and its surroundings.
Visitors can also explore the vibrant Pike Place Market, one of the oldest continuously operated public farmers' markets in the United States.
The market is packed with stalls selling everything from fresh produce to artisanal crafts.
Another must-see attraction is the Chihuly Garden and Glass, a stunning exhibit that showcases the colorful and intricate glass creations of artist Dale Chihuly.
The Museum of History & Industry and The Museum of Flight are excellent options for those interested in history.
Overall, Seattle is a great destination for travelers seeking a mix of nature, culture, and history. 
Cannon Beach, Oregon
June is the perfect time to visit Cannon Beach, Oregon.
The coastal town is a summer paradise with high temperatures.
The iconic Haystack Rock offers a stunning ocean view, and the sandy beach is perfect for a relaxing stroll.
The town has a vibrant arts scene, with galleries and shops showcasing local artists.
Outdoor enthusiasts can take advantage of Ecola State Park's hiking trails, which offer breathtaking coastline views and lush forests.
For a unique experience, visitors can attend the annual Sandcastle Contest held on the beach in mid-June.
With various lodging options ranging from cozy inns to beachfront hotels, Cannon Beach offers a relaxing getaway for every type of traveler. 
Anchorage, Alaska
Anchorage, Alaska, is a great place to visit in June.
With an average temperature, it's the perfect time to take advantage of the longer daylight hours and explore the city.
Anchorage offers various outdoor activities, including hiking, fishing, kayaking, and wildlife viewing.
You can also take a scenic drive down the Seward Highway and enjoy breathtaking glaciers, mountains, and ocean views.
June is also the month when the Anchorage Downtown Market and Festival opens, where local vendors sell everything from handmade crafts to fresh produce.
For a unique Alaskan experience, visit the Anchorage Museum to learn about the state's rich history and culture.
With so much to see and do, Anchorage is a great destination for a summer getaway. 
San Francisco, California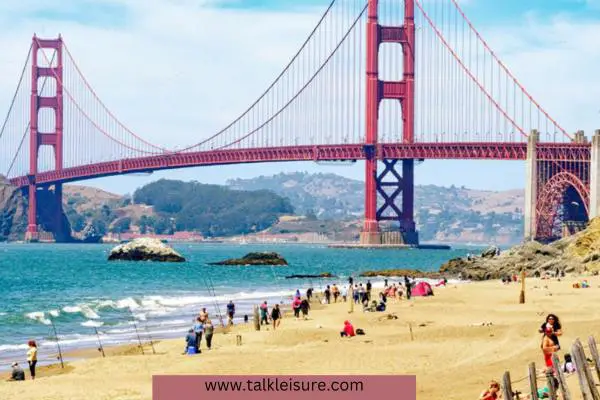 San Francisco, California, is a fantastic destination to visit in June.
The city has mild temperatures in the mid-60s and plenty of sunshine, perfect weather for exploring the many attractions.
The Golden Gate Bridge is a must-see landmark in the city, which offers stunning bay views.
Visitors can also check out Fisherman's Wharf, a bustling area filled with shops, restaurants, and street performers.
Another popular spot is Alcatraz Island, where you can take a ferry tour of the infamous prison and learn about its fascinating history.
The San Francisco Museum of Modern Art is a great place for art lovers to spend an afternoon with its extensive collection of contemporary works.
And, of course, no trip to San Francisco would be complete without sampling some of the city's famous cuisine, such as sourdough bread and clam chowder. 
Portland, Oregon
Portland, Oregon, is a hidden gem in the Pacific Northwest and a perfect destination for a summer getaway in June.
The city is known for its charming neighborhoods, vibrant arts, and quirky culture.
Visitors can explore the different pockets of the city and discover its many eclectic cafes, restaurants, and shops.
Portland is also a city of gardens and parks, with the iconic International Rose Test Garden and the Japanese Garden being top-rated attractions.
Additionally, the nearby Columbia River Gorge offers scenic hiking trails and waterfalls.
One of the main draws of Portland in June is the warm and sunny weather, with average temperatures ranging from 66 to 75 degrees Fahrenheit.
This allows for outdoor activities such as biking, kayaking, and paddleboarding, all of which can be rented or purchased in the city.
The Oregon Zoo is another popular attraction in Portland, featuring over 1,800 animals and various exhibits.
For those interested in beer and food, Portland is famous for its microbreweries and food carts, offering unique and diverse food options.
In June, Portland also holds various festivals and events, such as the Portland Rose Festival, the largest in the city, featuring parades, live music, and food.
The Waterfront Blues Festival is another famous event held in Portland, with over 100 national and regional blues acts performing on multiple stages.
The Oregon Brewers Festival is also held in July, featuring over 80 craft beers from brewers nationwide.
These events attract thousands of visitors to Portland annually, making it a bustling and exciting city in June.
Denver, Colorado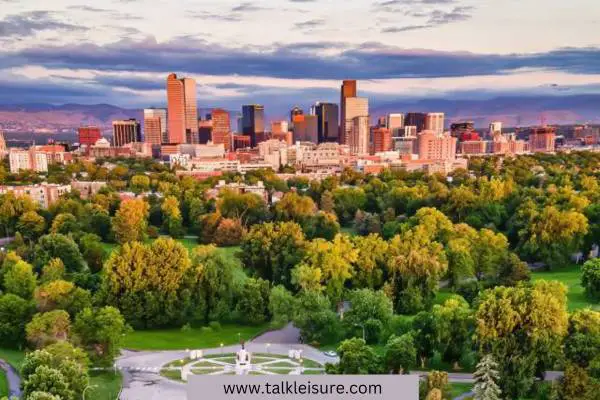 Denver, Colorado, is a great place to visit in June.
The mild climate provides a comfortable temperature, making it the perfect time to go hiking and explore the stunning mountain views.
Visitors can take a day trip to nearby attractions such as Rocky Mountain National Park or enjoy the endless outdoor activities within the city.
Denver has a selection of museums for those interested in history that showcase the area's unique cultural heritage.
Furthermore, June is an exciting time to experience Denver's vibrant cultural scene, with various entertainment and music festivals occurring throughout the month.
Food lovers can indulge in the city's diverse culinary offerings, from street food to high-end restaurants.
With numerous accommodation options, including cozy mountain lodges and boutique downtown hotels, Denver has something to suit every traveler's taste and budget. 
Chicago, Illinois
Chicago, Illinois, is known as the Windy City, and June is an excellent time to visit.
The city is bustling with activities and events, including the famous Taste of Chicago food festival.
During this festival, visitors can sample delicious foods from some of the best restaurants in the city.
The weather is also perfect for exploring Chicago's many outdoor attractions, such as the Navy Pier and Millennium Park.
Visitors can stroll through the iconic "Bean" sculpture or attend a free concert or movie in the park.
June is also a great time for sports fans, as the Chicago Cubs and White Sox baseball teams are both in the midst of their seasons.
The city is also home to world-class museums and theaters, providing plenty of indoor entertainment options.
With diverse offerings, Chicago is a fantastic destination for travelers in June. 
The Adirondacks, New York
The Adirondacks in New York are a perfect destination for outdoor lovers in June.
The weather is mild and perfect for hiking, biking, and exploring the region's natural beauty.
The Adirondack Mountains offer over 2,000 hiking trails, making it a prime spot for outdoor adventurers.
Enjoy the crystal-clear water of Lake George and go swimming, fishing, or boating. With so many lakes and streams, there are plenty of opportunities for water activities.
Numerous quaint towns and villages, such as Saranac Lake and Lake Placid, have charming shops and restaurants.
Don't miss the opportunity to experience nature's beauty and the Adirondacks' rich cultural history.
June is the perfect time to visit before the busy summer tourist season arrives. 
Best Cheap Places To Visit In June In The USA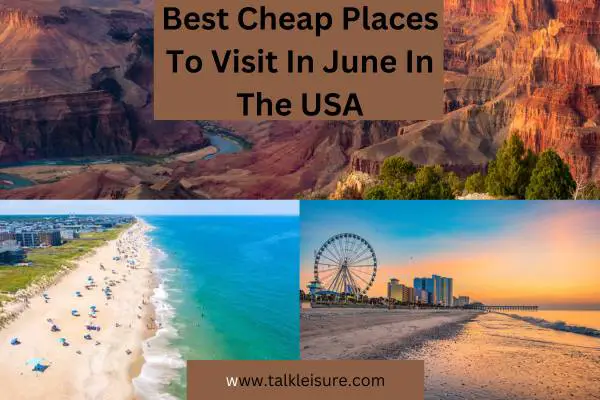 June is a perfect time for budget-conscious travelers to explore the USA.
Myrtle Beach, South Carolina, is a must-visit place in June due to its warm weather, beautiful beaches, and abundant attractions.
Travelers can save money by visiting free attractions like the Myrtle Beach Boardwalk or exploring hiking trails at Myrtle Beach State Park.
The Outer Banks, North Carolina, is another budget-friendly option for a beach vacation.
Visitors can enjoy free activities like visiting the historic lighthouses, strolling along the Duck Town Boardwalk, or watching local wildlife from Nags Head Pier.
For those who want to explore nature, the Grand Canyon, Arizona, offers numerous free activities like hiking trails and stargazing.
Planning a trip to these destinations during the week can help visitors save money and afford hotel accommodations like oceanfront motels. 
Best Places To Travel In June To Kick Off The Summer
June marks the beginning of summer, and it's the perfect time to take a vacation to kick off the season.
The USA has many destinations, whether you're looking for outdoor activities, festivals, or a relaxing beach vacation.
Rocky Mountain National Park in Colorado is one of June's best places.
With temperatures in the mid-60s, it's perfect weather for hiking and exploring the park's many trails.
You may spot some wildlife, like moose, elk, or mountain goats.
Don't miss the Scandinavian Midsummer Festival in nearby Estes Park, which celebrates Scandinavian culture with food, crafts, and entertainment.
For a charming car-free island experience, visit Mackinac Island in Michigan.
The island is only accessible by ferry, and visitors will love the Victorian homes and horse-drawn carriages that dot the streets.
June is the perfect time to visit, with pleasant weather and the island's signature lilacs in full bloom.
Don't miss the annual Lilac Festival, a 10-day celebration that features the Lilac Grand Parade.
If a tropical vacation is more your speed, head to Maui in Hawaii.
June offers warm weather, balmy trade winds, and plenty of opportunities for snorkeling and lounging on the beach.
Check out the Maui Wine and Food Festival and explore the Road to Hana for breathtaking scenery and waterfalls.
Maui has beautiful resorts and condos, so you'll have many accommodation options. 
Also, you can consider the best places to travel in June in international destinations.
Final Thoughts
June is an excellent month to travel and experience the beauty of the United States of America in full bloom.
The country offers many options, whether you seek beaches, outdoor activities, festivals, or history.
For instance, one can take a relaxing drive along the Blue Ridge Parkway, where one can swim, hike, and behold breathtaking mountain views while enjoying the clean and crisp air.
Alternatively, you could visit Box Canyon State Park in Idaho, which has beautiful waterfalls and swimming holes ideal for exploring during the warm weather.
For those who fancy camping, Anza-Borrego Desert State Park in California offers epic sunrises amidst its intricately carved desert landscape at this time of year.
Other options include visiting Block Island in Rhode Island for a classic New England beach experience or taking in America's favorite pastime in Boston while enjoying the city's vibrant history and charm. 
FAQ
Which State Is Best To Visit In June?
California is the best state to visit in June. It offers diverse attractions like the stunning coastline, iconic cities such as San Francisco and Los Angeles, beautiful national parks like Yosemite, and pleasant weather for outdoor activities.
What Is USA Best Trips?
There is no definitive "best" trip in the USA as it depends on individual preferences. However, some popular options include exploring the vibrant city of New York, witnessing the natural beauty of the Grand Canyon, experiencing the diverse culture of New Orleans, or road-tripping along the scenic Pacific Coast Highway.
Which Country In South America Is Best To Visit In June?
Peru is the best country to visit in South America in June. It offers various attractions, including Machu Picchu, the Sacred Valley, and the vibrant city of Cusco. June is the dry season in Peru, making it an ideal time to explore its stunning landscapes and rich cultural heritage.
Best Wishes!