If you're a U.S. citizen wondering whether you can fly to Cuba, you're not alone. 
Cuba has long been a popular destination for travelers, with its vibrant culture, beautiful beaches, and historic sites. 
However, due to political tensions between the United States and Cuba, travel restrictions have existed for many years. 
Americans can travel to Cuba via plane, but some limitations and requirements must be met.
In this article, we'll explore whether U.S. citizens can fly to Cuba and what you need to know before planning your trip.
Is It Possible For U.S. Citizens To Fly To Cuba?
Yes, U.S. citizens can fly to Cuba, but there are still some restrictions and requirements that you need to be aware of:
Purpose Of Travel
U.S. citizens can travel to Cuba for specific purposes.
Ensuring your trip falls under one of those approved categories is important.
Tourist travel
While general tourist travel to Cuba is still not allowed, there are ways to visit Cuba for tourism purposes. 
One way is participating in a group tour organized by a licensed tour operator. 
Another option is to create an itinerary that includes educational activities, such as cultural exchanges or people-to-people interactions.
It's important to note that the political situation between the United States and Cuba can change, and travel restrictions may vary. 
Staying updated on the latest requirements and guidelines before planning your trip is best.
U.S. citizens may fly to Puerto Rico without documentations. However, there might be certain restrictions.
What Are The Required Documentation And Procedures For Traveling To Cuba?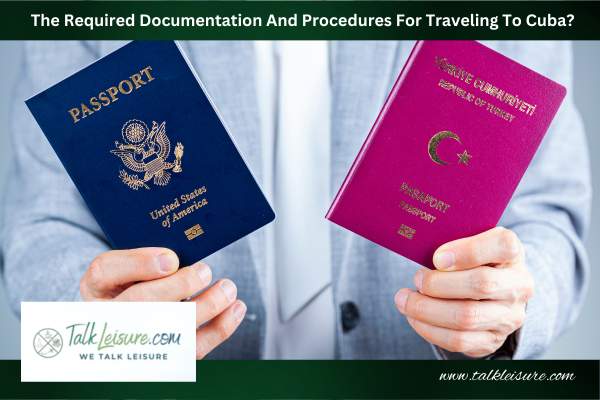 Before 2014, traveling to Cuba for U.S. citizens was highly restricted due to the U.S. government's policy towards the country. 
The procedures and required documentation for traveling to Cuba under the permitted categories varied depending on the purpose of the trip. 
Some general requirements included:
Travelers need to have a valid U.S. passport.
Individuals had to complete a specific travel form, a General License Certification, to declare the permitted travel category.
Travelers were advised to keep a detailed itinerary of their activities in Cuba to demonstrate compliance with the permitted category.
Individuals had to ensure they were aware of the latest travel restrictions and requirements as they could change over time.
Remember that these restrictions and requirements were in effect before 2014 and have since undergone significant changes.
What Is Obama's Policy Shift Towards Cuba?
In 2014, former U.S. President Barack Obama announced a policy shift toward Cuba aimed at normalizing relations between the two countries and easing travel restrictions for U.S. citizens. 
The key elements of this policy shift included:
Expanding the categories of authorized travel to include general licenses for activities such as educational and people-to-people exchanges.
The removal of the requirement to obtain a specific license from the U.S. Department of the Treasury's Office of Foreign Assets Control (OFAC) for travel to Cuba.
The permission for U.S. airlines and cruise lines to operate direct flights and cruises to Cuba.
The establishment of diplomatic relations and the reopening of embassies in both Havana and Washington, D.C.
However, it's important to note that even with these policy changes, U.S. citizens still had restrictions on travel to Cuba. 
The Trump administration reinstated some travel restrictions, but the current Biden administration intends to re-engage with Cuba.
What Are The 12 Categories Of Authorized Travel To Cuba?
Under the Obama administration, twelve categories of authorized travel to Cuba were established. 
These categories allowed U.S. citizens to travel to Cuba for various reasons, including:
Family visits
Educational activities
Professional research and meetings
Public performances, workshops, and exhibitions
Religious activities
Humanitarian projects
Official government business
Journalistic activities
Activities of private foundations
Educational exchange programs
Activities related to exportation, importation, or transmission of information or materials
Support for the Cuban people
These categories provided U.S. citizens with different avenues for legally traveling to Cuba.
When Did Trump Administration Change Obama's Policies Toward Cuba?
In 2017, during the Trump administration, significant changes were made to the policies toward Cuba established during the Obama administration. 
The Trump administration's changes aimed to restrict U.S. citizens' travel to Cuba and limit economic activity between the two countries. 
The Trump administration largely eliminated the individualized "people-to-people" travel category.
By making it more difficult for U.S. citizens to travel to Cuba independently.
The administration restricted transactions with specific entities in Cuba, limiting interactions with certain hotels, restaurants, and shops.
The Trump administration imposed stricter limitations on trade between the United States and Cuba.
This made it harder for American businesses to engage in economic activities with Cuba.
These changes marked a shift in the policies toward Cuba, making it more challenging for U.S. citizens to travel to Cuba and engage in economic activities.
What Are The Tips For U.S. Citizens Visiting Cuba?
If you are a U.S. citizen planning a trip to Cuba, here are some essential tips to keep in mind:
Check Travel Restrictions
Before planning your trip, it is essential to check the current travel restrictions and regulations the U.S. government imposes. 
These restrictions can change over time, so staying informed is crucial.
If you planning to fly with a private pilot license it is highly recommended to get a clear idea on the limitations.
Obtain The Necessary Travel Documents
U.S. citizens need to obtain a visa or travel authorization to visit Cuba. 
The type of travel document required may depend on the purpose of your visit, such as educational, professional, or family-related. 
It is recommended to consult with the U.S. Department of State or a travel agency specializing in Cuba travel to ensure you have the correct documentation.
It is highly recommended to obtain travel insurance when traveling to Cuba. 
Travel insurance can cover medical emergencies, trip cancellations, lost luggage, and other unforeseen events. 
Choosing a comprehensive insurance plan that covers Cuba is essential, as some policies may exclude coverage for countries under U.S. travel advisories.
Learn About The Local Culture And Customs
Cuba has a rich cultural heritage, and learning about the local customs and traditions can enhance your travel experience. 
Research the local customs, food, music, and etiquette to show respect and appreciation for the Cuban culture.

Exchange Currency
​Cuba has its currency system, and U.S. dollars are not widely accepted. 
It is recommended to exchange your U.S. dollars for Cuban Convertible Pesos (CUC) upon arrival. 
Remember to bring enough cash for your trip, as credit cards and ATMs may be limited.
By following these tips and staying informed about the current regulations, U.S. citizens can have a rewarding and enjoyable experience while visiting Cuba.
Conclusion
In conclusion, U.S. citizens can fly to Cuba, but certain regulations and restrictions must be followed. 
To visit Cuba, U.S. citizens must have a valid reason for travel, such as family visits, official government business, educational activities, or humanitarian projects. 
It is important to familiarize yourself with the approved travel categories outlined by the U.S. Department of Treasury's Office of Foreign Assets Control (OFAC).
General tourist flying to Cuba is still prohibited. 
Individuals can participate in authorized People-to-People educational trips or join organized tours offered by authorized travel providers to engage in cultural and educational activities.
Several airlines offer direct flights from major U.S. cities to various airports in Cuba, including Havana, Varadero, and Santa Clara. 
Checking with the airlines for the most up-to-date information on flight schedules and availability is advisable.
U.S. citizens may be restricted in Cuba using U.S. credit and debit cards. 
It is recommended to carry sufficient cash in U.S. dollars or convert it to the local Cuban currency (Cuban Convertible Peso or CUC) upon arrival.
Please note that the regulations surrounding travel to Cuba may change.
It is always recommended to check the latest guidelines and requirements from the U.S. Department of State and other relevant authorities before planning your trip.
Remember to plan your travel and enjoy your trip to this vibrant and culturally rich destination.
Related Posts: Can You Fly Direct To Abu Dhabi?