Hey there, lovely tea enthusiasts and party planners! Get ready to embark on a delightful journey into the world of high tea decorations. I'm your trusty tea party connoisseur, here to spill the tea on turning your gatherings into a grand affair.
From dainty table settings that could rival the Queen's to blooming floral arrangements that'll make Mother Nature proud, we've got it all covered! Whether you're hosting indoors or frolicking in the garden, we've got decor tips to suit every venue.
So, grab your teacup, and let's brew some enchantment for your high tea extravaganza! Pinkies up, it's time to party! 🍵✨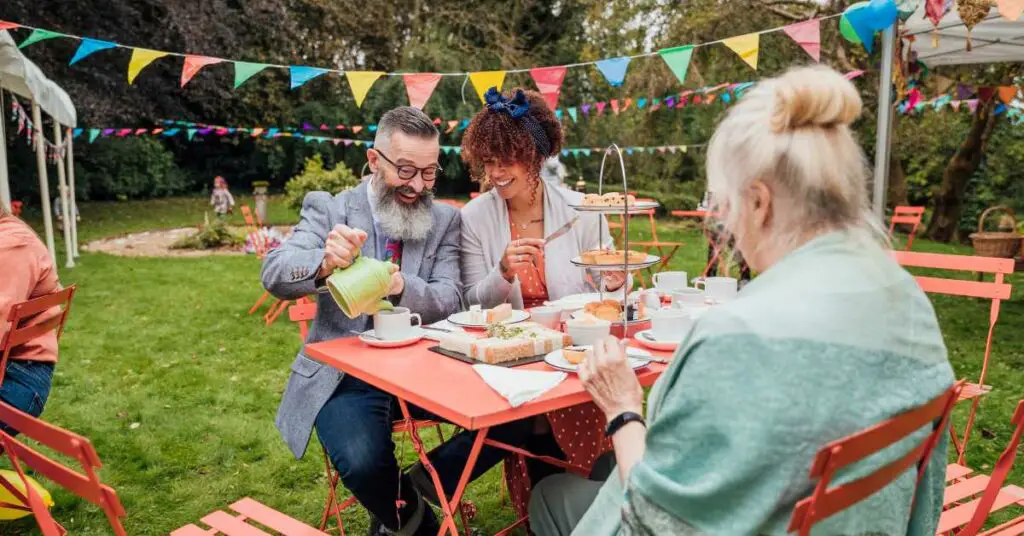 Ah, the delightful world of high tea! Before we dive into the fabulous decorations, let's steep ourselves in the essence of this timeless tradition. High tea is not just sipping tea with your pinky raised; it's a refined affair that originated in 19th-century Britain.
Picture this: scrumptious finger sandwiches, decadent pastries, and, of course, an endless flow of tea fit for royalty!
But here's the twist: contrary to popular belief, high tea was enjoyed by the working class, not the aristocrats!
It was a hearty meal served later in the day, providing much-needed sustenance after a day's work. Over time, high tea evolved into a charming social event, bringing people together to share laughter, gossip, and, of course, a cup of tea!
So, as we journey through the art of high tea decorations, let's embrace the history and elegance that this cherished tradition brings to our modern gatherings.
Get ready to create a tea-riffic experience your guests will cherish forever! 🫖✨
The Significance of Decorations in Your High Tea Affair
Picture this: You've gathered your nearest and dearest for a high tea party. The tea is steeped to perfection, and the delicacies are ready to be devoured. But wait, something's missing! Ah, yes, the magic of decorations!
Decorations are the heart and soul of your high tea affair. They set the ambiance, elevate the experience, and make your guests feel like they've stepped into a fairytale. The right décor can transport you to an enchanting wonderland, where time seems to slow down, and worries melt away like sugar in hot tea.
From elegant table settings that dazzle like diamonds to blossoming floral arrangements that exude charm, each decoration plays its part in creating a memorable event.
So, whether you're hosting an intimate gathering or a grand soiree, don't underestimate the power of décor! It's the secret ingredient that turns an ordinary tea party into an extraordinary one.
And here's a little tip: with the right decorations, even a mismatched teacup becomes a priceless treasure. So, let your creativity flow, and let's sprinkle some stardust on your high tea extravaganza! Let the decorating adventure begin! 🎉🌼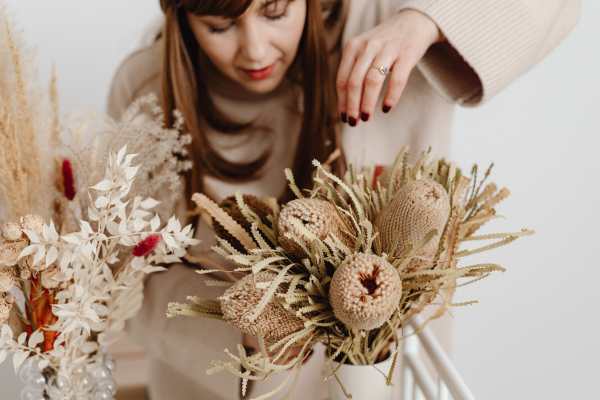 Setting the Perfect Theme: Elevate Your High Tea Party Decorations
Themes are the golden ticket to transforming your high tea party from marvelous to downright magical! Let's explore some enchanting decoration ideas for various themes that will leave your guests in awe:
Transport your guests back in time with vintage-inspired decorations. Use delicate lace tablecloths, antique teapots, and mismatched teacups for a charming touch.
Add a vintage suitcase as a centerpiece and adorn the venue with old-fashioned clocks and birdcages. Don't forget to play some classic jazz tunes in the background for that nostalgic vibe!
Bring the beauty of the outdoors indoors with a garden-themed high tea. Use floral-patterned tableware, lush greenery, and fresh flower arrangements. Create a mesmerizing canopy of fairy lights above the dining area, and let the aroma of fresh flowers fill the air. Incorporate pastel colors like blush pink, mint green, and soft lavender for a dreamy atmosphere.
Embrace the whimsical world of Wonderland with a Mad Hatter-themed tea party. Play with eccentric colors and patterns, like polka dots and stripes. Top hats and pocket watches can be used as playful centerpieces. Add "Eat Me" and "Drink Me" labels to your treats, and encourage guests to wear quirky hats or costume accessories.
For a more relaxed setting, go for a beach-inspired theme. Use seashells, starfish, and driftwood as decor elements. Opt for a color palette of blues and sandy neutrals. Create a beachy ambiance with ocean wave sound effects or gentle sea breeze fans. Serve refreshing iced teas and beach-themed treats like coconut macaroons and fruity tarts.
Take inspiration from classic English gardens with lush floral decorations. Use fresh flowers like roses, peonies, and hydrangeas in elegant vases. Incorporate rustic elements like wooden crates and wicker baskets for added charm. Set up a canopy of garden umbrellas or parasols for a whimsical touch.
Remember, the key to a successful theme is to carry it through every aspect of your high tea party, from the invitations to the table settings and beyond. Let your creativity flow, and your high tea party will be the talk of the town! Happy decorating! 🌺🎩
Harmonizing the Ambience: Tailoring Decorations to Suit Your Venue
Hosting a high tea party indoors or in a garden setting requires different decor strategies. Let's explore several decorating ideas for each subsection to create the perfect ambiance:
Decorating for an Indoor High Tea Party
Set the mood with soft, flickering candles in elegant candelabras or ornate candle holders. The warm glow will create an intimate and sophisticated atmosphere.
Dress the tables with fine, crisp linens adorned with lace or embroidery. Choose a tablecloth that complements your color scheme and adds a touch of luxury.
Display an array of crystal glassware for serving beverages. Crystal adds a touch of opulence and reflects the light beautifully.
If your venue has a chandelier, decorate it with floral garlands or delicate ribbons to add an extra touch of refinement.
Create eye-catching centerpieces with tall flower arrangements or ornate vases filled with fresh blooms. Add some height to the tablescape with tiered cake stands showcasing delectable treats.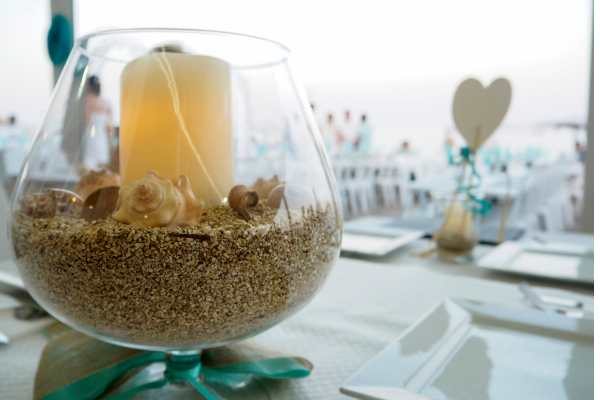 Creating a Charming Garden High Tea Party Setting
Decorate with an abundance of fresh flowers, from wildflowers to blooming roses. Place floral arrangements in rustic mason jars or vintage watering cans.
Adorn tables with lush greenery runners or use garlands of leaves as wall decor. Incorporate potted plants and succulents for a natural touch.
Set up picnic-style seating with blankets and cushions on the grass. Add colorful, flowy fabric canopies or parasols to provide shade and add a whimsical touch.
Integrate wooden elements, like wooden serving trays or tree stump side tables, to complement the garden theme.
Decorate with butterfly or bird motifs, such as hanging paper butterflies or birdcage centerpieces, to bring a sense of enchantment to your garden setting.
Remember to work with the existing elements of your venue, such as archways, gazebos, or trellises, to enhance the overall garden charm. Whether indoors or outdoors, these decorating ideas will infuse your high tea party with the perfect ambiance for an unforgettable experience! 🍃🌷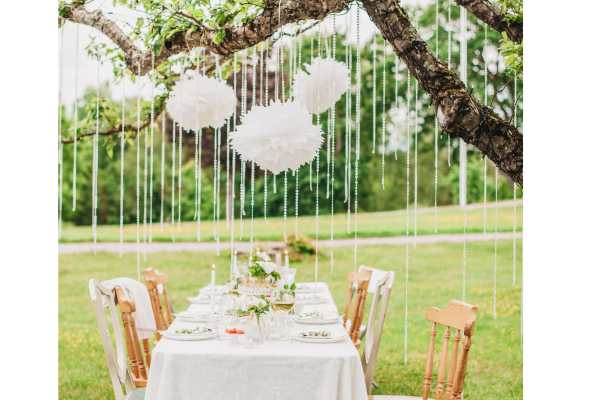 Choosing the Ideal Table Settings: Linens, China, and Silverware
A beautifully set table is the canvas upon which your high tea party masterpiece will unfold. Let's delve into the art of selecting the perfect table settings that will leave your guests in awe:
Start with a pristine tablecloth that complements your chosen theme. For an elegant affair, opt for crisp, white linens adorned with delicate lace or embroidered details. If you're going for a garden party, pastel-colored linens with floral patterns will add a touch of charm.
Your choice of china can elevate the entire tea experience. Traditional, fine-bone china with intricate patterns is ideal for a classic high tea. For a more eclectic touch, mix and match vintage teacups and saucers in different colors and designs.
Silverware Sophistication
Polished silverware adds a touch of sophistication to your table. Go for silver or silver-plated cutlery with ornate designs for a timeless look. Don't forget to include teaspoons for stirring tea and sugar tongs for sweetening.
Fold cloth napkins elegantly and place them beside each teacup or arrange them creatively at the center of the plates. Tie them with ribbon or napkin rings that match your theme for an extra touch of refinement.
In addition to the teacups, incorporate sparkling glassware for serving water, iced tea, or other beverages. Crystal or cut-glass stemware adds a touch of glamour, making your guests feel like royalty.
Menu Cards and Place Settings
Add a personal touch by creating menu cards showcasing the delicacies on offer. Place settings with guests' names add a sense of importance and make everyone feel special.
A high tea party requires a few etiquette rules. Lay out dessert forks and cake servers alongside the plates for easy access. Ensure guests know which side to place used utensils to signal when they are finished with a course.
Remember, the table setting is the first impression your guests will have of your high tea party, so take the time to curate a display that reflects the essence of your theme. With these table-setting tips, you're well on your way to hosting a high tea that will leave your guests enchanted and eager for more! 🍽️🫖
Flower Power: Incorporating Floral Arrangements into Your High Tea Decor
Nothing epitomizes the charm of a high tea party quite like the beauty of fresh flowers. Let's explore the art of incorporating floral arrangements to create a blooming wonderland for your guests:
Craft enchanting floral centerpieces that steal the show. Mix and match various blooms like roses, peonies, and daisies in elegant vases or teapots. For an indoor high tea, add height with tall arrangements, while low, overflowing arrangements suit a garden setting.
Create floral pathways leading guests to the tea area. Line the walkway with rose petals or scatter wildflowers for a picturesque entrance. For a garden setting, weave flower garlands along fences or trellises to add a whimsical touch.
Charming Floral Chandeliers
For an indoor high tea, turn a chandelier into a floral masterpiece. Drape delicate vines or greenery around the chandelier arms and hang flower buds or tea roses from thin ribbons for a mesmerizing effect.
Adorn your tea table with mini floral arrangements in teacups or small vases. Use single blooms like hydrangeas or carnations for a touch of simplicity and elegance.
Flower-Infused Beverage Station
Add a touch of flair to your beverage station with flower-infused water or floral ice cubes. Freeze edible flowers or flower petals in ice trays for a refreshing and visually stunning addition to your drinks.
Don't let your teapot feel left out! Crown it with a delicate flower arrangement. Use tiny blooms or greenery to add a touch of sophistication to the centerpiece of your tea service.
Serve up floral-themed treats, like cake pops decorated with edible flowers or flower-shaped cookies. These delightful treats will tie in perfectly with your blooming ambiance.
The possibilities are endless when it comes to incorporating flowers into your high tea decor. Whether you opt for elegant arrangements or wildflower chic, these floral delights will ensure your high tea party blossoms into a truly unforgettable experience! 🌸🌿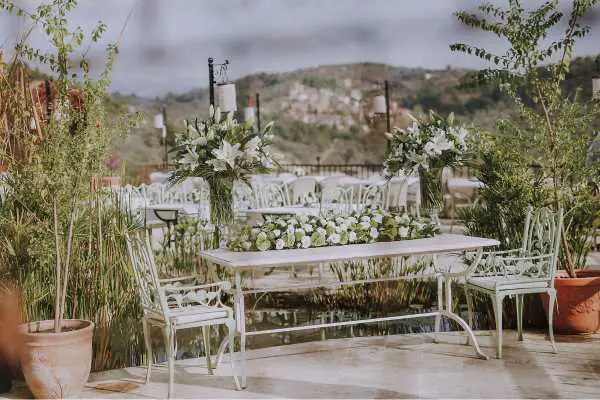 The Art of Tea Sets: Showcasing Vintage and Contemporary Teapots
A high tea party is incomplete without the star of the show – the teapot! Let's explore the art of selecting and showcasing teapots that will add a touch of charm and elegance to your event:
Embrace the allure of the past with vintage teapots that exude timeless elegance. Look for delicate porcelain or bone china teapots adorned with intricate floral patterns or gold accents. Scour antique shops or family heirlooms for unique finds that will be conversation starters at your high tea affair.
For a modern twist, opt for contemporary teapots with sleek designs and clean lines. Choose teapots in bold colors or with geometric patterns that complement your theme. These teapots will add a touch of sophistication to your table setting.
Incorporate teapots that align with your chosen theme. For a garden high tea, select teapots shaped like flowers or adorned with floral motifs. Mad Hatter's tea party? Look for teapots with whimsical shapes or eccentric designs to match the theme.
Transform your teapots into stunning centerpieces. Fill them with fresh flowers that match your floral arrangements or use them as charming vessels for serving warm beverages at each table.
Create a teapot display station, showcasing a collection of teapots that serve as both decor and conversation starters. Arrange them on a vintage tray or a tiered stand for an eye-catching presentation.
Get crafty and personalize teapots for a unique touch. Paint or decorate plain teapots with porcelain markers to add a personal flair. You can also create teapot planters with succulents or small flowers as delightful party favors.
Don't forget the tea cozies! Wrap your teapots in beautiful, handmade tea cozies to keep the tea warm while adding a touch of coziness to your table setting.
The teapot is not just a vessel for serving tea; it's a work of art that sets the tone for your high tea party. Whether vintage, contemporary, or theme-inspired, the right teapots will undoubtedly brew a perfect blend of style and charm for your guests to savor! ☕🌺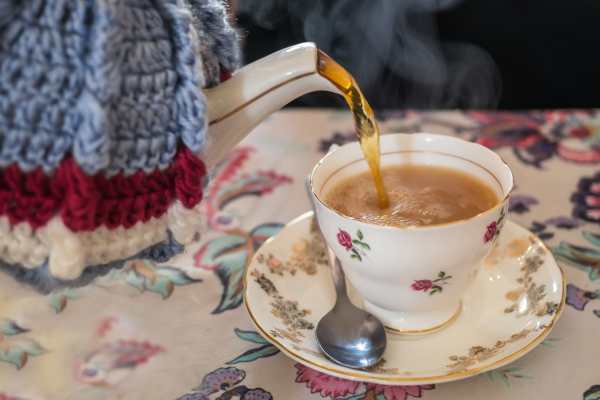 Elegant Lighting: Choosing the Right Lamps and Candles for Evening Tea Parties
As the sun sets and twilight descends, your high tea party can transform into an enchanting evening affair with the right lighting choices. Let's delve into the art of selecting elegant lamps and candles to illuminate your soirée:
Opt for dainty table lamps with soft, warm light to create an intimate ambiance. Place them strategically on each table, casting a gentle glow that complements the elegance of the evening setting.
Lanterns are a timeless choice for evening tea parties. Choose lanterns with intricate metalwork or delicate glass panels to add a touch of old-world charm. Hang them from trees or shepherd hooks to guide your guests along garden paths.
Fairy lights are the epitome of enchantment. String them along trees, trellises, or around the tea area to add a magical sparkle to your event. Opt for warm white or soft pastel lights to maintain a sophisticated atmosphere.
Pillar Candles in Glass Hurricanes
For a touch of sophistication, place pillar candles in glass hurricanes as elegant centerpieces. Opt for unscented candles to avoid overpowering the aroma of the delicacies. The flickering flames will set the perfect mood for an intimate gathering.
Channel the romance of a bygone era with candelabras adorned with taper candles. Place them on buffet tables or as focal points in the dining area. The elegant height and glow will elevate the overall atmosphere.
Create a serene ambiance with floating candles in glass bowls or vases filled with water. Scatter rose petals or flower buds for a touch of elegance. These floating candle displays can grace water features or add a captivating element to the dining area.
Guide your guests through the evening tea party with luminary pathways. Line walkways with paper bags or glass jars filled with tea lights. It adds a warm, inviting glow and ensures guests feel safe and welcome.
The right lighting can transport your high tea party into a world of elegance and allure. With carefully chosen lamps and candles, your evening affair will be bathed in the gentle radiance of enchantment, creating lasting memories for you and your guests. 🕯️✨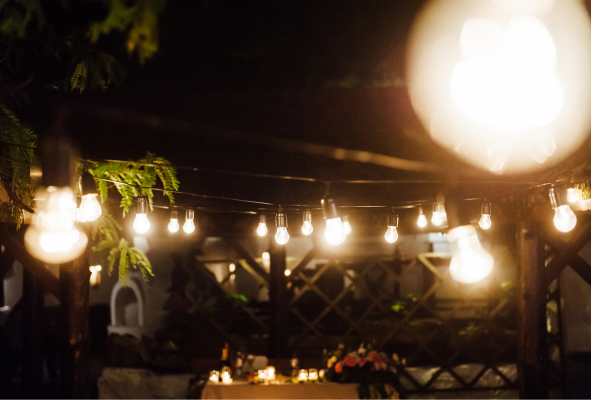 Frequently Asked Questions
How do you fold a napkin for high tea?
Folding a napkin for a high tea can add an elegant touch to your table setting. Here's a simple and classic napkin folding technique:
Start with a clean, square napkin.
Fold the napkin in half diagonally to form a triangle.
Take the bottom corner of the triangle and fold it up towards the top corner, creating a smaller triangle.
Next, fold the left corner of the triangle towards the right corner, creating a smaller square.
Turn the napkin over to the backside.
Fold the bottom corner of the square up about one-third of the way.
Fold the top corner down, overlapping the bottom fold slightly.
Flip the napkin back to the front side.
Stand the napkin up on its folded edge, and gently spread out the two sides to create a fan-like shape.
Voilà! You now have a beautifully folded napkin ready to impress your guests at the high tea table. Adjust the folds as needed to fit your preferred style and theme.
What are the 3 main foods served at afternoon tea?
The three main foods typically served at an afternoon tea are finger sandwiches, scones with clotted cream and jam, and a selection of sweet pastries and cakes. These delightful treats are meant to be enjoyed alongside a variety of fine teas, making for a delectable and quintessential afternoon tea experience.
What should a woman wear to a Tea Party?
A woman attending a tea party should opt for a tasteful and elegant outfit. A classic choice includes a knee-length dress or skirt paired with a blouse or a smart blouse-and-skirt combination. Accessorize with subtle jewelry, and consider a stylish hat or fascinator for a touch of sophistication.