The Brown Palace – Where High Tea Dreams Come True
Ah, high tea, that delightful indulgence that bridges the gap between lunch and dinner while making our taste buds dance with joy! And if you're in Denver, Colorado, the place to experience this grand tradition is none other than The Brown Palace.
Now, you might be wondering, "What's the big deal with high tea anyway?" Well, dear reader, let me tell you—it's not your average cuppa!
High tea at The Brown Palace is like stepping into a time machine and landing in the heart of Victorian elegance. Picture this: lush surroundings, plush armchairs, and a tower of tantalizing treats.
But let's get to the nitty-gritty. You're probably thinking, "Okay, but how much does this fanciful affair cost?" Fear not, it won't break the bank. The Brown Palace offers this majestic experience at a surprisingly reasonable price.
High Tea at The Brown Palace costs $60 for the Signature Tea and $25 for children. The total price may vary based on the package and additional items you choose to include in your experience.
So, if you're ready to embark on a delightful journey of sipping, savoring, and possibly even pinky lifting, join me as we uncover the menu highlights, reservation secrets, and the perfect timing for this splendid high tea adventure at The Brown Palace! Stay tuned, tea lovers!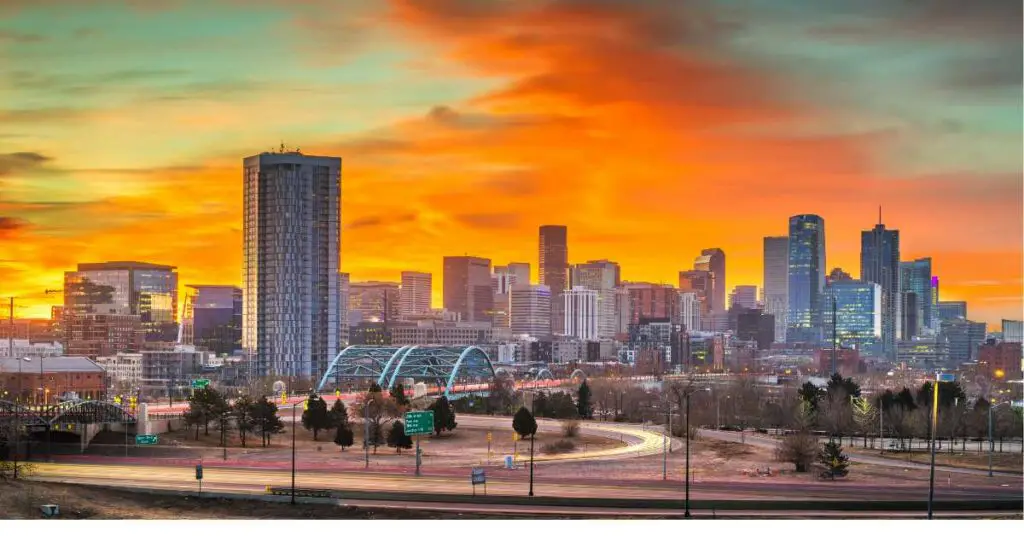 What is High tea?
High tea is a quintessentially British tradition that's more than just a cup of tea. It's an afternoon affair that combines sipping tea with an array of delectable savory and sweet treats.
Unlike its dainty cousin, afternoon tea, high tea was historically enjoyed by the working class as a substantial meal to stave off hunger until dinner.
Picture hearty sandwiches, scones, cakes, and pastries, all served on a tiered stand. It's the perfect blend of sophistication and indulgence, making high tea a delightful social occasion that has stood the test of time.
How Much is High Tea at The Brown Palace?
High Tea at The Brown Palace offers different packages and options to cater to various preferences and needs. The standard package, known as the Brown Palace Signature Tea, is priced at $60 per person.
This package typically includes a selection of teas, a tiered stand filled with delectable sandwiches, scones, and pastries, and the full high tea experience.
For children, there is a separate package available at a reduced price of $25. This kid-friendly option ensures that even the little ones can join in the high tea fun with treats suited to their tastes.
However, it's worth noting that the total cost can vary based on the specific additions and upgrades you choose. The Brown Palace may offer additional items or specialty teas at an extra cost, allowing guests to customize their experience further.
So, whether you opt for the classic Signature Tea or decide to indulge in some delightful extras, the cost of your high tea experience at The Brown Palace will depend on the package you select and any additional items you decide to add to make your tea time even more special.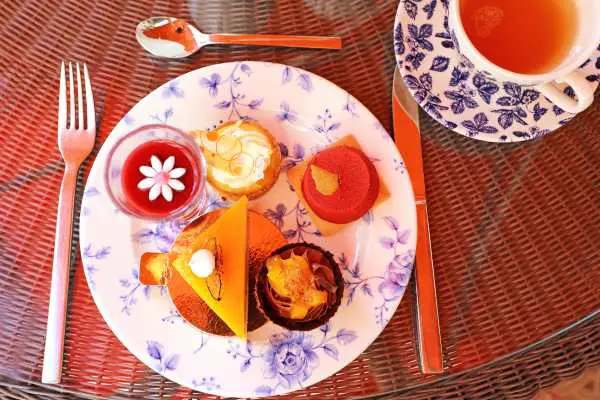 The High Tea menu at The Brown Palace Hotel and Spa offers a delightful array of options to cater to every guest's preferences and tastes.
The centerpiece of the menu is the Brown Palace Signature Tea, priced at $60, which includes a selection of your favorite tea accompanied by homemade scones, finger sandwiches, and an exquisite assortment of classic tea pastries, all served with Devonshire cream and preserves. It's a perfect blend of tradition and indulgence.
For those looking to add some bubbly to their tea experience, the "Bubbles for Four" offers the choice of premium champagnes like Dom Perignon, Veuve Cliquot La Grande Dame, Moet Imperial, or Chandon.
This package is designed for four guests and includes all the delights of the Signature Tea, along with a tantalizing Brown Palace salted dark chocolate truffle.
The "Veuve Clicquot for Two" is a more intimate option, featuring a half bottle of Veuve Clicquot along with the tea service and delectable treats.
For a truly royal experience, "The Royal Palace" offers a tea of your choice accompanied by a glass of Chandon Brut, Chandon Rose, or Veuve Clicquot La Grande Dame, along with the scones, sandwiches, and pastries, and a finishing touch of the Brown Palace salted dark chocolate truffle.
Children aged six and under can enjoy the High Tea experience at a special rate of $25, and they also have the option of sparkling cider instead of champagne.
The menu emphasizes the importance of notifying the server about any food allergies or dietary restrictions to ensure a delightful experience for all guests.
Additionally, larger parties are encouraged to choose a maximum of three teas and can enjoy a complimentary second plate of sandwiches. For those with bigger appetites, extra scones and pastries are available for an additional charge.
Overall, The Brown Palace's High Tea menu is a testament to their dedication to creating an unforgettable and inclusive experience for all who wish to indulge in the timeless tradition of high tea.
Signature Tea Blends at The Brown Palace
At the Brown Palace, the Signature Tea Blends are a testament to their commitment to excellence in every aspect of the high tea experience. Crafted with precision and care, these exclusive blends are a delightful fusion of tradition and innovation.
The Royal Reserve is a must-try, paying homage to the classic Earl Grey but with a twist of bergamot and premium Ceylon tea leaves. For those seeking a refreshing option, the Garden Tea, infused with floral notes of jasmine and rose petals, offers a delightful escape to a blooming paradise.
For a caffeine-free indulgence, the Herbal Infusion blend is a comforting choice, blending soothing chamomile, zesty lemongrass, and hints of mint. Meanwhile, the Exotic Chai takes taste buds on an adventure with its bold combination of spices like cinnamon, ginger, and cardamom.
Each Signature Tea Blend at The Brown Palace is carefully curated to cater to diverse palates, providing a sip of luxury and elevating the high tea experience to new heights.
High Tea Etiquette: Dos and Don'ts
High Tea etiquette adds an air of sophistication to your experience, ensuring you savor every moment in style. Here are some essential dos and don'ts to abide by:
Dos:
Dress Smartly: Embrace the occasion by dressing elegantly. Semi-formal attire is ideal.
Napkin Know-How: Unfold your napkin and place it on your lap throughout the tea.
Stirring Gracefully: Stir your tea gently, avoiding clinking the spoon against the delicate china.
Pinky Placement: Contrary to popular belief, keep your pinky finger down while sipping tea.
Savory First: Begin with sandwiches and work your way to scones and desserts.
Mind the Tea: Avoid dunking your food into the tea; instead, take small bites.
Engage in Conversation: Engage with fellow guests in pleasant conversation to elevate the experience.
Don'ts:
Slurp or Guzzle: Refrain from making loud noises while sipping tea.
Double Dipping: Avoid double-dipping your utensils in shared condiments.
Phone Zone: Keep your phone on silent and limit its use during tea time.
Elbow Alert: Keep your elbows off the table while dining.
Overloading Your Plate: Take small portions to avoid wastage and maintain decorum.
Tardiness: Arrive on time to avoid disrupting the flow of the tea service.
By following these etiquette guidelines, you'll effortlessly exude elegance and appreciation for the rich tradition of High Tea.
How do I make a Reservation?
Making a reservation for High Tea at The Brown Palace is a simple and straightforward process. Here's how you can secure your spot for this delightful experience:
Contact The Brown Palace:
Reach out to The Brown Palace Hotel and Spa through their designated reservation phone number or visit their official website.
Choose the Date and Time:
Inform the reservation team about your preferred date and time for High Tea. Check the availability for your desired time slot.
Specify the Number of Guests:
Let them know the number of people attending, including any children.
Communicate Special Requests:
If you have any dietary restrictions or special requirements, inform the staff in advance to ensure they can accommodate your needs.
Confirm the Details: Once all the information is confirmed, you'll receive a reservation confirmation with the date, time, and other pertinent details.
By following these steps, you'll secure your reservation for High Tea at The Brown Palace, guaranteeing a wonderful experience filled with delectable treats, impeccable service, and timeless elegance.
Meanwhile, if you are wondering what is a high tea wedding, you can read all about that in this article I have written.
Frequently Asked Questions
Why is the Brown Palace famous?
The Brown Palace is famous for its historic significance, timeless elegance, and luxurious accommodations, making it a Denver landmark and a symbol of Victorian opulence.
What is the best time for afternoon tea?
The best time for afternoon tea is typically between 2:00 PM and 4:00 PM. This tradition originated in the 19th century when the Duchess of Bedford introduced the practice of having a light meal between lunch and dinner to combat hunger.
Afternoon tea is now enjoyed as a delightful and social experience during these afternoon hours. However, specific establishments may have slightly different tea service timings, so it's always a good idea to check with the place you plan to visit to ensure you don't miss out on this delightful treat.
What is hi tea buffet?
Hi-Tea buffet, also known as a High Tea buffet, is a variant of the traditional afternoon tea that offers a more extensive and lavish spread of food items. Unlike the typical afternoon tea, which is served at individual tables with a set menu, a hi-tea buffet allows guests to enjoy a self-service experience.
During a hi-tea buffet, a wide selection of savory and sweet dishes is laid out on buffet tables, and guests can help themselves to various items as they please. The menu may include a range of finger sandwiches, scones, pastries, cakes, desserts, salads, and sometimes even hot and savory dishes. Hi-tea buffets are popular in hotels, restaurants, and cafes, offering a relaxed and indulgent way to enjoy a variety of delectable treats over a more extended period of time.