Grocery shopping is one of those weekly errands that are just unavoidable. 
Whether you enjoy it or not, you have to get your hands on some essentials to keep your kitchen running smoothly. 
However, grocery shopping can quickly become a daunting task if you're a new parent with a little one in tow. 
From packing the diaper bag to keeping your baby entertained, might be overwhelming. Don't worry; we've got you covered. 
In this post, we'll share some tips on how to go grocery shopping with a baby, so you can ace this errand without a hitch.
As a new mother, even simple tasks like grocery shopping can seem challenging with a baby in tow. 
However, proper planning and preparation can make it a stress-free experience. It's important to ensure that your baby is kept safe and comfortable while out and about. 
Choosing the right time to go grocery shopping, such as during nap time or when the store is less crowded, can make a huge difference in your baby's comfort level. 
Being prepared with a full belly and a comfortable breastfeeding pillow can also help. There are even options like using a baby carrier or a grocery cart hammock to make the experience easier. 
With these tips and tricks, new mothers can confidently tackle the task of grocery shopping with their little ones.
How To Go Grocery Shopping With Your Baby
Going grocery shopping with a baby doesn't have to be daunting. 
A few ways to approach this challenge include putting the infant car seat in a designated cart, wearing your baby in a front carrier while pushing the cart, or even ordering groceries from your phone. 
Make sure to avoid placing the car seat on the top of the cart as it may throw off the cart's center of gravity, making it unsteady. Opt for a grocery cart hammock instead, which can easily attach to the cart. 
It's also a good idea to ask the store to pack all your cold items together and prioritize what you bring into the house. 
Lastly, don't take too long and try to shop from only one store to make the process easier.
 Remember, grocery shopping with your baby can be a breeze with a little preparation and these tips. [3][4]
How To Put The Infant Carseat In A Shopping Cart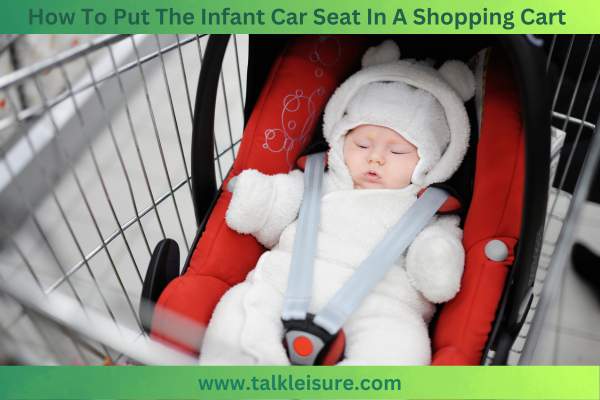 When grocery shopping with a baby, deciding where to place the infant car seat can be challenging. 
Placing it directly in the shopping cart limits the grocery space and can put the baby in an unsafe position.
However, if the grocery store has a shopping cart with a safe dock, you can place the car seat on it.  
Since most shopping carts aren't designed to hold car seats, it is best to ensure that the cart has a safety dock which helps to fix the car seat on top.
Use the provided safety belts or harnesses to ensure their safety.
How To Strap Your Baby With A Baby Carrier
When you go grocery shopping with a baby, utilizing a baby carrier can be a lifesaver. 
Not only does it keep your baby close and secure, but it also frees up your hands to shop without the burden of pushing a cart. 
There are several types of baby carriers to choose from, such as wraps, ring slings, and soft-structured carriers. 
When considering a carrier, it's important to find one that is comfortable and easy to use while ensuring it safely supports your baby's weight and posture. 
One popular option is the ring sling, which can be easily adjusted for a proper fit and provides a cozy nest-like environment for your baby. 
Regardless of the carrier type, always follow the manufacturer's guidelines for proper use and ensure your baby is always correctly positioned.
How To Use a Baby Shopping Cart Hammock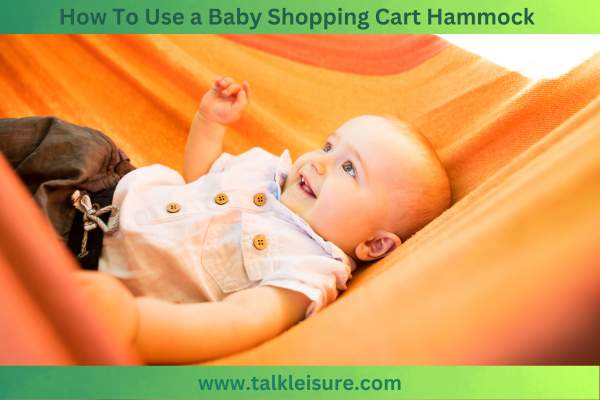 The Baby Shopping Cart Hammock by Binxy Baby is a must-have for parents who enjoy taking their babies for grocery shopping. 
It is made of high-quality upholstery weight fabric and reinforced seams for maximum durability. 
The fabric is a blend of cotton and spandex, which is soft and safe against your baby's skin, and has a little stretch to fit standard-size shopping carts. 
The Hammock can hold up to 50 pounds and is secured to a cart with two 12-inch plastic clips and a Velcro strap. 
The Hammock also comes with a three-point seat belt to hold a baby inside an infant car seat. It's easy to use and can securely attach to a cart or car seat. 
With the Binxy Baby Shopping Cart Hammock, parents can enjoy a convenient and stress-free shopping experience with their little ones.
Can You Do Grocery Shopping With a Stroller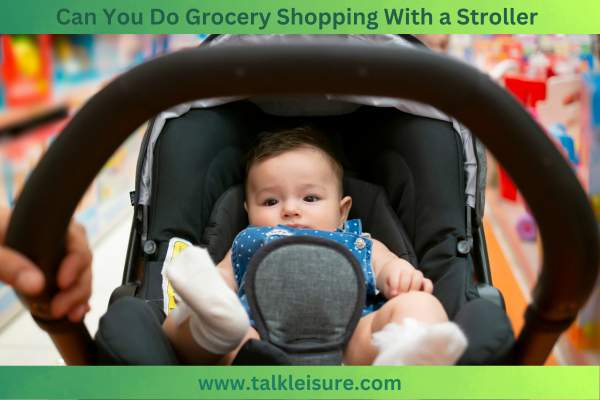 Grocery shopping with a baby can be challenging, but it is doable. 
Many parents ask if they can do grocery shopping with a stroller, and the answer is yes. 
There are different techniques to make grocery shopping with a stroller easier and more manageable. 
One option is to detach the infant seat from the stroller and put it in the cart while placing your baby in the seat. You can also use the bottom basket of a bigger stroller as a cart or wear a baby carrier while using the stroller as a cart. 
However, it is important to prioritize safety and supervision while using these techniques. 
Another option is to let your baby sit on the shopping cart, but this should only be done if they can sit by themselves and have a shopping cart cover in place. 
What Are The Tips A Quick Shopping With An Infant
When doing grocery shopping with an infant, there are some tips and tricks to make the errand a breeze. 
First and foremost, ensuring the baby is safe and comfortable throughout the trip is essential.
Instead of putting the car seat on top of the cart, it is best to put it directly into the back to maintain its center of gravity. 
Alternatively, one can opt for a baby carrier that attaches to the cart or babywearing, saving space and keeping the baby relaxed. 
It is also advisable to have a shopping list beforehand and get in and out of the store quickly to minimize crying. 
Parents should keep the trip short and avoid crowded stores.
Feeding the baby before heading to the store and parking next to a shopping cart return stall is also recommended. 
If a toddler is in the picture, investing in a shopping cart basket is best to maximize on space. 
With these tips, shopping with a baby becomes a much more manageable task.
What Are The Essentials You Must Carry When You Go Grocery Shopping With Your Baby
When going grocery shopping with a baby, it is important to be well-prepared. 
To ensure a smooth and stress-free shopping experience, parents should pack a diaper bag with all the essentials. 
This includes a bottle with formula or nursing cover, extra pacifiers, diapers and wipes, a change of clothes for the baby as well as for the parent, a plastic bag for dirty clothes, and a hammock or carrier for the baby. 
Also take one or two toys to entertain your baby while shopping.
Is It Safe To Put Your Baby in The Grocery Cart While Shopping
According to factual data, putting a baby in the grocery cart while shopping can be unsafe if not done correctly. 
Using a car seat on top of a shopping cart can throw off the cart's center of gravity, leading to potential tipping accidents. 
Some stores now have designated carts to safely dock a car seat. To be safe, placing the car seat directly in the back of the cart is recommended. 
You can place the baby in the shopping when they can sit on their own. However, using a safe option rather than directly placing the baby in the cart is highly recommended.
Another option is to use a front carrier to wear the baby while pushing the cart or to use a baby shopping hammock that is compliant with safety regulations. 
Where To Park Your Vehicle When Shopping With A Baby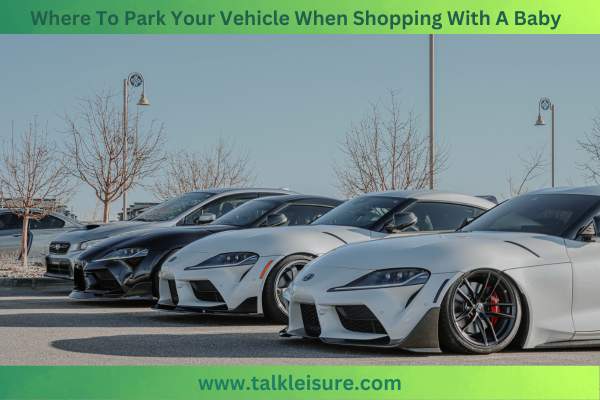 When grocery shopping with a baby, it's important to consider where to park your vehicle. 
Look for a parking space near the entrance, preferably near a cart return area. Parking near the entrance will make getting in and out of the store easier with the baby and all the necessary supplies. 
Some stores even have designated parking spaces for families with young children. 
However, if no spaces are available, consider using a designated parking space for expectant mothers or individuals with disabilities. 
This will allow for easier access to the store and ensure the baby's and the parent's safety when carrying the baby to and from the store. 
Always remember to park in a safe and legal spot and never leave a baby unattended in a vehicle. 
How to Avoid Shopping With Baby
While going grocery shopping with a baby is possible, some parents may prefer to avoid it altogether. One option is to take advantage of online grocery shopping or delivery services. 
This can save time and hassle, especially if your baby is particularly fussy or needs constant attention. 
Another option is to ask for help from a partner, family member, or friend to watch the baby while you quickly run to the store. 
Planning ahead and making a list of necessary items can help reduce the amount of time spent in the store. 
Additionally, shopping during off-peak hours when the store is less busy can help avoid crowds and ensure a smoother shopping experience. 
Ultimately, every parent should do what works best for them and their baby.
Bottom Line
Going grocery shopping with a baby can be daunting for new parents. Planning ahead is crucial for a stress-free experience for both the baby and the parent. 
Choosing the right time, making a list, and planning meals all make an easier shopping trip. It is also important to pack essential items for the baby, including diapers, wipes, a changing pad, a spare change of clothes, a baby carrier or stroller, and a pacifier. 
However, there are safety concerns when it comes to using a car seat in a shopping cart. 
Babywearing is a great option for shopping with a newborn, as it keeps them safe and calm against the body while allowing free use of their hands. 
Overall, proper planning and preparation are key to a successful grocery shopping trip with a baby.
FAQs
What Is The Right Time To Go Grocery Shopping With My Baby?
There is no right or wrong age for taking your baby grocery shopping. 
However, waiting until the baby is at least a few weeks old and has had their core vaccinations before exposing them to public spaces is recommended. 
It is also important to ensure the baby is well-fed, well-rested, and comfortable before heading out.
How Quick Should I Complete My Grocery Shopping When I Am With My Baby?
It is recommended to keep your first trip to the store quick, especially if it's your baby's first time out. 
You don't know how your baby will react, so keeping it short and sweet is best. 
Try to get your grocery shopping done before it's time for your baby's next feeding or during their nap time.
Can You Take A 3-Week-Old Newborn On Grocery Shopping?
It is generally recommended to avoid taking a 3-week-old newborn on grocery shopping trips, as they are still very vulnerable to germs and infections. 
Additionally, the first few weeks after birth can be overwhelming and tiring for new parents, and it may be best to focus on rest and recovery before venturing out with the baby. 
Alternatively, parents can consider online grocery shopping or asking a trusted friend or family member to help with errands.