As the e-commerce industry continues to grow, more and more people are opting for online shopping as their go-to way of buying products. 
Consequently, the number of online shopping sites has also increased significantly in the past few years. 
Temu is one such online shopping platform that provides a wide range of products, including electronics, fashion, and home appliances, among other things. 
But, the question that arises is whether Temu is trustworthy or not? 
And the answer comes with big yes. Temu is a globalized version of Pinduoduo, a Chinese e-commerce company, and thrustworthy to shop.
In this blog post, we will delve deeper into this question and see if Temu can be trusted as a reliable online shopping site. So, let's get started!
What Is Temu ?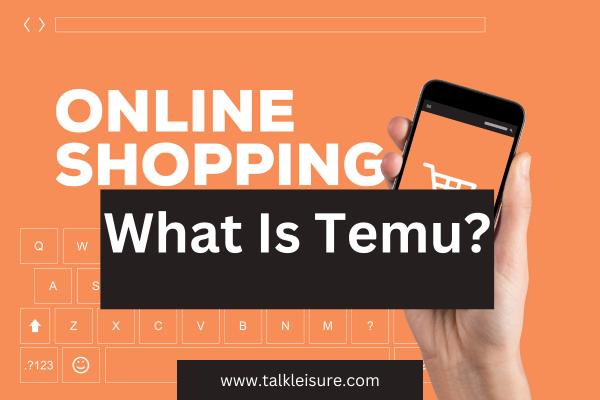 Temu is an online shopping app that offers an impressive range of products, including fashion accessories, clothing, small home appliances, outdoor furniture, power tools, and baby clothes. 
Temu's parent company is based in Ireland, and the app has quickly risen to become the number one free shopping app in the App Store, beating out well-known digital marketplaces such as Amazon and Walmart. 
With Temu, many products are incredibly cheap. 
Temu is a globalized version of Pinduoduo, a Chinese e-commerce company, and like other  e-commerce apps, Temu can offer low prices because of lower manufacturing costs in China. 
Despite its low prices, many people are wondering if Temu is a trustworthy site, and in the next sections, we will explore this question in detail. 
What Brand Does Temu Sell?
Temu is an online shopping platform that hosts millions of third-party vendors, selling a wide variety of low-priced products, from clothing and cookware to musical instruments.
The platform offers products from various brands, both well-known and obscure, giving customers a massive selection to choose from. 
Temu's parent company has a large network of global suppliers, allowing them to offer products at lower prices than traditional retail stores. 
Additionally, with sellers constantly entering the marketplace and competing with one another for customers, Temu is able to keep prices low. 
Customers can browse through over 250 categories on the website or iOS app, and find a product that suits their needs. 
Despite the incredibly affordable prices, there is no compromise on quality, with many happy customers reporting satisfaction with their purchases. 
Is Temu A Trustworthy Site?
Based on reviews and feedback, Temu seems to be a trustworthy site for online shopping. 
While some may be hesitant to make purchases from a Chinese-owned company, Temu has established a strong reputation among its customers. 
Many customers have praised the site for its ease of use, efficient tracking systems, and quality products. 
Despite the incredibly low prices of its products, there have been few complaints about the quality of the items ordered through the site. 
Overall, Temu appears to be a reliable option for those seeking affordable and diverse products. 
However, customers should still exercise caution and research products before making purchases to ensure their satisfaction. 
Why Is Temu So Popular?
Temu has quickly become popular among online shoppers due to its low prices and wide selection of products. 
The site boasts over 250 categories, offering everything from clothing and small home appliances to power tools and pet supplies. 
One of the main reasons for its popularity is its parent company's ability to negotiate better prices with global suppliers, passing the savings onto Temu's customers. 
Additionally, as a third-party marketplace, Temu is constantly bringing in new sellers who compete with each other, helping to keep prices low. 
Finally, the site is able to offer year-round discounts and promotions thanks to its strong financial backing. 
With millions of third-party vendors selling affordable products to U.S. and Canadian shoppers, it's no wonder Temu has quickly become a go-to shopping destination for those looking to save money. 
Is Temu Legit?
Temu, the Chinese-owned online marketplace, has quickly gained popularity in the United States due to its incredibly low prices and vast selection of products. 
But the question remains: Is Temu legit? 
According to customer reviews, Temu is a trustworthy site. 
Many people have had successful transactions with the app and received their products in a reasonable amount of time. 
However, it is important to remember that the shipping time may be longer since most of the products are coming from overseas. 
Additionally, there have been some concerns about the quality of certain products. It is important to read through customer reviews and product descriptions carefully before making a purchase. 
Overall, Temu seems to be a legitimate company, but as with any online shopping experience it is important to do your own research and be cautious before making a purchase.
Are the products On Temu Good Quality?
When it comes to the quality of products on Temu, it really depends on the specific item and seller. 
There are certainly some products on the platform that are of lower quality, given the low prices and focus on affordability. 
However, there are also higher-end options available. 
To make sure you're getting good quality items, it's important to check product reviews and ratings, as well as seller reputations. 
Many sellers on Temu have established their own reputations and have a history of selling high-quality products. 
So, while there may be some lower-end options available on Temu, there are also plenty of good quality items to be found. 
It's all about doing your research and paying attention to seller ratings and reviews to make informed purchases. 
Who Owns Temu?
Pinduoduo, a major Chinese e-commerce company, is the owner of the rapidly expanding online shopping app Temu. 
While Pinduoduo is based in China, Temu has its principal office in Ireland and is based in Boston. 
Launched in late 2022, Temu has quickly become the number one free shopping app in both the App Store and Google Play. 
The app has gained popularity mainly due to its significantly cheap prices on a wide range of products. 
Temu operates similarly to other Chinese e-commerce platforms like Wish or AliExpress, advertising products at a low cost due to cheaper manufacturing costs in China. 
However, Temu has already been subject to a few complaints filed with the Better Business Bureau, mainly related to undelivered packages, incorrect orders, and unresponsive customer service. 
Despite these complaints, Temu's cheap prices and popularity continue to attract many users who appreciate the steep discounts. 
Is Temu Safe To Buy From?
Temu is a legitimate online marketplace that offers low prices on thousands of products shipped directly from China. 
While the platform has received some negative reviews from customers regarding late delivery, incorrect sizing, and counterfeit items, it is still safe to buy from Temu. 
The platform offers a purchase protection program that protects buyers in cases of damaged goods or fraud. 
This program covers items that don't match the listing description, items that arrive damaged, and items that are lost in the mail. 
If buyers encounter any issues with their purchase, they can initiate a return, select the return method, and indicate their reason for the return. 
They can then print the return label and ship the package via USPS or UPS. 
If their order is eligible for the Temu Purchase Protection Program, they will receive a refund for their item(s). 
So, while customers should use caution and read product reviews before making a purchase, it is safe to buy from Temu. 
Why Is Everything In Temu So Cheap?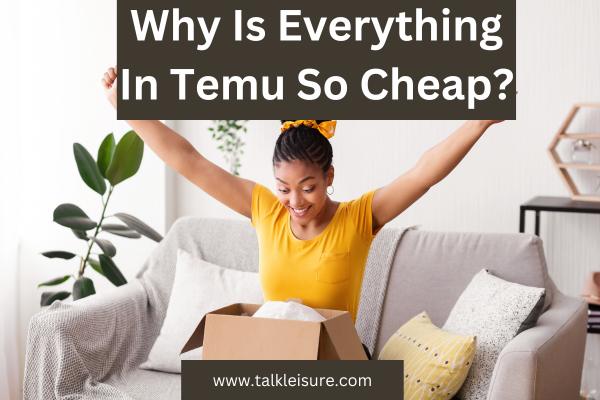 Many people are curious about why everything on Temu is so cheap. 
The answer lies in the company's business model. 
Temu is a marketplace that connects buyers with vendors from China, where production costs are significantly lower than in the US. 
This means that the products being sold on Temu can be made and sold at a lower price than similar products in the US. 
Additionally, Temu sellers can avoid the cost of storing inventory in the US by shipping directly from China to customers. 
While this business model allows for lower prices, it can also come with risks such as longer shipping times and lower quality products. 
Customers should always read reviews and use caution when purchasing from any online marketplace, including Temu. 
Is Temu Ethical?
Temu is not only a superstore for affordable products, but it also stands out from other online marketplaces because of its commitment to ethical and sustainable practices. 
The company was founded with a vision to create a platform that connects consumers with merchants who align with its values of empowerment, diversity, and social responsibility.
Temu prioritizes ethical and sustainable practices, and it doesn't engage in any unethical activities.
Through its Next-Gen Manufacturing approach, Temu provides timely market insights to empower manufacturers to produce merchandise that is in line with consumer preferences, reducing waste and passing on cost savings to customers in the form of lower prices. 
Temu also promotes strict ethical standards, including a zero-tolerance policy for the use of forced labor and child labor. 
Temu values authenticity and social responsibility to create a fair and equitable economy that benefits all stakeholders. 
What Is Temu BBB Review?
According to BBB Business Profiles, Temu is a company that provides affordable online shopping services for a wide range of products, from clothing to kitchen items. 
The BBB notes that their Business Profiles are solely intended to help customers exercise their own best judgment. 
Although BBB asks third-party reviewers to affirm that the information provided is accurate, they do not verify the accuracy of information provided by third parties, and they do not guarantee the accuracy of any information in Business Profiles. 
The BBB also suggests that customers take into account a company's size and transaction volume when considering complaint information, as well as the nature of complaints and a company's responses to them. 
This information is subject to change at any time, but if you choose to do business with Temu, it's always a good idea to let the business know that you contacted BBB for a BBB Business Profile. 
Customer Concerns And Complaints About Temu
Despite the positive reviews of Temu, there are some customers who have expressed their concerns and complaints about the site. 
Some have reported receiving items that were not as they appeared in the photos, with some being much smaller or of low quality. 
Others have complained about the customer service, particularly when it comes to returns and refunds. 
The process can be confusing and daunting, with some customers having to pay for returns themselves. 
Additionally, some have expressed skepticism about Temu's prices, wondering how they are able to sell items at such low prices. 
However, despite these concerns, many customers have had positive experiences with Temu and have praised the site for its user-friendly app and efficient shipping. 
Final Thoughts
In conclusion, Temu seems to be a legitimate and trustworthy site based on the feedback from satisfied customers and factual data. 
The app is safe to use, has great technology to track items, and offers an easy return policy.
Temu is a real company based in Boston with its parent company's principal office in Ireland and has been rapidly gaining popularity as the number one free shopping app, beating out giants such as Amazon and Walmart. 
The site's products, although incredibly cheap, have received positive reviews regarding their quality. 
The reason behind Temu's low prices is due to their lower manufacturing costs in China, similar to other e-commerce companies such as Shein and AliExpress. 
However, unlike its competitors, Temu has been able to attract American audiences with legitimate and high-quality products. 
So if you're looking to save a few bucks on your purchases, Temu might just be the perfect solution for you. 
FAQ
Is The Temu App Safe?
With its low prices and huge selection of products, Temu has quickly become a popular shopping destination for many online shoppers.  
The good news is that Temu appears to be a safe and legitimate shopping site.
A multinational business group with a market cap of over $120 billion founded the Boston-based company Temu.
The app is regularly updated to ensure security features are working properly.
According to reviews on the App Store and Google Play, users have not reported any major issues with the app. 
Is Temu A Real Company?
Temu is a relatively new e-commerce platform that has quickly gained popularity as a result of its cheap prices and deals.
The answer is yes. Temu is the U.S. offshoot of Chinese e-commerce giant, Pinduoduo, and was launched in late 2022.
It has become the most downloaded free app on both the App Store and Google Play in just a few months. 
Why Is Temu So Cheap?
Temu operates as a marketplace where sellers, primarily based in China, sell goods to customers in the US and Canada.
Thanks to lower manufacturing costs in China, Temu can advertise products for a significantly lower price than Western brands.
Additionally, the company focuses on price as its main selling point, advertising promotions and discounts of up to 80% off.  
Best Wishes!
Read For More About Temu: