Spirit Halloween has long been a favorite stop for Halloween fans looking for the ideal costume, spooky decorations, or ghoulish accessories.
If you've just bought something from Spirit Halloween and are curious about their return policy, you've come to the right place.
Spirit Halloween lets you return the majority of your purchases within 14 days of your original purchase.
It's crucial to understand a store's return policy because it gives you peace of mind and facilitates an effortless buying process.
Let's examine Spirit Halloween's return policy in more detail.
What is Spirit Halloween?
Spirit Halloween is a popular retail store specializing in Halloween costumes, accessories, and decorations.
During the Halloween season, Spirit operates over 1,400 store locations in North America.
The Spirit Halloween website is open year-round, offering its in-store products online.
It has become a go-to destination for all things Halloween.
They offer a wide variety of products, ranging from classic characters to the latest pop culture trends, catering to children, adults, and even pets.
Understanding Spirit Halloween Return Policy
What Is Spirit Halloween's Return Policy?
Spirit Halloween has a flexible return policy that lets you return the majority of your purchases within 14 days of your original purchase.
The products must be in their original state, complete with all tags and packaging, to be returned.
For online purchases, Spirit Halloween offers exchanges both in-person and via mail.
They also provide exchanges for broken or damaged goods
Does Spirit Halloween Accept Return After Return Deadlines?
Yes, Spirit Halloween does accept returns after Halloween.
If you need to return an item purchased for the Halloween season, you have until November 12th to initiate the return.
This extended return period allows customers to shop with confidence, knowing they can return their items if necessary.
Do You Need Receipts to Return to Spirit Halloween?
While having a receipt is preferred, Spirit Halloween understands that it's not always possible to keep track of every purchase.
In such cases, they may still accept your return by using other proof of purchase, such as the credit card used for the transaction or the packing slip from the shipment.
Spirit Halloween's flexible return policy ensures that its customers are satisfied with their purchases and have the option to return or exchange items if needed.
Return Methods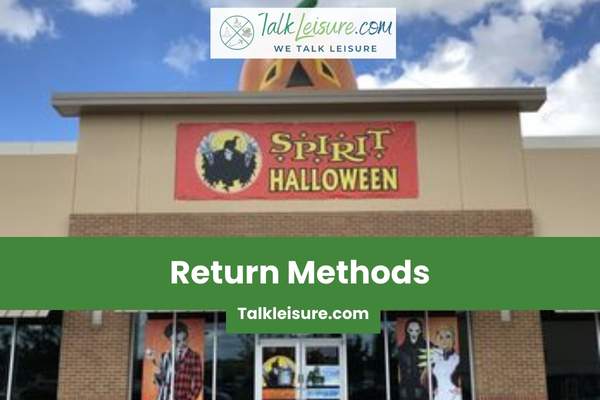 What Are The Different Methods of Returning Items to Spirit Halloween?
You have a few options to return something to Spirit Halloween.
Initially, a Spirit Halloween physical store is where you can return an item.
Simply bring the item with the original packaging and proof of purchase to the store within 14 days of the original purchase.
The staff will be pleased to help you return the item and will give you a refund or exchange.
As an alternative, Spirit Halloween also provides online returns if going to a store is not convenient for you.
You can return an item and ask for a refund or exchange by getting in touch with their customer service team.
They will guide you through the process and provide any necessary information or documentation needed.
What Are The Required Documentation and Proof of Purchase?
To ensure a smooth return experience, it's important to have the original proof of purchase when returning an item to Spirit Halloween.
This can be in the form of a receipt, invoice, or order confirmation.
Additionally, it's advised to retain the original packaging and any tags or labels associated with the item.
Refund Process
How Spirit Halloween Handles Refunds for Returned Items?
To ensure customer happiness, Spirit Halloween provides a flexible return policy.
Follow these steps to get a refund if you need to return something you purchased:
Make sure the item is eligible for return:
Spirit Halloween accepts returns within 14 days of purchase for items in their original condition, with the original packaging.
Contact customer service:
Contact Spirit Halloween's customer service via phone or on their website to start the return procedure.
Additional instructions and a return authorization number will be given to you.
Carefully package the item and attach the return mailing label given by Spirit Halloween before shipping it.
On the package, be careful to write the return authorization number.
Once Spirit Halloween receives the returned item and verifies its condition, they will process your refund. The refund will be issued to the original form of payment used for the purchase.
How Long Does It Take to Receive Your Refund from Spirit Halloween?
The time frame for receiving your refund from Spirit Halloween may vary depending on your financial institution and the method of payment used.
Generally, it takes about 5-10 business days for the refund to reflect in your account after the return is processed by Spirit Halloween.
However, it is recommended to allow up to 14 business days for the refund to be fully processed.
What Are The Exceptions and Exclusions?
Spirit Halloween accepts returns within 14 days of purchase with a valid receipt.
However, there are a few exceptions and exclusions to keep in mind.
If you purchased a wig, makeup, or colored contact lenses, these items are nonreturnable due to hygiene reasons.
Additionally, any seasonal items that have been discounted (such as clearance items) are also non-returnable.
What Are The Items That Are Not Eligible for Return at Spirit Halloween?
Some items cannot be returned or exchanged at Spirit Halloween.
This includes purchases made online from their website, which can only be returned by mail.
In addition to wigs, makeup, and color contact lenses, other ineligible items include:
Costume packages that have been opened, worn, or have missing pieces.
Partial masks, hats, facial hair, and beards.
Undergarments and hosiery.
Fog machines, and special effects lighting.
It is essential to carefully review Spirit Halloween's return policy and ensure that the items you wish to return or exchange meet the required criteria. 
Can You Exchange Items at Spirit Halloween?
Spirit Halloween offers a convenient exchange policy for customers who wish to return or exchange their purchases.
Here's what you need to know about their exchange policy:
Returns and Exchanges
Spirit Halloween allows both returns and exchanges within 14 days of the original purchase.
This policy applies to both online and in-store purchases.
In-Store Exchanges
If you prefer to exchange your item at a physical Spirit Halloween store, you can do so by bringing the original receipt and the item you wish to exchange.
The store staff will assist you in finding a suitable replacement or provide you with a store credit.
Online Exchanges
For online purchases, you can initiate an exchange by contacting Spirit Halloween's customer service.
They will guide you through the process and provide you with instructions on how to return the item and receive a replacement.
Shipping Costs
Please note that any shipping costs incurred during the exchange process are the responsibility of the customer.
How to Initiate an Online Return at Spirit Halloween?
Returning a costume or Halloween decoration doesn't have to be a hassle, especially when shopping online at Spirit Halloween.
They have a simple return process to ensure customer satisfaction.
Here's a step-by-step guide to help you initiate an online return:
Visit the Spirit Halloween website: Go to the official Spirit Halloween website and locate the "My Account" section.
Log in to your account: Sign in to your Spirit Halloween account using your registered email address and password.
Go to the order history: Once logged in, navigate to the order history section, where you will find a list of your previous orders.
Select the order: Locate the specific order that contains the item you wish to return and click on it.
Initiate the return: Within the order details, you will find a "Return Items" button. Click on it to start the return process.
Choose the reason: Select the appropriate reason for the return from the provided options.
Print the return label: After selecting the reason, a return shipping label will be generated. Print it out for easy return shipping.
Pack and ship: Carefully pack the item in its original packaging, including any accessories or documentation. Affix the return label to the package and drop it off at a designated shipping location.
What Are Guidelines for Returning Items to a Spirit Halloween store?
Returning an item to Spirit Halloween is a relatively simple process.
If you're not satisfied with your purchase or need to make a return for any reason, here are some guidelines to follow:
Time frame: Make sure to return the item within 14 days of the original purchase.
This applies to both in-store and online purchases.
Condition: The item must be in its original packaging and in new, unused condition. Spirit Halloween reserves the right to refuse returns if the item appears to be worn or damaged.
Proof of purchase: Bring your receipt or order confirmation email with you when returning the item to the store. This will help the staff process your return more efficiently.
Refund method: Spirit Halloween offers refunds in the original form of payment. If you paid with a credit card, the refund will be credited back to that card. If you paid with cash, you will receive a cash refund.
Special considerations: Some items may have additional return restrictions, such as makeup, wigs, and body jewelry. These items must be unopened and unused for a return to be accepted.
Conclusion
Spirit Halloween's return policy is a crucial aspect of their shopping experience.
To ensure a smooth and hassle-free return process, customers should familiarize themselves with the policy before making a purchase.
They should keep their receipt in a safe place for processing returns or exchanges.
The return period is typically limited, so customers must return items within the specified time frame to be eligible for a refund or exchange.
The items should be returned in their original condition and packaging.
By following these guidelines, customers can shop with confidence and peace of mind, knowing they have recourse if something doesn't meet their expectations.
FAQs
01. What If I Received a Damaged or Defective Item?
In case of a damaged or defective item, contact Spirit Halloween's Customer Service within 48 hours of receiving the product.
They will assist you with the return process.
02. Can I Exchange an Item Instead of Returning It?
Unfortunately, Spirit Halloween doesn't offer direct exchanges.
You can return the item following the return policy and then place a new order for the desired item.
03.Is Spirit Halloween Store Open for the Whole Year?
Spirit Halloween stores, known for their extensive selection of Halloween costumes, decorations, and accessories, operate seasonally during the late summer to early November.
They are not open year-round and begin opening in late summer, often around August or early September.
The peak season is the weeks leading up to Halloween, which falls on October 31st.
Spirit Halloween stores typically close shortly after November 1st, depending on individual locations.
They may also operate in vacant retail spaces or temporarily lease existing storefronts.
Off-season, Spirit Halloween stores may vacate leased spaces and store inventory until the next year's season.
Happy Shopping!