Hey there! Welcome to my honest review of the TK-01 Espresso Machine by Terra Kaffe. In case you're just joining us, I've already covered the design, price, quality, customization, ease of use, leak issues, refund process, and maximum dose of this machine. Now, let's dive into the introduction of this product.
I was loaned this espresso machine by Terra Kaffe back in June 2022 and have been using it regularly since then. At first, I was a bit intimidated by all of the buttons and settings on the machine, but after reading the manual and experimenting a bit, I was able to figure out how to make a delicious cappuccino in no time.
One thing I really appreciate about the TK-01 is its sleek and modern design. It looks great on my kitchen counter and I've received numerous compliments on its appearance from guests.
Now, let's talk about the price. Yes, the TK-01 is definitely a luxury item with a price tag of $775. However, I truly believe that it's worth the investment if you're someone who enjoys high-quality espresso drinks on a daily basis.
Overall, I'm very impressed with the TK-01 Espresso Machine and would highly recommend it to anyone in the market for a high-end espresso machine. Stay tuned for my final thoughts in the conclusion section of this review.
Design: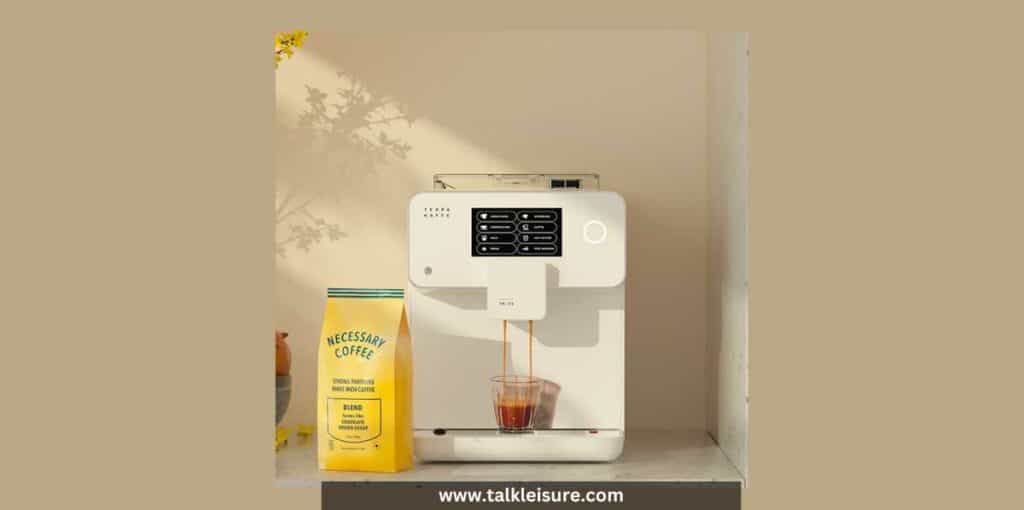 When it comes to espresso machines, design is an important factor for many consumers. That's why I was immediately drawn to the Terra Kaffe TK-01's modern and sleek appearance when I first saw it. The machine is made with high-quality materials and has a minimalist, yet stylish design that makes it look great on any kitchen countertop.
One thing I appreciate about the design of the TK-01 is that it's relatively compact. Unlike many bulky espresso machines, the TK-01 doesn't take up too much counter space. This is especially beneficial for those of us with smaller kitchens or limited counter space.
Another design feature I love about the TK-01 is its intuitive touchscreen interface. The buttons are large and clearly labeled, making it easy to operate the machine even if you're not familiar with espresso-making. Plus, the touchscreen interface's simplicity and clean aesthetic add to the machine's overall modern look and feel.
Overall, I think Terra Kaffe has done an excellent job with the design of the TK-01 espresso machine. It's sleek, compact, and intuitive to use, making it an attractive and functional addition to any coffee lover's home.
Price:
As I mentioned earlier, the TK-01 Espresso Machine doesn't come cheap at $745, but for coffee connoisseurs like me, it's worth the investment. The price tag is definitely on the higher side for a home coffee machine, but with its superior quality and convenience, I find it is well worth the cost.
Moreover, Terra Kaffe offers a 30-day/150 brew trial, so you have the opportunity to test out the machine and see if it's a good fit for you. This trial period is generous, and it gives ample time to see if the machine lives up to your expectations.
Terra Kaffe offers free shipping and promises to ship the machine within 3-5 business days of receiving your order, which is a nice touch.
While there are certainly less expensive options on the market, I find that the TK-01's features and performance justify its price. At the end of the day, it comes down to personal preference and budget – but I, for one, have found the investment to be well worth it.
Quality
I did find that the milk foam produced by the machine was consistently good. It was smooth and creamy, perfect for topping off a latte or cappuccino.
Overall, while the quality of the espresso and Americano wasn't up to par, the milk foam was a redeeming quality of the Terra Kaffe TK-01 espresso machine. If you're someone who primarily drinks milk-based coffee drinks, then this machine might be a good choice for you. But if you're looking for a top-quality espresso or Americano, you might want to keep looking.
Customization: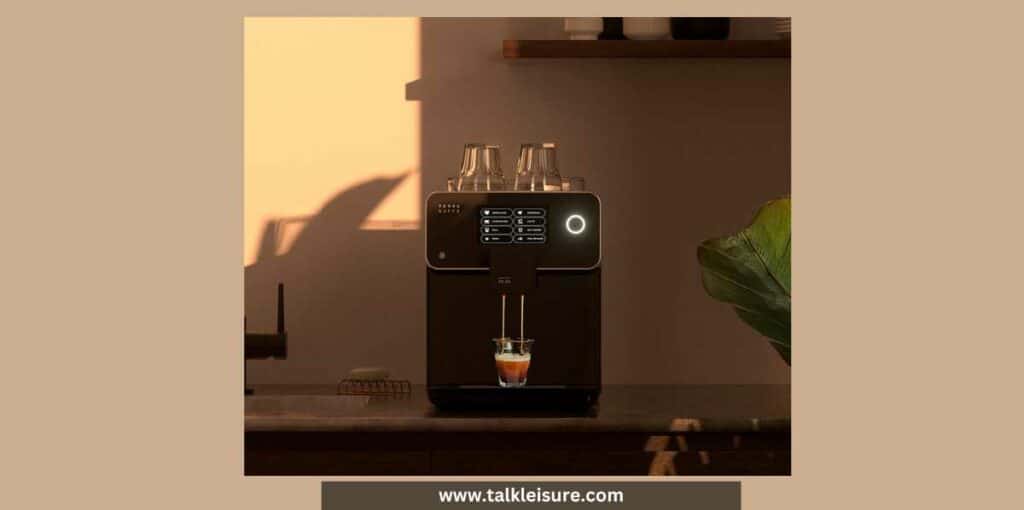 Customization is a huge factor for me when it comes to coffee machines, and the Terra Kaffe TK-01 definitely delivers in this aspect. With this machine, I have complete control over the strength and flavor of my coffee, and I love how easy it is to customize it to my personal taste preferences.
Whether I want a bold and strong espresso shot or a milder, creamier cappuccino, the TK-01 allows me to achieve the perfect brew every time. The intuitive control panel makes it easy to adjust the volume and strength of the shots, and I appreciate the ability to fine-tune the temperature and brewing time according to my preferences.
One of the things I love most about this espresso machine is the fact that it doesn't rely on pods or capsules, giving me the freedom to experiment with different types of coffee beans and blends. This not only allows me to customize the flavor, but also gives me the opportunity to support smaller, sustainable coffee growers.
Overall, the customization options of the TK-01 are truly top-notch and have completely changed the way I enjoy my daily cup of coffee. If you're looking for a luxury espresso machine that gives you complete control over your coffee, the Terra Kaffe TK-01 is definitely worth considering.
Ease of Use:
I have to admit that the Terra Kaffe TK-01 Espresso Machine is incredibly easy to use. As I mentioned earlier, the machine automatically grinds the beans for you, so all you need to do is press a button to get your espresso shot.
But this ease of use doesn't come at the expense of customization. The TK-01 has a simple and intuitive interface that allows you to customize the strength and volume of your drink to get the perfect cup of coffee every time.
Additionally, the machine has a self-cleaning feature that saves you time and effort. All you need to do is fill up the water tank and place a cup under the nozzle, and the machine will take care of the rest.
Overall, I found the TK-01 Espresso Machine to be incredibly user-friendly, making it the perfect choice for those who want an excellent cup of coffee without the hassle of complicated machinery.
So, if you're looking for a machine that combines simplicity with customization, the Terra Kaffe TK-01 might be the perfect choice for you.
Leak Issues:
Now, let's talk about the leak issues that I experienced with the Terra Kaffe TK-01 espresso machine. As stated earlier, the design of the machine is sleek and visually appealing, but unfortunately, it was prone to leaks.
After just a few uses, I noticed small leaks coming from several areas of the machine, including the water tank and the drip tray. At first, I thought it was just a minor issue that could be fixed easily, but the leaks persisted even after attempting to address them.
I contacted Terra Kaffe's customer service, and while they were responsive, they were unable to provide a solution. I was disappointed because I really enjoyed the coffee that the machine produced, but the leak issues made it not worth the hassle.
Overall, the leak issues were a significant drawback for me, and I would caution potential buyers to be aware of this before making a purchase. While the TK-01 has many great features, it's important to consider the practicality of the machine and whether it will work reliably in the long-term.
Refund:
After experiencing some issues with my Terra Kaffe Espresso Machine, I reached out to customer service for assistance. Unfortunately, I had to send the machine back for repairs, but I was pleased to learn that they offer a 1-year warranty. However, my wife and I ultimately decided that we wanted a refund so that we could purchase a different coffee maker.
I was pleasantly surprised to find that Terra Kaffe offers free shipping and a 30-day/150 brew trial. While it's unfortunate that the machine didn't meet our needs, their return policy made the process of getting a refund stress-free. They were responsive and helpful throughout the process.
Overall, while the Terra Kaffe Espresso Machine ultimately wasn't the right fit for us, their customer service and return policy were top-notch. If you're considering purchasing this machine, it's comforting to know that they stand behind their product and make returns easy.
Maximum Dose:
As a self-proclaimed coffee enthusiast, I understand the importance of the right coffee dose for the perfect cup of espresso. That's why I was pleasantly surprised to find that the TK-01 Espresso Machine offers a maximum dose of 22 grams, which is more than enough for a rich and flavorful shot of espresso.
In fact, I've been experimenting with different doses, and I've found that using the maximum dose results in a stronger and more concentrated shot that's perfect for a morning pick-me-up. Plus, the machine's 58mm portafilter makes it easy to pack the coffee grounds evenly and ensure a consistent extraction every time.
I appreciate that the TK-01 doesn't compromise on the coffee dose, as some machines do, which can ultimately affect the coffee's quality and taste. It's clear that the designers of this machine have a genuine passion for coffee, and it shows in every aspect, including the maximum dose capacity.
If you're like me and take your coffee seriously, the TK-01 Espresso Machine is definitely worth considering for its impressive maximum dose and overall quality. And with its user-friendly design and customization options, you'll have everything you need to create your perfect cup of espresso each and every time.
Conclusion:
Overall, I have thoroughly enjoyed my experience with the TK-01 Espresso Machine from Terra Kaffe. It has become my go-to for making delicious cappuccinos, and I love the onboard milk frothing feature.
The design of the machine is sleek and modern, and it doesn't take up too much counter space in my kitchen. While it may not be the least expensive option available, I believe the price is worth it for the high-quality coffee it produces.
Customization is limited with this machine, but it still allows for some adjustments to suit personal preferences. And despite a few minor leak issues, I have found the TK-01 to be easy to use and clean.
If you're considering purchasing this machine, know that it does have a maximum dose limit. However, I have found that it still produces a fantastic cup of coffee with its automatic grinding and brewing process.
Overall, I highly recommend the TK-01 Espresso Machine from Terra Kaffe for anyone looking for a simple, yet high-quality coffee experience. Thank you to Terra Kaffe for loaning me this machine to test out – it has exceeded my expectations!