Prom season is just around the corner, and it's time to start thinking about the most important aspect of the big night—the dress! 
Deciding what to wear for prom dress shopping can be exciting and overwhelming. 
With so many different styles, colors, and fabrics to choose from, it's common that many girls feel slightly apprehensive about the process. 
But fear not because, with a little bit of guidance, it will help you navigate the world of prom dress shopping and make the experience as stress-free as possible!
According to the retailers, the best time to start shopping is between october and January.
When it comes to prom dress shopping, it's not just about finding the perfect dress. What you wear to the store can also impact your experience. 
Dressing comfortably is key for trying on gowns, so opt for slip-on shoes and a simple outfit that's easy to take off and put on. 
A strapless bra can help you better understand the dress's neckline, while bringing spare heels of a similar height can help you perfect the fit. 
Remember to keep an open mind and bring a few trusted friends or family members to help you make the final decision. 
What Should I Wear On Prom Dress Shopping Day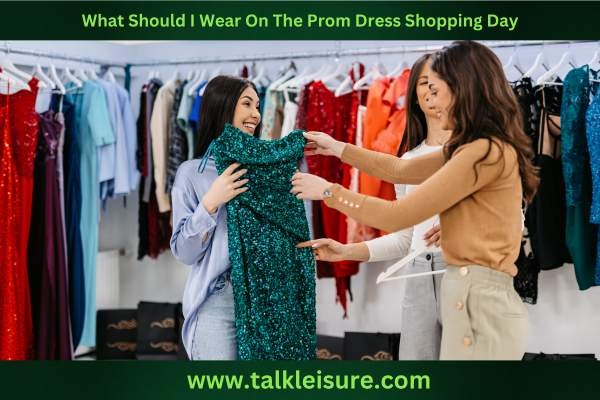 When preparing for prom dress shopping, it's important to wear a comfortable outfit that's easy to change in and out of.
Avoid wearing too much makeup to prevent stains on the dresses you try on.
Following are a few tips that will be helpful in planning your dress for pom shopping.
Comfortable Shoes And Clothing
When going prom dress shopping, wearing comfortable shoes and clothing is important to make the experience more enjoyable. 
Slip-on shoes and clothing that are easy to change in and out of are highly recommended, especially if the plan is to visit several stores in one day. 
Wearing a strapless or plunging bra can also be helpful to see how the neckline of the dress will fit accurately. It's also ideal to bring spare heels at the same height to try on with the dress to ensure the length is appropriate. 
Being comfortable while shopping allows for a better experience when finding the perfect prom dress.
Minimal Accessories And Makeup
When preparing for prom dress shopping, it is important to consider minimal accessories and makeup. 
Avoid wearing heavy makeup that could potentially stain or ruin a dress during the try-on process.
Additionally, only bring a small bag with necessary items such as your phone for photos and a pair of heels if desired for trying on dresses. 
By keeping it simple, it allows for a stress-free shopping experience in which the focus can be solely on finding the perfect prom dress.
Bring A Strapless Or Convertible Bra
When shopping for a prom dress, it's important to bring a strapless or convertible bra that fits well and provides enough support. 
For a strapless dress, opt for a bra with silicone grip strips on the inside to keep it in place. 
A halter dress can be complemented with a convertible bra with straps that can be worn in various ways. 
If the dress has spaghetti straps, a regular bra with adjustable straps can be worn, or a bralette can be considered for a more natural look. 
Whatever style you choose, make sure it's comfortable and won't be visible under the dress for a seamless look.
Don't Forget To Bring A Hair Tie Or  Clips
When going prom dress shopping, it's important to remember a hair tie or clip. 
Trying on multiple dresses and moving around can be uncomfortable with hair in your face. Keeping hair out of the way by tying it up can make the process more enjoyable. 
Additionally, some dresses may have intricate details on the back or neckline that could be missed if the hair is down. 
Having your hair up can help showcase these details and give a better idea of what the dress may look like on prom night. Don't let hair get in the way of finding the perfect dress! 
Consider Bringing A Trusted Friend Or Family Member For A Second Opinion
When going prom dress shopping, it can be helpful to bring a trusted friend or family member to get a second opinion. 
However, limiting the number of people you bring is important to avoid any confusion or conflicting opinions. 
Choose someone whose opinion you trust and who knows your personal style. They can provide useful feedback and help you make the best decision. 
Remember to trust your instincts as well; ultimately, you need to feel confident and comfortable in the dress you choose. 
By shopping with a trusted companion, you will have peace of mind knowing you have made the right choice. 
Can I Wear Flat Slipper For Prom Dress Shopping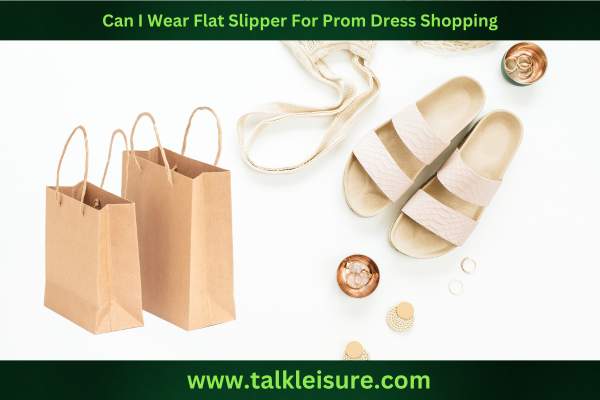 It is definitely acceptable to wear flat slippers for prom dress shopping. 
In fact, it is highly recommended to wear comfortable shoes when embarking on a shopping spree. 
The last thing anyone wants is to experience foot pain or blisters after trying on numerous dresses. Flat shoes, such as sneakers or sandals, can provide the necessary support and comfort for a successful shopping trip. 
It's important to prioritize comfort over style during dress shopping, as it allows for a more enjoyable and productive experience. Once the perfect dress is found, the footwear for prom night can always be reconsidered. 
How To Try On Prom Dresses
Trying on prom dresses is an exciting part of preparing for prom night. 
To have the best experience possible, it's important to come prepared. 
Research online and create a Pinterest board or folder to gather your favorite dress styles. 
Bring your phone to take photos, and wear comfortable clothing and slip-on shoes. 
If you plan to wear heels with your dress, bring a pair along to try on with the dresses. 
Bring a few close friends or family members for support, and always try on different sizes and styles to find the perfect fit. 
Don't forget to consider each dress's color and comfort level, and take photos to help you remember your favorites. 
Do You Need Makeup Or Accessories For Prom Dress Shopping
When shopping for a prom dress, it's important to consider the accessories and makeup that will complement your look. 
Accessories like jewelry, shoes, and clutches can add a touch of personality and make your outfit complete. 
When choosing accessories, make sure they match the fabric and color of your dress. As for makeup, it's important to keep it natural and enhance your features rather than overdoing it. 
Ultimately, the goal is to enhance your natural beauty and feel confident in your skin.
Should I Do My Hair For Prom Dress Shopping?
While it's unnecessary to do your hair for prom dress shopping, it can be helpful to have it styled so that you plan to wear it on prom night. 
This way, you can see how the different dress styles look with your hairstyle and better understand the overall look. 
However, if you're tight on time or prefer to keep your hair natural during the shopping process, that's perfectly okay too. 
The most important thing is to feel comfortable and confident while trying on dresses, regardless of how you choose to style your hair. 
What Are The Benefits Of Wearing A Suitable Outfit For Prom Dress Shopping
1. Wearing a suitable outfit for prom dress shopping is essential for a successful and stress-free experience. 
2. When trying on dresses, the outfit will be comfortable and easy to remove, like slip-on shoes and clothing. 
3. Wearing the right undergarments, including a strapless bra and seamless panties, will provide the desired outfit look. 
4. You will not get tired quickly when visiting several stores and trying different outfits.
What Are The Downsides Of Wearing An Uncomfortable Dress For Prom Dress Shopping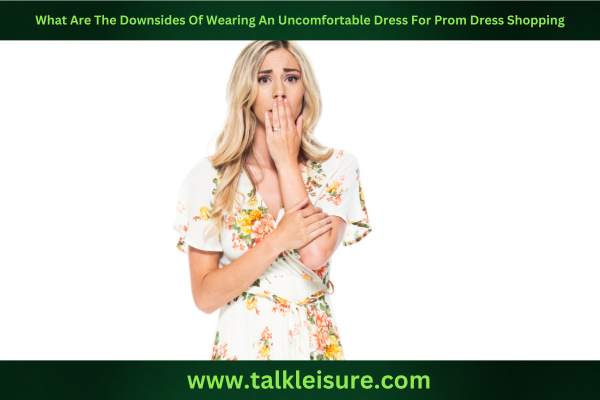 When shopping for the perfect prom dress, prioritizing comfort is important.
1. Choosing an uncomfortable outfit can make the try-on process frustrating and unproductive. 
2. Avoid tight clothing or items that are difficult to remove, as they can lead to a failed shopping trip. 
3. Undergarments also play a major role in ensuring the dress fits well. Inappropriate undergarments will ruin the outcome. 
Final Thoughts 
Regarding prom dress shopping, wearing something comfortable and easy to change in and out of is important. 
Avoid wearing laced shoes, tight jeans, or layers, as they can make it difficult to try on dresses. 
Don't forget to wear the appropriate undergarments, such as a strapless bra and seamless panty. 
If possible, bring along the shoes you plan to wear on prom night, as the heel height may affect the length of your dress. 
Limiting the number of people you bring along is also a good way to avoid conflicting opinions. 
Remember to stick to your budget and be open to trying on dresses of all sizes. With these tips in mind, shopping for your prom dress should be an enjoyable experience.
FAQs
Can I Wear Denim Trousers For Prom Dress Shopping?
It is advisable to avoid wearing denim trousers for prom dress shopping, as it can limit your options and hinder the fitting process.
Opt for comfortable clothing that allows you to move easily and slip on and off dresses. This includes loose-fitting pants, leggings, or a skirt with a simple top. 
Can I Rent A Prom Dress?
Yes, you can rent a prom dress! Renting a dress is a great option for special events like prom, as it allows you to wear a stylish outfit without breaking the bank.
Plus, it's more sustainable and eliminates the need to store a dress you may only wear once or twice.
How Long Does It Take To Complete Prom Dress Shopping?
It can take anywhere from a few hours to a few days to complete prom dress shopping.
It depends on how many stores you plan to visit, how decisive you are, and whether or not you find the perfect dress right away.