Prom season is the most anticipated time of the year for high school students! This event requires meticulous planning and preparation, from finding a date to choosing the perfect dress.
But the question is, when should you start prom dress shopping? Is it too soon to start looking for the dress? Or should you wait until the last minute?
The answer to this question varies from person to person, but one thing is sure: the earlier you start, the better!
In this blog post, we will explore the factors to consider when deciding the ideal time to start prom dress shopping, from budget to availability.
So grab a coffee, sit back, and keep reading to find out when to start prom dress shopping.
According to retailers and prom stores, the best time to start shopping is between October and January, when the latest collections and dresses arrive.
While it may seem crazy to start looking for a prom dress months ahead, shopping early lets you choose the most up-to-date styles, fabrics, and colors.
Starting your prom dress search in December or January is recommended, but giving yourself a couple of months to explore and purchase the dress is crucial.
Prom night is one of the most special events in high school, so it's no wonder that choosing the perfect prom dress is a big deal. But when is the best time to start shopping for the dress?
The time for prom dress shopping is early in the year.
Retailers typically have their latest collections in stock between October and January. Starting in December or January allows plenty of time to find the perfect dress and explore the latest styles, fabrics, and colors.
Shopping early also ensures that you have the widest selection of gowns available to find your dream dress. It also gives you ample time for alterations, accessories, and coordinating with your date.
Waiting until the last minute, on the other hand, can result in limited selection, rushed alterations, and additional fees. So, don't wait! Start prom dress shopping early for a stress-free and enjoyable experience.
How To Prepare For Prom Dress Shopping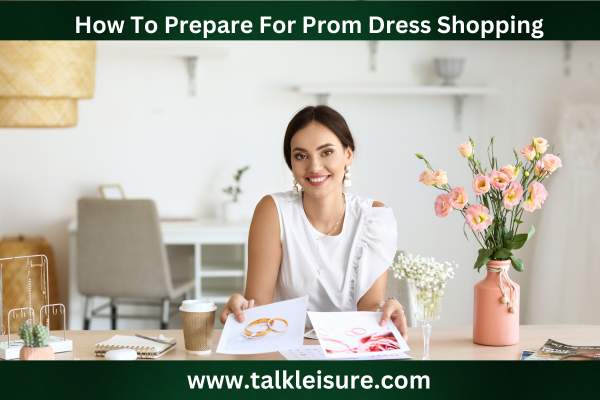 Preparing for prom dress shopping can be exciting and overwhelming at the same time. To make the most of the experience, it's best to do some research ahead of time.
1. Before visiting stores, consider browsing online and creating a Pinterest board to gather ideas. This will give you an idea of what styles, colors, and accessories you're interested in.
2. It's also important to plan a budget for the dress and accessories beforehand.
3. Plan ahead by jotting down notes or adding photos of different styles to your vision board.
4. Plan on the stores you want to visit in a logical order.
5. Decide on a few trusted friends or family members whose opinions you value and ask them if they are available on your prom dress shopping day.
6. Decide on a comfortable outfit to wear on prom dress shopping day.
You can enjoy prom dress shopping with ease and excitement by taking these steps.
Should You Book An Appointment For Trying The Prom Dress?
When it comes to trying on prom dresses, it can be helpful to book an appointment with the store.
This ensures you have the staff's full attention, and they can offer suggestions and assistance with finding the perfect dress.
However, not all stores require an appointment, and you can still browse without one. It really depends on your personal preference and how much help you need.
If you need clarification on your size or style, booking an appointment may be the best choice.
But visiting without an appointment is fine if you feel confident and want to see what's available.
Ultimately, the most important thing is finding the perfect dress and feeling comfortable and confident in it on prom night.
What Is The Suitable Dress To Wear To Prom?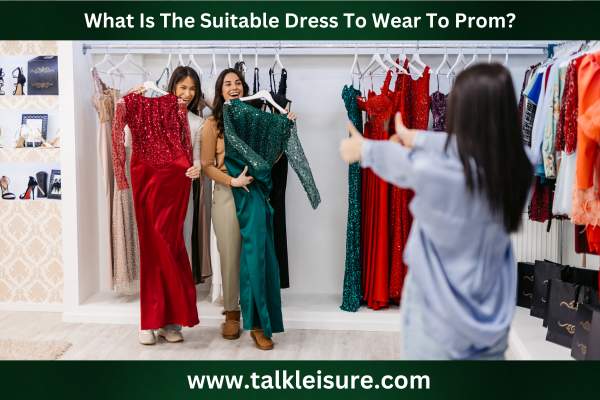 When it comes to choosing the perfect dress for prom, there are several factors to consider. The dress should fit well and be comfortable to wear for hours of dancing and socializing.
It's also important to choose a style and color that suit your personal taste and flatter your body type. A classic A-line silhouette or a sleek and elegant sheath dress is a great choice for most body shapes.
As for color, rich jewel tones or soft pastels are always a hit.
Remember to accessorize with the right shoes, jewelry, and a clutch bag. The key is to choose pieces that complement your dress without overpowering it.
Simple and understated accessories can often be more impactful than flashy statement pieces.
By taking the time to consider all of these elements, you'll be able to find the perfect dress to make you look and feel like the belle of the ball on prom night. 
What You Should Take While Going On Prom Dress Shopping
When going prom dress shopping, it's essential to be well-prepared to make the most out of the experience.
1. Firstly, it's advisable to start the search for a perfect dress in January or February, as this is when the newest prom dress collections arrive, and you have a better chance of getting the dress you want before it's sold out.
2. Secondly, you must wear something comfortable and easy to change in and out of. Also, pick which stores you want to visit and come up with a plan in advance.
3. Remember to bring your phone to take photos, wear a strapless bra to get a better idea of the dress, and pack a small bag with a pair of heels.
4. Finally, don't put on too much makeup or bring too many people with you, as too many opinions can be overwhelming. 
Hacks For Getting A Perfect Prom Dresses
Want to rock the most stunning dress at your prom? Then it's time to start shopping early.
As per factual data, most retailers tend to stock up on the latest collection of gowns anywhere between October and January, which means you must start looking for your dream dress as early as December or January.
By doing so, you can get the most selection and the latest styles, colors, and fabrics to find that perfect prom gown.
Additionally, if you start early, you can also avoid the rush and long queues at stores and get enough time for necessary alterations without paying extra fees.
So, choose your shopping partner, browse your options, and remember to have fun!
Can I Do Online Prom Dress Shopping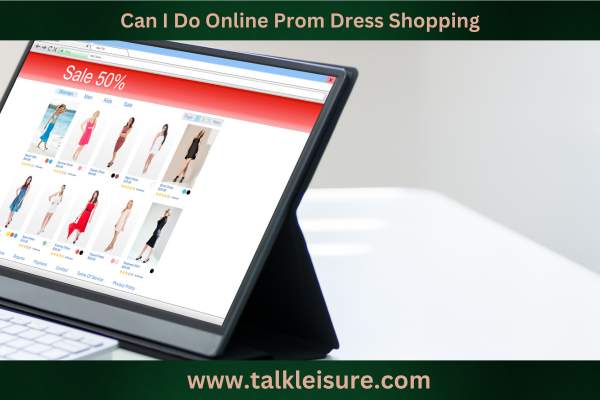 Online prom dress shopping is a possibility for those limited by time or distance. Many retailers offer online selections that are just as varied as those in their physical stores.
The biggest advantage of online shopping is the convenience of browsing through an array of dresses without having to leave the comfort of your home. Another advantage is that you can shop at any time of the day or night!
However, when shopping online, it's important to make sure that the seller is reputable and reliable.
Be sure to read reviews and check their return policy before making a purchase. It's also good to compare your measurements to the retailer's size chart to ensure a proper fit.
Why Retailers Stock Up On Prom Dresses In Advance
Retailers stock up on prom dresses in advance to ensure they have a vast selection of styles, fabrics, and colors for their customers.
They know that prom season runs from March through June, so they begin to stock up on dresses as early as October to November.
This gives them enough time to order unique or special items, make adaptations, and prepare for rush orders.
Retailers also want to avoid the last-minute rush, crowded stores, and frantic customers.
By providing early access to their selection, they increase their chances of providing the perfect dress for their customers' needs.
Shopping early also gives customers enough time to look for the perfect accessories, shoes, and makeup.
What Are The Importance of Planning for Alterations and Accessories?
Planning for alterations and accessories is just as important as finding the perfect prom dress. When you start shopping for a prom dress early, you also have enough time to make alterations to ensure the dress fits perfectly.
Alterations may include hemming the length, taking in or letting out the waistline, or even adjusting the straps. It's always better to have your dress tailored to your body shape to ensure it fits exactly how you want it to.
Additionally, accessories can make or break an outfit. Giving yourself enough time to choose and purchase accessories is just as important as finding the dress.
By starting early, you can try on different shoes, jewelry, and other accessories to see which ones match your dress the best.
Coordinating accessories with your dress adds a final, polished touch to your prom outfit, making you feel even more confident and radiant on your special night. 
What Are the Benefits Of Early Prom Dress Shopping?
When it comes to prom dress shopping, it's important to get a head start on searching for the perfect dress. The latest prom dresses start showing up online in October and November and in stores from December to February.
Although it may seem too early to start shopping during these months, it's actually beneficial to begin early and allow yourself plenty of time to browse through all the styles, fabrics, and colors to find the perfect dress in your size.
Starting early also helps you avoid the rush and ensures you get the dress of your dreams, allows time for special order items, and gives you more time to select the perfect accessories, shoes, hairstyles, and makeup.
Plus, it lets your friends know what you're wearing (to plan for twinning or avoid it!) and gives you time to relax before the big day. 
Why You Should Not Shop Late For Your Prom Dress
It's important to start looking for your dream prom dress early to avoid disappointment.
Be sure to shop on time for your prom dress because you may miss out on the latest styles and designs and risk having to pay additional rush shipping charges.
If you wait too long, popular dresses may be sold out, or you may have to pay extra for alterations.
Plus, if you want to coordinate with your date and friends, starting early is best.
Besides, shopping early allows you to relax and take your time to find the perfect dress without dealing with the stress of last-minute shopping.
So, plan ahead and start your prom dress shopping in December or January to have a stress-free prom night experience. 
Bottom Line
There is no such thing as starting too early when it comes to prom dress shopping.
One should aim to begin their search for the perfect gown in December or January, giving themselves ample time to explore all the styles and colors available.
However, in these uncertain times, it's best to start even earlier, around three to four months before the event, to ensure that any possible size or stock issues can be resolved.
Shopping for a prom dress early allows for a stress-free experience with more options and prevents any last-minute rush charges.
Therefore, planning ahead is essential to guarantee that the dress of your dreams will be at your fingertips.
FAQS
Can A Prom Girl Wear Formal Dresses?
Prom dresses are typically known for their elaborate designs and unique styles. A prom girl can wear a more formal dress to her prom, especially if it matches her style and taste and makes her stand out in a crowd.
Is It Worth Buying Prom Dresses On Sale?
It depends on your budget and the timing of your prom event. If you plan to attend a prom that is still a few months away, it's worth checking out sales and discounts to score a great deal on your dream dress.
However, if the prom is just around the corner, it might not be worth the risk of not finding your perfect dress in your size or style. 
Can I Buy Long Dresses For Prom?
Yes, you can definitely buy long dresses for prom! In fact, long dresses are a popular choice for prom.
Purchasing a long prom dress is up to you and what you feel best about.