Congratulations! You're expecting a baby, and it's an exciting time filled with anticipation and joy.
As you prepare for your little one's arrival, you might wonder when the best time to start shopping for baby items is.
Also, it's never too early or late to buy baby clothes. But 15-20 weeks is the best time to shop for your baby.
In this article, we'll guide you through buying baby stuff, what to consider before you shop, and provide a general timeline for when to purchase specific items.
Whether in the USA or elsewhere, we've got you covered. So let's dive in!
Buying Baby Stuff
Before we get into the specifics, let's talk about buying baby stuff. Planning and preparing is essential, but remember, you don't need to buy everything at once. Take it one step at a time, and you'll be better organized and less overwhelmed.
When Is The Best Time To Buy Things For Baby?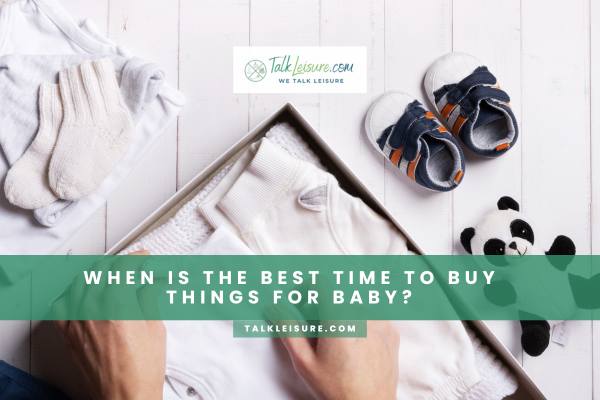 The best time to buy baby items is during the second trimester of pregnancy.
By this time, you've likely had your first prenatal checkup and received assurance that the pregnancy is progressing well.
The second trimester is usually the most comfortable period for expectant parents, as morning sickness tends to subside and energy levels increase.
Things To Consider Before You Shop For A Baby
Before you embark on your baby shopping journey, there are a few essential things to consider:
Budget: Set a budget for baby items and stick to it. It's easy to get carried away with all the adorable baby products, but a budget will keep you on track.
Space: Take stock of the available space in your home. Consider where the baby will sleep, where you'll change diapers, and where you'll store all the baby's items.
Baby Registry: Creating a baby registry can be a helpful way for friends and family to know what you need and avoid duplicate gifts.
Safety: Always prioritize safety when buying baby products. Look for quality, certified products that meet safety standards.
Second-Hand Items: Don't shy away from gently used baby items. They can save money but check for safety recalls and proper hygiene.
Season: Keep the season in mind when buying clothes and bedding. You'll want to have appropriate clothing for different weather conditions.
A General Timeline for Buying Baby Items
Welcoming a baby into your life is an exciting journey filled with anticipation and preparation.
From the first trimester through the third trimester, there are various baby items to consider purchasing to ensure you're ready for your little one's arrival.
Let's break down a general timeline for buying baby items so that you can enjoy a smooth and stress-free preparation process.
First Trimester: Getting Started
During the first trimester of pregnancy, you may feel mixed emotions as you adjust to becoming a parent. While it's still early, taking some time to plan and make essential purchases can alleviate stress later on.
Prenatal Vitamins: Start with prenatal vitamins to support your baby's early development and your health.
Maternity Clothes: Consider buying a few comfortable maternity clothes as your body changes.
Books and Educational Material: Invest in some books or online resources about pregnancy and parenting to gain valuable knowledge.
Pregnancy Pillow: A pillow can provide much-needed support and comfort during sleep.
Morning Sickness Relief: Purchase remedies for morning sickness, such as ginger candies or nausea wristbands.
Baby Journal: Consider buying a journal to document your pregnancy journey and precious memories.
Second Trimester: Preparing the Nest
You might feel more energized and excited as you enter the second trimester. It's time to start focusing on setting up the nursery and acquiring more baby essentials.
Ultrasound Frame: Get an ultrasound frame to display your baby's first picture.
Nursery Furniture: Invest in a crib, changing table, and a comfortable chair for feeding.
Baby Clothing: Start buying clothes in various sizes, considering babies grow quickly.
Diapers and Wipes: Begin stocking up on diapers and wipes; consider buying in bulk.
Baby Gear: Purchase a stroller, car seat, and baby carrier to be ready for outings.
Baby Toiletries: Get baby-friendly toiletries like shampoo, body wash, and lotion.
Breastfeeding Supplies: If you plan to breastfeed, buy a breast pump and nursing bras.
Baby Monitor: Consider buying a baby monitor to watch your little ones while they sleep.
Third Trimester: Final Touches
As your due date approaches, the third trimester is about adding the finishing touches and ensuring you have everything you need for the big day.
Hospital Bag: Prepare a hospital bag with essentials like clothes, toiletries, and important documents.
Swaddle Blankets: Stock up on soft swaddle blankets for your newborn.
Bottles and Formula: If you're formula-feeding, have some bottles and formula ready.
Nursing Pillow: Use a pillow to support your arms during feeding sessions.
Baby-Proofing Supplies: Start baby-proofing your home with safety gates and outlet covers.
Laundry Detergent: Buy a baby-safe laundry detergent for washing their clothes.
Storage Solutions: Purchase storage bins and organizers to keep baby items tidy.
Gift Registry Completion: Check your gift registry and purchase any remaining items.
Preparing for your baby's arrival can be an overwhelming but joyous experience.
You can tackle the task more efficiently by separating your shopping into trimesters.
Remember, every pregnancy and every baby is unique, so focus on what feels right for you and your little one. Happy nesting, and enjoy the journey of parenthood!
When To Buy Baby Stuff USA?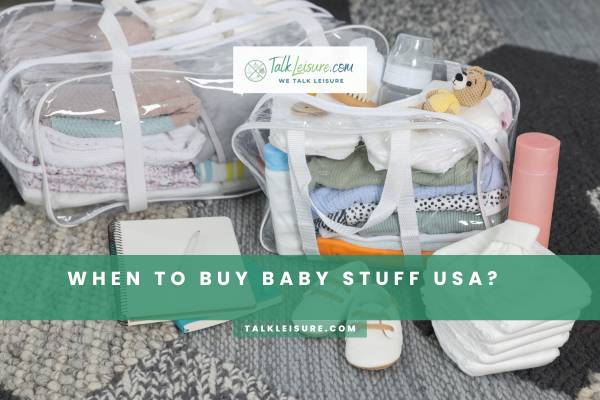 Regardless of where you are in the USA, the timeline for buying baby stuff remains similar.
Aim to start shopping during the second trimester, as mentioned earlier.
When buying baby stuff in the USA, timing is essential for a stress-free experience.
This way, you have ample time to plan and make thoughtful choices.
Keep an eye out for special sales and discounts to save some money.
To stay organized, create a checklist of essential items like baby clothes, diapers, a crib, and a stroller.
Hosting a baby shower can be a great idea, where your loved ones can gift you essential items. If your budget allows, consider purchasing things gradually to distribute the expenses.
Don't hesitate to seek advice from experienced parents; they can offer valuable insights. Preparation is key; preparing everything in advance will ease your mind as you welcome your little one into the world.
What Are The First Things To Buy When Expecting A Baby?
When expecting a baby, certain items are essential before your little one arrives. Here's a list of the first things to buy:
Crib or Bassinet: A safe place for your baby to sleep is a must-have.
Car Seat: You'll need this for your baby's first ride home from the hospital.
Diapers and Changing Supplies: Stock up on diapers, wipes, and rash cream.
Clothing: Get some basic onesies, sleepers, and socks. Remember that babies grow quickly, so don't buy too many newborn-sized clothes.
Feeding Supplies: Whether you plan to breastfeed or bottle-feed, invest in nursing bras, bottles, and a breast pump if necessary.
Health and Safety Items: Have a baby thermometer, baby nail clippers, and a baby monitor on hand.
Swaddle Blankets: Swaddling can help your baby feel secure and sleep better.
When Should You Start Buying Baby Clothes?
You can start buying baby clothes during the second trimester. Focus on getting a few essentials first and wait until you know the baby's gender if you want to buy gender-specific outfits.
Also, You can start buying baby clothes once you find out you're expecting! It's never too early to prepare for your little one's arrival.
Many parents begin shopping during the second trimester when they know the baby's gender and can choose clothes accordingly.
Focus on buying essentials like onesies, soft bodysuits, cozy sleepers, and socks.
Opt for clothing made from comfortable and breathable fabrics to keep your baby happy.
Remember, babies, grow quickly, so don't go overboard with sizes – a mix of newborn and 0-3 months sizes should be sufficient at the beginning.
Look out for sales and deals to save money, and don't forget to consider the season your baby will be born in. Most importantly, have fun choosing those adorable tiny outfits to welcome your bundle of joy!
What Are The Things To Start Buying When Pregnant?
During pregnancy, there are a few items you can start buying, even before the second trimester:
Prenatal Vitamins: If you haven't already started taking prenatal vitamins, get them as soon as you find out you're pregnant.
Pregnancy Books: Books on pregnancy and parenting can be informative and reassuring.
Comfortable Clothing: Invest in comfortable, loose-fitting clothing as your body changes.
Maternity Underwear: Maternity bras and panties will provide more comfort and support.
Body Pillow: A body pillow can help you find a more comfortable sleeping position.
The Best Checklist For Baby Essentials – USA
To help you organize your shopping, here's a comprehensive checklist for baby essentials in the USA:
Nursery:

Crib or Bassinet
Mattress and Waterproof Covers
Changing Table or Pad
Dresser or Storage for Baby Clothes

Feeding:

Bottles and Nipples
Formula (if not breastfeeding)
Breast Pump (if breastfeeding)
Nursing Bras and Pads
Burp Cloths

Diapering:

Diapers (Newborn and Size 1)
Wipes
Diaper Rash Cream
Diaper Bag

Clothing:

Onesies and Sleepers
Socks and Booties
Hats and Mittens
Swaddle Blankets

Health and Safety:

Baby Thermometer
Nasal Aspirator
Baby Nail Clippers
Baby Monitor
First Aid Kit

Bathing and Grooming:

Baby Bathtub
Baby Shampoo and Body Wash
Washcloths and Towels
Baby Brush or Comb

Baby Gear:

Car Seat
Stroller
Baby Carrier or Sling
Bouncer or Swing

Nursery Bedding:

Fitted Crib Sheets
Crib Blankets

Miscellaneous:

Pacifiers
Baby Laundry Detergent
Baby Books and Toys
Baby Bouncer or Swing
Remember, you don't need everything at once. Focus on the essentials first and gradually add other items as needed.
Best Time To Buy Baby Stuff On Sale
If you want to save money, watch for sales events and holiday promotions.
Major events like Black Friday, Cyber Monday, and holiday sales are excellent opportunities to grab baby items at discounted prices.
Many stores and online retailers offer significant discounts and deals on baby items like strollers, car seats, cribs, and clothing during these periods.
Additionally, taking advantage of clearance sales and end-of-season discounts can yield great savings.
Keep an eye on special promotions and flash sales, as they often provide excellent opportunities to grab baby essentials at lower prices.
Joining parenting forums and following baby product brands on social media can also help stay informed about exclusive offers and limited-time promotions.
Early planning and research can maximize savings and ensure a budget-friendly shopping spree for your little one.
When To Start Buying Diapers When Pregnant?
You can start buying diapers during your pregnancy, especially during the second trimester. Newborn-sized and size-one diapers are most commonly used during the early stages, so it's safe to stock up on those.
Start buying diapers when pregnant around the start of the third trimester, usually around 28 weeks.
This allows you to gradually build up a stockpile without feeling overwhelmed. Buy different sizes and types to be prepared for your baby's growth and sensitivity.
Consider getting a mix of disposable and cloth diapers, wipes, and diaper rash cream. Look for deals and discounts to save money.
Remember that your baby may have specific diaper preferences, so don't buy too many of one type until you know what works best for them.
But if you already have a toddler, find the best way to shop with your baby before everything.
Is It Bad Luck To Buy Baby Stuff Early?
No, it's not bad luck to buy baby stuff early. Preparing in advance can help reduce stress and ensure you have everything you need when the baby arrives.
Many parents prefer to plan and get things ready before the baby arrives.
Buying early can be helpful, giving you more time to prepare and reducing last-minute stress.
It allows you to spread out expenses and find good deals on items.
It's exciting to start creating a cozy space for your little one.
However, staying flexible is essential since the baby's needs might change.
Always check return policies and keep receipts, just in case.
Remember, it's about being prepared and organized, not about superstitions. So, enjoy the process of getting everything ready for your bundle of joy!
When To Buy A Stroller And Car Seat During Pregnancy?
The second trimester is an excellent time to research and purchase a stroller and car seat. These are essential for bringing your baby home from the hospital and for everyday transportation.
This allows expectant parents ample time to research and choose the most suitable options.
Shopping early ensures enough time to compare features, safety standards, and reviews, making an informed decision.
Additionally, buying these essentials ahead of time helps to alleviate last-minute stress and ensures that everything is prepared for the baby's arrival, making the transition smoother and more enjoyable for the new parents.
Final Thought
As you welcome your little bundle of joy, remember that every pregnancy is unique.
There's no one-size-fits-all approach to when and what to buy for your baby.
Also, many consider waiting until you know the gender. And 15-20 weeks consider the best time to shop for baby stuff.
Go at your own pace, and don't hesitate to seek advice from experienced parents or friends.
Take joy in shopping for your baby, and enjoy this special time in your life.
FAQ
Are Eight Weeks Too Early To Buy Baby Stuff?
Eight weeks into your pregnancy might be a bit early for shopping, but it's never too early to start planning and making a list of what you'll need.
When Should I Start Buying Baby Stuff?
The second trimester is generally the best time to start buying baby stuff, as you'll likely have more energy and reduced pregnancy symptoms.
Can I Start Buying Baby Stuff At 10 Weeks?
Absolutely! While you might not have a visible baby bump at ten weeks, it's a great time to start purchasing essential items and preparing.
Are 20 Weeks Too Early To Buy Baby Stuff?
No, 20 weeks is not too early. It's an ideal time to start shopping for baby essentials, especially if you want to spread out the expenses and avoid last-minute stress.
Remember, the most important thing is to enjoy the process of preparing for your baby's arrival. Cherish these moments and look forward to the incredible journey of parenthood ahead!
Best Wishes!