Hey there, tea enthusiasts and aspiring hosts! If you've ever daydreamed about transforming your home into a charming tea salon, complete with delectable treats and elegant ambiance, then you've come to the right place!
I'm your tea-party guru, and I'm here to spill the tea on "How to Do a High Tea at Home?" (Pun is totally intended!)
Picture this: A delightful array of finger sandwiches, perfectly steeped tea, and heavenly pastries lay out on a table adorned with vintage teacups and dainty cutlery. Sounds dreamy, right? Well, it's time to turn that dream into a reality!
In this blog post, we'll explore everything from selecting a theme that matches your personality to hosting vegan-friendly feasts that will impress even the most refined taste buds.
We'll delve into the art of brewing tea like a pro, add a touch of historical elegance, and sprinkle in some budget-friendly hacks to ensure your high tea party is a success without breaking the bank.
So, buckle up and grab your teapot, because we're about to embark on a journey that will leave you sipping tea like royalty in the comfort of your own home. Let's get steeped in the world of high tea magic! 🍵✨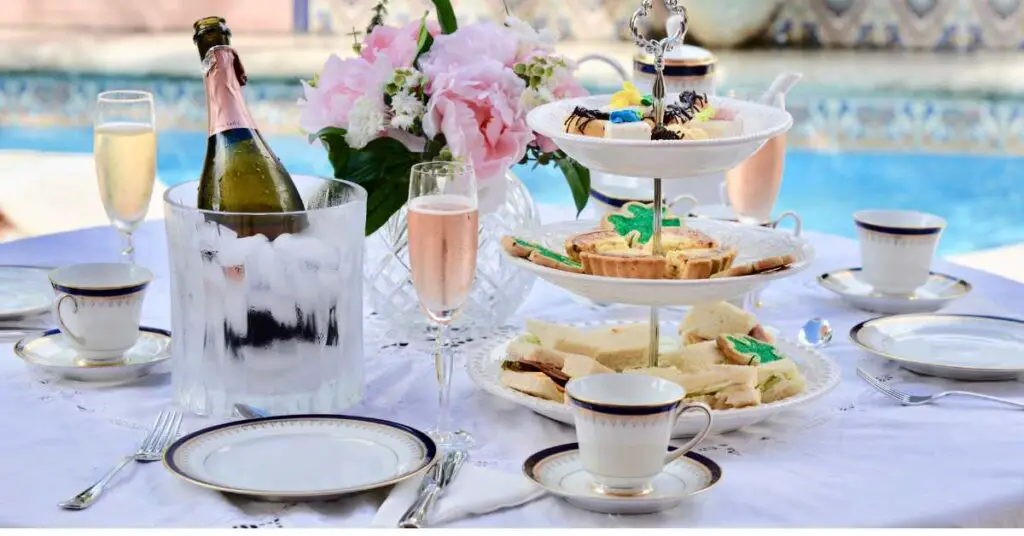 Choose a Charming Theme for Your High Tea Affair
Welcome to the world of high tea wonders, where imagination meets elegance! When it comes to hosting a memorable high tea at home, choosing the perfect theme sets the stage for an enchanting experience that your guests will cherish.
Now, you might be wondering, "Why do I need a theme for my tea party?" Well, my tea-loving friend, a theme adds a dash of magic and coherence to your gathering.
Whether you're a fan of whimsical fairy tales or an aficionado of vintage elegance, a theme ties everything together, from decorations to delectable treats.
So, let your creativity run wild! How about a Mad Hatter's Tea Party, where quirky hats and mismatched cups reign supreme? Or perhaps a Garden Soirée, where floral arrangements and nature-inspired delights take center stage?
Remember, the theme is a reflection of your unique style and interests. It sets the tone for your high tea affair, making it an event that stands out from the ordinary.
In the next section, we'll guide you through finding the perfect setting to host your dreamy tea extravaganza. So, dust off those teapots and put on your thinking caps – we're about to embark on a themed tea adventure that will leave your guests utterly charmed and craving for more! 🎩🌺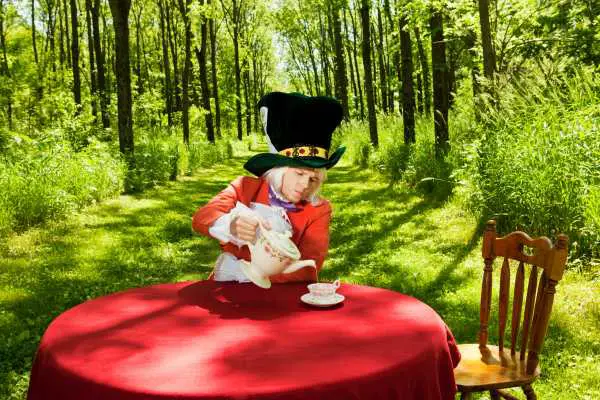 Find the Perfect Setting to Host a Memorable High Tea Party
Ah, the setting—where your high tea dreams come to life! Whether you have a sprawling garden or a cozy nook by the window, the key is to create an atmosphere that exudes warmth and charm.
First things first, assess your space and consider the number of guests you'll be inviting. Don't worry if you have limited room; high tea can be just as delightful in intimate settings. If the weather permits, an outdoor garden setup adds a touch of natural beauty and fresh air to the affair.
Next, let's talk about seating. Comfort is crucial for your guests as they indulge in delightful treats and sip on tea. Ensure you have enough seating options with soft cushions or plush chairs to keep them relaxed throughout the event.
Now, for that whimsical touch, decorate the area with flowers, bunting, or fairy lights. Incorporate your chosen theme into the decor to create a cohesive and magical atmosphere.
And remember, a perfect setting doesn't mean you have to break the bank. With a dash of creativity and resourcefulness, you can transform any space into a tea paradise.
So, whether it's a charming indoor tea salon or a sun-kissed garden haven, your setting sets the stage for an unforgettable high tea experience. Stay tuned for the next section, where we'll dive into the scrumptious world of high tea delicacies that will leave your taste buds tingling with delight! 🌼🏡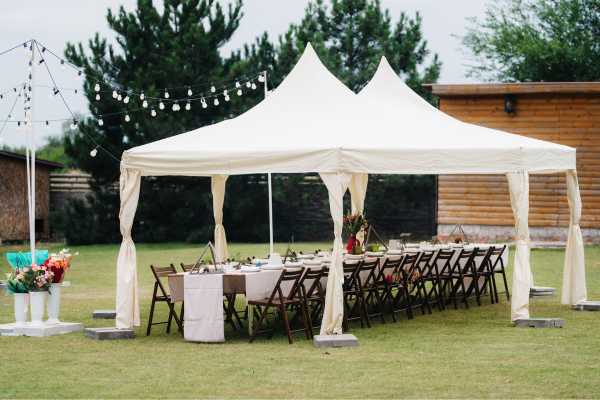 Curate a Delightful Array of Food for Your High Tea Menu
Prepare your taste buds for a tantalizing journey through the world of high tea delicacies! No high tea party is complete without an array of mouthwatering treats that blend elegance and indulgence.
Brewing the Perfect Pot of Tea: Tea Selection and Preparation
Let's start with the star of the show: tea! Brew a selection of aromatic teas, from classic Earl Grey and English Breakfast to exotic blends like chamomile and fruit-infused variations. Present them in charming teapots and let your guests savor the different flavors as they chat away.
Crafting Irresistible Savories: Finger Sandwiches and Savory Bites
Now, let's move on to the delights that accompany the tea. Fill tiered cake stands with an assortment of finger sandwiches: cucumber and cream cheese, smoked salmon and dill, or egg and cress. These dainty bites will satisfy savory cravings with every delicate nibble.
Sweet Temptations: Baking Delectable Scones and Pastries
Of course, no high tea is complete without scones! Serve them warm with clotted cream, strawberry jam, and a sprinkling of powdered sugar. And don't forget the pastries—fluffy cupcakes, decadent éclairs, and delectable macarons will sweeten the experience.
For a twist, consider adding vegan-friendly options, such as plant-based sandwiches and dairy-free pastries, to cater to all your guests' preferences.
Remember, presentation is key! Arrange the treats artfully on elegant plates, and use decorative doilies for an extra touch of refinement.
With your high tea menu curated to perfection, your guests will be enchanted by the delightful flavors and the sheer elegance of the affair. In the next section, we'll unveil the essential host items to ensure your tea party runs like clockwork. So, raise your teacups, and let's continue this journey of high tea brilliance! 🍽️🍰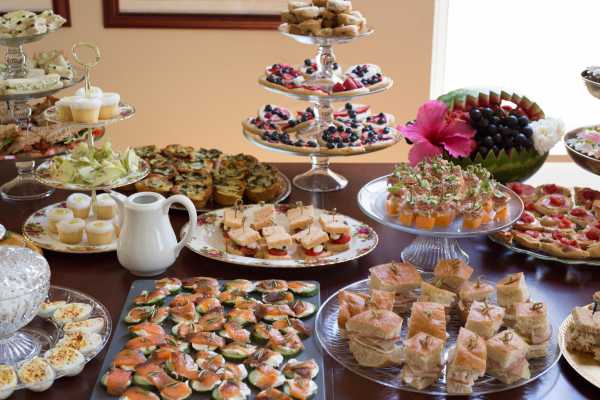 Essential Host Items You'll Need to Ensure a Successful High Tea Gathering
As the charming host of your high tea extravaganza, being prepared is the key to hosting with ease and grace. Let's explore the essential items you'll need to ensure a seamless and unforgettable tea party.
Invest in a variety of teapots and teacups to accommodate diverse tea choices. Opt for beautiful vintage or modern designs that match your theme, and don't forget to provide milk jugs and sugar bowls for those who like to add a touch of sweetness.
Cake Stands and Serving Platters
Elevate the presentation of your delectable treats with elegant cake stands and serving platters. The tiered stands add a touch of grandeur, while the platters ensure your finger sandwiches and pastries are showcased beautifully.
Tea Infusers and Strainers
For loose-leaf tea enthusiasts, provide tea infusers or strainers to let your guests steep their favorite blends with ease. This attention to detail will impress even the most discerning tea connoisseurs.
Set the table with crisp, clean tablecloths or charming table runners to create a refined ambiance. Cloth napkins, folded into intricate designs, add an extra touch of sophistication.
Name Cards and Place Settings
If you have a guest list, personalized name cards at each place setting add a thoughtful and personal touch to your high tea affair.
Hot Water Dispenser or Electric Kettle
Ensure there's a convenient and easily accessible source of hot water for guests to top up their teacups throughout the event.
Display a menu card with the selection of teas and treats available. This adds an element of excitement and helps guests choose their favorite delights.
For the perfect brew, provide cute tea timers to ensure each tea type is steeped to perfection. This practical addition will be appreciated by tea aficionados.
With these host essentials, you'll have everything you need to orchestrate a flawless high tea party. The next section will tantalize your taste buds further as we dive into the art of brewing tea to perfection. So, stay steeped in excitement, and let's continue our tea-rrific journey! 🕰️🍵
Selecting the Finest Cutlery: Tips for Elevating the High Tea Experience
Ah, the delicate dance of dainty cutlery! As we venture deeper into the realm of high tea, it's time to explore the art of selecting the perfect utensils to complement your tea party.
Invest in elegant and slender teaspoons for stirring and savoring delightful tea flavors. These petite utensils add a touch of grace to each teacup sip.
For those delectable pastries and cakes, opt for dainty cake forks. Their smaller size makes them ideal for enjoying sweet treats with finesse.
To serve those delectable pastries without compromising on their presentation, use pastry tongs. They allow your guests to select their desired treat without a fuss.
For the finger sandwiches, provide decorative sandwich picks or small skewers. These not only secure the sandwich layers but also add a charming touch to the table setting.
When offering sugar cubes or sweeteners for tea, sugar tongs come to the rescue. They maintain hygiene and add an extra element of elegance.
To slice and serve the luscious cakes and scones, a beautiful cake server is a must-have. Choose one with intricate detailing that matches your theme.
Ensure that your regular cutlery sets also exude elegance. The classic silver or charming vintage designs will complement the high tea atmosphere perfectly.
Remember, the magic lies in the details. With the right cutlery, your guests will be charmed by the thoughtfulness and grace of your high tea presentation.
As we continue our high tea adventure, the next section will guide you on how to infuse flavors and create delightful homemade tea blends and infusions. So, embrace the art of refinement, and let's dive into the world of delightful tea concoctions! ☕🍴
Elevating Your Tea Party's Ambiance with Elegant Decorations
Step into a world of enchantment as we explore the captivating realm of high tea decorations. Elevating your tea party's ambiance is like sprinkling fairy dust to create an atmosphere that dazzles the senses.
Embrace the beauty of fresh flowers to add a touch of nature's splendor to your high tea affair. Gracefully arrange blooms in vases, or create stunning floral centerpieces that complement your theme. Blooming tea, where a bundle of dried tea leaves unfurls into a flower when steeped, can also double as a delightful decoration and a tea blend.
Embrace the elegance of lace tablecloths or delicately embroidered napkins to lend a sense of refinement to your tea setting. The intricate patterns add a touch of old-world charm that transports your guests to a bygone era of sophistication.
Showcase a mix of vintage teacups, saucers, and teapots to create an eclectic and whimsical atmosphere. The mishmash of patterns and colors adds character to your tea table, inviting guests to savor both the tea and the visual delights.
Delightful Bunting and Ribbons
Hang bunting or delicate ribbons in soft hues to adorn your tea party venue. They evoke a sense of celebration and add a playful element to the décor.
For late afternoon or evening high tea parties, set a dreamy ambiance with candles. The soft, flickering glow adds a warm and inviting touch to the gathering.
Create an inviting and personalized experience with thoughtful place settings. Adorn each setting with a name card and a small trinket or keepsake as a token of appreciation for your guests.
Remember, the key to successful high tea decorations is to strike a balance between elegance and whimsy. Let your creativity take flight and watch as your tea party transforms into a captivating wonderland.
In our next section, we'll explore the perks of hosting a high tea party at home, from being budget-friendly to cherishing intimate moments with your loved ones. So, prepare to be enchanted, and let's continue our high tea extravaganza! 🌺🏰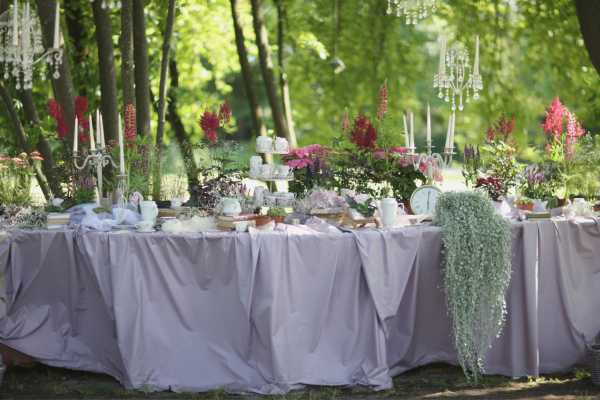 The Perks of Hosting a High Tea Party at Home: Budget-Friendly and Beyond
Indulging in the delights of high tea doesn't have to break the bank! Hosting a high tea party at home comes with a plethora of advantages that go beyond just saving money.
Budget-Friendly Brilliance
Unlike lavish restaurant bookings or high-end catering, hosting a high tea at home allows you to control costs without compromising on elegance. With a bit of creativity and planning, you can create a memorable affair without the hefty price tag.
Customization and Flexibility
Your home, your rules! Hosting at home gives you the freedom to tailor the menu, theme, and ambiance to suit your personal taste and preferences. Let your imagination run wild and craft an experience that truly reflects your style.
Cherishing Intimate Moments
High tea at home fosters an intimate and cozy atmosphere, perfect for bonding with your closest friends and family. The joy of sharing laughter and stories over a steaming cup of tea is unparalleled.
In a restaurant or café, the time may be limited, but at home, the tea party lingers as long as you desire. Savor each moment without feeling rushed, and create cherished memories that last a lifetime.
Quality Time with Loved Ones
High tea gatherings at home bring people together and encourage meaningful conversations. It's an opportunity to reconnect and strengthen relationships in a warm and inviting environment.
Savoring Family Heirlooms
Hosting at home allows you to incorporate cherished family heirlooms, like vintage teacups or silverware, into the celebration. These sentimental pieces add a touch of history and nostalgia to the occasion.
So, embrace the charm of a home-hosted high tea, and revel in the advantages it brings. In the next section, we'll address a topic close to our hearts – serving your vegan guests with delectable plant-based treats.
So, let's celebrate the beauty of budget-friendly elegance and create unforgettable tea-time memories! 🏡💕
Frequently Asked Questions
Does milk go first in tea?
Traditionally, milk is added after pouring tea. Pouring milk first was a later British practice to protect delicate china from cracking. However, in modern times, it's a matter of personal preference. Purists argue adding milk last allows better control over the tea's strength, while others prioritize convenience.

What do you talk about at a High Tea?
At a high tea, conversations flow gracefully, touching upon various topics. Guests discuss current events, hobbies, books, and shared interests. Engaging in light-hearted chatter, tea etiquette, and complimenting the delectable treats are common topics. It's a delightful blend of socializing and appreciating the high tea experience.

What do you give a hostess for a High Tea?
A thoughtful gift for a high tea hostess can be a box of fine tea blends or a set of beautifully designed tea towels. Other charming options include a decorative teapot, a bouquet of fresh flowers, or a high-quality jar of jam or honey. A small token of appreciation is always appreciated.