Welcome, tea enthusiasts and curious wanderers, to the ultimate guide on "How Much is High Tea at The Ritz London?" Prepare to be transported to a world of refined elegance and culinary delights as we unravel the mysteries of this timeless tradition.
High Tea at The Ritz London starts at £72 for adults and £48 for children. This price includes a delightful spread of sandwiches, scones, pastries, and a selection of different types of loose-leaf tea, all served in the elegant ambiance of The Palm Court.
Nestled in the heart of London, The Ritz stands as a beacon of sophistication, and their high tea experience is no exception. But hold on to your tea cups, because we're here to spill the beans on all the sumptuous details!
In this blog post, we'll take you on a journey through the history of high tea, distinguish it from its afternoon tea cousin, and dive into The Ritz's splendid offerings. From delicate finger sandwiches to heavenly pastries, each morsel is crafted to perfection.
Whether you're a seasoned tea aficionado or a curious newcomer, we've got you covered with all the juicy details, including the pricing, the ambiance, and even special arrangements for our little tea lovers!
So, prepare your taste buds and don your fanciest hat as we embark on an adventure that promises to leave you craving the enchanting experience of high tea at The Ritz London.
Let's raise our cups to the perfect blend of luxury and indulgence!
Meanwhile, if you are wondering how much high tea at the Empress costs, you can read all about that in this article I have written.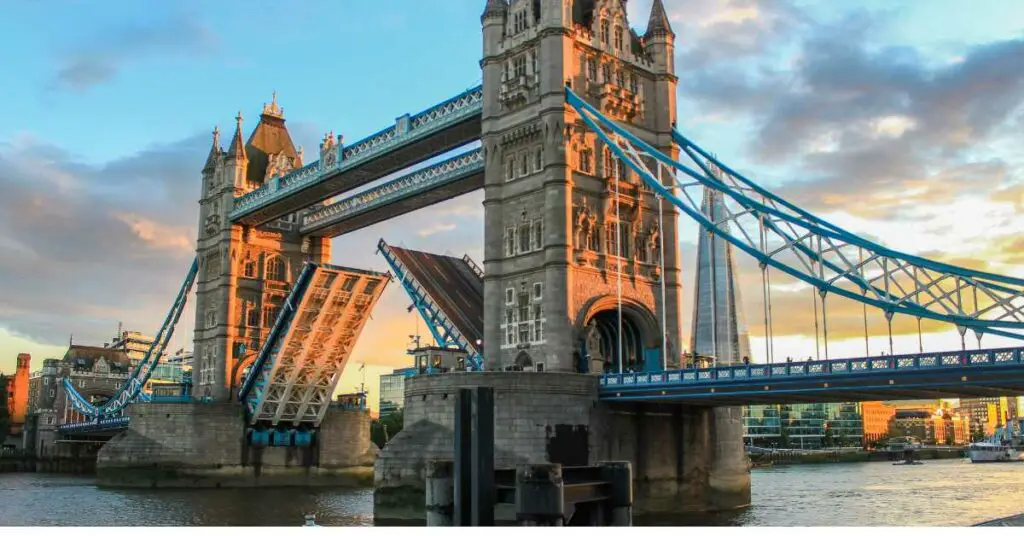 What is High Tea?
High tea is a traditional British meal, usually served in the late afternoon or early evening. Unlike the dainty affair of afternoon tea, high tea is a heartier spread that combines both savory and sweet treats.
It emerged as a working-class meal, with a selection of sandwiches, pastries, cakes, and scones accompanied by a pot of freshly brewed tea.
The term "high" doesn't denote luxury; it refers to the taller dining table where this meal was traditionally served. Today, high tea has evolved into a delightful culinary experience enjoyed by people of all backgrounds, offering a delightful fusion of flavors and indulgence.
How Much is High Tea at The Ritz London?
At the Ritz London, indulging in the delightful experience of High Tea comes with a range of options to suit every palate and occasion.
For the classic Traditional Afternoon Tea, adults can expect to pay 72 pounds per person, while children can enjoy the same experience for 48 pounds. But if you're looking to add a touch of bubbly elegance, the Champagne Afternoon Tea awaits you at 94 pounds.
For those celebrating a special occasion, The Ritz offers a delightful selection of Celebration Cakes to make the moment even sweeter. Whether it's a birthday, anniversary, or any joyous event, you can order these delectable cakes starting at 28 pounds. Choose from four different sizes, ranging from a charming 4-inch cake to a grand 12-inch masterpiece.
And, of course, the little ones are not forgotten! Children's Afternoon Tea is tailored to cater to their taste buds at 50 pounds per child, ensuring they have a memorable and enjoyable experience alongside the adults.
So, whether you're treating yourself to the classic elegance of Traditional Afternoon Tea or adding a celebratory touch with Champagne and a delectable cake, The Ritz London promises an enchanting and unforgettable journey into the world of High Tea.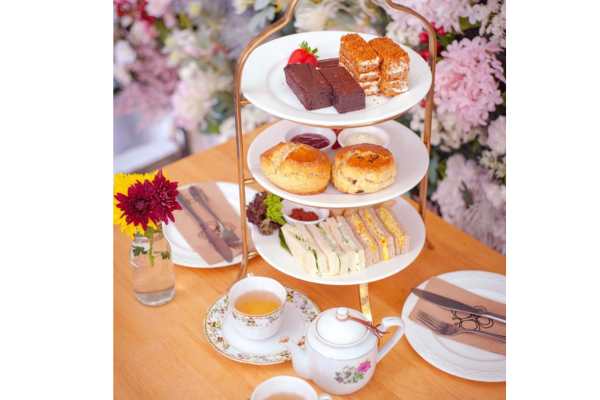 High Tea Menu Options: From Classic to Modern Delights
The High Tea experience at The Ritz London offers a delightful blend of classic and modern delights, served in the elegant setting of The Palm Court. As you step into this grand space, get ready to embark on a culinary journey like no other.
The menu is a delightful combination of savory and sweet treats, starting with finely cut sandwiches that tantalize your taste buds.
The highlight is the freshly baked scones, accompanied by Cornish clotted cream and strawberry preserve, creating the quintessential British scone experience.
Next comes a delectable selection of afternoon teacakes and pastries, tempting you to indulge in every heavenly bite. What's more, the treats are generously replenished upon request, ensuring you savor every last morsel while dining.
For families looking to create lasting memories, The Ritz offers a Children's Afternoon Tea menu priced at £50. Little ones can enjoy the same delicacies as the adults, from finger sandwiches to scones, but perfectly portioned for their dainty fingers.
Even the youngest tea enthusiasts can partake in this time-honored ritual, with the Tea Master thoughtfully selecting a special decaffeinated tea just for them.
From the classic charm of traditional tea to the joyous experience of sharing it with the whole family, The Ritz London's High Tea promises a delightful slice of life that will linger in your heart and taste buds for years to come.
Dress Code and Etiquette
When preparing for the delightful experience of afternoon tea at The Palm Court in The Ritz London, it's essential to adhere to a dress code that upholds the venue's elegance and sophistication.
Gentlemen are kindly requested to wear a jacket and tie, ensuring a smart and refined appearance. This sartorial choice adds to the sense of occasion and captures the classic charm of this timeless tradition.
On the other hand, jeans, and sportswear, for both ladies and gentlemen, are not permitted. The aim is to maintain a graceful atmosphere that befits the grandeur of The Ritz, creating an ambiance of timeless luxury that has delighted guests for generations.
By adhering to this dress code, visitors contribute to the overall charm of the experience, ensuring that everyone can savor their afternoon tea in an atmosphere of refined elegance.
So, don your finest attire, embrace the sophistication, and let The Ritz London's Palm Court whisk you away to an enchanting world of culinary delights and impeccable manners.
Reservations and Availability: Booking Your High Tea Experience
To secure your spot for the unforgettable High Tea experience at The Ritz London, reservations are highly recommended. Due to its immense popularity, booking in advance ensures you don't miss out on this coveted culinary journey.
Reservations can typically be made online through The Ritz's official website or by contacting their dedicated reservations team via phone. Be sure to specify your preferred date, time, and the number of guests attending to ensure a smooth booking process.
While the Ritz endeavors to accommodate as many guests as possible, availability may vary depending on the time of year and demand. It is advisable to plan ahead, especially if you have a specific date or occasion in mind.
Whether you're celebrating a special event or simply indulging in a well-deserved treat, securing your High Tea reservation at The Ritz London promises to be the gateway to a world of opulence and culinary delights that will leave you with cherished memories for years to come.
How Long is High Tea at The Ritz?
High Tea at The Ritz London offers five sittings throughout the day to accommodate guests at various times. Each sitting provides an opportunity for guests to indulge in the splendid High Tea experience in the iconic surroundings of The Ritz's Palm Court.
The sittings for Traditional Afternoon Tea start at 11.30am, 1.30pm, 3.30pm, 5.30pm, and 7.30pm. This allows visitors to choose a time that best fits their schedule or preferences.
Whether you prefer a leisurely midday tea or an elegant evening affair, The Ritz ensures that you can relish the experience at your convenience.
Each sitting typically lasts for around 1 hour and 45 minutes, providing ample time to savor the exquisite selection of sandwiches, scones, pastries, and teas on offer.
The carefully curated menu, combined with the luxurious ambiance, guarantees an unforgettable experience that perfectly captures the essence of British tradition and opulence.
So, whether you're an early bird or a night owl, The Ritz London has thoughtfully planned its afternoon tea sittings to make sure you can immerse yourself in the magical world of high tea at your chosen time.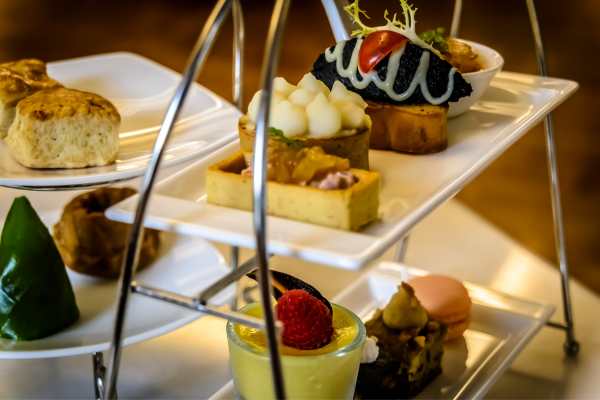 Frequently Asked Questions
What tea is London famous for?
London is famous for its traditional black tea, particularly the blend known as "English Breakfast Tea." This iconic tea is a robust and full-bodied brew, enjoyed with or without milk and sugar.
Sipping on a cup of English Breakfast Tea is a quintessential part of British culture and afternoon tea traditions.
What time is dinner in London?
Dinner time in London typically starts around 6:30 p.m. to 8:30 p.m. However, the exact time can vary depending on individual preferences and cultural norms. Many restaurants and eateries start serving dinner from 6:30 p.m. onward, allowing Londoners to enjoy a delicious evening meal after a day's work or activities.
Is London expensive for tourists?
Yes, London can be expensive for tourists. The city is known for its high living costs, including accommodation, dining, and attractions. However, there are various budget-friendly options available, such as free museums and affordable transportation passes, allowing tourists to explore the city without breaking the bank.