In online shopping, it's important to know how things work, especially when returning stuff you bought.
If you've heard of SHEIN, a popular online fashion store with cool clothes and good prices, you might wonder about their return policy.
Shein is happy to accept returned items that are still new and in good condition within 35 days after you receive them.
Well, you're in the right place! This article will discuss everything you need to know about returning things to SHEIN.
Whether you shop there a lot or check it out, understanding how their return policy works can help you have a smoother shopping experience.
Shein
Shein is an online store where you can buy clothes, accessories, and more.
It's popular because it offers various trendy items at affordable prices. You can find dresses, tops, pants, and even shoes.
The website is easy to use, and you can search for different styles and sizes.
They often have sales and discounts, making it a budget-friendly option for people who want to stay fashionable without spending too much.
However, some people have raised concerns about the quality of their products and the working conditions in their factories.
So, while Shein can be a convenient place to shop for trendy clothes on a budget, it's also important to be aware of these aspects.
Shopping In Shein
Shopping on Shein is easy and fun!
To shop on Shein, visit the website or app, explore products, choose items, and add to your cart. Proceed to checkout, provide info, and confirm your order. Wait for your stylish picks to arrive!
First, visit the Shein website or use the app.
Browse through the categories like clothes, accessories, and more. When you find something you like, click on it to see the details and sizes. Add items to your cart by clicking "Add to Cart."
After shopping, go to your cart by clicking the bag icon.
Review your items and make sure everything is correct.
Then, click "Check Out" and follow the steps to provide your shipping address and payment info.
You might need to create an account if you don't have one. Review your order once more and click "Place Order." Yay, you're done!
Just wait for your trendy Shein items to arrive at your doorstep.
Shein Return Policy
Shein's return policy generally allowed customers to initiate returns within 35 days of delivery for most items.
The eligibility criteria usually included items being unused, undamaged, and in their original packaging with tags attached.
While items like bodysuits, lingerie, swimwear, and select accessories might not be eligible for hygiene reasons, customers were encouraged to initiate returns through their Shein account and follow the provided instructions.
The customers typically bore return shipping costs, and refunds were processed using the original payment method.
It's important to note that Shein's return policy might have evolved since then, so referring to their official website or contacting customer service for the latest information is advised.
How To Make A Shein Return?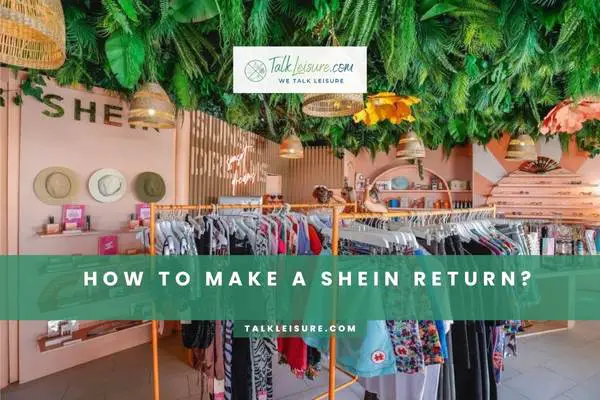 Returning items to Shein is a straightforward process that ensures you're satisfied with your purchases.
Whether you've received the wrong size, a damaged item, or changed your mind, Shein's return system covers you.
This guide walks you through ten easy steps to initiate a return on Shein's website.
By following these steps, you can confidently navigate the process, ensuring a smooth experience from selecting the items to return to successfully sending them back for a refund or exchange.
Step 1: Prepare Your Items. Gather the items you want to return. Make sure they are in their original condition, with tags and packaging intact.
Step 2: Access Shein's Website. Visit the Shein website on your computer or mobile device. Log in to your account if you have one. If not, you can still proceed with the return process.
Step 3: Go to the "My Orders" Section. Navigate to the "My Orders" section on the Shein website. This is usually found in your account dashboard or under your profile settings.
Step 4: Select the Order. Locate the order containing the items you want to return. Click on it to access the order details.
Step 5: Initiate Return Within the order details, find the "Return" or "Request Return" option. Click on it to initiate the return process for the items you want to return.
Step 6: Choose Return Reason. Select the reason for your return from the provided options. This helps Shein understand why you're returning the items.
Step 7: Select Return Method. Choose your preferred return method. Depending on your location and Shein's policies, you might have options like mailing the items back or dropping them off at a specific location.
Step 8: Print Return Label If applicable, print the return label provided by Shein. Attach this label securely to the package you'll be returning.
Step 9: Pack Items Carefully pack your return items in a box or envelope. Make sure they're well protected to prevent any damage during transit.
Step 10: Send the Return. If you print a return label, take the package to the designated shipping location or schedule a pickup. If you're using your shipping method, send the package to the address provided by Shein.
And that's it! You've successfully initiated your Shein return.
Remember to keep any tracking information if you need to follow up on your return status.
Once Shein receives and processes your return, you should receive a refund according to their return policy.
Shein Shipping Rates And Timing
Fast and affordable shipping is important to every customer.
Shein offers two convenient shipping methods to suit your needs: Standard and Express Shipping.
With Standard Shipping, you can expect your order to arrive in about 14 days, and for orders under $49, there's a small fee of $3.99, while orders over $49 enjoy free shipping. If you're in a hurry, our Express Shipping option gets your items to you in around 7 days. Orders under $199 are just $12.90, and orders over $199 ship for free. Shop with ease at Shein!
| Shipping Method | Shipping Time | Shipping Cost |
| --- | --- | --- |
| Standard Shipping | Varies (typically around 14 days) | Orders under $49: $3.99 |
| | | Orders over $49: Free |
| Express Shipping | Varies (typically around 7 days) | Orders under $199: $12.90 |
| | | Orders over $199: Free |
Shein Shipping Rates And Timing
What Are Return Eligible Items At Shein?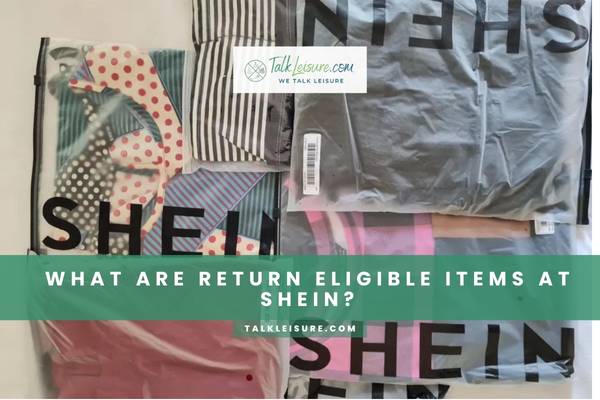 Whether you're an avid online shopper or just starting, understanding what items you can return is essential.
At SHEIN, a popular online fashion retailer, return-eligible items refer to those you can send back if they don't meet your expectations.
Now, we'll explore what kinds of products generally fall under this category and the basic process for returning them. Let's dive in and unravel the mystery of return-eligible items at SHEIN!
All Clothing Items, Including Wedding Dresses, Suits, and other Formal Attire
2. Human Hair Wigs
3. Shoes, Bags & Luggage
4. Furniture
5. Electronics
If the things you received are broken, didn't work when you got them or stopped working within 35 days after you bought them, and it's not because you did something wrong, be sure to contact us immediately. Return the item within 35 days of buying it in its original box with all the manuals and parts.
Shein will check and test it when it reaches our warehouse.
If our tests show that you damaged, messed with, or did something that caused the problem, or if you didn't include all the parts, manuals, or the original box, Shein doesn't accept the return.
If you need to use the warranty from the manufacturer, Shein can help you get in touch with them.
Remember: If you have any personal info on an electronic item you're returning, erase it following the manufacturer's instructions before sending it back to us.
What Are Return Requirements For Return Eligible Items?
You can understand that returning items can sometimes be confusing, so we've broken down the process into simple terms for each category.
We've covered you, whether it's clothing, wigs, shoes, bags, furniture, or electronics. Read on to learn how to ensure a smooth return experience for various types of products.
Clothes, including fancy ones like wedding dresses and suits: When giving back these clothes, they should be brand new, not worn, not washed, not broken, and not changed. They need to have the tags that came with them and any hygiene stickers that might be there.
Wigs made from human hair: If you return them, they should be in brand-new condition. Don't wear them, wash them, or mess them up in any way. Keep the tags that came with them. Shein will ensure they haven't been washed, bleached, cut, or changed badly.
Shoes, bags, and luggage: If you want to return these things, they should look new and not be worn or broken. Keep the original boxes they came in and any extra stuff with them, like buckles, shoelaces, and dust bags. If you try on the shoes, ensure they are on a clean, soft surface.
Furniture: It should be new, unused, and not damaged. Put it back in the box with all the extra stuff, like manuals and parts.
Electronics: Things like phones, laptops, and gaming consoles need to be brand new, never used, and not turned on. Keep them in their original boxes.
All Other Categories: No matter what, it should be like you just got it if you're returning it. You were not used, not changed, and not washed. Keep all the tags and return them to the box they came in.
What Are Non-Returnable Items At Shein?
When it comes to returning or exchanging items, there are a few things to remember.
Some items, like bodysuits, jewelry, and customized products, can't be returned or swapped. Gifts also fall into this category.
So, checking the product page to see if any restrictions are mentioned before making a return or exchange is a good idea. This way, you'll know exactly what to expect when dealing with returns or exchanges.
You can't return or exchange these things:
Bodysuits, underwear, bras, jewelry, accessories, makeup, pet stuff, and personalized items.
The product page says you can't return or exchange.
Free gifts can't be returned or exchanged.
Does Shein Quality Check Return Items?
When you return something to us, Shein wants to ensure you're cared for.
Shein has a process to check the item and see if it can be returned.
If it's all good, Shein will give you your money back. But we might have to do things differently if there's an issue.
Here's what you need to know about our return process and what to do if you receive something damaged or not working right.
When you send something back to us, They check it to ensure it can be returned and follow the rules we mentioned earlier.
If it's good to go, Shein will return your money. But if we find out that what you sent back can't be returned or doesn't follow those rules, we won't give you any money back.
If they can't accept your return, they will return it to your home.
They will take some money from the refund you were supposed to get for other things you returned if you did.
The cost for returning the things we can't accept is $7.99, but we might change it later.
Sometimes, they might refund you for the things we can't accept instead of sending them back to you. They'll decide that on their own.
If something you get from Shein is broken or messed up, let their customer service know within a day of getting it.
Does Shein Return For Free?
You can return your first package for free using our label. Look below to find out how to ask for a return. Make sure to return the package within 35 days of buying it.
If you've already returned some items from your order but still want to send more back, you can use the label we gave you.
But this time, Shein will take $7.99 from your refund to cover the shipping.
Remember, these extra items you're returning must be returned to Shein within 35 days of buying them.
Shein Return Request Process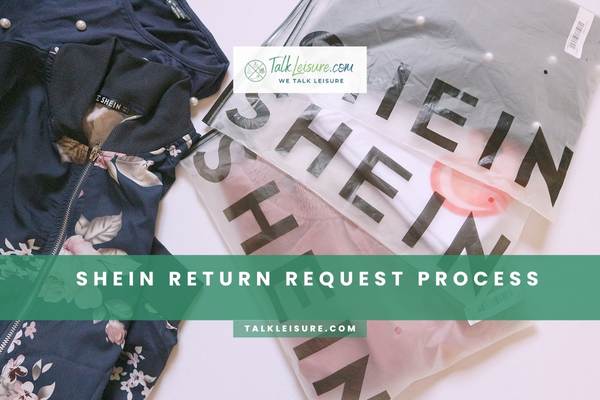 If you've got something from SHEIN that you want to return, don't worry—it's pretty simple.
Just follow these easy steps:
log in to your account, go to "My Orders," choose the item you want to send back, pick a reason, and then decide how you want to return it. Here's a quick guide to help you through the process.
Log in to your SHEIN User Account.
Visit "My Orders" and find the order with the stuff you want to give back. Click "Order Details."
Click "Return Item," pick what you want to return, say why, and click "Next Step." Remember, some things can't be returned.
Choose how you want your money back. But you can't use the SHEIN Wallet refund for things from other sellers.
Pick how to send the stuff back: either USPS or UPS. We'll give you a special sticker or code to use. These only work in the US.
Put the stuff you're sending back in a good package, if you can, and stick the special sticker on it.
Take your package to a USPS or UPS place. Make sure it's sent within 35 days of when you bought it.
Be careful not to mix up stickers or codes if you have more than one thing to return. NOTE:
Don't send your return where the package came from. Send it to the address on the special sticker we gave you.
Only send back stuff you bought on SHEIN, not anything else by accident. We won't send back things that aren't ours.
To get your money back on time, the stuff you send back should match what you said in your request. If things don't match, it might take longer, or we might not be able to do the return.
What Is Shein Refund Time?
Usually, after Shein gets your package, they take about five workdays to handle most returns.
If you don't inform them otherwise, they'll put the refund in your Shein wallet.
This money can be used for your next purchase or taken out and put back into your payment account.
| Refund Method | Refund Time |
| --- | --- |
| SHEIN Gift Card | 24 hours |
| SHEIN Wallet | 24 hours |
| Paypal | 1-5 business days |
| Credit/Debit Card | 4-14 business days |
What Is Shein Refund Time?
How To Get A Refund On Shein Without Returning?
Sometimes, if you buy something from SHEIN and want to return it, they might tell you you can keep it and still get your money back.
This usually happens when it's more expensive for them to arrange for the item to be returned than the actual item's cost. This often occurs when the item is not very expensive.
So, instead of returning the item, which involves getting someone to pick it up and transport it, SHEIN lets you keep it and gives you a refund.
If you start a return on SHEIN and see a message that says, "You can keep the item without sending it back, and you won't get a return label," it means that you'll get your money back, but you don't need to send the item back to them.
Don't worry if this happens to you. It's perfectly okay to receive a refund without sending the item back.
Many people have been confused by this situation before. But it's a nice thing that SHEIN does to make their customers happy.
Step By Step Guide To Take The Refund Without Returning From Shein?
Returning items to SHEIN is easy, so you don't need to worry. Here's what you have to do:
Open the SHEIN app and click 'My Order' to find your purchase.
Click on 'Return' and choose the item you want to send back.
Press 'Submit'.
Just remember these things for a smooth return process:
You can return items delivered within 15 days.
Some products can't be returned, so check the list.
You can also exchange items within 40 days.
Keep items in their original package, and don't use or damage them.
Include the order receipt with the return package if you have it. But it's okay if you don't.
Your refund will come in 48 hours through the SHEIN wallet or within seven days. Shipping costs won't be refunded.
Stick to these steps, and you'll get your refund quickly.
How To Track The Status Of Your Shein Item?
Shein is a company from China owned by Yang Jianxin, one of China's wealthy individuals.
They have various brand names, which might seem too good to be true. Many of these brands could be part of the same company, like Shenzhen Global Egrow E-Commerce Co.
Tracking your Shein package is simple when you use Ordertracker. Just follow these steps:
If you want to track your Shein order:
Sign in to your account.
Go to "My Orders" to see your order history and status.
Click "View Details."
If your order is shipped, click "Track" to see your package's current status and tracking number.
Enter the tracking number in the search field at the top of the page.
Final Thoughts
Knowing how returning the things you buy works in online shopping is important.
You've probably wondered about sending things back if you've shopped on SHEIN, a big online fashion store known for its trendy clothes that don't break the bank.
By learning how SHEIN's easy-to-use website works, checking out all the different things they have for sale, and getting familiar with how returns are handled, you'll be able to shop online more easily and happily.
But remember, even though SHEIN has many stylish options at good prices, it's also important to consider the quality and where the clothes come from.
So, as you explore SHEIN's online store, knowing how their returns process works will help you confidently find great fashion deals and have a successful online shopping trip.
FAQ
What is Shein's Return Label?
A Shein Return Label is a special sticker Shein provides to put on a package when you send back items you want to return. It has important information like your address and tracking details to smooth the return process.
How Long Does It Take to Get My Money Back From Shein?
Shein usually takes 10 to 15 days to process your return and refund your money. However, the exact time might vary based on your payment method and location.
How Do I Return Shein Products?
Returning Shein products is quite simple. You can usually follow these steps: log in to your Shein account, go to your order history, select the items you want to return, and then follow the instructions to generate a return label and return the package.
Are Shein Returns Easy?
Yes, Shein returns are generally easy. They provide instructions and a return label to help you send items back. Just make sure to follow the steps properly and provide the necessary information.
Does Shein Accept Returns or Refunds?
Yes, Shein does accept returns and refunds. If you're unsatisfied with your purchase, you can usually return the items within a certain time frame. Once the return is processed, you'll get a refund for the amount you paid.
Does Shein Have a Return Policy?
Yes, Shein has a return policy. They have guidelines on how long you have to return items after receiving them and conditions the items need to meet for a successful return. Reading their return policy to understand the rules is a good idea.
Happy Shopping!