Welcome to Ulta Beauty, a haven for all your cosmetic and beauty needs!
Before you embark on your shopping journey, being familiar with Ulta's return policy is important.
Ulta's return policy allows returns within 60 days of purchase with a receipt for a full refund to the original form of payment. Without a receipt, store credit is issued. Some restrictions apply.
We understand that sometimes things might not work out as planned, so we want to ensure you have a smooth and hassle-free experience.
In this guide, we'll break down everything you need to know about Ulta's return policy, making it easy to make informed decisions and shop confidently.
Whether you're a makeup maven or skincare enthusiast, understanding the ins and outs of the return process will help you make the most of your Ulta shopping experience.
Ulta Beauty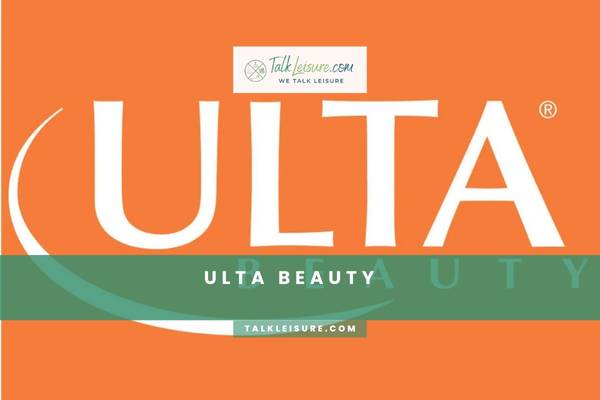 Ulta Beauty is a chain of stores that sells cosmetics, skincare products, haircare items, and fragrance products.
They offer a wide range of beauty and personal care products from various brands, both high-end and affordable.
Ulta Beauty stores are known for their vast selection of makeup products like foundation, lipstick, eyeshadow, and skincare products such as cleansers, moisturizers, and serums.
Customers can find haircare products like shampoos, conditioners, styling tools, and fragrances.
Ulta Beauty often provides beauty enthusiasts with a place to explore and purchase different beauty products, receive advice from knowledgeable staff, and try out new products before making a purchase.
Returning Items To Ulta Beauty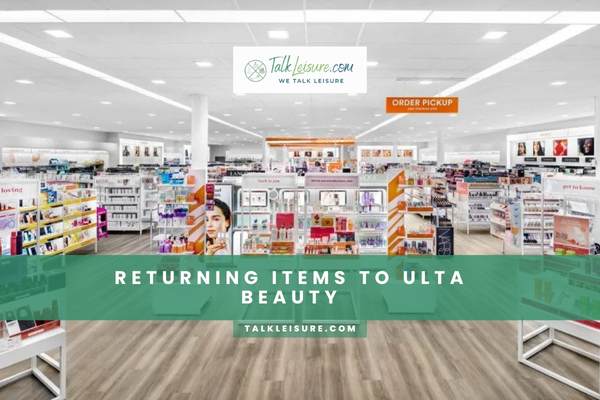 Returning items doesn't have to be complicated. If you need to return something to Ultra Beauty, follow a few simple steps to ensure a smooth process. Here's a quick guide to help you through the process effortlessly.
To return items to Ulta Beauty, follow these steps:
Gather Receipt: Make sure you have your receipt handy, as returns usually require.
Pack Items: Put the items you want to return in their original packaging and any accessories or tags.
Visit Store: Head to your nearest Ultra Beauty store. Bring the items, receipt, and the original payment method you used.
Talk to Staff: Approach a staff member at the customer service desk. Explain that you want to make a return.
Process Return: They will check the items and receipt. If everything's in order, they'll process the return.
Refund or Exchange: You'll have the option for a refund to your original payment method or an exchange for another item.
Read more about return policies with us.
What Is Ulta Return Policy?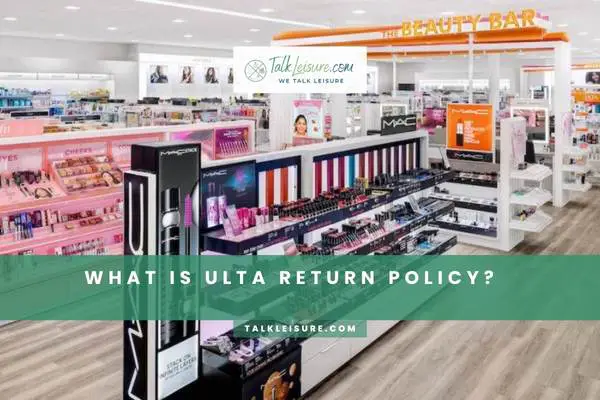 Ulta Beauty has made returning items easy. We want your shopping experience to be great from start to finish.
If you're unhappy with something you bought, you can return it to any Ulta Beauty store and get your money back or swap it for something else.
Here are some important things to remember:
1. Ensure you have all the original pieces when you return something.
2. If you're returning or swapping something in a store, bring your order confirmation email and the card you used to buy the item.
3. We'll give you a store credit if you can't find your receipt and we can't see the item's price. This credit will be based on the lowest price the item was sold for at Ulta Beauty 90 days before you returned it. You'll also need a valid ID, like a driver's license.
4. You can change the item or get store credit with a gift receipt.
5. To ensure everyone has a fair shopping and return experience, we might limit returns if someone uses our policy too much.
6. Things you buy from other stores or resellers and not directly from Ulta Beauty can't be returned or exchanged. This includes Ulta Beauty items at Target.
7. If you shop at Ulta Beauty or ulta.com, you can't return or exchange things at Ulta Beauty inside Target.
8. If you used a one-time coupon when buying something, you can't get the coupon back if you return the item.
9. You can't change gift cards into cash by returning them.
10. If you return something that came with a gift or product, you'll get a full refund if it's within 60 days of your purchase.
Easy Guide To Ulta Return Policy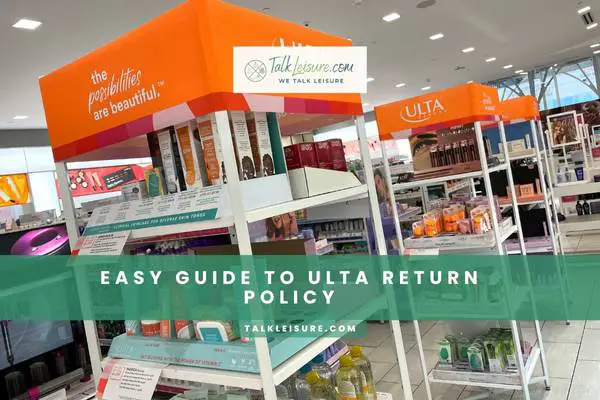 Ulta has a simple rule for returning things you buy. You can get all your money back within 60 days of buying something from Ulta, but you need the receipt.
If you're a member of Ultimate Rewards, you can also use your special ID to prove you bought it.
And If you don't have these things, they'll give you a credit to use in their store instead of returning your money.
Here are some important things to remember:
Time: You have 60 days from when you bought something to give it back to Ulta and get your refund. If it's been more than 60 days, they'll still take it back, but they'll only give you credit to use in their store, not your money.
Used stuff: Ulta doesn't say much about returning things you already used. They might say no to things that are worn out, but if you open something and change your mind, you can still bring it back.
Shipping: If you want to give something back, you must pay to send it back. Or you can take it to a real store instead of sending it.
Keep it complete: When you give something back, ensure you have everything that came with it.
Where you bought it: If you bought something from Ulta Beauty at another store, you can't give it back to Ulta. You have to give it back where you bought it.
In short, Ulta's way of taking things back is pretty easy.
If you don't like what you bought, take it to an Ulta Beauty store. They'll return your money if it's been less than 60 days. If not, they'll give you credit to use in their store.
How To Return Or Exchange Products With Ulta Beaty?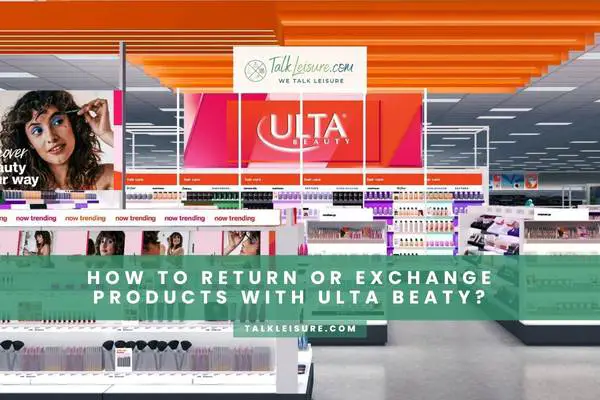 Returning or exchanging products at Ulta Beauty is easy.
Remember to keep your receipt and bring the item you want to return or exchange, ensuring it's unused and in its original packaging. If you go to a store, do it within 60 days of purchase.
For online returns, you have up to 180 days to start the process.
If you're exchanging, head to a store, but you'll need to print a label for online returns. Once you complete the process, you'll get your refund or exchange.
For Purchases Made In Ulta Beauty Stores
Take the item you want to return to any Ulta Beauty store. Ask one of the staff there for help, and they'll assist you with returning your items. They're happy to help you out!
If you return things within 60 days of buying them and have the receipt, you'll get all your money back as you paid. If not, you'll get a credit to use in the store instead.
If you bought stuff online using services like PayPal or AfterPay and want to return it to a store, you'll get the money back on your credit card or store credit.
You don't have to pay anything if you want to exchange an item for the same thing.
Just bring it in, and you're set. But if you want to exchange for something more expensive, you must pay extra money and tax.
If you trade for something cheaper, you'll get back the extra money and tax you paid before.
For Purchases Made Online At ulta.com Or Using The Ulta Beauty App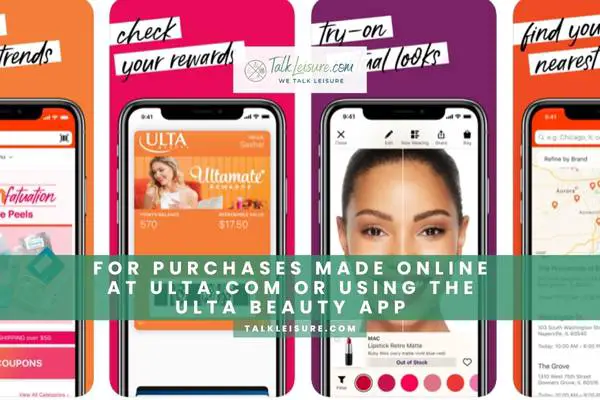 If you buy something online or through an app and want to return it, you can mail it back to us or bring it to any Ulta Beauty stores.
Just remember, if you paid for shipping when you first ordered it, Ultra won't be able to refund you unless they made a mistake with the delivery or you got something broken.
Returning Your Online Order To One Of Ulta Stores
To avoid paying for return shipping and get your money back faster, you can return the things you want to return to any Ulta Beauty store.
Just bring the items you want to return to the store, along with the email they sent you when you ordered them, the package slip (paper that came with the package), and all the boxes or bags they came in.
If you can't find the email, you can get a copy by going to ulta.com, logging into your account, and looking for your order. You can also do this quickly on the Ulta Beauty app.
And if you bring back the stuff within 60 days of buying it and you have the email they sent you, your real credit card, and the paper from the package, they'll give you your money back the same way you paid.
But if you used something like PayPal or AfterPay to buy it online, they'll put the money back on your regular credit or debit card or give you a store credit. They'll give you a store credit if none of these things apply.
Also, if you return stuff, you bought online to an Ulta Beauty store and don't have the email, credit card, or paper from the package; you can only exchange the things or get a store credit. They'll give you the lowest amount of money the stuff was sold for in the 90 days before you return it.
Returning Your Online Order By Mail
You can return items to any Ulta Beauty store to avoid paying for return shipping and get your refund faster.
But if you decide to send your return by mail to Ulta Beauty, you'll need to pay for the shipping costs.
Ultra doesn't accept cash on delivery for returned items.
If you return a product within 60 days of your order, you'll get your money back how you originally paid. If you used a store gift card for payment, they'll give you an Ulta Beauty eGift card for the refund.
Ultra suggests you use the same shipping carton (box) your order came in to send the product back.
Stick the return mailing label from the packing list in your shipping box. Send the box with the return to:
ulta.com Returns Center, 1135 Arbor Drive, Romeoville, IL 60446.
Send all products to Ulta Beauty using ground shipping only.
Some things in your order might be considered hazardous materials (HAZMAT). This includes items like aerosol sprays, some things with alcohol, and items under pressure. ( e.g., hairspray, nail polish and items containing flammable)
The U.S. Department of Transportation (USDOT) needs us to ship hazardous materials by ground because air shipping rules are strict.
A traceable ground shipping method like UPS or insured mail from the U.S. Postal Service is also a good idea.
This way, you can follow your shipment back to us for a smooth return.
Once we get your return and give you your money back, we'll email you to let you know.
You can also check the status of your return online by signing into your ulta.com account and going to order status.
If your refund goes back to a bank or credit card, it should appear in your account within 7-10 days after receiving our email.
What Are Ulta Ultimate Rewards Points In Ultra Beauty?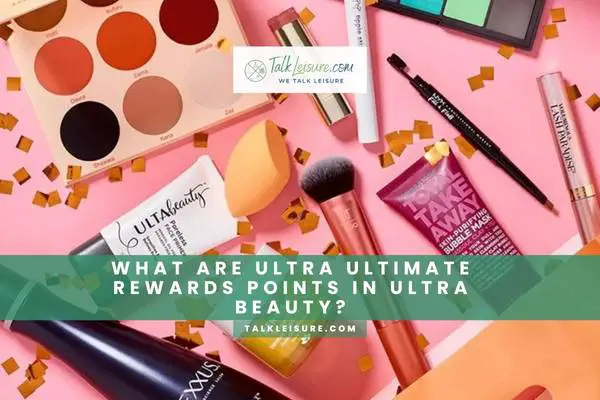 If you return a product that you earned rewards points on, the points you earned will be taken away from your account.
Also, If you use rewards points to buy something and then return them, they will return to your rewards balance immediately.
Followingly, If you bought more than one thing in a single purchase and only returned one item, a portion of the points will be added to your rewards balance.
These points can then be used for your next purchase. You can swap the item you bought with points for something else in the store and still get the same discount.
How Do Returns Affect Rewards Points?
You get points when you join the Ultimate Reward program and buy things from Ulta.
These points can be used to get free products later on. But, if you return something you bought, your earned points will be taken away.
If you used points to pay for a purchase and then returned that purchase, the points you used will be returned to you.
Remember, you only lose points for the things you return, not the entire purchase.
What Happened To Ulta-Returned Checks?
You'll have to pay a service fee if your check bounces and the bank doesn't accept it.
If you write a check with insufficient money in your account, the bank might send it to them electronically as state law allows.
If your check returns, there's a 10-day waiting period before you can get it back.
What Is Ulta Returned Merchandise Policy?
Ulta Beauty places a great deal of importance on quality. They are committed to safeguarding the trustworthiness of the products they offer. Ulta Beauty has a strict rule against selling items that have been used, harmed, or past their expiration dates.
Their approach involves guidelines, education, and steps to ensure that only the best products are available in their physical stores and on their website.
The staff members receive training to examine and appropriately handle returned used, damaged, or expired returned items.
Does Ulta Require Manufacturer Packaging?
Ulta Beauty's return policy doesn't necessitate the original manufacturer packaging for product returns.
All that's needed is to bring the item to the store and provide proof of purchase.
Once an Ulta Beauty staff member validates the return, your refund will be processed.
Ulta Beauty has a flexible return policy that's nice and easy. They don't strictly need you to return stuff in its original box.
They prefer it if you can, but they get that sometimes you can't. The important things are to bring back what you bought, show them your receipt, and have someone from Ulta Beauty say it's alright.
Get your money back without issues if all that checks out. Ulta Beauty wants to simplify returning things, even if you don't have the fancy box it came in.
Can You Return Products to Ulta Without a Receipt?
Yes, Ulta generally accepts returns without a receipt, but the process might be more complicated.
Without a receipt, you'll likely receive store credit for the item's current selling price.
Remember that this policy may vary based on the specific store location and the discretion of the store staff.
Having a valid ID can be helpful when making a receiptless return. Ulta's return policy balances accommodating customers and preventing fraudulent returns.
It's recommended to check with your local Ulta store or visit their official website to confirm their current return policy, as it might change over time.
Can You Return an Item After 60 Days?
Ulta's standard return policy allows returns within 60 days of purchase, in-store and online.
However, returning an item after 60 days can be challenging, as it often exceeds its stated return window. In such cases, you might be offered store credit rather than a refund to the original payment method.
The specific outcome can vary depending on the store's discretion and the condition of the item being returned.
It's best to adhere to Ulta's outlined return timeframe to avoid complications. If you're unsure, contact the store's customer service for guidance.
Can I Return Used Items to Ulta?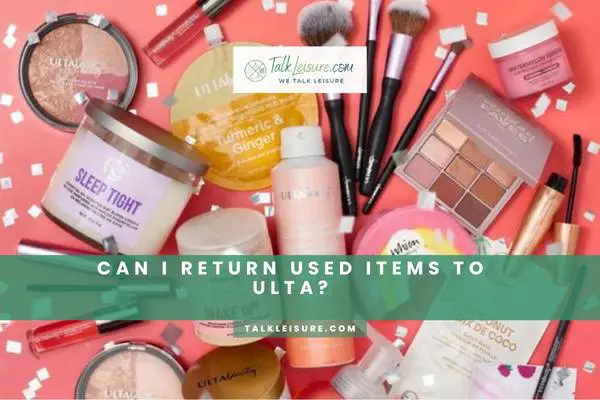 Ulta's return policy generally allows returns of gently used items, but it's advised to refer to their specific guidelines.
Items like makeup and skincare products must be returned in a condition that allows for proper evaluation and resale.
Used items should be reasonably clean and undamaged to qualify for a return. However, some products might fall under different rules due to health and safety concerns.
It's advisable to check Ulta's return policy or contact customer service for clarity on the items you wish to return.
Remember that the final decision might be subject to store discretion and the condition of the item you're returning.
Does Ulta Throw Away Unused Returns?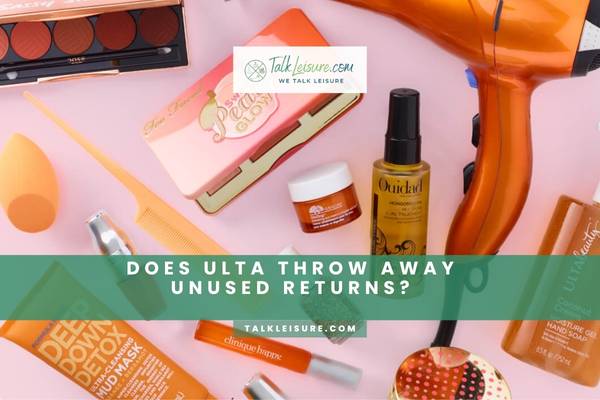 The beauty store throws away a lot of the things customers return.
They even break apart makeup palettes and pour creams and lotions into the trash.
Things get thrown away because they might have gotten contaminated with something that could make them unsafe.
If a package is opened, even if what's inside hasn't been used, we either throw it away, send it back to the seller, or send it to a special place for safe disposal.
Final Thought
In conclusion, Ulta Beauty offers a simple and convenient return policy to satisfy your purchase.
Within 60 days of buying something from Ulta, you can easily return it for a full refund if you have the receipt. Even without a receipt, you'll receive store credit.
While Ulta prefers original packaging, they understand it's not always possible.
Gently used items are generally accepted, but some health and safety considerations apply.
Remember, returning within the 60-day window is recommended for a smooth process. Always check with your local store for any specific guidelines.
Your experience matters and Ulta Beauty strives to make the return process as hassle-free as possible.
FAQ
What Is the Ulta Online Return Policy?
The Ulta online return policy allows returns with the original receipt within 60 days of purchase. Items should be unused, in original packaging, and good condition. Certain products, like opened beauty items, might have restrictions. Refunds are usually issued to the original form of payment.
Can You Return Ulta Online Orders In-Store?
Yes, you can return Ulta online orders in-store. Bring your order invoice or receipt and the items you want to return to your nearest Ulta Beauty store.
Can I Return Used Make-Up At Ulta?
Generally, Ulta doesn't accept returns of used makeup for hygiene reasons. However, if you're unsatisfied with a product, you can usually return it within 60 days with the original receipt and packaging for a refund.
Does Ulta Offer A Full Refund?
Ulta usually offers full refunds for eligible items returned within 60 days of purchase, as long as you have the original receipt. Make sure the items are in their original packaging and unused.
Can I Return An Item To Ulta Beauty Without The Original Package?
Ulta Beauty typically requires the original packaging for returns. If you don't have it, the return might be accepted, but you could receive a refund as store credit instead of the original payment method.
Best Wishes!