Ah, Glasgow, where kilts meet kind hearts and bagpipes serenade your taste buds. But hold on to your tea cups, because we're about to embark on a journey that's steeped in elegance and drenched in flavor. That's right, dear readers, we're delving into the delightful realm of high tea in Glasgow!
Picture this: A symphony of clinking porcelain, the soft rustling of linen napkins, and the intoxicating aroma of freshly brewed tea leaves. If you thought Glasgow was all about haggis and ceilidh dances, you're in for a treat – a dainty, cucumber-sandwiched, scone-loving kind of treat.
In our quest for the most divine high tea experiences, we've crisscrossed the vibrant streets of Glasgow, uncovering hidden gems and grand establishments that take tea time to a whole new level. From sipping like royalty at the historic Mackintosh at the Willow to indulging your whimsical side at The Butterfly and the Pig, we've left no scone unturned!
So, fasten your seatbelts, loosen your belts (because trust us, you'll want to eat EVERYTHING), and join us as we spill the tea on the finest high tea haunts in Glasgow. It's time to raise our pinkies and toast to a culinary adventure fit for the queen—or at least, the queen of your heart.
Meanwhile, if you are wondering about the best high tea in Orange County, you can read all about that in this article I have written.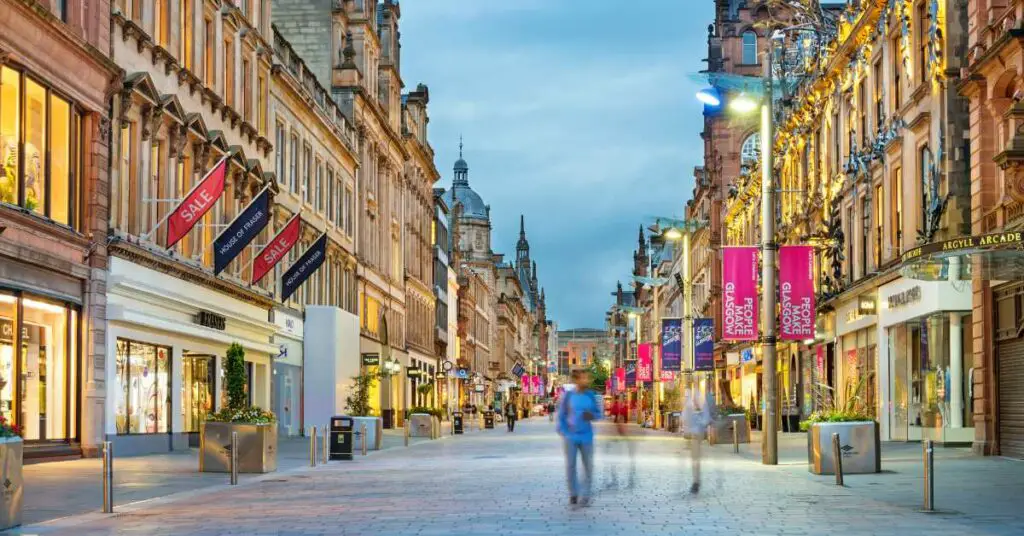 Our first stop on this tantalizing tea tour takes us to the whimsical wonderland that is Cup Tea Lounge. Tucked away in the heart of Glasgow, this charming spot marries tradition with a dash of quirky. Prepare to be transported to a world where teapots wear top hats and scones come in more flavors than you can shake a teaspoon at.
From delicate finger sandwiches to dreamy cupcakes, Cup Tea Lounge knows how to curate a tea experience that's as Instagram-worthy as it is delicious. So, whether you're a tea connoisseur or just looking for a fanciful escape, Cup Tea Lounge is brewing up a pot of perfection with your name on it.
In the heart of Princes Square, a culinary treasure awaits at Cranachan Café, where Scotland's rich heritage meets high tea sophistication. As you step into this cozy haven, the aroma of freshly baked scones dances in the air, setting the stage for an unforgettable tea affair.
Cranachan Café takes pride in celebrating local produce, and it shows in every bite. Indulge in a symphony of Scottish flavors, from hearty oatcakes to the creamiest clotted cream.
With its warm ambiance and indulgent treats, Cranachan Café offers a high tea experience that's as genuine as a Highland welcome. Get ready to savor a slice of Scotland, one exquisite nibble at a time.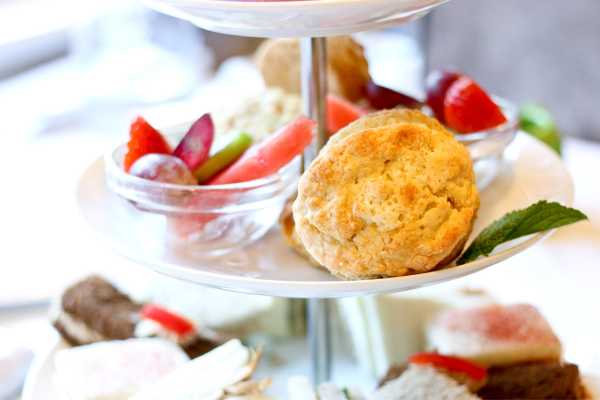 Prepare to step back in time and bask in the architectural brilliance of Mackintosh at the Willow. This iconic destination not only serves up impeccable high tea but also invites you to dine amidst history. Designed by the legendary Charles Rennie Mackintosh, the venue exudes an air of elegance that perfectly complements its culinary offerings.
From dainty sandwiches with layers of flavor to delicate pastries that resemble edible art, Mackintosh at the Willow takes high tea to a level that transcends mere refreshment. It's a rendezvous with the past, a feast for the senses, and a true Glasgow gem that promises an experience as timeless as the tea itself.
Meanwhile, if you are wondering how much is high tea at harrods, you can read all about that in this article I have written.
Elevate your high tea experience to new heights at the Carlton George Hotel, where sophistication meets sweeping city views. Nestled in the heart of Glasgow's bustling center, this upscale gem offers a tea affair that's both indulgent and awe-inspiring.
Imagine sipping your Earl Grey while gazing upon the city's skyline – a sight to savor alongside every delectable bite. From classic finger sandwiches to exquisite patisserie creations, the Carlton George Hotel crafts a symphony of flavors that harmonize with the urban symphony just outside its windows.
If you're seeking a blend of luxury and location, this is where your tea journey reaches its zenith.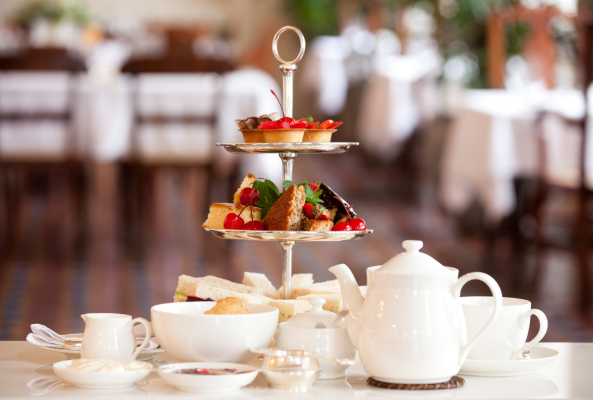 For a whimsical twist on the traditional, flutter over to The Butterfly and the Pig. This charming tearoom sprinkles fairy dust on your tea experience, whisking you away to a world of enchantment. Vintage teacups, mismatched chairs, and an ambiance that's pure storybook – it's like Alice's Wonderland meets your taste buds.
The menu dances between savory and sweet, with a dash of eccentricity that's simply delightful. Indulge in hearty quiches, whimsically topped cupcakes, and a tea selection fit for a tea-loving caterpillar.
The Butterfly and the Pig are where grown-up fantasies blend with gourmet reality, making every sip and nibble pure magic.
Prepare for a regal rendezvous at the Sherbrooke Castle Hotel, where high tea takes on an air of aristocratic splendor. Nestled within a charming turreted castle, this venue oozes grandeur and history. Step into a realm of refinement as you're greeted by silver service and a feast fit for royalty.
From delicate finger sandwiches to artfully crafted pastries, every morsel speaks of elegance. The Sherbrooke Castle Hotel not only offers a gastronomic adventure but also invites you to immerse yourself in the allure of a bygone era. It's high tea with a touch of nobility, where your taste buds are treated like crown jewels.
Nestled within the enchanting lanes of Glasgow's West End, The Hidden Lane Tearoom is a true culinary treasure waiting to be discovered. This cozy hideaway offers a high tea experience that's as intimate as it is exquisite.
Picture yourself surrounded by vintage charm, sipping tea from delicate china, and indulging in homemade delights that whisper of grandma's secret recipes. The menu is a symphony of comfort, featuring hearty soups, flaky pastries, and mouthwatering cakes.
If you're seeking a slice of tranquility amidst the urban bustle, follow the trail to The Hidden Lane Tearoom – where every bite feels like a warm embrace.
Meanwhile, if you are wondering what time is high tea in London, you can read all about that in this article I have written.
Kimpton Blythswood Square Hotel
Indulgence reaches new heights at the Kimpton Blythswood Square Hotel, where high tea is transformed into an artful masterpiece. Set within a luxurious urban retreat, this haven of taste and tranquility pampers your senses with a symphony of flavors.
Immerse yourself in opulence as you sample exquisite finger sandwiches, intricately designed pastries, and an array of curated teas that's nothing short of awe-inspiring.
With a backdrop of timeless elegance and a touch of modern flair, Kimpton Blythswood Square Hotel beckons you to savor every bite, every sip, and every moment of culinary bliss. Prepare for an affair to remember.
Get ready to be whisked away to a world of opulence and sophistication at The Corinthian Club. Housed within a lavish former bank, this high tea destination is a symphony of grandeur. From the moment you step inside, you're enveloped in a realm where crystal chandeliers and marble columns set the stage for a truly majestic tea experience.
Indulge in a feast fit for royalty – delicate finger sandwiches, sumptuous scones, and decadent desserts that redefine indulgence. The Corinthian Club elevates high tea to an art form, inviting you to revel in the finer things in life in a setting that's nothing short of spectacular.
Our tea journey comes full circle as we step into the legendary embrace of The Tea Rooms. Nestled within the iconic Watt Brothers building, this Glasgow institution is a celebration of tradition and taste.
Prepare to be transported to a bygone era, where elegance reigns supreme. The Tea Rooms offer a quintessential high tea affair – think dainty sandwiches, freshly baked scones, and an array of teas that span the spectrum of flavor.
As you bask in the historic ambiance, you're reminded that sometimes, the classics are classics for a reason. Raise your cup and toast to The Tea Rooms – where every sip is a nod to the past and a step into timeless delight.
Frequently Asked Questions
Do they do high tea in Scotland?
Absolutely! High tea is a cherished tradition in Scotland. From historic tearooms to luxurious hotels, you can indulge in delightful spreads of sandwiches, scones, pastries, and a variety of teas while savoring the country's rich culture and hospitality.
What brand of tea is popular in Scotland?
One of the popular tea brands in Scotland is "Brooke Bond," known for its classic Scottish Blend tea. Additionally, "Edinburgh Tea and Coffee Company" offers a range of teas capturing the essence of Scotland's tea-drinking culture, from traditional blends to unique flavors.
What is Scottish tea called?
Scottish tea is commonly referred to as "Scottish Breakfast Tea." This robust and flavorful blend is known for its hearty character, often enjoyed with milk and sometimes sugar. It's a comforting and invigorating brew that embodies Scotland's tea-drinking traditions.