Welcome, tea enthusiasts and explorers of all things scrumptious! If you're here, you've probably felt the allure of those dainty cups, those delicate treats, and the timeless elegance of high tea. Fear not, for your quest to find the best affordable high tea in London starts here!
Picture this: Tantalizing tiers of finger sandwiches, flaky scones, and desserts that could make a pastry chef blush. London, a city of sophistication and sips, offers a delightful rendezvous with high tea culture.
Whether you're a local looking for a delightful afternoon escape or a traveler seeking an authentic English experience, we're here to spill (tea) on the hidden gems.
Join me as we crumb-crush our way through the crème de la crème of tea rooms. From posh parlors to cozy cafes, our journey through this city's tea scape is bound to leave you steeped in joy and ready to tackle any tea-related challenge that comes your way.
So, tighten your pinky fingers and prepare for a blend of taste, tradition, and maybe a sprinkle of sassy humor. It's time to tea-riffically indulge without emptying your wallet. Let's raise our cups to London's best affordable high tea experiences!
Meanwhile, if you are wondering what time is high tea in London, you can read all about that in this article I have written.
Our high tea adventure begins at The Ivy Chelsea Garden, a botanical haven that's as posh as it is picturesque. Nestled in the heart of Chelsea, this enchanting spot offers an exquisite twist on the traditional high tea affair.
Immerse yourself in lush surroundings as you savor artisanal sandwiches, flaky scones, and a dessert ensemble that's practically art. The real treat? Affordable indulgence without compromising on luxury.
So, whether you're here for the floral-framed selfies or the flavor-packed bites, The Ivy Chelsea Garden is your gateway to a tea experience that's oh-so-British, oh-so-chic, and oh-so-affordable. Get your pinkies ready, because this is high tea, reimagined.
The Wolseley – Timeless Glamour on a Tea Tray
Step into The Wolseley, where history and high tea collide in a symphony of sophistication. Housed in a former car showroom turned culinary oasis, this iconic establishment boasts a blend of European grandeur and British charm.
As you settle in amidst marble columns and Art Deco accents, prepare to be treated to a tea affair fit for royalty. Delicate finger sandwiches, freshly baked scones, and an array of pastries await. The best part?
The Wolseley's commitment to affordable elegance makes this a must-visit for tea enthusiasts seeking a taste of opulence without the hefty price tag.
Café Rouge – A Quaint Escape to French-Inspired Tea Delights
Bonjour, tea aficionados! Our journey takes a delightful detour to Café Rouge, where a touch of Paris meets London's tea scene. This charming bistro offers a fusion of British high tea elegance and French joie de vivre.
Indulge in a delectable array of treats, from croque-monsieurs with a twist to pastries that transport you to the streets of Montmartre.
The ambiance? Rustic and cozy, perfect for sipping and savoring. Café Rouge's wallet-friendly approach to high tea ensures you can relish the best of both worlds without breaking the bank. Ooh là là, it's a rendezvous you won't want to miss!
Meanwhile, if you are wondering how much is high tea at the Ritz London, you can read all about that in this article I have written.
Prepare to be serenaded by flavors at The Melody, a hidden gem in Hammersmith. This tea spot orchestrates a harmonious blend of traditional and modern, where every bite is a note in a delectable composition.
With a menu that sings of freshly baked goods and thoughtfully crafted sandwiches, The Melody hits all the right high tea chords.
The intimate setting adds an extra layer of charm, making it a haven for tea enthusiasts seeking an affordable yet indulgent experience. So, follow the melody of taste to Hammersmith and let your taste buds be swept away in a symphony of delight.
Bonjour tea lovers! Our exploration takes a sweet turn to Ladurée in Covent Garden, where a French patisserie meets London's high tea scene. Renowned for their colorful macarons, Ladurée offers a tea experience that's as vibrant as it is delicious.
Amidst pastel-hued decor and an air of Parisian elegance, you'll be treated to a medley of delicate sandwiches, flaky pastries, and, of course, macarons that melt in your mouth.
This Parisian rendezvous doesn't break the bank, making it a delightful escape for those craving an affordable slice of luxury. Get ready to say "oui" to tea and macarons galore!
Cinnamon Bazaar – Spice-infused High Tea Delights
Hold on to your teacups, because at Cinnamon Bazaar, we're about to embark on a flavor-packed journey that's anything but ordinary. Nestled in Covent Garden, this vibrant eatery brings Indian flair to the classic high tea affair.
Brace yourself for a symphony of spices woven into delectable sandwiches, savory bites, and irresistible sweets. The fusion of tradition and innovation shines through in every dish.
And the best part? You don't need a royal budget to indulge in this aromatic experience. Cinnamon Bazaar is your ticket to an exotic high tea adventure without leaving London's buzzing heart.
Welcome to The Drawing Room at Brown's, a sanctuary of elegance and innovation in the heart of Mayfair. With its storied history dating back to 1837, this tea spot seamlessly weaves tradition into a contemporary tapestry.
Immerse yourself in the plush surroundings as you enjoy an array of meticulously prepared delicacies, from dainty finger sandwiches to exquisite pastries.
The Drawing Room's commitment to affordable luxury ensures that you can savor every moment without watching your wallet.
So, make a date with history and modernity, where tea is more than just a beverage—it's a journey through time and taste.
Meanwhile, if you are wondering about the best high tea in Glasgow, you can read all about that in this article I have written.
Prepare to be enchanted by The Wallace Restaurant, a hidden gem nestled within The Wallace Collection, a world-class art gallery. This high tea destination seamlessly marries culture and cuisine.
Amidst the backdrop of art and elegance, indulge in a feast for both the eyes and the taste buds. Delicate pastries, savory creations, and a medley of teas await, all designed to reflect the gallery's refined aesthetic.
The best part? This culinary journey doesn't require a grand gallery budget. The Wallace Restaurant offers an artful, yet affordable, high tea experience that leaves you sated in both art and appetite.
The Tea Terrace – Where Wonderland Meets High Tea
Calling all adventurers and tea enthusiasts! Our next stop is The Tea Terrace, a whimsical haven perched above London's bustling streets. Step into a world straight out of a storybook, where high tea becomes a magical affair.
From their famous "Alice in Wonderland" tea to delectable sandwiches and sweets that awaken your inner child, The Tea Terrace offers an experience that's as enchanting as it is affordable.
Whether you're chasing the White Rabbit or simply seeking a unique tea escape, this terrace promises a tea-riffic journey that's sure to leave you grinning like the Cheshire Cat.
Balthazar – A Chic Transatlantic Tea Rendezvous
Bonjour and hello, tea aficionados! Prepare to be whisked away to the glamorous ambiance of Balthazar, where London's high tea tradition meets New York chic.
Nestled in the heart of Covent Garden, this transatlantic hotspot offers a sophisticated yet approachable tea experience. Indulge in a curated selection of finger sandwiches, warm scones, and an array of delectable pastries.
The stylish surroundings and attentive service create an atmosphere that's as lively as it is luxurious. Balthazar's commitment to making indulgence accessible ensures that a dash of Manhattan magic doesn't come with a Broadway-sized price tag. Cheers to tea, tastefulness, and a touch of cosmopolitan flair!
Rotunda – Riverside Tranquility and Tea Delights
Our journey now takes us to Rotunda, a serene escape nestled by Regent's Canal. Here, high tea becomes a picturesque experience, combining tranquility with taste.
The riverside setting sets the stage for a delightful rendezvous with finger sandwiches, warm scones, and a variety of treats that celebrate British flavors.
Whether you're seated indoors or basking in the sun-kissed terrace, Rotunda's affordable high tea offering ensures that you can relish the waterside beauty without making waves in your budget. So, take a leisurely sip, watch the boats drift by, and let the calming waters harmonize with your tea-infused joy.
Lilly's Cafe – A Cozy Corner for Tea Enthusiasts
Welcome to Lilly's Cafe, a charming nook that captures the essence of comfort and community. Tucked away from the urban bustle, this café offers a high tea experience that feels like a warm embrace.
Indulge in a selection of handcrafted delicacies, from dainty sandwiches to homemade pastries that evoke a sense of nostalgia. Lilly prides itself on offering a heartfelt escape without the premium price tag.
So, whether you're seeking solace in a cup of tea or sharing laughter with friends, this café promises an affordable haven where tea is a cherished tradition, and every sip is a moment to savor.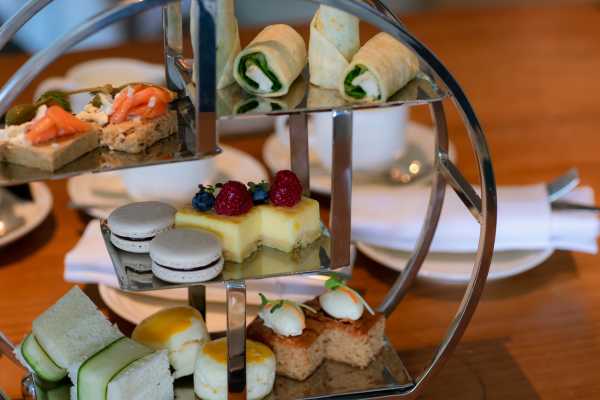 Frequently Asked Questions
Is afternoon tea charged per person?
Yes, afternoon tea is typically charged per person. The cost covers a set selection of teas, finger sandwiches, scones, and pastries, as well as the experience and ambiance of the tea room or establishment. Prices can vary based on the venue, location, and the level of luxury and offerings included in the afternoon tea experience.
Why is tea so expensive in the UK?
Tea's perceived expense in the UK can be attributed to factors like quality, production costs, and cultural significance. Premium teas, craftsmanship, and sourcing drive prices. Additionally, the cost of running tea rooms with desirable ambiance and service can contribute. High demand for quality teas also affects their pricing.
Why do Brits put milk in tea?
Adding milk to tea is a British tradition dating back to the 18th century. It's believed that milk was added to protect fine china from cracking due to hot tea. Over time, the practice evolved into a preference, resulting in the popular "builder's tea" with milk. It also tempers the tea's bitterness and creates a smoother taste.
Do the British put sugar in tea?
Yes, many Brits do add sugar to their tea. It's a matter of personal preference. Some like their tea with sugar for added sweetness, while others prefer it without. The amount of sugar varies from person to person, ranging from little to none at all.