Ah, Paris—the city of romance, art, and… tea? Mais oui! If you thought the Eiffel Tower and Louvre were the only stars of the show, prepare for a delightful surprise. We're about to spill the tea (pun intended) on the best high tea experiences in the City of Lights.
After many cups of tea, we've put together a guide to best afternoon tea in Paris. People often enjoy their Tea time in Paris with outdoor cafés and coffee and wine culture.
Buckle up, fellow tea enthusiasts, because we're about to embark on a tantalizing journey through the crème de la crème of Parisian tea culture.
Picture this: elegant salon settings, dainty porcelain cups, and tiers of delectable pastries that would make Marie Antoinette blush.
From iconic luxury hotels like The Ritz Paris and Shangri-La, where tea is practically an art form, to the charming nooks like Ladurée and T'cup that sprinkle a dash of whimsy into tradition – we're diving into a tea lover's dream.
Whether you're a seasoned tea connoisseur or a curious sipper, join me as we explore the aromatic world of "tasse de thé" in the heart of Paris.
So, grab your pinkies and let's indulge in the crumpets and camaraderie that make high tea a true Parisian affair!
Meanwhile, if you are wondering about the best high tea in Atlanta, , you can read all about that in this article I have written.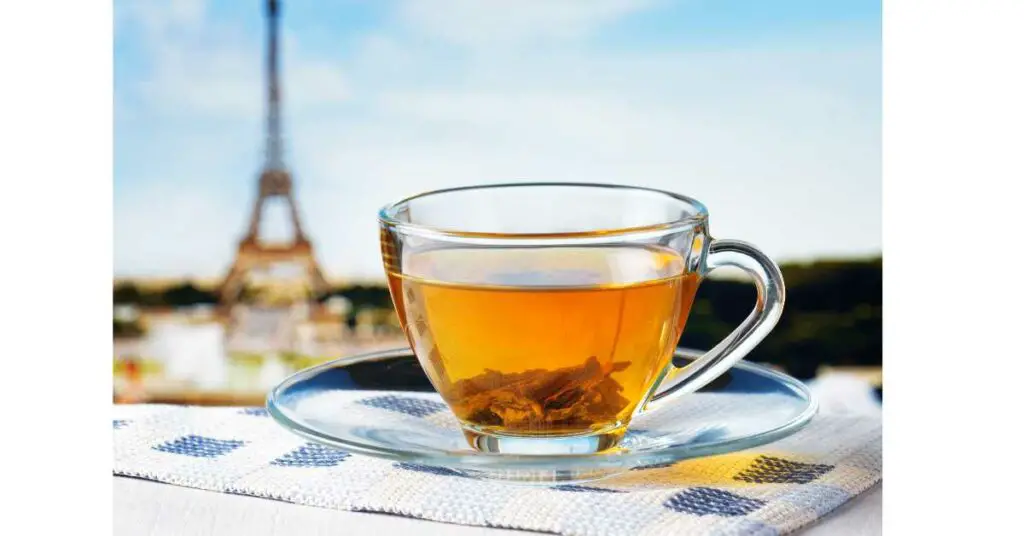 Step into a world of timeless elegance at The Ritz Paris, where high tea isn't just a ritual – it's a lavish experience. Nestled in opulent surroundings, you'll be treated to a symphony of flavors that dance on your palate.
Sip on rare blends, nibble on delicate finger sandwiches, and surrender to the allure of meticulously crafted pastries.
With a backdrop that has hosted the likes of Coco Chanel and Ernest Hemingway, The Ritz Paris elevates high tea to an art form. Indulge like royalty as you bask in the echoes of history, making every sip a nod to Parisian grandeur.
Escape to a tea lover's paradise at the Shangri-La Hotel Paris, where sophistication meets oriental charm. Immerse yourself in an ambiance that whispers tales of distant lands while relishing in a tea experience that's nothing short of enchanting.
The delicate aroma of expertly brewed teas mingles with the elegance of a French patisserie, creating a harmonious symphony of flavors. With panoramic views of the Eiffel Tower as your backdrop, savor each sip and scone in pure bliss.
At Shangri-La, high tea is a sensory journey that transports you to a world where every cup tells a story and every bite is a masterpiece.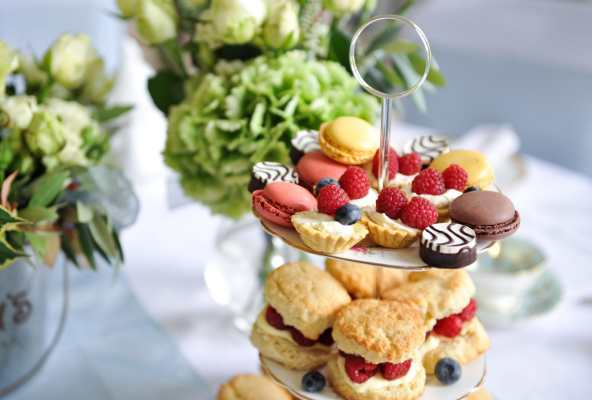 In the heart of Paris, a pastel-hued haven awaits Ladurée, the epitome of Parisian chic and culinary excellence. Renowned for its macarons, Ladurée transforms the art of high tea into a whimsical fairy tale.
Step into a world where each sip is a step closer to confectionery heaven. The delicate sweetness of macarons pairs harmoniously with fine teas, creating an experience that's both indulgent and enchanting.
As you bask in the charming ambiance, let Ladurée weave its magic, transporting you to a dreamlike realm where tea isn't just a beverage – it's an artful celebration of flavors and finesse.
Meanwhile, if you are wondering about the best high tea in Glasgow, you can read all about that in this article I have written.
 Le Bristol Paris is home to a unique tea room that offers a delightful and luxurious experience in Paris.
The tea salon at Le Bristol Paris is the perfect destination for tea lovers looking to indulge in a wide variety of teas.
With its elegant decor and cozy ambiance, the tea salon provides a tranquil escape from the bustling streets of the city.
The hotel itself is renowned for its exquisite hospitality, making it an ideal location for enjoying a cup of tea.
The tea service at Le Bristol Paris is impeccable, with knowledgeable staff who are always on hand to offer recommendations and guide guests through the extensive tea menu.
From classic options like Earl Grey and English Breakfast to more exotic blends, the tea room caters to every taste and preference.
Afternoon tea at Le Bristol Paris is a truly enchanting experience, allowing guests to savor their tea along with a selection of delectable pastries and sandwiches.
The tantalizing aroma of freshly brewed tea fills the air as visitors unwind and immerse themselves in the timeless elegance of the tea salon.
Whether you are a tea connoisseur or simply looking to enjoy a quintessential Parisian experience, Le Bristol Paris offers an unparalleled tea service that will leave you feeling rejuvenated and enchanted.
So sit back, relax, and indulge in an afternoon of tea and tranquility at the fantastic tea salon of Le Bristol Paris. 
Venture into the realm of Mariage Frères, a temple of tea where tradition meets innovation. Since 1854, this Parisian gem has been captivating tea aficionados with its unparalleled expertise.
As you cross the threshold, a world of aroma awaits – from delicate floral blends to robust, exotic teas. Mariage Frères elevates tea to an art, offering an array of curated leaves sourced from the world's finest gardens.
The tea emporium's charm lies in its dedication to both heritage and experimentation. Indulge in a sensory journey, where every cup holds a story, and each sip unveils the mastery of generations devoted to the leaf.
Nestled in the heart of Paris, Angelina beckons with a promise of timeless elegance and sweet indulgence. A rendezvous with high tea here is like stepping into a Belle Époque painting.
The pièce de résistance? Their signature "African" hot chocolate – a velvety elixir that accompanies your tea experience like a decadent dream. Delicate pastries and finger sandwiches complete the tableau, a perfect dance of flavors and textures.
At Angelina, high tea is a symphony of taste and aesthetics, where every moment is a brushstroke in the artistry of Parisian gastronomy.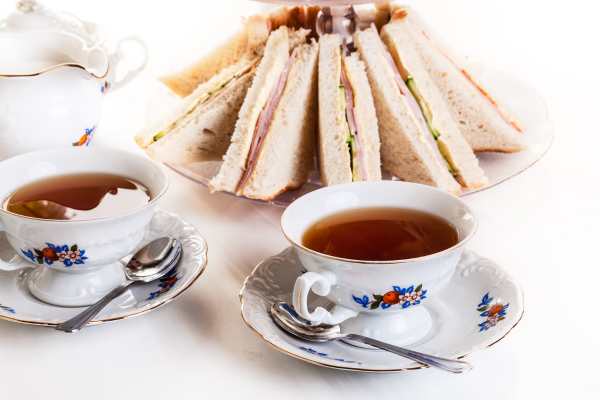 Indulge in high tea royalty at Le Meurice, a palace of taste where culinary artistry takes center stage. Within its opulent walls, a refined tea ritual awaits, promising an exquisite blend of flavors and luxury.
With a backdrop that has hosted dignitaries and luminaries, Le Meurice weaves history into every sip and morsel. Immerse yourself in a symphony of fragrant teas, perfectly paired with delectable creations that epitomize French savoir-faire.
The ambiance is a blend of sophistication and comfort, inviting you to lose track of time as you relish in a sensory journey that captures the essence of Parisian grandeur.
Meanwhile, if you are wondering about the best high tea in Savannah, Georgia, you can read all about that in this article I have written.
Hidden amidst Parisian alleys, T'cup is a charming sanctuary that redefines the art of high tea. Quaint and unassuming, it's a haven for those seeking an intimate tea experience. Here, tea is more than a beverage; it's a conversation starter, a memory-maker.
With a curated selection of teas that span the globe, T'cup invites you to explore diverse cultures in every fragrant cup. The warm ambiance and personal touch make it feel like you're visiting a dear friend's parlor.
T'cup is where simplicity meets heartwarming hospitality, proving that the true essence of high tea lies in the moments shared.
Prepare for a high tea extravaganza at the Four Seasons Hotel George V, where luxury and artistry converge. Set against a backdrop of Parisian splendor, this haven is a testament to culinary mastery.
The grandeur of the venue is matched only by the finesse of the tea experience. Delight in a symphony of flavors, expertly curated and paired with handcrafted pastries that are nothing short of edible art.
At Four Seasons George V, high tea becomes a journey of the senses, a celebration of taste and aesthetics that embodies the essence of Paris at its finest.
For a touch of Anglo-French charm, Betjeman & Barton is your ticket to a refined high tea affair. This boutique gem celebrates the fusion of British tradition and Parisian elegance.
With a tea selection that reads like a love letter to tea enthusiasts, you're in for a treat. Explore an array of blends, from classic to exotic, in an ambiance that exudes warmth. The staff's passion is palpable, as they guide you through the world of tea with a personal touch.
Betjeman & Barton is where cultures intertwine, and every cuppa tells a tale of tea's global journey.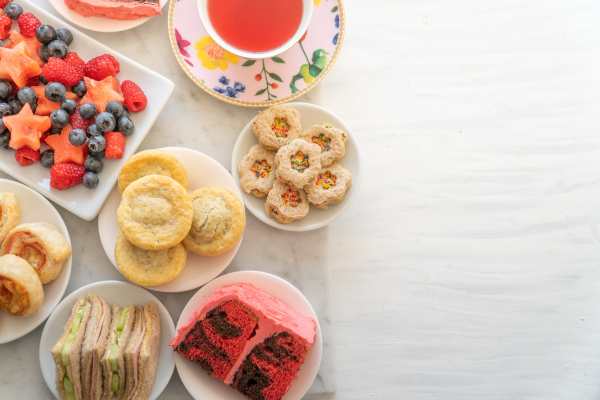 Are All Paris Tea Rooms Air Conditioned?
Paris is known for its charming tea houses, where visitors can indulge in the quintessential afternoon tea experience.
However, not all tea rooms in Paris are air-conditioned.
While many of the renowned and upscale tea rooms offer a comfortable and cool environment for their guests, some smaller and more traditional establishments may not provide air conditioning.
The best places for afternoon tea in Paris are often those that offer a luxurious and refined atmosphere, complete with air conditioning to ensure a pleasant experience even on a warm summer day.
These tea houses are known for their exquisite pastries, delicate finger sandwiches, and a wide selection of teas from around the world.
One of the best places to enjoy afternoon tea in Paris is Mariage Frères, a tea house located in the historic Marais district.
This tea house not only offers a charming and sophisticated ambiance but also provides air conditioning, making it an ideal choice for tea enthusiasts during the hotter months.
Another exceptional tea house is Ladurée, a Parisian institution famous for its macarons. With several locations in Paris, Ladurée offers a delightful afternoon tea experience in a glamorous setting, complete with air conditioning.
Whether you choose to have afternoon tea at the iconic Angelina, the elegant The Ritz Paris, or one of the many other esteemed tea room locations in Paris, make sure to inquire about their air conditioning facilities beforehand, especially if you are visiting during the summer months.
While not all tea rooms in Paris may be air-conditioned, the best places to have afternoon tea usually prioritize the comfort and satisfaction of their guests, ensuring a pleasurable and enjoyable experience for tea lovers from around the world.
Where to Buy French Teas Online
If you're looking to indulge in the flavors of France without leaving the comfort of your own home, buying French teas online is a great option.
One of the best places to start is with a reputable online retailer that specializes in French teas.
These retailers offer a wide selection of teas, ranging from the traditional to the unique. For those who enjoy a more traditional tea experience, they may opt for a classic tea blend like Earl Grey or English Breakfast.
However, for those seeking a taste of France, there are several options to choose from.
One popular choice is thé à la française, which is a blend of black tea, fruits, and flowers, creating a fragrant and refreshing cup.
Another popular option is mint tea, a traditional herbal tea that is popular in France as well as other Mediterranean countries.
Mint tea is known for its soothing properties and refreshing taste, making it a perfect choice for an afternoon tea service.
In addition to their vast selection of teas, these online retailers also often offer a variety of accessories to enhance your tea experience.
From teapots and infusers to tea cups and spoons, you can find everything you need to create the perfect cup of tea.
To complete your French tea experience, consider adding some French pastries to enjoy alongside your tea.
Popular choices include croissants, macarons, and madeleines, which pair perfectly with a hot cup of tea.
Whether you're looking to relax and take tea on your own or host a tea party with friends, buying French teas online can help you recreate the flavors and ambiance of a French café in your own home.
With the convenience of online shopping, you can easily explore and try different varieties of French teas, discovering new flavors and blends to suit your taste.
So why wait? Start your tea journey today and experience the delights of French tea.
High Tea Places With A View Of The Iconic Eiffel Tower
 When it comes to tea in France, there is no shortage of exquisite options. One of the best tea experiences in the country can be found in Paris, specifically in high tea places with a view of the iconic Eiffel Tower.
Not only do these places offer the best tea selections, but they also provide a stunning backdrop of the Eiffel Tower, creating a truly magical atmosphere.
For those looking for the perfect place to enjoy tea, these high tea spots with a view are a must-visit.
Each place offers different afternoon tea menus, allowing visitors to choose the option that best suits their taste. From traditional French pastries to delicate sandwiches and scones, there is something for everyone. 

These high tea places are often found in luxurious hotels in Paris, making the tea experience even more special.
Imagine sipping on a cup of the finest tea while overlooking the breathtaking Eiffel Tower from a plush terrace or elegant tea room.
The combination of luxury and beautiful views creates an unforgettable experience that is hard to replicate anywhere else.
What makes these places truly remarkable is the quality of their tea selection.
From rare and exclusive teas to blends created exclusively for the hotel, each cup of tea is a work of art.
The meticulous attention to detail in preparing the tea ensures that every sip is a moment of pure bliss.
Additionally, many of these high tea places offer special tea experiences such as tea tastings and tea pairing sessions, allowing visitors to fully immerse themselves in the world of tea.
Whether you are a tea lover or simply want to enjoy afternoon tea in a stunning location, visiting these high tea places with a view of the Eiffel Tower is a must.
From the opulence of luxury hotels to the exquisite tea selections, there is no doubt that these are the best tea rooms in Paris.
So, next time you visit Paris, make sure to indulge in the delightful experience of high tea with a view of the iconic Eiffel Tower. 
Frequently Asked Questions
Is high tea a thing in Paris?
Yes, high tea has found its own delightful niche in Parisian culture. Many exquisite venues, from luxury hotels to charming tea rooms, offer elevated tea experiences where delectable treats and aromatic blends are savored in true Parisian style.
What is the French version of high tea?
The French equivalent of "high tea" is known as "le goûter" or "le quatre-heures." It typically refers to a light afternoon snack, often enjoyed by children after school or by adults to satisfy their cravings between lunch and dinner. It usually includes items like pastries, cakes, or bread with jam.
What is the famous French tea brand?
"Mariage Frères" is one of the most famous and prestigious tea brands in France. Founded in 1854, it is renowned for its exceptional collection of high-quality teas sourced from around the world. With a rich heritage and innovative blends, Mariage Frères has become synonymous with French tea culture and sophistication.
What time is dinner in Paris?
Dinner in Paris is typically enjoyed later in the evening, often starting around 8:00 PM or even later. The French dining culture embraces a leisurely pace, allowing locals and visitors to savor their meals and enjoy a relaxed ambiance. It's common to find restaurants bustling with activity during these evening hours.
Can I wear jeans to dinner in Paris?
Yes, wearing jeans to dinner in Paris is generally acceptable in many casual and moderately priced restaurants. However, for more upscale or formal dining establishments, it's advisable to opt for slightly dressier attire. It's always a good idea to check the specific dress code of the restaurant you plan to visit to ensure you're appropriately dressed.