Welcome, tea enthusiasts and wanderlusters, to a delightful journey through the opulent world of Dubai's high tea scene. Buckle up, because we're about to dive into a tantalizing tapestry of taste and luxury that'll have your taste buds doing the tango.
Dubai isn't just about towering skyscrapers and golden deserts – it's also a paradise for tea aficionados seeking a sip of sophistication.
From the elegant embrace of Ritz Carlton's Lobby Lounge to the sumptuous treats of Bijou Patisserie at Sofitel Dubai At the Obelisk, we're spilling the tea (pun intended) on the most exquisite high tea experiences this dazzling city has to offer. So, grab your cup and let's spill… well, tea!
Meanwhile, if you are wondering about the best high tea in Denver, you can read all about that in this article I have written.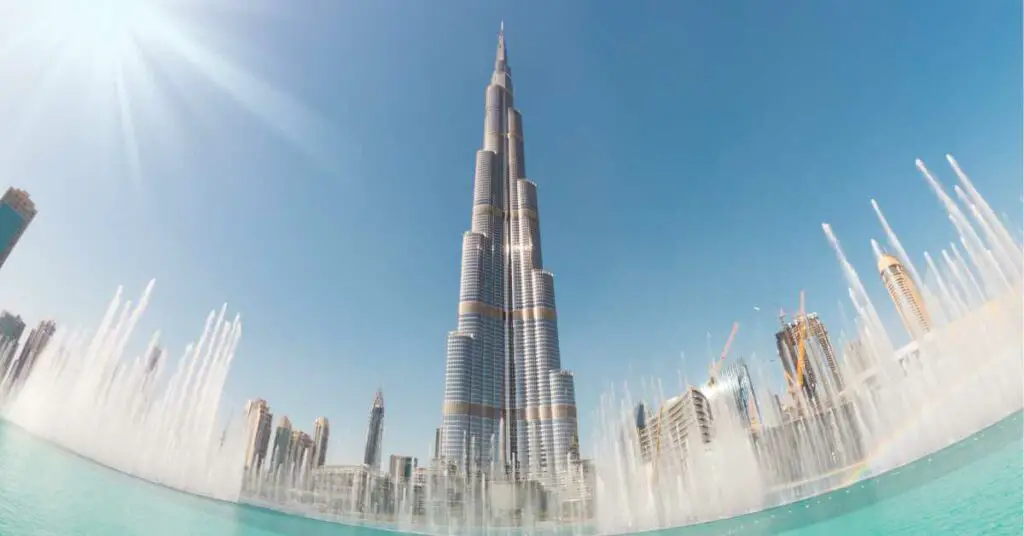 Prepare to be whisked away on a journey of taste and luxury as we step into the iconic Lobby Lounge at The Ritz Carlton. Nestled in the heart of Dubai, this haven of elegance is where tea becomes an art form.
With every sip, you'll feel like royalty amidst plush surroundings. Delicate finger sandwiches? Check. Handcrafted pastries that are almost too beautiful to eat? Double-check. And let's not forget the star of the show – a mesmerizing selection of teas that'll have you contemplating a career change to tea connoisseur.
The Lobby Lounge isn't just a destination; it's an enchanting tea symphony that'll make your taste buds do a standing ovation.
Hold onto your teaspoons, because we're about to indulge in a culinary masterpiece at Bijou Patisserie, nestled within the luxurious Sofitel Dubai The Obelisk. This isn't your ordinary tea affair – it's a mesmerizing dance of flavors and artistry.
From dainty macarons that practically melt in your mouth to exquisite pastries that are as much a feast for the eyes as they are for the palate, Bijou Patisserie is a symphony of indulgence. And don't even get us started on their tea selection – it's like a world tour for your taste buds.
This is high tea elevated to an art form, and you're the lucky audience.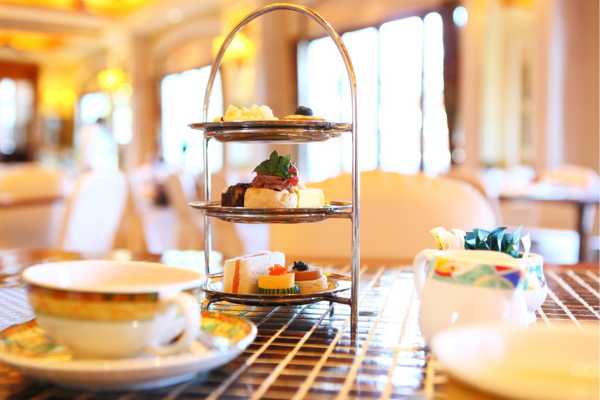 Raffles Salon
Calling all tea aficionados to the stage of elegance – it's time to experience high tea at its finest: Raffles Salon. Nestled within Dubai's enchanting corners, this salon is more than just a place to sip tea; it's a portal to sophistication.
Imagine sinking into plush seats while savoring delicate treats that make your heart skip a beat. The aroma of freshly brewed tea fills the air as you're serenaded by the melodies of clinking cups.
Raffles Salon isn't just a destination; it's a sojourn into refined opulence. So, if you're ready to add a touch of grandeur to your tea ritual, Raffles Salon awaits, cup and saucer in hand.
Meanwhile, if you are wondering about the best high tea in Colombo, you can read all about that in this article I have written.
Elevating the art of tea to a whole new level, Choix at The InterContinental Dubai Marina is a sensory escapade that will awaken your taste buds.
Imagine a harmonious blend of modern chic and timeless elegance, where every bite and sip is a masterpiece. From the first delicate crumb of a scone to the last whisper of a tea leaf, Choix crafts an experience that's as Instagram-worthy as it is delectable.
As you raise your cup amidst the stunning marina views, you'll realize that here, high tea isn't just a meal – it's an enchanting chapter in your Dubai adventure.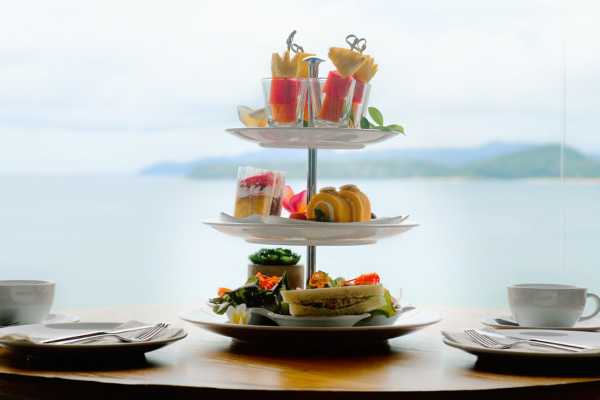 Enter a realm where luxury and indulgence intertwine seamlessly – welcome to Mosaico at Palazzo Versace.
This high tea haven is a tapestry of refined taste, set against the backdrop of stunning architecture. Each bite is a stroke of culinary genius, and every sip a revelation of flavors.
From the intricate tea blends to the meticulously crafted pastries, Mosaico embodies the essence of haute couture dining. As you bask in the opulent ambiance, you'll realize that here, tea isn't just a beverage; it's a sensory voyage through elegance. Palazzo Versace invites you to experience high tea, redefined.
Meanwhile, if you are wondering about the best high tea in Delhi, you can read all about that in this article I have written.
The Lotus Lounge at Anantara The Palm
Unveiling a hidden gem for tea enthusiasts – The Lotus Lounge at Anantara The Palm. Nestled on the tranquil shores of Dubai's iconic Palm Jumeirah, this oasis of serenity offers a high tea experience that's nothing short of magical.
Imagine sipping aromatic blends while gazing at serene waters. Delight in an array of delicacies that blend Middle Eastern flavors with international finesse.
The Lotus Lounge isn't just a tea spot; it's a gateway to a world where relaxation meets indulgence. As you let the gentle breeze caress your senses, you'll discover that here, time slows down for a perfect cup of tranquility.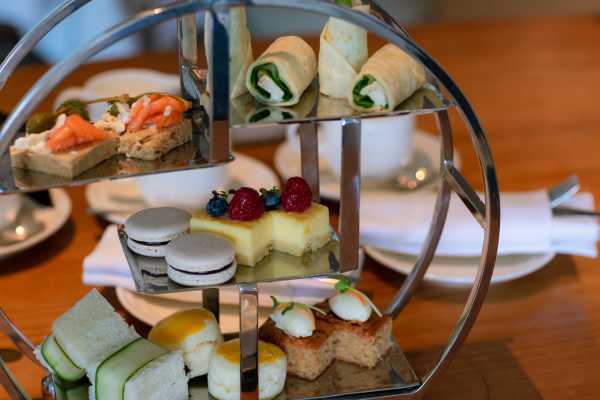 Prepare for a rendezvous with elegance at the Lobby Lounge, nestled within the iconic Address Boulevard. This tea haven redefines sophistication with every delicate sip. Picture yourself surrounded by contemporary opulence, indulging in a symphony of flavors that dance on your palate.
From intricately crafted desserts to an array of teas that could rival a rainbow, Address Boulevard delivers an experience that's both lavish and comforting. The Lobby Lounge isn't just a place to enjoy tea; it's a masterpiece of hospitality.
So, if you're seeking a taste of refinement, consider this your invitation to the world of Address Boulevard's high tea magic.
Indulge your senses in the epitome of seaside luxury – The Lounge at Address Beach Resort. With the azure waters of the Arabian Gulf as your backdrop, this high tea destination offers a blend of relaxation and indulgence like no other.
Imagine sipping your favorite blend while the gentle waves serenade your senses. From delicate pastries to savory bites that pay homage to global flavors, The Lounge crafts an experience that captures Dubai's coastal charm. Here, high tea isn't just a tradition; it's a coastal escapade where the finest tea meets the sea's soothing embrace.
Step into the enchanting world of Café Society, where history and modernity coalesce in a symphony of taste. Tucked within Dubai's vibrant heart, this high tea haven bridges the gap between past and present.
Imagine sinking into plush seats, surrounded by art deco elegance, as you embark on a gastronomic journey. Delight in timeless pastries and sandwiches, each bite a tribute to culinary craftsmanship.
At Café Society, high tea isn't just an event; it's a celebration of sophistication. So, whether you're a history buff or a culinary explorer, let Café Society be your guide through the timeless art of indulgence.
Elevate your senses to new heights with "A Tea'" at the Armani Hotel. Nestled within the iconic Burj Khalifa, this high tea experience is a masterpiece of modern elegance. Imagine being enveloped in Armani's signature style while savoring exquisite pastries and treats that could double as art installations.
From the carefully curated tea selection to the impeccable presentation, "A Tea'" is a journey of refined tastes. As you sip amidst panoramic views of the city, you'll realize that here, high tea is not just a moment; it's a sensory symphony orchestrated by Armani himself.
Embrace the harmony of sea and sophistication at Four Seasons Jumeirah Beach. This high tea retreat is a sanctuary where the azure waters of the Arabian Gulf meet the opulence of Dubai's hospitality.
Imagine a serene afternoon by the shore, sipping teas that mirror the coastal breeze. Delight in a medley of international flavors woven into delicate pastries and finger sandwiches. Four Seasons Jumeirah Beach isn't just a hotel; it's a coastal escape where high tea takes on a soothing and stylish demeanor.
Let the gentle waves and impeccable service transport you to a realm of seaside indulgence.
Unveiling the enchanting Mashrabiya Lounge – where Dubai's rich heritage fuses with contemporary luxury. Nestled within the iconic Emirates Palace, this high tea destination is a nod to the region's cultural tapestry.
Imagine being surrounded by intricate wooden latticework as you savor traditional Emirati sweets alongside international delicacies. The tea selection is a fusion of tradition and innovation, echoing the essence of the Emirates.
At Mashrabiya Lounge, high tea isn't just a meal; it's a cultural exploration that spans centuries. So, immerse yourself in the world of Arabian charm and indulge in the art of tea, elevated by heritage.
Indulge in a realm of refined elegance at Noor Lounge, nestled within the Mandarin Oriental, Dubai. This oasis of sophistication invites you to a sensory journey where luxury meets tranquility. Picture yourself surrounded by plush furnishings and soft lighting, as you savor a meticulously curated high tea experience.
Delight in a symphony of flavors, where exquisite pastries and teas are harmonized with impeccable service. Noor Lounge isn't just a destination; it's a sanctuary of taste and relaxation.
With each sip and bite, you'll discover that this is more than a lounge – it's a celebration of opulence and serenity combined.
Welcome to Al Bayt, a high tea haven nestled within The Palace Downtown, where heritage meets luxury. Set against the backdrop of Dubai's iconic Burj Khalifa, this enchanting retreat offers a blend of old-world charm and contemporary elegance.
Imagine being transported to a bygone era as you sip tea amidst rich Arabian décor. Delight in a fusion of flavors, where traditional Middle Eastern sweets share the spotlight with international delights.
Al Bayt isn't just a place to enjoy tea; it's a journey through time and taste, where each cup is a chapter in Dubai's narrative of opulence.
Behold the pinnacle of luxury and tea indulgence at Sahn Eddar, located within the iconic Burj Al Arab. This high tea experience isn't just a meal; it's a sensory extravaganza set against the backdrop of the world's most luxurious hotel.
Imagine being enveloped by a soaring atrium, adorned with gold and opulence, as you savor delicacies fit for royalty. From the meticulously curated tea selection to the exquisite treats that grace your table, Sahn Eddar is the epitome of Dubai's grandeur.
As you bask in the lavish surroundings, you'll realize that here, high tea reaches a zenith of elegance and exclusivity.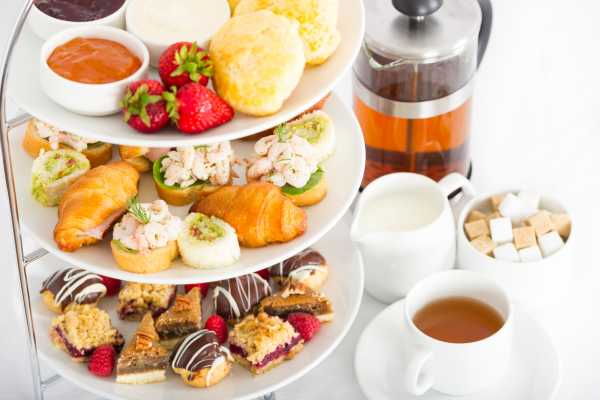 Frequently Asked Questions
What is the most popular tea in Dubai?
In Dubai, as in many parts of the world, black tea is the most popular and widely consumed type of tea. Specifically, a type of black tea known as "Karak tea" is incredibly popular in Dubai and throughout the United Arab Emirates.
Karak tea is a strong, spiced tea that's often brewed with a combination of black tea leaves, sweetened condensed milk, and a blend of aromatic spices such as cardamom and saffron.
It's known for its rich flavor and comforting warmth, making it a favorite choice among locals and visitors alike. Karak tea is often enjoyed alongside traditional Emirati snacks and pastries.
Which building in Dubai has the highest afternoon tea?
The Burj Khalifa is the tallest building in the world, and its At.mosphere restaurant, located on the 122nd floor, offers a luxurious high tea experience with breathtaking panoramic views of the city.
Is Dubai cooler at night?
Yes, Dubai tends to be cooler at night compared to the daytime temperatures. The city experiences a desert climate, which means that it can get extremely hot during the day, especially in the summer months. Daytime temperatures in the summer often exceed 40°C (104°F) and can be quite intense.
However, as the sun sets, temperatures typically begin to drop, and the evenings and nights are more comfortable. It's common for residents and visitors to enjoy outdoor activities, dining, and strolls in the city during the cooler evening hours.
While it's still warm compared to many other regions, the nighttime temperatures in Dubai are generally more pleasant and conducive to outdoor activities.
Which month is best to visit Dubai?
The best time to visit Dubai in terms of weather and comfortable temperatures is during the winter months, which run from November to February. During this period, the weather is milder and more pleasant, with daytime temperatures ranging from the mid-20s to low 30s degrees Celsius (mid-70s to low 90s degrees Fahrenheit). Nights are cooler, making it more comfortable for outdoor activities.
It's important to note that Dubai has a desert climate, so the summer months (from June to September) can be extremely hot, with temperatures often exceeding 40°C (104°F) and high humidity. This makes outdoor activities less enjoyable and can be challenging for those not accustomed to such heat.
If you're looking to avoid the extreme heat and still enjoy outdoor activities and attractions comfortably, the winter months are generally considered the best time to visit Dubai. Just keep in mind that this is also the peak tourist season, so popular attractions and hotels might be busier, and prices might be higher.