Ah, Denver, where the Rocky Mountains meet dainty teacups! If you thought this city was all about cowboy boots and altitude, get ready to be steeped in a world of delicate flavors and elegant indulgence.
We're diving into the heart (and pinky-lifting charm) of Denver's high tea scene. So, dear readers, buckle your seatbelts – or should I say, straighten your fascinators – because we're about to explore the crème de la crème of tea experiences.
Think about it: while the world rushes by, there's something magical about slowing down to enjoy aromatic blends and dainty pastries that could make even the Queen nod in approval.
From historic haunts to trendy hideaways, Denver's high tea spots aren't just about sipping; they're about savoring moments that defy the chaos of modern life.
So, loosen that tie and get ready to clink teacups, because we're about to spill the tea on Denver's best high tea hotspots.
Meanwhile, if you are wondering about the best high tea in Colombo, you can read all about that in this article I have written.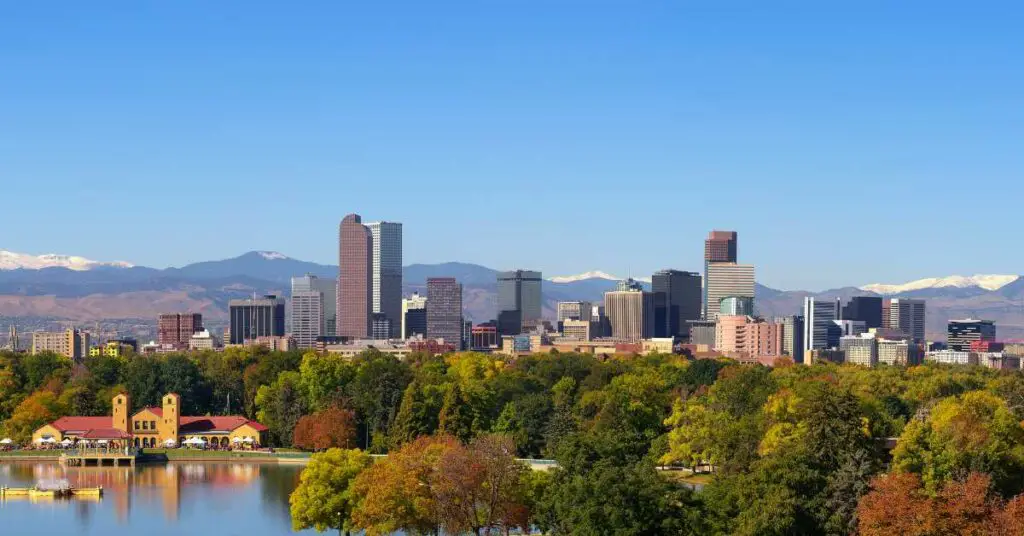 First up on our high tea tour is none other than the regal grande dame of Denver – The Brown Palace. Stepping into this historic gem is like stepping back in time, but with a modern twist of sophistication.
The tea service here is more than just a meal; it's a refined ritual. Picture yourself in the stunning Atrium, surrounded by lush greenery, as you nibble on cucumber sandwiches and savor the subtle notes of premium loose leaf teas.
It's not just tea; it's an experience fit for royalty. So, if you're seeking a touch of elegance with a side of Colorado history, The Brown Palace is where you'll want to raise your teacup.
From the historical charm of The Brown Palace, we journey to the vibrant soul of Five Points with TeaLee's Tea House. This cozy haven isn't just a tearoom; it's a celebration of community and culture. Step inside, and you're greeted with the comforting aroma of teas sourced from around the world.
Owned by a mother-daughter duo, TeaLee's adds a dash of warmth to your cup with a side of soulful jazz vibes. It's where art meets tea, where stories flow as freely as the Darjeeling.
Whether you're a tea aficionado or a newbie, this welcoming spot invites you to sip, savor, and share in the spirit of togetherness.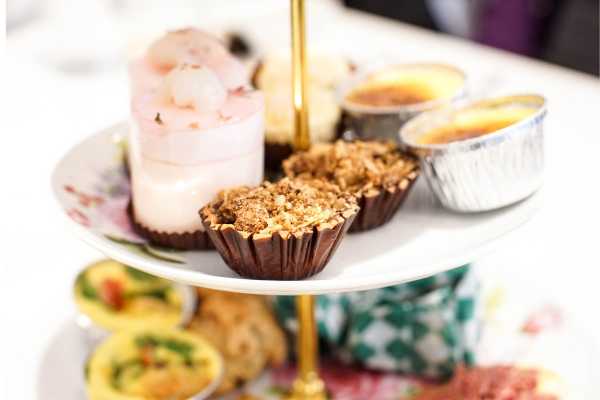 Nestled in the heart of Fort Collins, The Elizabeth Hotel isn't just a place to rest your head; it's a destination for tea enthusiasts seeking a touch of modern luxury.
This boutique hotel embraces the timeless tradition of afternoon tea while adding a contemporary twist.
Imagine sipping your Earl Grey while enjoying panoramic city views from their rooftop lounge. The Elizabeth Hotel takes tea to new heights, quite literally.
With a curated selection of teas and an array of delectable treats, it's the perfect fusion of elegance and innovation.
If you're up for a tea experience that's as stylish as it is traditional, this spot is calling your name.
Meanwhile, if you are wondering about the best high tea in Delhi, you can read all about that in this article I have written.
Prepare to step into a world of whimsy and charm at Babe's Tea Room. Tucked away in the quaint streets of Louisville, this tea room is a hidden gem with a big heart. It's like entering a storybook cottage, where each teacup holds a sip of enchantment.
From their vintage teapots to the delicate lace tablecloths, every detail exudes nostalgia. And the tea? It's a symphony of flavors, carefully orchestrated to make your taste buds dance. Babe's Tea Room is proof that magic exists, and it's served one cup at a time.
So, embrace your inner child and relish in the fairy tale that unfolds with every brew.
Let's journey to the heart of Cherry Creek North, where Lynn's Tea Shop & Café welcomes you with open arms and aromatic teas. This charming spot is a haven for tea enthusiasts seeking a cozy respite.
Imagine settling into a plush armchair surrounded by shelves stacked with tea treasures from around the globe. Lynn's isn't just a tea shop; it's a pilgrimage for those who appreciate the art of brewing.
From herbal infusions to classic blends, their collection caters to all palates. And the atmosphere? It's like a warm embrace from an old friend. If you're on the hunt for a genuine tea adventure, Lynn's is your compass.
Craving an authentic British tea experience without crossing the pond? Look no further than English Tealeaves in historic downtown Parker. As the name suggests, this tea haven specializes in bringing a slice of England to Colorado.
From the moment you step inside, you're greeted by the aroma of freshly brewed classics like Earl Grey and English Breakfast. The charming tea room, adorned with Union Jack flags, transports you to a quaint British village.
Scones? Check. Clotted cream? Double check. It's a voyage to the UK minus the jet lag. So, keep calm, carry on, and let English Tealeaves delight your senses.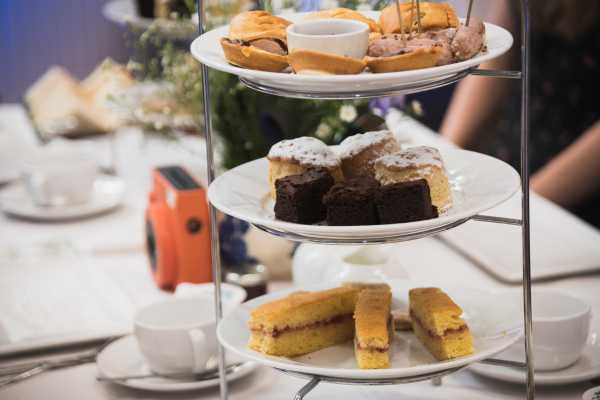 Grant-Humphreys Mansion
Elevating our tea expedition to a historic level, we find ourselves at the Grant-Humphreys Mansion. This stately mansion in Denver's Quality Hill Historic District offers an afternoon tea that's straight out of a period drama.
Picture yourself in the midst of timeless elegance, surrounded by chandeliers and grandeur. The tea service here is a nod to the past, featuring delicate china, tiered trays of delectable treats, and a sense of refinement that takes you back in time.
If you're yearning for a taste of vintage luxury, the Grant-Humphreys Mansion is the stage for your tea-time performance.
Meanwhile, if you are wondering about the best high tea in Cape Town, you can read all about that in this article I have written.
For tea connoisseurs seeking a symphony of flavors, Capital Tea in downtown Denver hits all the right notes. This modern tea emporium is a haven for those who believe that tea is an art form.
With an extensive selection of loose leaf teas from around the world, each cup is a journey of taste and discovery. The knowledgeable staff guides you through the nuances of oolongs, greens, and blacks, ensuring your palate gets an education.
Whether you're on a quest for rare finds or simply want to sip in style, Capital Tea turns every tea moment into a masterpiece.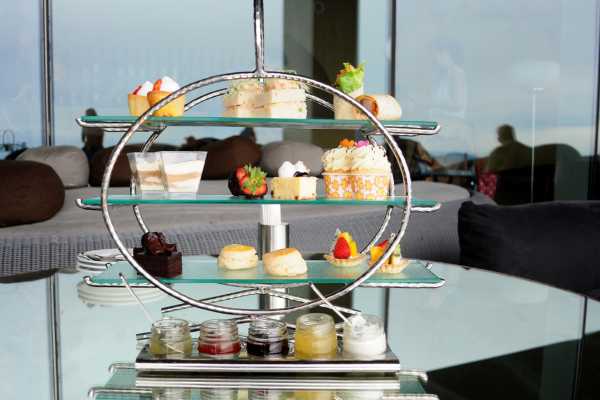 Bridging cultures and continents, The Boulder Dushanbe Teahouse stands as a symbol of friendship between Boulder and its sister city, Dushanbe.
This architectural marvel is more than just a teahouse; it's a testament to the power of connection. As you step into its intricately adorned interior, you're transported to Tajikistan, surrounded by vibrant colors and intricate patterns.
The tea menu reflects this global fusion, offering a diverse selection of teas from different corners of the world. It's a sensory journey that reminds us that every cup of tea can bring us closer to the world's rich tapestry.
Tea time gets a contemporary twist at D Bar, where the art of indulgence takes center stage. Situated in the heart of Denver's Uptown neighborhood, this stylish dessert destination reimagines afternoon tea with a dash of creativity.
Picture this: elegantly plated desserts that are as much a feast for the eyes as they are for the taste buds. Paired with a curated tea selection, D Bar crafts an experience that's a harmonious blend of flavors and textures.
If you're craving a sweet escape, this modern haven of desserts and teas is where sophistication meets playfulness in every delightful bite.
Venturing into Denver's Potter Highlands neighborhood, we uncover the historical charm of The Lumber Baron Inn & Gardens. This Victorian mansion offers more than just a glimpse into the past; it's a haven for tea enthusiasts seeking an enchanting escape.
The lush gardens set the stage for a whimsical tea experience. Picture yourself surrounded by blooming flowers and the gentle rustle of leaves as you sip on fine teas and nibble on delicate treats.
It's a retreat from the modern world, where time slows down and the stresses of life fade away. The Lumber Baron Inn embraces you in its timeless embrace, inviting you to savor every moment.
Afternoon Tea
As our high tea journey draws to a close, let's raise our teacups to the quintessential tradition of afternoon tea. Beyond the individual spots we've explored, Denver itself is a canvas for this elegant ritual.
From charming tearooms to upscale hotels, the city offers a tapestry of experiences to suit every tea lover's taste. Afternoon tea isn't just about tea and treats; it's a pause button in our bustling lives, a chance to connect, and a reminder to savor the finer moments.
So, whether you're indulging in finger sandwiches at a historic mansion or sipping in a modern tea emporium, remember that every cup holds more than tea – it holds memories waiting to be brewed.
Frequently Asked Questions
Why high tea is called so?
Contrary to popular belief, "high tea" is not a fancy affair. It originated in working-class British households, served on a high table after a day's labor. It's heartier, featuring cooked dishes like meat, eggs, and bread. The "high" refers to the dining table, not the status.
What happens at a high tea?
At a high tea, a substantial meal is served, often in the late afternoon or early evening. It typically includes a variety of cooked dishes like meats, eggs, vegetables, and bread, along with tea. It's a heartier option than the more delicate afternoon tea and is meant to satisfy hunger after a day's work.
Do you eat everything at high tea?
At a high tea, you're expected to consume the various savory and hearty dishes served, which often include meats, eggs, vegetables, and bread. It's a more substantial meal than traditional afternoon tea, so enjoying the offered items is customary. However, the exact items and portions can vary depending on the establishment and region.
How long should a tea party last?
The duration of a tea party can vary based on the occasion and setting. Traditional afternoon tea sessions typically last around 1.5 to 2 hours, allowing ample time for sipping tea, enjoying treats, and engaging in conversation. However, the length can be adjusted to fit the event's purpose and the preferences of the attendees.
What is the best age for a tea party?
Tea parties can be enjoyed by all ages, making them versatile gatherings. Children often delight in themed tea parties from around 5 to 12 years old. Adults can appreciate tea parties at any age, with different settings for various life stages, from bridal showers to retirement celebrations.