Welcome, tea enthusiasts and connoisseurs of all things refined and delightful! If you've found your way here, chances are you're on a quest for the crème de la crème of high tea experiences in Inverness.
Well, fret not, because you've just stumbled upon the ultimate guide to satiating your scone cravings and indulging in exquisite blends.
In a city where kilts and castles dance to the tune of bagpipes, it's only fitting that high tea establishments offer an equally grand performance.
From charming historic hotels to hidden gems tucked away amidst the Highland landscapes, Inverness has your tea-time desires covered.
Grab your fanciest hat and prepare to be steeped in luxury. We'll be your trusty guides through the aromatic labyrinth of clotted cream, delicate china, and conversations that tinkle like teaspoons against porcelain.
So, whether you're a tea aficionado seeking your next Earl Grey fix or a cake enthusiast with a penchant for finger sandwiches, buckle up! Our journey through the best high tea in Inverness is about to unfold, one delectable sip at a time.
Meanwhile, if you are wondering about the best high tea in Houston, Texas, you can read all about that in this article I have written.
Prepare to have your tea-loving heart charmed at the Kingsmills Hotel. Nestled amidst picturesque gardens and just a stone's throw from the city center, this charming establishment is the epitome of Scottish elegance.
With a tea selection that could make a connoisseur blush and tiered trays that are practically edible art, Kingsmills takes high tea to regal heights. Sip on your brew while basking in the serene ambiance of their conservatory, and don't be surprised if you catch yourself feeling like royalty.
From dainty sandwiches to perfectly baked scones, this experience is the tea-lover's equivalent of a warm hug from the Highlands.
Meanwhile, if you are wondering about the best high tea in Hong Kong, you can read all about that in this article I have written.
For those seeking high tea with a dash of riverside romance, look no further than the Ness Walk Hotel. Set against the backdrop of the River Ness, this enchanting venue offers an afternoon tea that's as soothing as the flowing waters beside it.
Imagine sinking into plush chairs while savoring delicate pastries and savory treats that could rival the beauty of the surrounding landscape. The fusion of classic and contemporary flavors is nothing short of artistry on a plate.
With every sip and nibble, Ness Walk Hotel crafts an experience that's a symphony of taste, elegance, and nature's serenity.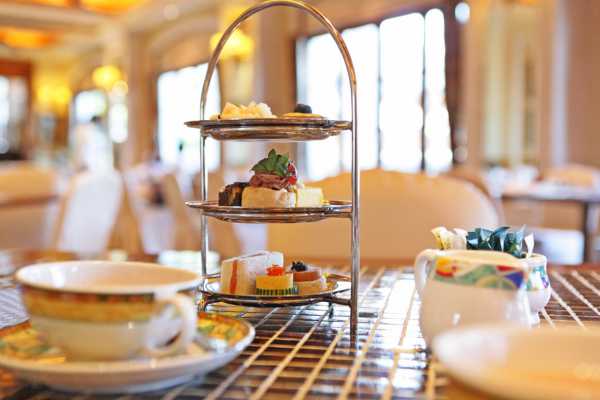 Hidden away like a treasure in the Highland hills, the Bunchrew House Hotel offers a high tea experience that feels like a cherished secret. This 17th-century baronial mansion provides an idyllic backdrop for indulging in the time-honored tradition of afternoon tea.
The menu is a delightful dance between classic favorites and innovative twists, all served in a setting that whispers tales of history.
As you sip your tea and savor every bite, it's impossible not to feel a connection to the past and the present, making Bunchrew House Hotel a destination where time truly stands still.
Step into a world where high tea becomes a majestic affair at The Palace Hotel and Spa. This grand Victorian edifice seamlessly marries opulence with comfort, offering an afternoon tea experience fit for royalty.
From the moment you enter the elegant tea room, you're transported to an era of refined indulgence. Delicate sandwiches, freshly baked scones, and an array of sweets await each bite a testament to the hotel's commitment to culinary excellence.
Whether you're admiring the intricate chandeliers or the meticulously crafted pastries, The Palace Hotel and Spa delivers a high tea that's a symphony of taste and visual splendor.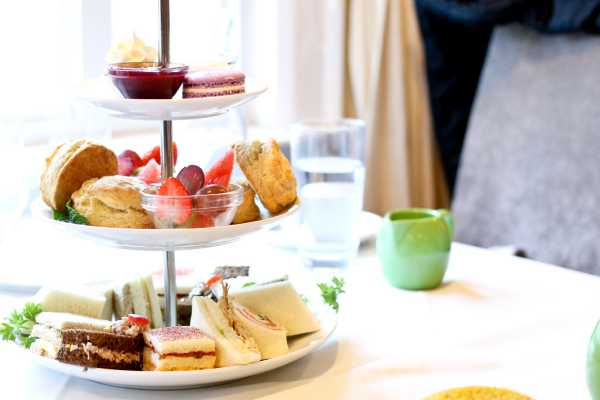 Nestled in the embrace of the Scottish Highlands, Loch Ness Country House beckons tea enthusiasts with a blend of charm and tranquility. Set against the backdrop of Loch Ness, this idyllic retreat offers an afternoon tea that's as enchanting as the legendary waters nearby.
The quaint elegance of the country house seeps into every detail, from the delicate china to the carefully curated menu.
With scones that practically crumble with delight and a tea selection to please the most discerning palates, Loch Ness Country House crafts an experience that's a true Highland escape, one delectable bite at a time.
Escape the ordinary and venture to Drumbuie Farm, where high tea takes on a rustic, heartwarming twist. Tucked away in the countryside, this charming haven invites you to a tea experience that's a blend of pastoral beauty and culinary delight.
Imagine sipping tea amidst rolling fields, with the aroma of freshly baked treats lingering in the air. Drumbuie Farm's emphasis on locally sourced ingredients lends an authentic touch to their offerings.
As you savor each bite, you're reminded that sometimes the best high tea experiences are the ones that transport you to a simpler, more wholesome time.
In the heart of Inverness, the Glenmoriston Hotel unveils a high tea experience that's a symphony of urban sophistication. With a backdrop of city buzz and the serene River Ness, this establishment combines modern elegance with traditional tea-time delights.
The tea selection is as diverse as the Highland landscapes, and the pastries are like edible works of art.
Whether you're seated by the cozy fireplace or gazing out at the rriver, the Glenmoriston Hotel's high tea invites you to savor every moment, every flavor, and every sip in a setting that effortlessly bridges the gap between tradition and contemporary allure.
As you step into the Royal Highland Hotel, you're greeted by an ambiance steeped in history and infused with a touch of Victorian grandeur.
This iconic establishment serves up a high tea experience that's a nod to its storied past while embracing the present with open arms. From the first sip to the last crumb, every element speaks of impeccable taste and dedication to the art of tea.
The Royal Highland Hotel's commitment to excellence is evident in every detail, making it a destination where tradition and tea-loving passion converge in perfect harmony.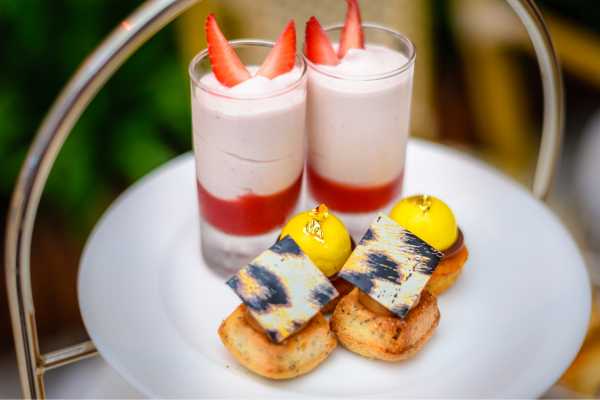 For a high tea experience that's a delightful departure from tradition, Simpson's Garden Center is a hidden gem waiting to be discovered. Nestled within lush botanical surroundings, this charming spot brings nature and tea together in perfect harmony.
Picture yourself sipping your brew amidst a colorful array of flowers and greenery. The menu here is a creative fusion of garden-fresh ingredients, offering a unique twist on classic favorites.
Simpson's Garden Centre redefines the high tea concept, inviting you to enjoy your treats while immersed in the beauty of the outdoors, proving that even amidst the blossoms, tea time remains an exquisite ritual.
In the heart of Inverness, the Lovat Hotel weaves a tapestry of Highland charm and modern allure, setting the stage for an unforgettable high tea experience. With a commitment to sustainable practices, this eco-friendly haven presents a tea menu that's both delightful and conscious.
Each bite tells a story of local produce and culinary artistry, while the cozy ambiance whispers of warm welcomes and genuine hospitality.
Whether you're a tea aficionado or a sustainability enthusiast, Lovat Hotel's high tea invites you to indulge with a clear conscience, proving that flavors and values can coexist in perfect harmony.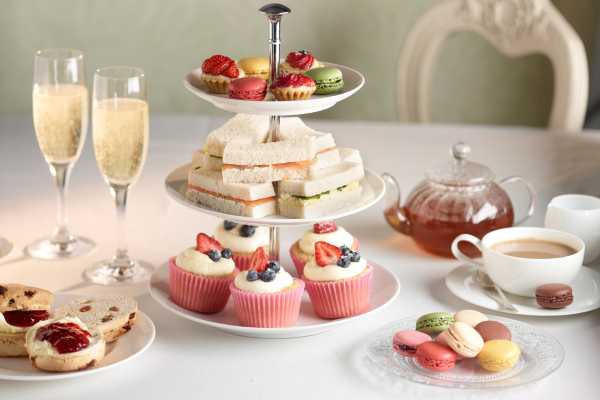 Elegance finds its Highland home at the MacDonald Drumossie Hotel, where high tea becomes a symphony of refinement. This grand estate offers an experience that's a fusion of luxury and comfort, set against a backdrop of lush landscapes.
The high tea spread is a testament to culinary craftsmanship, with flavors that linger in your memory long after the last sip.
Amidst the regal décor and the soothing ambiance, MacDonald Drumossie Hotel's high tea is a journey through taste and tradition, leaving you with a sense of opulence that's uniquely Scottish and undeniably unforgettable.
Nestled amidst the hauntingly beautiful moors, Culloden House beckons with a high tea experience that's a blend of luxury and history. This historic mansion, once a Jacobite residence, now offers a glimpse into the past while spoiling you with the present.
As you step into its elegant interiors, you're transported to an era of chandeliers and portraits, where high tea becomes a regal affair. The menu is a harmonious medley of tradition and innovation, ensuring every bite is a nod to Scotland's culinary legacy.
Culloden House's high tea isn't just a meal – it's an exploration of heritage, served with a side of elegance.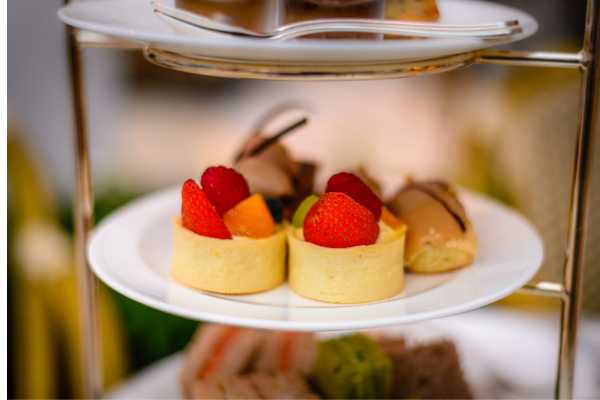 Frequently Asked Questions
Do they do high tea in Scotland?
Yes, high tea is indeed a popular tradition in Scotland. It's a refined and leisurely dining experience that typically takes place in the afternoon, often between 3:00 PM and 5:00 PM. High tea in Scotland usually involves a selection of teas, along with an assortment of finger sandwiches, scones with clotted cream and jam, and a variety of cakes and pastries.
Different places, such as hotels, tea rooms, and historic establishments, offer their unique take on high tea, ranging from traditional to more modern interpretations. It's not only a chance to indulge in delicious treats but also an opportunity for socializing and relaxation.
Many high tea venues in Scotland also focus on using locally sourced ingredients and showcasing the country's culinary traditions.
The term "high tea" can sometimes be confused with "afternoon tea," but they are not the same. Afternoon tea is typically a lighter affair and focuses more on the tea and pastries, while high tea is a more substantial meal that includes both savory and sweet items.
What is the most popular tea in Scotland?
The most popular tea in Scotland is often the classic black tea blend known as "breakfast tea," with "Scottish Breakfast" being a common variation. This strong and robust tea is enjoyed with or without milk and is a staple of the Scottish tea-drinking tradition.
What is Scotland's favorite drink?
Scotland's favorite traditional drink is undoubtedly whisky, also known as Scotch whisky. It holds a special place in Scottish culture and is renowned worldwide for its quality and variety. The appreciation for whisky goes beyond just a beverage – it's deeply intertwined with Scotland's history, heritage, and craftsmanship.