Hey there, tea lovers and curious wanderers! If you're anything like me, the mere mention of high tea brings forth delightful visions of dainty teapots, delectable pastries, and the undeniable urge to raise a pinky finger while sipping a spot of Earl Grey. Ah, the sophistication!
Today, we're diving into the enchanting world of "Best High Tea in NYC," where the hustle and bustle of the city take a momentary pause, and a genteel tradition steeped in history takes center stage.
Prepare to embark on a journey filled with cozy nooks, ornate teacups, and the clinking of teaspoons that could rival the clatter of New York City cabs!
From quirky tearooms to elegant hotel lounges, we'll uncover the most sought-after spots for indulging in this delightful mid-afternoon ritual. Whether you're a seasoned tea aficionado or a curious soul yearning for a taste of British charm amidst the city's skyscrapers, this guide has you covered.
So, get ready to elevate your teatime experience in the Big Apple, where you'll find tea and sympathy, whimsical wonderlands, and a dash of elegance in every cup. Let's sip, savor, and unravel the secrets of the best high tea in NYC, one delightful teapot at a time! Pinkies up, folks!
Meanwhile, if you are wondering about best high tea in Los Angeles, you can read all about that in this article I have written.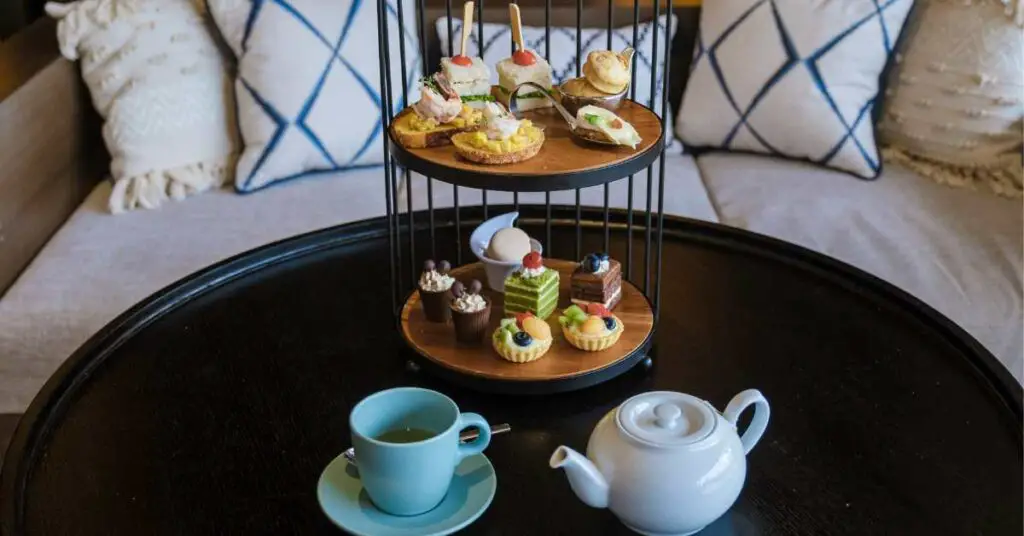 Tea & Sympathy: A Quaint British Hideaway
Tucked away in the heart of Greenwich Village, Tea & Sympathy is a charming teahouse that transports you straight to the cobbled streets of London.
This quintessential British hideaway boasts a cozy, intimate setting where you can savor traditional teatime delights like freshly baked scones with clotted cream, finger sandwiches, and a wide selection of premium teas. The vintage decor and friendly staff add to the authentic experience, making it a must-visit spot for Anglophiles and tea enthusiasts alike.
Meanwhile, if you are wondering about best high tea in Jacksonville FL, you can read all about that in this article I have written.
Alice's Tea Cup: A Whimsical Wonderland
Follow the White Rabbit to Alice's Tea Cup, a whimsical wonderland inspired by Lewis Carroll's classic tale. With three locations across NYC, this tea salon offers a magical escape from reality. Step into a fairytale setting adorned with teapots and teacup chandeliers.
Indulge in their "Mad Hatter" and "March Hare" tea services, featuring an array of creative tea blends and delectable treats. Whether you're dining in the Queen's Courtyard or the Mad Hatter Room, you'll find yourself immersed in the enchanting world of Alice.
BG Restaurant at Bergdorf Goodman: High Fashion Meets High Tea
For a sophisticated teatime experience, head to BG Restaurant at Bergdorf Goodman, where the worlds of high fashion and fine dining converge. Located on the seventh floor with breathtaking views of Central Park, this elegant spot offers a refined atmosphere.
Enjoy a classic afternoon tea presentation complete with delicate pastries, gourmet sandwiches, and an assortment of teas. The impeccable service and stylish ambiance make it a favorite among the city's elite.
Meanwhile, if you are wondering about best high tea in DC, you can read all about that in this article I have written.
The Gotham Lounge at The Peninsula New York: Timeless Elegance
Step into The Gotham Lounge at The Peninsula New York for a timeless and luxurious teatime affair.
This opulent venue exudes grandeur with its marble floors, plush seating, and live piano music. Indulge in their Afternoon Tea, featuring exquisite pastries, savory bites, and an extensive tea selection. With impeccable service and an aura of refined sophistication, The Gotham Lounge promises an unforgettable experience for tea connoisseurs seeking a touch of elegance.
Lady Mendl's Tea Salon: Victorian Charm
Embrace the allure of the Victorian era at Lady Mendl's Tea Salon, nestled within the Inn at Irving Place. Step back in time as you enter a parlor adorned with antique furniture, fine china, and floral accents.
The "Full Tea" service offers a delightful array of treats, including scones, finger sandwiches, and miniature desserts. This hidden gem is perfect for those seeking a serene and elegant teatime escape from the modern world.
Baccarat Hotel New York: Extravagant Indulgence
Prepare for a tea experience fit for royalty at the Baccarat Hotel New York. This sumptuous destination offers an extravagant afternoon tea in the opulent Grand Salon, surrounded by Baccarat crystal chandeliers and luxurious decor.
Indulge in an array of artisanal pastries, savory canapés, and, of course, a curated selection of teas. With impeccable service and an ambiance that exudes luxury, Baccarat Hotel ensures a teatime affair unlike any other.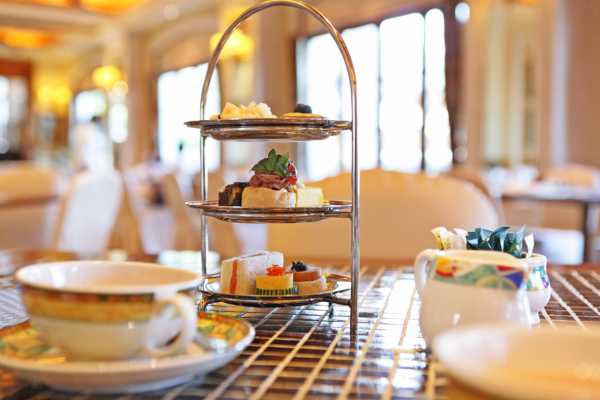 The Parisian Tea Room: A French-Inspired Delight
Transport yourself to the streets of Paris at The Parisian Tea Room, a charming spot in NYC's French Quarter. This tea room captures the essence of Parisian elegance with its chic decor and delectable French pastries.
Choose from an array of loose-leaf teas, perfectly paired with sweet and savory delights. The Parisian Tea Room offers a delightful fusion of French sophistication and New York charm, making it a must-visit for Francophiles and tea enthusiasts alike.
The Whitby Hotel: Contemporary and Chic
Amidst the modern and chic ambiance of The Whitby Hotel lies a delightful teatime experience waiting to be savored.
Their afternoon tea service showcases a contemporary twist on the traditional ritual, featuring inventive pastries, scrumptious sandwiches, and an extensive selection of teas. The elegant surroundings and attentive service create a welcoming atmosphere for guests to unwind and indulge in a memorable tea affair.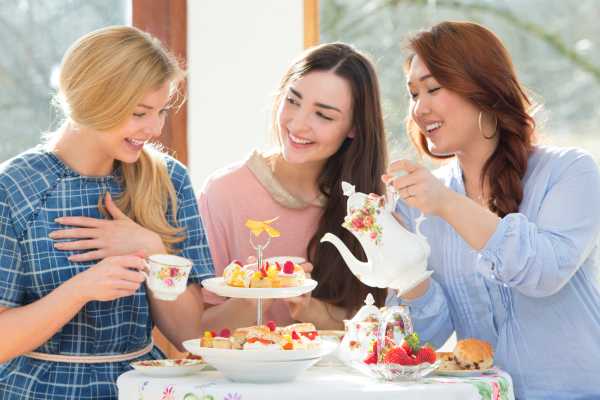 The Palm Court at The Plaza Hotel: Timeless Tradition
Step into a classic New York institution at The Palm Court in The Plaza Hotel, where the timeless tradition of afternoon tea lives on. This iconic venue boasts a historic setting with soaring palm trees, gilded decor, and a live harpist setting the mood.
Their legendary afternoon tea service includes an array of culinary delights, along with a curated tea menu to please every palate. For an experience steeped in history and sophistication, The Palm Court remains a top choice for tea enthusiasts seeking an unforgettable treat.
Meanwhile, if you are wondering about best high tea in Los Angeles, you can read all about that in this article I have written.
The Williamsburg Hotel: Hip and Relaxed Vibes
Escape to the trendy enclave of Williamsburg for a hip and relaxed teatime adventure at The Williamsburg Hotel. This chic spot offers a refreshing take on traditional afternoon tea, with a focus on contemporary treats, artisanal teas, and a laid-back atmosphere.
Enjoy the stunning rooftop views and artsy ambiance as you indulge in their creative tea offerings. The Williamsburg Hotel provides a perfect blend of modernity and tranquility, making it an ideal destination for those seeking a unique and stylish teatime experience in the heart of Brooklyn.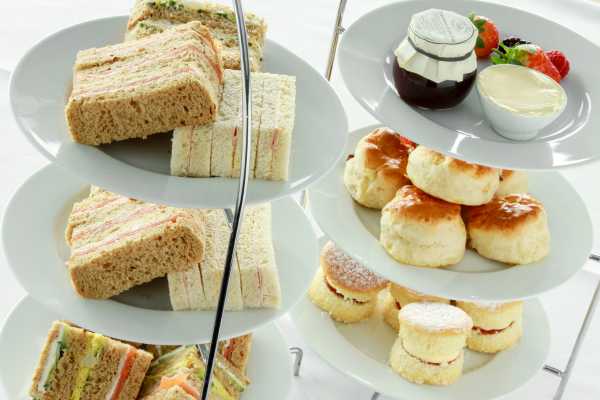 Frequently Asked Questions
What is usually in high tea?
High tea typically includes a combination of savory items like sandwiches, quiches, and pastries, as well as sweet treats such as scones with clotted cream and jam, cakes, and desserts. It is served with a selection of premium teas and sometimes accompanied by champagne or other beverages.
What do you drink at high tea?
At high tea, you typically drink a variety of premium teas, including black teas like Earl Grey and Assam, green teas, herbal teas, and occasionally flavored teas. Some establishments may offer champagne or other beverages as well, but tea is the central focus of the high tea experience.
How do you eat a high tea platter?
To enjoy a high tea platter, start with the savories like sandwiches and quiches. Move on to the scones, spreading clotted cream and jam on them.
Finally, savor sweet treats like cakes and pastries. Sip tea between bites, savoring the diverse flavors and textures for a delightful teatime experience.