When shopping for home improvement and construction materials, Menards stands as a trusted destination for countless customers.
However, what happens when you need to return a product or encounter an issue with your purchase?
If you wish to return an item to Menards, you have a 30- or 90-day return window, depending on the product.
In this comprehensive guide, we will delve into the intricacies of Menards' return policy, covering everything from return methods to product-specific rules, and frequently asked questions. 
What Is Menards?
Menards is a well-known retail business with a focus on gardening supplies, building supplies, and home improvement products.
Menards is a favorite stop for homeowners, contractors, and DIY enthusiasts in the United States.
It has more than 351 stores distributed across 15 states.
What Is Menards Return Policy?
Menards offers a fair and customer-friendly return policy. Here are the key points you should know:
Time frame: Most items can be returned within 90 days of purchase.
However, some merchandise may have specific return windows, such as 30 days for electronics.
Receipt Requirement: It is advisable to keep your original receipt as proof of purchase.
Without a receipt, Menards may issue a store credit at the lowest sale price.
Conditions: The item being returned must be in its original condition, including packaging, tags, and accessories.
Menards has the right to decline returns for items that have been used, damaged, or altered.
Refunds: If you meet the return criteria, Menards provides refunds back to the original form of payment.
However, in certain cases, refunds may be issued as store credit.
What if I Want to Return An Item After 90 Days of Purchase?
At Menards, they understand that sometimes you may need to return an item even after the 90-day return window.
While their return policy generally states that items must be returned within 90 days of purchase, they do have some flexibility in certain situations.
If you find yourself in a situation where you need to return an item after the 90-day period, it is best to reach out to the Menards customer service team or visit your local Menards store.
They will be able to provide you with the best course of action based on the specific circumstances.
What Is The Return Process of Menards?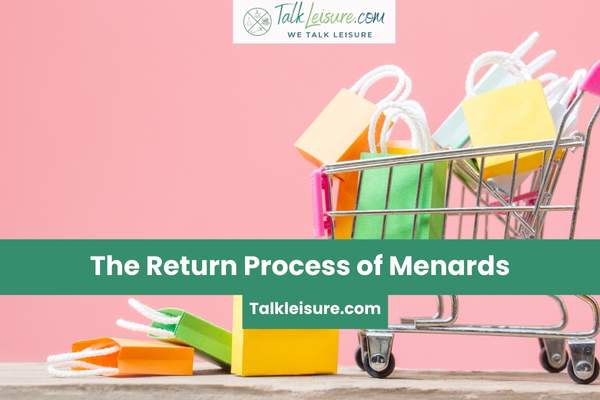 Menards Store Return Process
With 351 locations in 15 states, there's a fair chance you can find a Menards store in your neighborhood.
To return the things, you'll need to:
Find a place that works best for you.
Bring the purchase receipt or confirmation email with you.
Show the order details at the Service Deck usually located by the entrance.
Menards Online Return Process
If you've made a purchase from Menards and need to return an item purchased online, the process is quite straightforward.
When initiating a return, you'll need to have your original order number, as well as the email address associated with the order.
This information will be crucial for a smooth return process.
Start by visiting the Menards official website and navigate to the "Returns" section.
Here, you'll find a "Start a Return" option. Click on it, and you'll be prompted to enter your order information.
Once you've entered the necessary details, you'll be guided through the return process step by step.
Menards offers a variety of options for returning items, including returning them to a physical Menards store or initiating a return via mail.
What Is Menards Return Policy Without Receipt?
If you didn't receive a receipt for a transaction, you might be able to print one if the original purchase was made with a credit card or check in any Menards store using the Return Receipt Kiosk by the Customer Service Desk.
If you paid with a check or credit card, you can print your receipt online from your Menard account as well.
Visit the Lookup Receipts page for further details on how to check your orders online and print your receipt.
If your items are on order, an in-store credit will be given at the lowest price, including any rebates or coupons that may have reduced the price.
Without a receipt, we reserve the right to reject a refund.
Note that a state identification card or driver's license will be required for all no-receipt returns.
They cannot issue a refund for a no-receipt return without an ID.
What Is Menards Exchange Criteria?
When it comes to returning or exchanging your purchases at Menards, it's important to be aware of their exchange criteria. 
Firstly, make sure to keep your original receipt as it is required for any exchanges or returns.
Menards accepts returns within 90 days of purchase, provided the item is in its original condition and packaging.
If the product is damaged or defective, Menards will gladly replace it.
What Is Menards Refund Policy?
Menards has a straightforward refund policy in place to ensure customer satisfaction.
The company requires a time of 7-10 days to refund the order to the original mode of payment.
Here is a detailed view of all refund methods 
| | |
| --- | --- |
| Type of payment | Refund and Credit Policy |
| Credit card/debit card    | if you use a credit card, you will get a refund in your credit card. Shipping and handling costs are not refundable |
| Gift | In-store credit |
| Check | In-store credit |
| Cash | Cash |
Refund Policy
Are There Any Non-Refundable Goods?
When it comes to Menards' return policy, there are a few non-refundable goods to keep in mind.
Menards does not offer refunds or exchanges for custom-made or special-order items.
These are products that are specifically made or designed to your specifications or those that are not typically stocked by Menards.
Additionally, perishable items like food, plants, and flowers are non-refundable due to their nature.
Furthermore, Menards does not accept returns on open boxes or used items unless they are defective.
It is important to note that the packaging and all original accessories must be intact for a return to be accepted.
What Are Product-Specific Return Rules?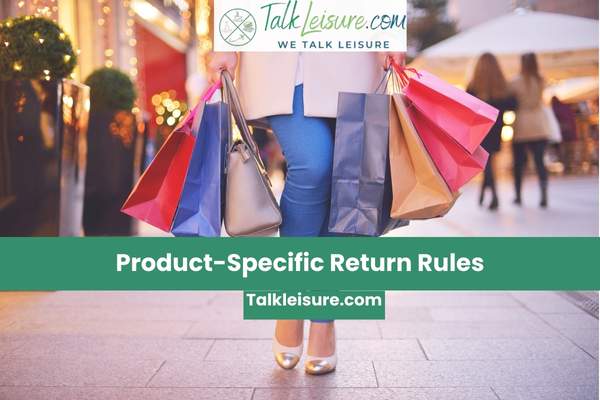 When it comes to returning products to Menards, there are some specific rules you should be aware of.
Different items may have different return policies, so it's important to know the details.
Products and purchases
Return Policy
Gift Cards
Non-refundable
Service items such as handheld gas-powered item or contractor paint sprayer
30 days return
Holiday items
Can be returned before the holiday
Gas-powered items consist of gas-powered wheeled goods, including the following:

• Lawnmowers
• Snow throwers
• Tillers
• Log splitters
• Chipper shredders
• Generators
• Pressure washers
30 days of purchase with a receipt
Handling and Packaging
Handling and packaging charges are non-refundable.
Herbicides
Non returnable
Pesticides
Non returnable
Aerosols
Non returnable
Plants
They guarantees these items for 1 year
Major Appliances
You can return items with manufacturing defects within 7 days.
Product-Specific Return Rules
Conclusion
Menards has a user-friendly return policy that ensures a smooth and hassle-free shopping experience.
To return a product, keep the original packaging and bring the receipt or proof of purchase.
Menards allows returns within 90 days of purchase, allowing ample time to assess the item and determine if it meets expectations.
The customer service team at Menards is available to assist with returns, whether a faulty product or changing your mind.
By understanding and following the policy, customers can trust Menards' commitment to customer satisfaction and efficient returns.
FAQs
01.Can I Return Special Orders to Menards?
The answer is No.
Returning special orders to Menards follows a slightly different process than returning regular items.
Special orders are products that are not typically stocked in the store and are specially ordered for a customer.
When it comes to returning special orders to Menards, it's important to note that they are generally not eligible for return or refund.
This is because these items are specifically customized or ordered in unique quantities and cannot be resold. 
02.Can I Return the Unopened Paint to Menards?
Yes, you can return it, you will need to bring your original receipt or proof of purchase to any Menards store.
The return must be made within 90 days of the purchase date, and it is important to ensure that the paint can remain unopened and in its original condition.
03.What if I Receive a Damaged Item from Menards?
If you happen to receive a defective item from Menards, don't worry.
They have a comprehensive return policy in place to address such situations.
When you encounter a defective product, the first thing you should do is reach out to Menards' customer service.
They have a dedicated team ready to assist you with any issues you may face.
04.What Is the Maximum Time Period to Return a Product Bought on an E-commerce App?
One popular e-commerce app, Menards, has its own return policy in place.
According to Menards, they accept returns within 90 days from the date of purchase for most items.
However, there are exceptions to this rule.
For example, electronics must be returned within 30 days, and certain seasonal items may have a shorter return period.
05.Can I Get a Price Adjustment at Menards?
Yes, you can.
If you've recently made a purchase at Menards and noticed that the price of the item has dropped, you may be wondering if you can get a price adjustment.
The good news is that Menards does offer price adjustments under certain circumstances.
Happy Shopping!