West Elm aims to provide high-quality products that meet your expectations.
However, if you're unsatisfied with your purchase, you can return it within 30 days of delivery. Whether you purchased items in-store or online, our policy applies to both.
It's important to note that certain conditions apply, such as returning the item in its original packaging and including all accessories.
West Elm is here to assist you every step of the way, ensuring your satisfaction remains our priority. Here, we are giving you a complete guide to West Elm's return policy. St
What Is West Elm?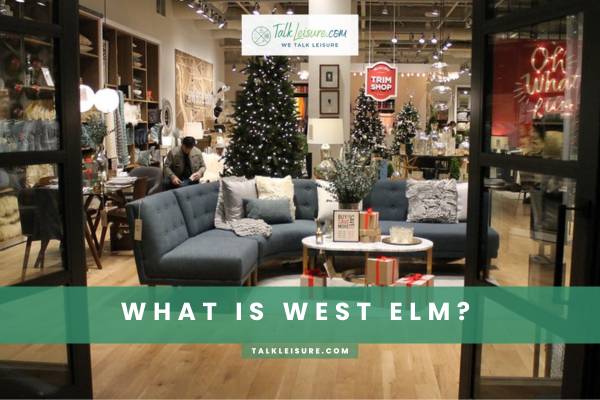 West Elm is a popular home furnishings and décor retailer that offers a wide range of stylish and contemporary products for your home.
West Elm has everything you need to create a beautiful, comfortable living space, from furniture and lighting to bedding and accessories. It sells furniture and home decorations.
They have been on Barron's 100 Most Sustainable U.S. Companies list for four years.
You can find furniture to make your home look nice. They like to make modern things with cool designs and colors.
So, if you want to buy things for your home that are good for the environment and look stylish, West Elm is a great place to go.
Shopping At West Elm?
To Shop at West Elm, visit one of their stores nearby or visit their website.
There, you can explore a wide range of furniture and home decor.
Once you've found something you love, click "Add to Cart" for each item you want.
Before finalizing your purchase, quickly peek at your cart to double-check everything.
When you're ready, hit the "Checkout" button. Fill in your address and payment information, then review your order before clicking "Confirm."
Now, all that's left to do is wait for your goodies to arrive at your doorstep. Unbox, decorate, and enjoy your new West Elm treasures!
Read more about return policies with us.
What Is West Elm's Return Policy?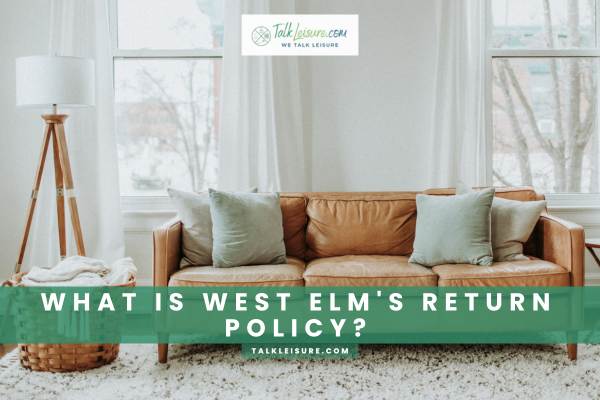 West Elm has a straightforward return policy that aims to provide customers with a convenient and hassle-free experience.
You can return eligible items to West Elm and get your money back within 30 days of getting your order (7 days for Quick Ship upholstery items).
You can return items you bought from West Elm and get your money back, but there are specific time limits:
For most items, you have 30 days from the day you get your order.
If you bought Quick Ship upholstery items, you only have seven days.
Remember, you need to have the receipt handy, either the original one or a gift receipt.
There are a few steps for different types of purchases from West Elm.
1. Return by UPS: If you want to return your item through UPS, follow these steps:
Go to West Elm's Returns Policy page.
There, you can print a return label.
Take this label and your item to a UPS location.
They will help you send it back to West Elm.
2. For Big Items: For big things like non-custom furniture or other oversized items:
You can't use the UPS label for these.
Instead, you need to call West Elm's Customer Service at 1.888.922.4119.
They will guide you on how to return these large items.
3. Return to a West Elm Store: If you'd rather return your item in person, you can go to your local West Elm store (except West Elm outlet stores). Here's what you need to do:
Make sure you have a gift receipt or the original receipt.
Take the item with you to the store.
The staff there will assist you with the return or exchange.
So, whether you're shipping it back through UPS, dealing with big items over the phone, or visiting a West Elm store, having your receipt ready is important for a smooth return process.
Overall, West Elm's return policy aims to ensure customer satisfaction and make the return process as smooth as possible.
Online
West Elm's online return policy is super convenient.
You've got 30 days from when your stuff arrives to decide whether you like it. If not, here's what you do:
Contact West Elm's customer service team to start the return process. They'll tell you what to do next.
They'll give you a prepaid label, so you don't have to pay for return shipping.
Pack up your item safely and stick that label on the box.
Take it to the closest shipping spot and drop it off.
Now, there are some rules:
Big things like furniture might need a special pickup appointment.
Customized stuff might not be returnable.
Overall, West Elm wants to make returns easy. They give you clear instructions and even pay for shipping, so you don't have to worry. Your happiness matters to them.
What Are The Items I Can't Return To West Elm?
When returning items to West Elm, knowing their return policy and understanding what items are excluded is important.
While West Elm has a customer-friendly return policy, certain items cannot be returned.
Some of the items that cannot be returned to West Elm include:
Items without an original receipt or gift receipt
Monogrammed/Personalized items
Made to Order items, including custom rugs and furniture
Mattresses
Gift Cards
Final Sale, Limited Time Offer and Clearance items (with prices ending in $.X7 or $.X9)
Items damaged through normal wear and tear.
It's always a good idea to carefully review West Elm's return policy before purchasing to ensure you fully understand the terms and conditions regarding returns. This way, you can shop confidently and make informed purchase decisions.
What Are The Items Eligible To Return To West Elm?
If you're not happy with something you bought at West Elm, here's what you need to know about returning it:
Most stuff can be returned within 30 days of buying it.
This includes furniture, rugs, bedding, lights, and kitchen stuff.
To make things smooth, keep your receipt or email confirmation. They might still help you with store credit or an exchange if you don't have it.
It should be in good shape and original packaging when you return something.
Knowing this helps you return stuff at West Elm without problems and get your money back or something else you like.
By familiarizing yourself with West Elm's return policy and ensuring your item meets the eligibility requirements, you can confidently return your purchase if needed and receive the appropriate refund or exchange.
How To Return Items To West Elm?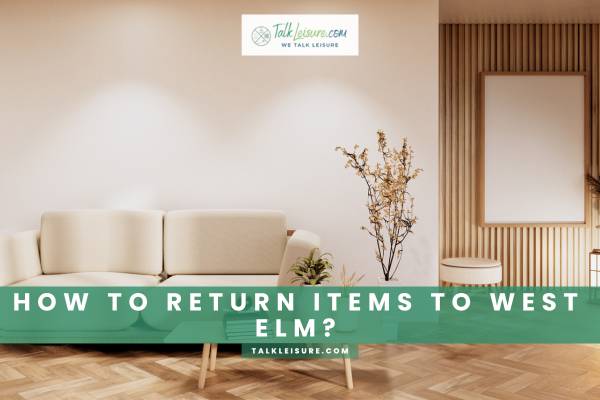 Returning items to West Elm is a straightforward process. If you find yourself needing to make a return, here are the steps to follow:
Check the timeframe: West Elm allows you to return most items within 30 days of purchase. However, some exceptions apply, so reviewing their policy is important.
Gather your proof of purchase: Locate your receipt or order confirmation, as you need it to initiate the return process.
Contact customer service: Contact West Elm's customer service team by phone or email. They will guide you through the return process and assist with any questions.
Package the item: Safely pack the item you wish to return, ensuring it is in its original condition and packaging.
Send it back: Follow the instructions provided by the West Elm customer service team to return the item. You may be responsible for shipping fees, depending on the reason for the return.
Track your return: Keep track of the return shipment using the provided tracking number.
Receive your refund: Once West Elm receives and processes your return, you will receive a refund to your original payment method.
By following these steps, you can ensure a smooth and hassle-free return experience with West Elm.
What Is The West Elm International Return Policy?
If you've made an international order with West Elm, there are a few important things you need to know about returning items:
Contact West Elm: Before sending anything back, you must get a return authorization from the West Elm call center. Their retail stores can't accept international returns. Please get in touch with them immediately if you want to return an item. There are time limits for returns: 7 days for Quick-Ship upholstery items and 30 days for other stocked items.
Currency Refund: Returns will be refunded in the original currency you used for your purchase. Unfortunately, delivery fees are non-refundable.
Some items can't be returned, such as Made-to-Order items, monogrammed products, unique one-of-a-kind items, gift cards, and things damaged due to regular use. Final sale items with prices ending in .99 or .97 are also non-returnable.
Contact West Elm for Details
From Canada:
From All Other Countries:
What Are The Exceptions For Shopping In West Elm Internationally?
There are a few exceptions for international purchases.
Oversized items and those delivered by In-Home Delivery Service, Hazardous materials, live plants, aerosols, food, things that can't be exported, Items with licensing restrictions and Gift Cards are not eligible for return.
Shopping in Canada: If you're in Canada, you can usually buy most furniture and oversized items online and in stores. Just be aware that delivery restrictions may vary depending on where you are. Check the website for details.
Electrics Warning: Our electrical products can be shipped internationally, but you must use the right outlet adapters and voltage converters for your area. Using them in the wrong outlets (more than 110-120 volts) could lead to fires or injuries.
Check Shipping Eligibility: Ensure all the items in your order can be shipped to your destination country.
Can I Return To West Elm Without A Receipt?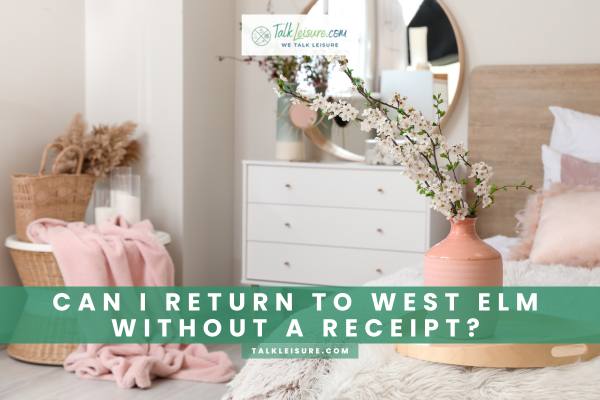 Returning items to West Elm without a receipt can be more challenging, but it is possible.
Without a receipt, West Elm offers store credit for some items' current selling price. This credit can be used for future purchases at any West Elm store or website.
But most of the items aren't eligible to be returned without a receipt.
To complete a return without a receipt, you must provide a valid photo ID and the credit card used for the original purchase.
They may ask for additional information to locate the transaction in their system if you paid with cash.
It's always a good idea to contact West Elm's customer service or visit their website to familiarize yourself with their specific return policy and any additional requirements.
Remember, having a receipt is always the best option for a hassle-free return process.
So, make sure to keep your receipts in a safe place until you're certain you won't need to return or exchange the item.
How Long Does West Elm Take To Return?
When it comes to returning items to West Elm, it's important to understand the timeline for the process.
After all, timely returns can save you a lot of hassle.
Once you initiate a return with West Elm, the typical timeframe for them to process and refund your return is about 7-10 business days.
This duration includes the time it takes for the item to be shipped back to their warehouse.
However, it's worth noting that this timeframe may vary depending on various factors, such as the shipping method you choose and your location.
Remember, ensuring that the item you're returning meets all the criteria for a successful return is important.
This includes having the original packaging receipt and adhering to any specific guidelines outlined by West Elm.
By being aware of the return timeline and following the guidelines, you can have a smoother return experience with West Elm.
West Elm Gift Card Return Policy?
If you're wondering about the West Elm Gift Card Return Policy, here are the important details you need to know. West Elm offers refunds on gift card purchases, subject to certain conditions.
Unfortunately, gift cards aren't eligible for returns.
It's always a good idea to review the specific terms and conditions related to the West Elm Gift Card Return Policy on their official website or contact their customer service for any additional information or clarifications you may need.
West Elm Customer Service Review
Regarding customer service, West Elm strives to provide a positive and satisfactory experience for its customers.
Their return policy is designed to ensure that customers are happy with their purchases and have the option to return or exchange items if needed.
One aspect that stands out about West Elm's customer service is its commitment to resolving any issues or concerns that customers may have.
They have a dedicated customer service team to assist you with inquiries or problems.
Whether you have a question about a product, need assistance with a return, or have any other concerns, West Elm strives to provide helpful and friendly support.
Overall, West Elm is known for its positive customer service and commitment to customer satisfaction.
With their flexible return policy and helpful customer service team, you can shop confidently, knowing that your concerns will be addressed and that they value your experience as a customer.
Final Thoughts
In conclusion, understanding West Elm's return policy is essential for a smooth and hassle-free shopping experience.
While they have a generally customer-friendly return policy, it's important to familiarize yourself with their specific terms and conditions.
Remember to keep your receipt or proof of purchase handy and adhere to the return time frame of 30 days.
It's also worth noting that some items, such as final-sale or personalized products, may not be eligible for return.
If you have any doubts or questions about the return process, don't hesitate to contact their customer service team for clarification and assistance.
By familiarizing yourself with their return policy, you can ensure that your shopping experience at West Elm remains enjoyable and stress-free. Happy shopping!
FAQ
Can I Return Monogrammed/ Personalised Items?
According to the West Elm Return Policy, Monogrammed/ Personalised items arent eligible to return.
What Are The Shipping Options Available?
Items can be sent out in two ways:
Front Door Parcel Delivery (like UPS or USPS) to your delivery spot
Most furniture and items too heavy to ship by parcel carrier are delivered by truck.
This generally includes our Premium White Glove service and delivery of unlimited items for a flat fee.
Is West Elm Returns Free?
Your return will be free if you have a valid reason to return. However, it's important to know that if you don't have a valid reason for returning the items, you'll need to cover the cost of shipping them back.
How Long Does West Elm Take To Deliver?
When you buy something from Front Door, it will leave our warehouse and arrive in 4–5 business days.
Happy Shopping!