The world of athletic and activewear, finding the perfect fit can be a challenge.
Fortunately, Athleta, a well-known company that specializes in sports clothes and gear for women, knows how important it is to feel comfortable as well as stylish when leading an active lifestyle.
Athleta provides a comprehensive return policy that attempts to make the return process as simple and stress-free as possible to guarantee customer satisfaction.
This blog post will dive into great detail on Athleta return policy, examining everything you need to know to shop with assurance for your next workout or athleisure wear.
Whether you're a dedicated fitness enthusiast or simply searching for stylish and functional activewear, understanding Athleta's return policy is a valuable step toward making the most of your shopping experience.
Let's get started!
What Is Athleta?
Athleta is a popular brand that specializes in activewear for women.
They provide a large selection of fashionable and cozy clothes made for a variety of physical pursuits, such as swimming, running, and yoga.
Whether you're looking for workout gear or casual everyday wear, Athleta has you covered.
One of the great things about Athleta is its commitment to quality and customer satisfaction.
They are aware that sometimes the items you order might not quite fit your needs or satisfy your expectations.
Because of this, they have a generous return policy.
What Is Athleta Return Policy and Its Importance for Customers?
According to Athleta's return policy, customers have the option to return or exchange items within 60 days of purchase.
The items must be unworn, unwashed, and in their original condition with tags attached.
Returns can be made through mail or at any Athleta store location.
The importance of Athleta return policy for customers cannot be overstated. It provides peace of mind and ensures customer satisfaction.
If a product doesn't fit properly or doesn't meet expectations, customers can easily return or exchange it without any hassle.
This flexibility encourages customers to try new products and styles, knowing that they have the option to make a return if needed.
Are Returns or Exchanges Free?
Yes, returns and exchanges are free when you use a prepaid return shipping label (online purchases only), or when you return in-store.
You have up to 30 days from the ship date to return or exchange items by mail that are purchased at Gap, Old Navy, and Banana Republic.
Athleta customers have 60 days from the ship date to return or exchange items by mail.
What Are The Types of Items That Can Be Returned To Athleta?
Athleta accepts returns for most items within 60 days of purchase.
Whether you bought the item online or in-store, as long as it meets their return criteria, you can send it back for a refund or exchange.
Items that are damaged or defective may be returned or exchanged at any time.
Final sale items cannot be returned or exchanged.
To be eligible for a return, the item must be in its original condition, unworn, unwashed, and with all tags attached.
This includes swimwear, which must have the protective liner intact.
Additionally, certain items like final sale products, gift cards, and personalized items are not eligible for return.
What Are The Various Methods Customers Can Use To Return Their Purchases?
Athleta recognizes that returns are occasionally unavoidable and works to make the procedure as simple as possible for its clients.
There are several ways to return your products to Athleta, whether you bought them in-store or online.
For In-store Purchases
Within 60 days after the original purchase date, you can simply bring the item(s) back to any Athleta shop for in-store purchases.
Bring the original payment method and your receipt or packing slip with you. 
For Online Purchases
If you made your purchase online, Athleta provides a prepaid return label with every order.
You can use this label to send back your items via mail.
Additionally, you have the option to return your online purchase at any Athleta store.
Just bring your packing slip or order confirmation email, along with the original form of payment used.
How To Initiate a Return With Athleta?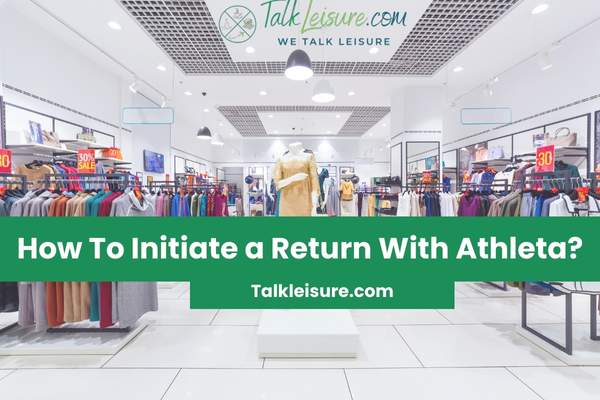 Returning an item can sometimes be a hassle, but Athleta strives to make the process as simple and convenient as possible for its customers.
Here are the step-by-step instructions to guide you through the return process:
Prepare your item: Make sure the item you wish to return is in its original condition, with all tags attached.
Find your order: Locate your order number, which can be found on your packing slip or in the confirmation email.
Initiate the return: Visit the Athleta website and navigate to the Returns page. Enter your order number and zip code to begin the return process.
Select the items: Choose the items you want to return from your order and indicate the reason for the return.
Choose a return method: Athleta offers multiple options for returning your items, including mail-in returns or in-store returns at select locations.
Print your return label: To begin your return, use their interactive returns process to create and print a prepaid UPS label 
Package and ship: Carefully package your items and affix the prepaid shipping label to the package. Drop it off at a designated shipping location or schedule a pickup.
Track your return: Keep an eye on your return status through the tracking information provided by Athleta.
What Are The Specific Items or Situations That May Be Excluded From Athleta's Standard Return Policy?
There are a few exceptions to this policy that customers should be aware of.
Any final sale items cannot be returned or exchanged.
These items are marked as final sale at the time of purchase and are non-refundable.
Athleta does not accept returns on swimwear if the hygienic liner has been removed or tampered with.
It is important to ensure that the liner is intact before trying on swimwear to avoid any issues with returns.
Any personalized or customized items cannot be returned unless there is a manufacturing defect or error.
These items are made specifically for the customer and cannot be resold.
Athleta reserves the right to deny returns if they suspect fraudulent activity or abuse of their return policy.
What Is The Refund Process Of Athleta?
Once your return is received and inspected, Athleta will issue a refund to your original form of payment within 7-10 business days.
Here are the details for various methods of payment.
| | |
| --- | --- |
| If you paid with… | They will… |
| A credit card | Refund your purchase amount to that same card. |
| A gift card | Refund your purchase amount to the same gift card or issue a new gift card for that amount. |
| A promotional code or discount | Exchange the item for the same style in another size or color. (If you choose to exchange the item for a different style, the discount can't be transferred.) |
| Rewards points | They will convert the dollar value of the rewards to points and credit your Rewards Program account. |
Athleta Refund Process
Conclusion
Athleta return policy offers a 60-day return window for items, ensuring they are in their original condition with tags attached.
Customers can return items by mail or in-store, using the prepaid shipping label included in the package.
A refund will be issued within 7-10 business days, or a merchandise credit if using a gift card or rewards certificate.
To ensure a smooth return process, keep receipts, order confirmations, packages securely, and documentation handy.
Athleta's customer-friendly return policy ensures a risk-free shopping experience.
FAQs
01. Are Athleta and Old Navy The Same?
Athleta and Old Navy are both part of the Gap Inc. family of brands, but they are not the same.
While they share the same parent company, Athleta and Old Navy cater to different target markets and offer different product lines.
Athleta focuses on high-performance athletic apparel for women, while Old Navy offers casual, affordable clothing for a broader audience.
Both brands offer a variety of styles and products.
02. Does Athleta Have a Lifetime Guarantee?
The well-known women's activewear company Athleta does not provide a genuine lifetime warranty.
Although they make an effort to offer high-quality, long-lasting products, they recognize that wear and tear are a normal part of the life cycle of their clothing.
03. When You Received An Item As a Gift. How Can You Receive a Refund?
Gifts returned with a gift receipt or invoice will receive a gift card in the amount of the purchase price.
Gifts returned without a gift receipt or invoice will receive a merchandise certificate by mail in the amount of the current selling price.
Enjoy Your Shopping!