Ahoy, tea enthusiasts and culinary adventurers! If you're on a quest to elevate your afternoon indulgence to the next level, look no further than the picturesque streets of sunny San Diego.
Welcome to a world where delicate china, tantalizing aromas, and dainty bites collide in a harmonious symphony of flavors—yes, we're diving into the captivating realm of high tea in San Diego!
Picture yourself nestled in charming tea rooms and luxurious hotels, where sipping exquisite brews is an art form and scones are practically poetry. From the elegance of The Grand Tea Room to the opulence of the Fairmont Grand Del Mar, we're about to embark on a journey of refined taste and indulgence.
So, prepare to be whisked away to enchanting nooks and crannies that boast delightful tea blends, tantalizing treats, and an experience that's equal parts tradition and modern-day splendor.
Get ready, fellow tea aficionados, because we're about to unravel the secrets behind the best high tea spots in San Diego, one cuppa at a time!
Whether you're a connoisseur or a curious newbie, this guide will have you sipping, nibbling, and perhaps even pinky-lifting your way through the city's most delightful high tea offerings. Let's embark on this scrumptiously steeped journey together – shall we?
Meanwhile, if you are wondering about the best high tea in San Francisco, you can read all about that in this article I have written.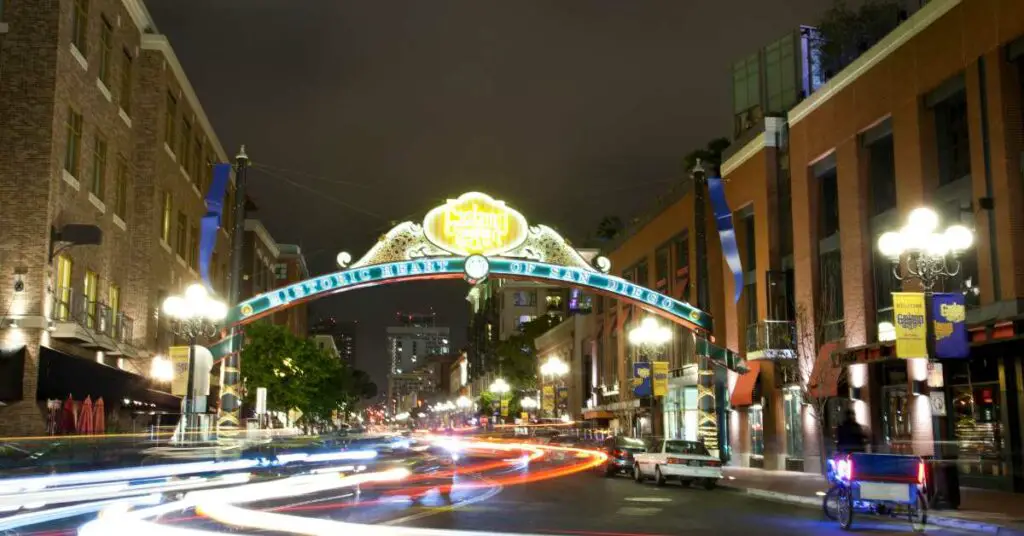 Step into a world of timeless elegance and charm as we pull up a chair at The Grand Tea Room, a haven for tea lovers nestled in the heart of San Diego. This gem exudes Victorian grace with its vintage décor, intricate china, and menu that reads like a symphony of flavors. Indulge in a tantalizing assortment of finger sandwiches, freshly baked scones, and an array of delicate pastries that dance on your taste buds.
The extensive tea selection is a journey in itself, ranging from classic blends to unique infusions. Your inner aristocrat is sure to be delighted as you revel in a quintessential high tea experience that's both a nod to tradition and a celebration of exquisite taste.
Indulgence reaches new heights at Fairmont Grand Del Mar. With its palatial ambiance and breathtaking views, this is high tea redefined. Immerse yourself in luxury as you sample artisanal sandwiches, heavenly scones, and exquisite desserts. The tea menu is a journey spanning continents, offering rarefied flavors that enchant the senses.
A cozy escape awaits at Marlene's Tea & Cakes. Tucked away, this charming spot offers a warm embrace and delectable treats. Dive into delightful finger sandwiches, freshly baked cakes, and, of course, a medley of teas that cater to every palate. It's a slice of tea-infused heaven in the heart of San Diego.
Meanwhile, if you are wondering how much high tea is at the Peninsula Chicago, you can read all about that in this article I have written.
For a fusion of cultures and flavors, Coral Tree Tea House is a must-visit. Blending Asian influences with traditional English fare, this tea house presents a unique spin on high tea. Taste intricate dumplings, savory bites, and artful pastries, accompanied by an assortment of teas that paint a global palate.
Literary enthusiasts and tea lovers unite at Shakespeare's Corner Shoppe. Transporting you to an olde-worlde England, this cozy spot offers character-laden delights. Enjoy hearty British sandwiches, hearty soups, and sweet treats, all while toasting with a cup of tea fit for a bard.
Morning Glory adds a contemporary twist to high tea. Vibrant and modern, it infuses the classic experience with innovative flavors. Relish imaginative sandwiches, whimsical pastries, and curated teas that cater to the adventurous spirit.
The Westgate Hotel exudes sophistication and grandeur, making it a high tea destination of choice. Bask in opulence as you nibble on delicate sandwiches, divine scones, and artisanal pastries. The tea menu is a curated collection of premium blends that complement the lavish surroundings.
Aubrey Rose Tea Room captures the essence of vintage charm with a touch of whimsy. Settle into a cozy nook and be treated to a symphony of flavors, from classic sandwiches to confections that dazzle. The tea selection is an ode to tradition, ensuring a nostalgic journey through refined sips.
Explore San Diego's high tea scene, where each establishment weaves a tale of taste and indulgence, catering to a variety of preferences and palates.
Meanwhile, if you are wondering how much high tea is at the Adolphus, you can read all about that in this article I have written.
Frequently Asked Questions
What is high tea called in America?
In America, "high tea" is often referred to as "afternoon tea." This delightful tradition involves enjoying a selection of teas, along with a variety of sandwiches, pastries, and other delectable treats, typically served in the late afternoon or early evening.
What is special about high tea?
High tea is special for its blend of elegance and indulgence. It offers a refined escape, where guests savor a selection of teas and delectable bites, fostering social connection and relaxation. The fusion of flavors, traditions, and ambiance creates a unique and memorable experience.
Who is the biggest tea drinker in the world?
China holds the title of the world's largest tea-consuming nation. With a rich history of tea cultivation and consumption, it's deeply ingrained in Chinese culture and daily life, showcasing an impressive variety of teas enjoyed for their diverse flavors and health benefits.