Hey there, tea enthusiasts and curious foodies! If you're on the hunt for an experience that's as refined as it is delicious, you're about to embark on a journey that'll have your taste buds tingling and your pinkies proudly poised.
We're delving into the world of "best high tea in Manchester," where finger sandwiches meet delicate pastries, and where a cup of tea becomes an art form.
Picture this: You're seated in a plush, elegant setting, surrounded by the gentle clinking of china and the tantalizing aroma of freshly brewed tea.
Whether you're celebrating a special occasion or simply treating yourself to a moment of luxury, Manchester has a spread of high tea hotspots that'll leave you spoilt for choice.
From the grandeur of The Midland Hotel to the enchanting vibes of Cloud 23 and the mouthwatering creations at James Martin Manchester, we'll be your guides through this delightful maze of scones and sophistication.
So, buckle up (or should I say, buckle your belts a notch looser) as we take you through the crème de la crème of Manchester's high tea scene. Ready? Let's get steeped in the magic! 🫖🍰
Meanwhile, if you are wondering about the best high tea in London with a view, you can read all about that in this article I have written.
Welcome to our first stop on this high tea expedition! Imagine stepping into a world where elegance meets history – that's The Library at The Edwardian.
It's not just a tea; it's a symphony of flavors served amidst shelves of literary classics. Indulge in delicate sandwiches and divine pastries as you immerse yourself in the ambiance of a bygone era. If Jane Austen had her high tea here, she'd surely write another novel about it.
So, if you're ready to sip, savor, and soak in the refined atmosphere, The Library is where your tea-loving heart deserves to be.
Meanwhile, if you are wondering about the best high tea in Las Vegas, you can read all about that in this article I have written.
Hold onto your tea cups, because we're about to elevate your taste experience at The Tea Room, nestled in the iconic Midland Hotel. This is high tea with a side of history and a sprinkle of opulence.
Immerse yourself in the grandeur of ornate ceilings and stunning chandeliers as you sample meticulously crafted treats. From classic cucumber sandwiches to the fluffiest scones, every bite is a journey through taste perfection.
Whether you're treating your friends, indulging in a romantic rendezvous, or just pampering yourself, The Tea Room promises an unforgettable rendezvous with flavors and finery. It's time to sip, sigh, and let sophistication swirl around you.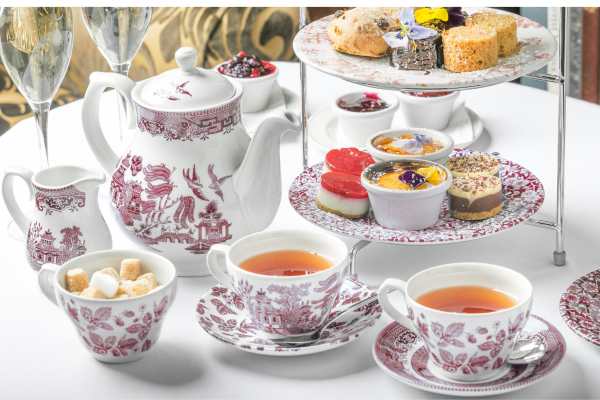 Brace your taste buds, because at James Martin Manchester, high tea gets a deliciously modern makeover. This isn't your grandmother's tea party – it's a fusion of culinary creativity and comforting classics.
Renowned chef James Martin adds his signature flair to the traditional spread, resulting in a symphony of flavors that'll have you singing praises between sips.
From inventive pastries to savory surprises, every bite is a testament to culinary artistry.
So, if you're ready to embark on a taste adventure that marries innovation with tradition, pull up a chair at James Martin's and prepare for a haute couture tea affair.
It's time to switch gears and embrace the charming warmth of Annie's, where high tea feels like a cozy hug in culinary form. Nestled in an inviting setting, Annie's invites you to unwind and indulge in a spread that's as comforting as it is delectable.
From fluffy scones that melt in your mouth to finger sandwiches that make you smile, every bite is like a taste of home. It's the kind of place where you can catch up with old friends, make new memories, and savor each moment.
Annie's isn't just a tea spot; it's a heartwarming escape into edible nostalgia.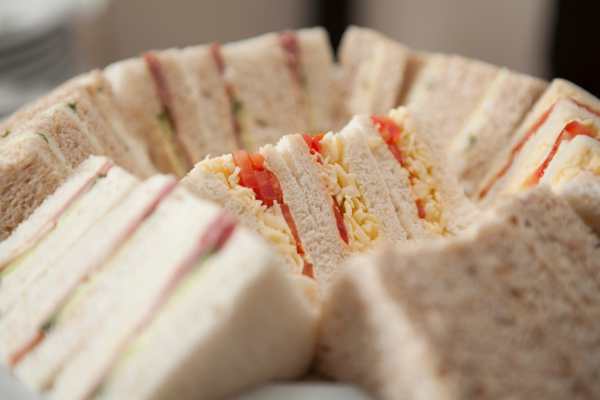 Elevate your tea experience – quite literally – at Cloud 23, where high tea reaches new heights, both in taste and in the skyline.
Perched on the 23rd floor, this sky-high haven offers panoramic views and a menu that's equally breathtaking.
Sip on exquisite teas while gazing over Manchester's cityscape – it's like sipping from a cup of dreams.
The treats? They're as artistic as the view, with pastries that are almost too pretty to eat. For a tea affair that's not just high-class but high-altitude, Cloud 23 is your ticket to tea-time nirvana, where the sky's the limit, and the flavors know no bounds.
Hold onto your tea saucers and get ready to experience high tea with a Big Apple twist at Marco's New York Italian. This fusion of British charm and New York pizzazz offers a unique take on the classic afternoon affair.
Indulge in a spread that's both cosmopolitan and comforting, with a touch of Italian flair. From mini pizzas to sweet treats that rival Broadway's finest, every bite is a culinary crossroads.
So, if you're in the mood for a tea-time rendezvous that bridges continents and tickles taste buds, make a reservation at Marco's – where the tea is steeped in surprises.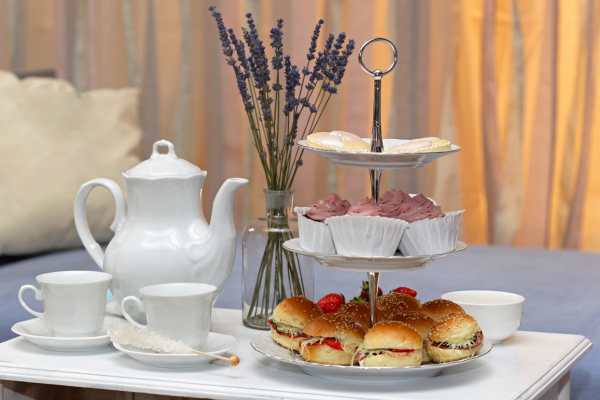 Sunset by Australasia
Prepare for a tea experience that's not just a meal – it's a journey to the land down under. Sunset by Australasia brings a touch of Aussie beach vibes to your high tea escapade.
Picture yourself basking in the warm hues of a sunset while savoring exotic flavors that transport you to distant shores. From sushi-inspired delicacies to sweet sensations that echo beachside treats, every bite is a passport to a tasteful adventure.
So, if you're ready to trade your tea cup for a coconut shell and your table for a tropical paradise, Sunset is where your taste buds set sail.
The Ivy Brasserie
Get ready to immerse yourself in the timeless elegance of The Ivy Brasserie, where high tea is served with a side of sophistication. This iconic spot blends tradition and trendiness seamlessly, offering a menu that pays homage to classic flavors while introducing modern twists.
Delight in a selection of finger sandwiches that are like miniature works of art and pastries that are as delightful to the eye as they are to the palate.
Amidst the chic surroundings, The Ivy Brasserie redefines high tea as a rendezvous with elegance, making it a must for those who seek a touch of class with their cuppa.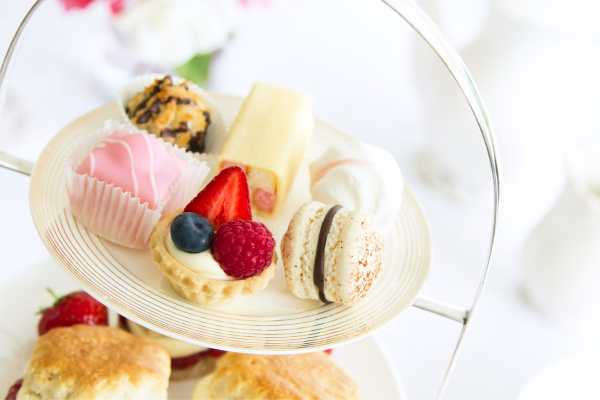 Menagerie Restaurant
Buckle up, because high tea at Menagerie Restaurant is more than a meal – it's a show-stopping spectacle. This avant-garde destination promises a tea experience that's a feast for the senses.
From stunningly presented treats that look like they've stepped out of an art gallery to a vibrant ambiance that feels like a fashion runway, Menagerie knows how to steal the spotlight.
It's where culinary creativity meets theatrical flair, creating a tea affair that's as Instagram-worthy as it is palate-pleasing. If you're ready to dine and dazzle, Menagerie is your stage for a tea-time performance that's haute couture all the way.
Trafford Hall Hotel
Discover a hidden gem in the heart of Manchester's high tea scene at the Trafford Hall Hotel. This charming spot offers a delightful escape from the hustle and bustle, where tea time feels like a sweet secret shared among friends.
Indulge in a spread of treats that are as comforting as the cozy setting itself. From homemade scones that exude warmth to pastries that feel like a hug, every bite is a reminder that the simplest pleasures can be the most satisfying.
Trafford Hall Hotel is where high tea becomes an intimate affair, a gentle reminder to slow down and savor life's little joys.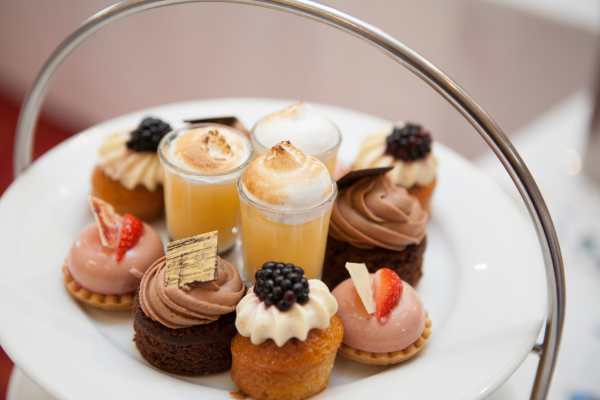 Grand Pacific
Step into a world where high tea meets exotic allure at Grand Pacific. This enchanting spot takes you on a culinary journey that bridges continents and eras. From delicate Asian-inspired treats to European classics, each morsel is a passport to a different corner of the globe.
The opulent surroundings, reminiscent of a bygone era, add an air of mystery to the experience. It's where Victorian elegance mingles with Eastern charm, resulting in a tea affair that's as fascinating as it is flavorsome.
So, if you're ready to explore uncharted tea territory, Grand Pacific invites you to set sail on a tasteful adventure.
Hotel Gotham
Hold onto your monocles, because high tea at Hotel Gotham is the epitome of Gatsby-esque glamour. Nestled in this Art Deco gem, your tea experience takes on a whole new level of sophistication.
Think plush surroundings, dazzling chandeliers, and an air of refined extravagance. The menu reflects this grandeur with a selection of delectable delights that rival the elegance of the setting.
From the first sip to the last crumb, every moment at Hotel Gotham is a reminder that life is too short not to indulge in a bit of luxury. Get ready to toast to the high life, old sport!
Signature Steakhouse
Surprise! High tea isn't just for the dainty; it's a carnivore's delight at the Signature Steakhouse. This unconventional twist on traditional tea takes you on a meaty journey that's as bold as it is delicious.
Sink your teeth into succulent steak sandwiches, revel in the hearty flavors of mini burgers, and let the smoky aroma of grilled meats awaken your taste buds. It's a protein-packed paradise that proves high tea isn't confined to finger sandwiches.
So, if you're ready to swap cucumber for a juicy cut, Signature Steakhouse welcomes you to a tea affair with a meaty edge.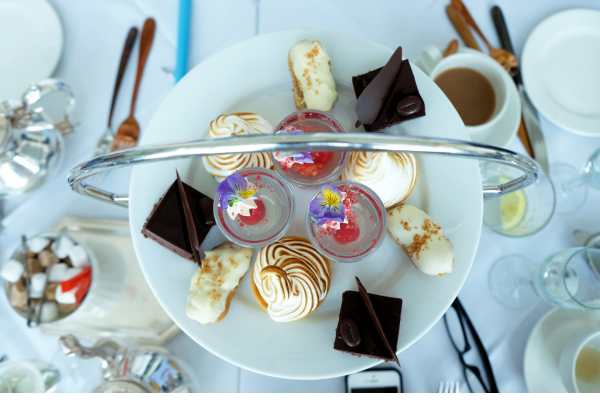 Malmaison Manchester
Prepare to be charmed by the industrial-chic allure of Malmaison Manchester, where high tea gets a contemporary makeover. Nestled within this stylish setting, your tea journey takes on a trendy twist.
Delight in a spread that marries traditional favorites with a modern edge – think mini burgers alongside classic scones. The ambiance, a fusion of urban sophistication and laid-back charm, sets the stage for a tea-time experience that's effortlessly cool.
Whether you're a hipster with a penchant for pastries or just seeking a tea spot with an artsy vibe, Malmaison is your canvas for a flavorful masterpiece.
River Restaurant
Get ready to dine by the water's edge at River Restaurant, where high tea meets tranquility. Set against the serene backdrop of flowing waters, this destination offers a peaceful escape from the urban hustle.
As you sip your tea, let the gentle sounds of the river soothe your senses. The menu is a symphony of flavors, with treats that mirror the calm beauty of the surroundings.
From delicate pastries to savory bites that reflect nature's palette, every dish is an ode to relaxation and refined taste. At River Restaurant, high tea is an invitation to savor both flavors and moments.
Frequently Asked Questions
Why is British tea called high tea?
Contrary to what one might assume, "high tea" in Britain actually refers to a substantial early evening meal, whereas "afternoon tea" is the traditional tea with light refreshments served around 4 p.m.
The term "high" in "high tea" likely originates from the fact that it was typically served at a dining table, as opposed to the low tea tables used for afternoon tea.
What do the British eat at high tea?
British high tea typically includes heartier fare compared to afternoon tea. It might feature dishes like sandwiches, quiches, pies, sausage rolls, and savory pastries. Additionally, there could be cakes, scones, and desserts alongside the savory items.
High tea is meant to be more of a substantial meal, often enjoyed in the late afternoon or early evening to stave off hunger until a later dinner.
What is London's favorite tea?
In London, one of the most beloved and iconic teas is "English Breakfast tea." This robust black tea blend is known for its strong, full-bodied flavor and is often enjoyed with a splash of milk. It's a staple in many households and cafes throughout the city, offering a comforting and energizing start to the day or a delightful pick-me-up in the afternoon.
Do you tip in London?
Yes, tipping is customary in London, but it's not always mandatory. In restaurants, it's common to leave a 10-15% tip if a service charge is not already included in the bill. Tipping taxi drivers, hotel staff, and tour guides is also a courteous practice. However, always check the bill, as some places might already include a service charge.