In the world of high-end fashion and luxury shopping, Bloomingdale stands as a true icon.
However, occasionally we change our minds or the items we purchase don't quite fit.
The return policy at Bloomingdale's will be useful in this situation.
Bloomingdale offers a generous return window of 365 days from the date of purchase for most items. 
In this blog post, we're going to talk about how to return stuff to Bloomingdale's without any fuss.
So, the next time you shop at Bloomingdale's, you'll know exactly what to do if you need to return something.
What is Bloomingdale?
Bloomingdale's, also known as "Bloomies," is a well-known luxury department store in the United States.
It was established in 1861 and has since grown to be a popular retail location for upscale clothing, accessories, cosmetics, and home items.
Bloomingdale's serves customers seeking superior products who are fashion-conscious and have a desire to shop locally and online.
The shop takes great satisfaction in curating a sizable selection of designer goods and offering exceptional customer service.
Everybody can find something at Bloomingdale's, whether they are looking for the newest runway trends, timeless classics, or one-of-a-kind items.
The store provides a luxurious shopping experience, making it popular with wealthy customers.
Overview of Bloomingdale's and Its Customer-Friendly Return Policy
Bloomingdale's, a renowned luxury department store, prides itself on providing excellent customer service, including a customer-friendly return policy.
Typically, Bloomingdale's offered a generous return window of 365 days from the date of purchase for most items.
However, some items may have had different return timeframes. For the Final Offer items, the return period is reduced to 30 days.
You cannot return items if they are worn, washed, damaged, used, altered, without b-tags or designer tags, without any accessories that were included.
What Are The Different Options Available for Returning Your Purchase?
Bloomingdale's offers multiple convenient options for returning your purchase:
In-Store Returns
Within 365 days of purchase, you can return your item to any Bloomingdale location.
Make sure to bring the item in its original packing and condition, as well as the original receipt or gift receipt.
Online Returns
You can start a return if you purchased your purchase online by visiting Bloomingdale's website or getting in touch with their customer service.
Along with providing you with a prepaid return label, they will also guide you through the procedure.
Mail-in Returns
If you prefer to return your item by mail, Bloomingdale's provides a mail-in return option.
Visit their website or contact customer service for detailed instructions.
How Do I Return an Item Purchased on Bloomingdales. Com?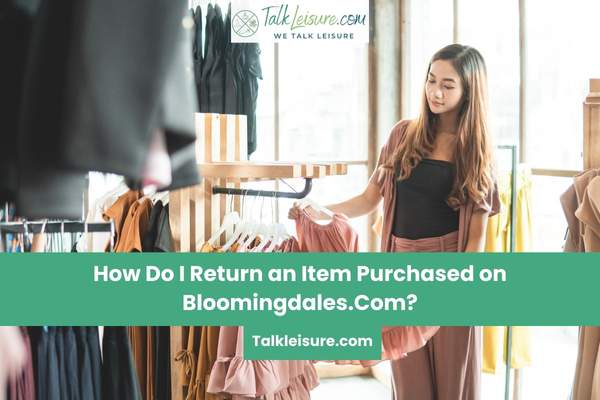 Returning an item purchased on Bloomingdales.com is a simple process.
First, make sure you have the original receipt or packing slip that came with your order.
This will help speed up the return process.
Sign in to your Bloomingdale's account OR enter your order number on the Easy Returns page.
Click the "Return Items" button, fill out the form, then verify and submit your return.
Print out the confirmation page and shipping return label(s).
Include the confirmation page inside the package along with the invoice. Affix the shipping label to the outside of the box (each label can be used for one return only)
Take the package to any UPS drop-off location.
How Do I Return an Item Purchased at a Bloomingdale's Store?
Returning an item purchased at a Bloomingdale's store is a straightforward process.
When you find yourself unsatisfied with a purchase or simply need to make a return, follow these steps:
Gather your receipt and make sure you have the item in its original condition, along with all the original tags and packaging.
Visit the Bloomingdale's store where you made your purchase. Locate the customer service desk, as they will assist you with your return.
Explain your situation to the staff at the customer service desk. They are trained to handle returns and will guide you through the process.
Provide them with your receipt, the item, and any additional information they may require. They may ask for your identification to ensure a smooth transaction.
Once the return is processed, you will typically receive a refund to your original payment method.
Keep in mind that the refund may take a few days to appear on your account statement, depending on your bank's processing time.
What Is Bloomingdale Exchange Policy?
Bloomingdale offers a generous exchange policy, allowing customers to exchange items within a specified time frame.
According It is crucial to review the precise instructions for each item because their duration may vary based on the type of goods purchased.
It is typically necessary for the goods to be in their original state, with all tags and packaging present, to qualify for an exchange. In addition, you might need proof of purchase, like a receipt.
How Do I Obtain a New Return Label for Returns and Exchanges?
The procedure is quick and simple if you need a fresh return label for a Bloomingdale's purchase.
Go to Bloomingdale's website and find the page for returns and exchanges You can print a fresh return label from a section on this page.
Simply click the link and follow the given instructions.
The customer service department of Bloomingdale is another option.
They will be more than happy to assist you in obtaining a new return label.
You can reach their customer service department by phone or email, and they are available during regular business hours.
Exceptions and Special Cases
What Types of Items Are Eligible for Return Under Bloomingdale's Return Policy?
While Bloomingdale strives to accommodate customers with easy returns, there are a few exceptions to their standard return policy.
Some items that fall under this category include final sale items, altered items, and personalized products.
Additionally, items identified as non-returnable during the purchase or labeled as such may not be eligible for return. 
What is Bloomingdale's Return Policy When You Don't Have a Receipt?
If you find yourself needing to return an item to Bloomingdales without a receipt, don't worry.
Bloomingdales has a solution for this situation.
They understand that sometimes you may misplace your receipt, and they want to ensure their customers have a positive shopping experience.
Customers who are unable to show a receipt have options at Bloomingdale.
They can find your transaction in their system and handle the return appropriately if you paid with a credit card, debit card, store account, or Bloomingdale card.
It is crucial to remember that returns without a receipt might only be accepted for the item's lowest selling price.
To initiate a return without a receipt, you can visit a Bloomingdale's store or contact their customer service.
They will guide you through the process and assist you in resolving any issues you may have.
What Is The Refund Process?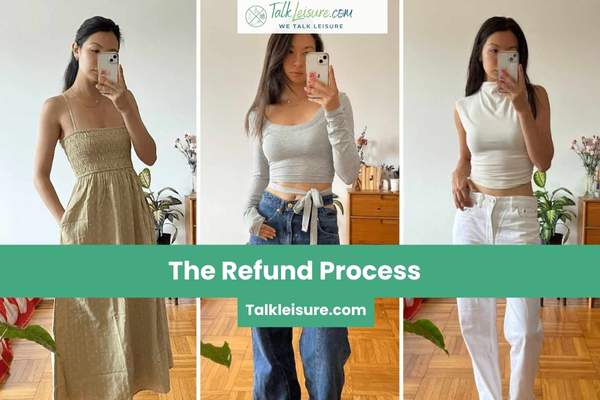 When it comes to returning items at Bloomingdale's, it's important to familiarize yourself with their refund process.
Keep your original receipt for a smooth refund process at Bloomingdale's.
The company offers a 365-day return policy for most items, but check the specific policy for specific items.
The item must be in its original condition with all tags attached, and Bloomingdale's provides multiple return options, including in-store or mail.
The refund process begins once the item is received and inspected, and typically is issued in the same payment method used during the purchase.
Conclusion
Bloomingdale's provides a 365-day return window for most items, allowing customers to decide if they are satisfied.
If a receipt is misplaced, Bloomingdale's can assist with a return or exchange using alternate proof of purchase.
The store offers various return options, including in-store returns or mailing, but exceptions apply for final sale items, personalized merchandise, and certain categories like fine jewelry, beauty, and electronics.
Understanding the policy ensures a hassle-free shopping experience at Bloomingdale's.
FAQs
01.Can I Return an Item That Was On Sale Or Clearance?
Yes, you can return sale or clearance items as long as they are in their original condition and you have the original receipt, according to the official Bloomingdale website.
It's crucial to keep in mind that some exclusions can be applicable, so it's always a good idea to check the particular return policy for the item you bought.
So, if you find that the item you bought on sale or clearance doesn't quite fit or meet your expectations, don't worry!
You can easily return it and get a refund or exchange.
Keep your receipt, and make sure the item is still in its original condition.
02.Can I Return An Item That I Received As a Gift?
When you receive a gift and need to return it, you have a few options.
First, you can go to any Bloomingdale's store and make the return in person.
Just bring the item, along with the gift receipt or purchase information, and the friendly staff will assist you in processing the return.
If going to the store is not convenient for you, you can also return the gift through the mail.
Bloomingdale's provides a prepaid return label for online purchases, making the return process hassle-free.
Simply pack the item securely, attach the prepaid label, and drop it off at the nearest mail carrier.
03.Can I Use Bloomingdale's Store Credit at Other Stores?
Unfortunately, Bloomingdale's store credit can only be used at Bloomingdale's locations.
The store credit cannot be used at any other stores, whether they are affiliated with Bloomingdale's or not.
When you receive store credit from Bloomingdale's, it is specifically intended for use in their own stores.
This policy is in place to ensure that the credit is used within the brand and to maintain consistency in the shopping experience for their customers.
Happy Shopping!