Ahoy, tea aficionados and curious souls alike! If you're on the hunt for an exquisite afternoon filled with dainty sandwiches, delicate pastries, and, of course, a steaming cup of tea that's fancier than your neighbor's poodle at a dog show, you're in for a treat.
Pittsburgh, the Steel City, isn't just about steel and sports; it's also home to some splendid high tea spots that'll make your pinky finger twitch with excitement.
In this quest for the "Best High Tea in Pittsburgh," we're embarking on a journey through time and flavors. We'll be traversing through charming tea rooms, historic hotels, and cozy cafes.
Whether you're a seasoned tea connoisseur or a tea-tasting newbie, we promise to spill (the tea, not literally) all the details you need to know.
Get ready to indulge your inner fancy pants as we spill the tea on The Café at the Frick, The Inn on Negley, and many more hidden gems that'll make your taste buds do the tango.
So, loosen up those corsets and straighten those ties; it's time to dive into the delightful world of high tea in the heart of Pittsburgh! ☕🍰🌆
Meanwhile, if you are wondering about the best high tea in Philadelphia, you can read all about that in this article I have written.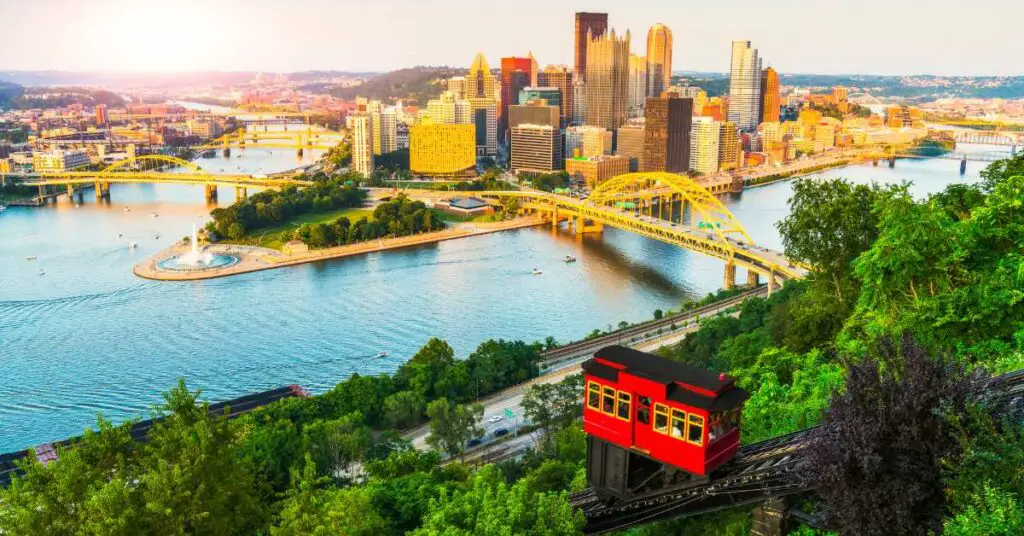 Our high tea adventure begins at The Café at the Frick, an enchanting escape nestled within the Frick Art & Historical Center.
Step into a world where elegance meets charm, surrounded by lush gardens and the historic ambiance of Clayton, the Frick family's former residence.
This delightful tea destination offers a refined menu featuring classic tea selections, freshly baked scones, and an array of finger sandwiches and pastries.
Whether you prefer the soothing notes of Earl Grey or the exotic allure of herbal infusions, The Café at the Frick caters to all tastes.
Join us as we uncover the secret behind The Café at the Frick's tea time magic, where history and hospitality blend seamlessly to create an unforgettable high tea experience.
Our next stop on the Pittsburgh high tea extravaganza takes us to The Inn on Negley, where Victorian elegance reigns supreme.
Nestled in a beautifully restored 19th-century mansion, this hidden gem offers a high tea experience fit for royalty.
Picture yourself sipping tea in opulent parlors adorned with antique furnishings, stained glass windows, and intricate woodwork.
The Inn on Negley's tea menu is a masterpiece, featuring a curated selection of teas, delectable pastries, and savory treats.
This charming inn seamlessly marries history and haute cuisine, making it a top choice for tea enthusiasts seeking a taste of the past with a touch of modern luxury.
Join us as we uncover the timeless allure of The Inn on Negley's high tea offerings.
The Johnston House – Tea Tales from the Heart of Lawrenceville
In the heart of Lawrenceville, where creativity flows like the Allegheny River, you'll find The Johnston House – a delightful haven for tea enthusiasts. This quaint tea spot is an ode to comfort and community.
The Johnston House is a reflection of Lawrenceville's artistic spirit, featuring local artwork and a cozy, inviting atmosphere.
Here, you can expect a tea menu that's as eclectic as the neighborhood itself, offering a wide range of loose-leaf teas and delightful accompaniments.
Join us as we explore the artistic charm and diverse flavors that The Johnston House brings to Pittsburgh's high tea scene.
It's where the magic of tea blends seamlessly with the creativity of Lawrenceville, leaving you with a truly unique experience.
Meanwhile, if you are wondering about the best high tea in Ottawa, you can read all about that in this article I have written.
Prepare to be transported to a bygone era of opulence and refinement as we step into the Omni William Penn Hotel, a true Pittsburgh icon.
This historic gem has been hosting lavish high tea affairs for generations.
Within the elegant walls of the Palm Court, adorned with crystal chandeliers and gilded décor, you'll experience high tea like never before.
The Omni William Penn offers an extensive tea selection, complemented by an array of delectable pastries, sandwiches, and, of course, clotted cream.
Join us as we delve into the grandeur and timeless charm of the Omni William Penn Hotel, where every cup of tea tells a story of Pittsburgh's illustrious past.
It's a high tea experience that whispers of history and indulgence in every sip.
Prepare your taste buds for a sugary symphony as we step into The Butterwood Bake Consortium, a whimsical paradise for those with a sweet tooth.
Located in Lawrenceville, this bakery and tea spot redefine high tea with a dash of playfulness.
The Butterwood's tea menu boasts a variety of specialty blends, and the real magic lies in their decadent desserts.
Picture colorful macarons, velvety cakes, and artisanal pastries that pair perfectly with your chosen brew.
Join us as we unravel the sugary secrets of The Butterwood Bake Consortium, where high tea becomes a delightful dance of flavors and an absolute must for those with a penchant for the sweeter side of life.
Nestled in the heart of Pittsburgh's Shadyside neighborhood, Adda Coffee and Tea House offers a refreshing departure from traditional high tea settings.
This cozy, hip spot combines the warmth of a coffee shop with the charm of a tea house.
Adda's tea selection is a fusion of global flavors, featuring both classic and exotic brews. Whether you're a tea purist or an adventurous sipper, there's a perfect blend for you.
Join us as we explore the inviting ambiance and unique tea offerings at Adda Coffee and Tea House, where the modern tea culture of Pittsburgh meets a laid-back, community-driven atmosphere. It's high tea with a twist!
Fabled Table – Where Tea Meets Culinary Artistry
Fabled Table, located in the charming neighborhood of Squirrel Hill, is a hidden gem that transforms tea time into a culinary masterpiece.
This elegant eatery goes beyond the traditional, offering a high tea experience that tantalizes the taste buds.
At Fabled Table, you'll discover an eclectic tea menu paired with an array of mouthwatering dishes. Each course is thoughtfully crafted, from the savory bites to the sweet finales, making it a haven for food enthusiasts.
Join us as we delve into the artistry of Fabled Table, where tea becomes a canvas for culinary creativity, promising an extraordinarily high tea adventure in the heart of Pittsburgh.
Our journey takes an adventurous twist as we venture into Dobra Tea and Té Café, where tea is not just a beverage but a passport to global flavors.
Situated in Pittsburgh's bustling South Side, this dynamic duo of tea destinations promises an expedition for your taste buds.
Dobra Tea specializes in rare and artisanal teas from around the world. Meanwhile, Té Café offers a fusion of tea and coffee, complemented by a delectable menu of sandwiches and sweets.
Join us as we embark on a global tea adventure, discovering the unique charm and diverse flavors of Dobra Tea and Té Café.
It's a sip-by-sip exploration that promises a world of tea delights right here in Pittsburgh.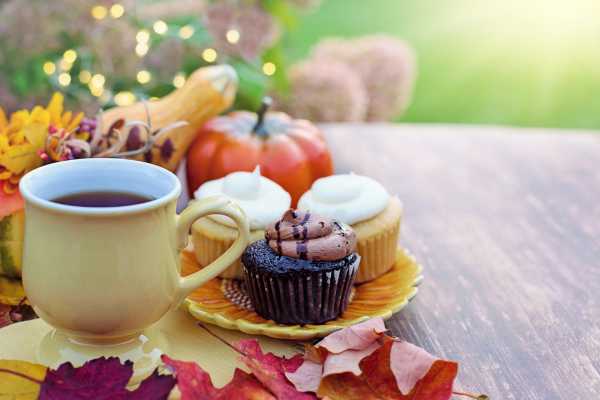 Nestled in a historic Victorian mansion in Penn Hills, Flowers in the Attic offers high tea with a delightful vintage twist.
This enchanting tea room takes you back in time with its elegant décor and Victorian-era ambiance.
The tea menu at Flowers in the Attic is a treasure trove of classic and exotic blends, served alongside a delectable array of tea sandwiches, scones, and desserts.
It's a true step into the past, where tea is steeped in tradition and refined hospitality.
Join us as we uncover the timeless charm of Flowers in the Attic, where high tea is a delightful journey through history and a must-visit for those seeking a touch of nostalgia in their tea experience.
The Steeping Leaf – Where Tea and Wellness Harmonize
In the heart of Pittsburgh's vibrant cultural district, The Steeping Leaf offers a unique high tea experience that harmonizes tea with wellness.
This tea haven focuses on the holistic benefits of tea while indulging your taste buds.
The Steeping Leaf's menu boasts a curated selection of herbal and wellness teas that cater to a spectrum of health-conscious tea enthusiasts. Pair your cup with their nourishing light bites and you've got a rejuvenating tea time experience.
Join us as we explore The Steeping Leaf, where high tea transcends tradition and transforms into a soothing, wellness-focused ritual, perfect for those looking to nourish both body and spirit.
In Pittsburgh's bustling East Liberty neighborhood, Bantha Tea Bar invites tea lovers to embark on an intergalactic journey. This Star Wars-themed tea haven offers a tea experience that's out of this world.
Step into Bantha Tea Bar and you'll find yourself surrounded by Jedi decor and a menu inspired by the Star Wars universe.
From Yoda's Jasmine Pearls to Darth Chai-der, the tea selection is an homage to the beloved franchise.
Join us as we dive into the immersive and whimsical world of Bantha Tea Bar, where high tea meets lightsabers and Wookiee-approved brews. It's an experience that's sure to awaken the Force within every tea-loving Padawan.
Kimpton Hotel – Urban Elegance and Tea Bliss
Our high tea journey leads us to the Kimpton Hotel, where urban elegance meets the timeless tradition of tea.
Situated in the heart of Pittsburgh's vibrant downtown, this luxurious hotel offers a high tea experience that's a true feast for the senses.
Within the chic confines of the Kimpton Hotel, you'll discover a tea menu that blends classic favorites with contemporary twists. The setting is a perfect fusion of modern sophistication and timeless charm.
Join us as we explore the elegant ambiance and exquisite tea offerings at the Kimpton Hotel, where high tea becomes a delightful escape in the heart of the city, promising a taste of luxury and indulgence.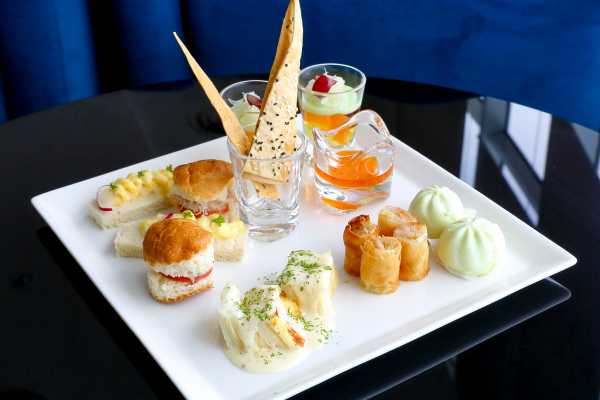 Our final stop on this high tea adventure takes us to the Fairmont Pittsburgh, where tea is served with a side of breathtaking cityscape views.
Perched in the heart of downtown Pittsburgh, this luxury hotel offers an elevated tea experience like no other.
The Fairmont's tea menu boasts a selection of premium teas, accompanied by an array of delectable treats that are as pleasing to the eye as they are to the palate.
But what sets this venue apart is the panoramic view of the city skyline that accompanies your tea.
Join us as we savor the elegance and sophistication of Fairmont Pittsburgh's high tea, where every cup is elevated by the stunning urban vistas that surround you, creating a memorable tea experience that's truly unparalleled.
Frequently Asked Questions
Where did people eat high tea?
Historically, high tea was enjoyed primarily in the United Kingdom, especially in England and Scotland. It was typically served in the late afternoon or early evening in homes, hotels, and tearooms.
Today, high tea has gained popularity worldwide, with tea rooms, hotels, and restaurants in various countries offering their own unique high tea experiences, each with its own cultural flair and culinary twists.
What are the 3 main foods served at an Afternoon Tea?
The three main foods typically served at an Afternoon Tea are:
Finger Sandwiches: These bite-sized sandwiches feature various fillings like cucumber and cream cheese, smoked salmon, egg salad, and ham with mustard. They are often served with the crusts removed and cut into elegant shapes.
Scones: Scones, usually plain or fruit-flavored, are served with clotted cream and jam. They are a quintessential part of the tea experience.
Pastries and Cakes: Assorted pastries, cakes, and desserts like petit fours, tarts, and macarons provide a sweet finish to the tea service.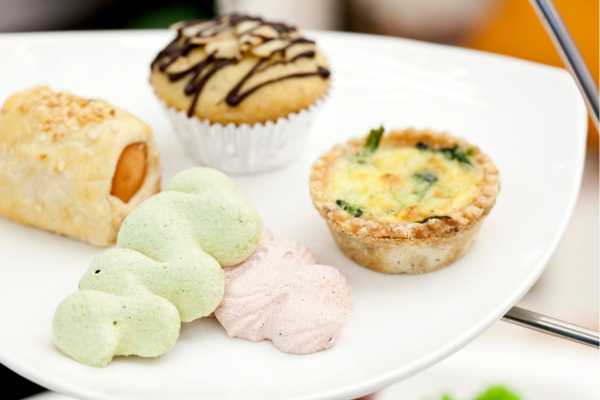 How many sandwiches per person for high tea?
The number of sandwiches served per person during high tea can vary depending on the establishment and the specific menu. However, a common guideline is to serve 3 to 4 finger sandwiches per person.
This allows for a variety of flavors and ensures that guests have enough to enjoy during the high tea experience. Of course, individual preferences and appetites may also influence the quantity served.
Is A High Tea a buffet?
High tea can be served in different styles, and whether it is a buffet or a seated service depends on the establishment and the specific event.
Traditional high tea is typically a seated, multi-course affair with tiered serving trays. However, some modern variations or large-scale events may offer a buffet-style high tea, where guests can help themselves to a selection of sandwiches, pastries, and other treats.
What do ladies wear to afternoon tea?
Ladies attending afternoon tea often choose to wear smart-casual or semi-formal attire. This typically includes dresses, skirts, or slacks paired with blouses or tops. Many opt for elegant or whimsical hats, gloves, and accessories to add a touch of sophistication.
While there is no strict dress code for afternoon tea, dressing neatly and stylishly is a common practice to enhance the overall tea experience and ambiance.