Hey there, fellow food enthusiasts and tea-time adventurers! If there's one thing that can turn an ordinary afternoon into an extraordinary experience, it's sinking your teeth into delicate pastries and sipping aromatic teas at the finest high tea buffets in Singapore.
So, buckle up, because we're about to embark on a culinary journey that will tickle your taste buds and transport you to a world of luxurious indulgence.
Singapore isn't just a melting pot of cultures; it's also a hotspot for exceptional gastronomy. And when it comes to high tea buffets, this city knows how to throw a sophisticated spread that makes your inner foodie do a little happy dance.
From dainty finger sandwiches to artisanal cakes that are almost too pretty to eat (almost!), we've scoured the Lion City to present you with the crème de la crème of high tea experiences.
So, whether you're a scone aficionado or a macaron maven, get ready to discover the best high tea buffet spots that will have you raising your pinky finger in approval and your taste buds begging for an encore.
Meanwhile, if you are wondering about the best affordable high tea in London, you can read all about that in this article I have written.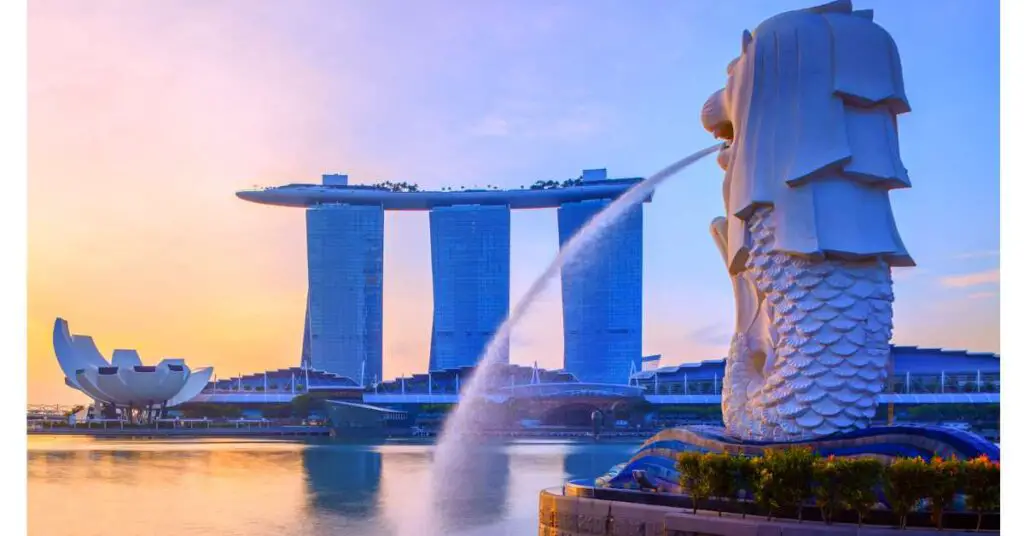 The first stop on our high tea extravaganza is none other than Colony at The Ritz-Carlton. Prepare to be whisked away to a lavish garden setting that's straight out of a fairytale.
This place doesn't just offer tea; it offers a journey through Singapore's rich culinary heritage.
Picture vintage charm meeting modern opulence as you relish a buffet featuring delectable local and international delights. From freshly baked scones to an array of dim sum, this is a feast fit for royalty.
And let's not forget the pièce de résistance—a dessert spread that's a masterpiece of sweet artistry. The colony isn't just a high tea; it's a culinary symphony that'll leave you humming with delight.
Next up, we're diving into the elegant world of The Lobby Lounge at the Shangri-La Hotel. Imagine being enveloped in an atmosphere of refined luxury, where plush seating and live music set the stage for a high tea experience like no other. This isn't just a snack; it's a gastronomic affair that caters to both traditional and modern palates.
Delight in an assortment of delicate sandwiches, artisanal pastries, and an impressive tea selection that could give a sommelier a run for their money. With impeccable service and a view that's as soothing as the tea itself, The Lobby Lounge raises the high tea bar to new heights.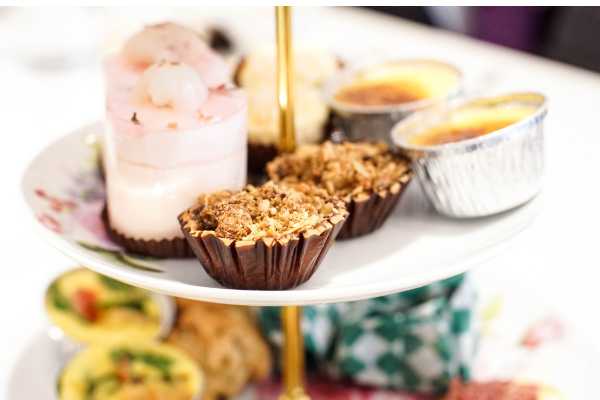 Ahoy, tea enthusiasts! Get ready to anchor your cravings at The Landing Point in The Fullerton Bay Hotel. Set against the picturesque Marina Bay waterfront, this high tea haven merges old-world charm with contemporary elegance.
Indulge in a symphony of flavors as you graze on a spread that caters to every craving. From classic cucumber sandwiches to innovative sweet treats, The Landing Point knows how to tantalize taste buds.
But it's not just the food that's a feast for the eyes; the stunning view of Singapore's skyline adds an extra layer of magic to this already enchanting experience.
Meanwhile, if you are wondering about the best high tea in Edinburgh, you can read all about that in this article I have written.
Elevate your high tea escapade to the skies at Skai at Swissotel The Stamford. Perched on the 70th floor, this dining spot offers more than just breathtaking city views; it's a culinary journey with a modern twist.
Prepare for a symphony of innovative flavors and artful presentations that redefine high tea elegance. The menu here is a fusion of contemporary cuisine and timeless favorites, a blend that perfectly matches the sleek and stylish ambiance.
If you're a fan of surprises and creative combinations, Skai's high tea will take you on a gustatory adventure that leaves you both delighted and amazed.
Sinpopo Brand Restaurant
Hold onto your taste buds, because Sinpopo Brand Restaurant is about to take you on a high tea journey down memory lane. Nestled in the heart of Katong, this charming spot is a tribute to Singapore's culinary heritage.
Their high tea isn't just a meal; it's a nostalgic experience that celebrates traditional flavors and local favorites.
Think kueh (traditional cakes), kaya (coconut jam) toast, and an array of local-inspired treats that tell a delicious story of the past.
It's like stepping into a time capsule of flavors, where every bite is a reminder of the rich culinary tapestry that makes Singapore so unique.
Bonjour, tea aficionados! Prepare to be transported to the chic Parisian world of Angelina at Marina Bay Sands. This is not just a high tea; it's a rendezvous with elegance and refined indulgence.
Angelina's classic charm comes to life as you savor exquisite pastries, delicate sandwiches, and, of course, their famous velvety hot chocolate. The sophisticated ambiance and attention to detail make it a perfect spot to channel your inner Audrey Hepburn.
Whether you're sharing delightful conversation or simply people-watching, Angelina's high tea captures the essence of a leisurely afternoon on the Champs-Élysées, right in the heart of Singapore.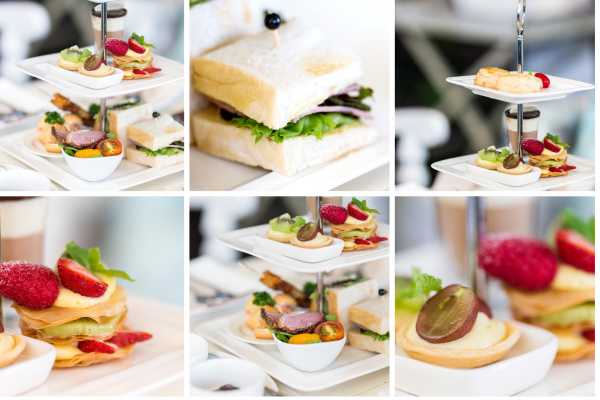 Get ready to embark on a high tea adventure that's steeped in Peranakan flavors at National Kitchen by Violet Oon. Nestled in the lush environs of the National Gallery of Singapore, this gem offers a unique twist on the traditional high tea experience.
Indulge in an array of tantalizing Nyonya delicacies, from savory kueh pie tee to sweet ondeh ondeh. The rich blend of spices and ingredients tells a story of Singapore's cultural heritage, and the elegant setting adds a touch of grandeur to your culinary journey.
If you're seeking a high tea with a local soul, National Kitchen won't disappoint.
Meanwhile, if you are wondering about the best high tea in Vancouver BC, you can read all about that in this article I have written.
Satisfy your high tea cravings with a touch of botanical charm at Ginger.Lily in Hilton Singapore Orchard. This hidden oasis invites you to unwind amidst lush greenery and modern elegance.
The high tea spread is a fusion of delectable bites and creative flavors, offering a perfect balance between savory and sweet. From delicate finger sandwiches to imaginative pastries, each bite is a delightful surprise.
Whether you're indulging in quality time with friends or seeking a peaceful solo retreat, Ginger.Lily's tranquil atmosphere and culinary delights make it a must-visit for those looking to infuse their day with a hint of serenity and exquisite taste.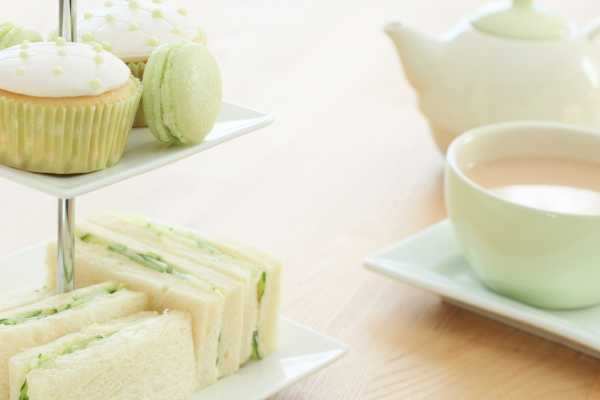 Step into a world of refined luxury and culinary artistry at the Lobby Lounge in Singapore Marriott Tang Plaza Hotel. This high tea destination boasts an atmosphere of timeless elegance, where plush seating and attentive service set the stage for an exceptional experience.
Indulge in a medley of delicate sandwiches, freshly baked scones, and an assortment of delectable desserts that are nothing short of masterpieces.
With an extensive tea selection and a touch of opulence in every detail, the Lobby Lounge promises a high tea affair that's both indulgent and unforgettable. Get ready to savor every moment of sophistication.
Prepare to be transported back in time to the colonial era at The Grand Lobby in Raffles Hotel Singapore. This iconic establishment has been graced by the likes of literary giants and royalty, and its high tea continues to uphold its legendary reputation.
The opulent setting, complete with ceiling fans and vintage furnishings, is the backdrop for an exquisite high tea experience. Delight in an array of classic English treats, including scones, finger sandwiches, and an impressive selection of teas.
As you bask in the historic ambiance, you're not just enjoying tea; you're becoming part of a living legacy of luxury.
The Lobby Lounge at InterContinental Singapore
Step into a world of contemporary elegance at The Lobby Lounge in InterContinental Singapore. This high tea destination seamlessly blends modern aesthetics with timeless indulgence.
The ambiance is sophisticated yet inviting, setting the stage for a culinary experience that's both comforting and luxurious.
Indulge in a medley of flavors, from classic scones to innovative pastries that reflect the vibrant Singaporean palate.
With an emphasis on quality ingredients and artful presentation, the Lobby Lounge crafts a high tea that's as pleasing to the eyes as it is to the taste buds. It's a testament to how tradition and innovation can harmoniously coexist.
Tea Lounge, Regent Singapore
Last but certainly not least, we venture to the Tea Lounge at Regent Singapore, where high tea is elevated to an art form. This elegant haven caters to the connoisseurs of fine flavors, offering an extensive selection of premium teas that will leave you spoiled for choice.
The ambiance exudes understated luxury, making it a perfect setting for indulging in an array of delicate pastries, finger sandwiches, and gourmet bites. Every detail is thoughtfully curated, from the exquisite china to the impeccable service.
At Tea Lounge, high tea isn't just a meal; it's a sensory journey that envelops you in a world of taste, texture, and sophistication.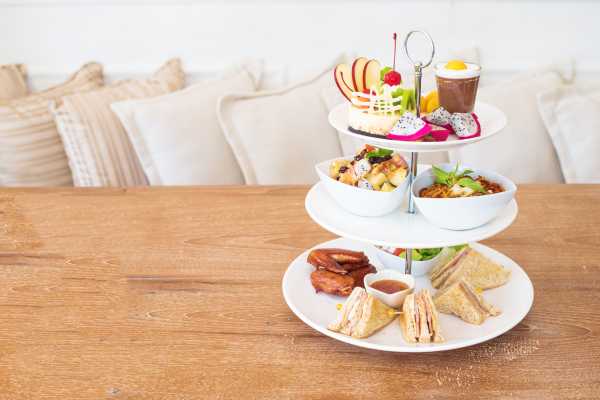 Frequently Asked Questions
What is Sri Lanka's number one tea?
Sri Lanka's number one tea is Ceylon Tea. Renowned for its distinctive flavor and aroma, Ceylon Tea is cultivated across the island's tea plantations, with variations like black, green, and white teas. The country's climate and altitude contribute to the tea's unique characteristics, making it a globally acclaimed choice for tea enthusiasts.
Is high tea for the rich?
High tea's perception as an exclusive indulgence has evolved. While it was historically associated with the affluent, today's high tea offerings cater to various budgets. From upscale hotels to quaint cafes, options are diverse, making high tea accessible to a wider audience, regardless of their financial status.
Who goes to high tea?
High tea appeals to a diverse crowd. It's favored by those seeking elegant experiences, tourists exploring local cuisine, friends enjoying leisurely chats, couples on romantic outings, and families celebrating special occasions. Its blend of culinary delights and social interaction makes it a charming choice for various occasions and preferences.
How much do you tip for high tea?
Tipping for high tea typically follows general etiquette guidelines. In Singapore, it's customary to leave a gratuity of around 10-15% of the total bill, depending on the quality of service. However, always check the establishment's policies, as some might include a service charge in the bill, which affects the tipping amount.
How much do you tip a rude waiter?
Even when faced with rudeness, it's generally recommended to maintain a level of respect and professionalism. While you may be tempted to tip less or not at all, consider the broader context. If service is unsatisfactory, a smaller tip (around 5-10%) can convey your dissatisfaction while remaining civil.