Hey there, tea aficionados and fine-dining adventurers! If you're on a quest for the crème de la crème of high tea experiences in Portland, Oregon, you've stepped into the right place.
Get ready to embark on a delightful journey through the city's teatime treasures.
Portland may be known for its craft beer and artisanal coffee, but tucked away in the city's charming corners are some hidden gems that'll make your pinky finger rise with pleasure. Whether you're a seasoned tea connoisseur or a newbie looking to sip sophistication, we've got you covered.
In this tea-tastic guide, we'll spill the tea on the Victorian Belle Mansion's elegant ambiance, Emperor Georgiou's Tea Room's regal treats, and the Clockwork Rose Tea Emporium's whimsical wonders.
But wait, there's more! We'll also explore unique spots like Dobra Tea and Té Café, where serenity meets flavors, and the Wildwood Cottage Tea Room, a cozy escape into a bygone era.
Stay steeped, my friends. We're about to uncover Portland's most exquisite high tea experiences, one sip at a time! So, grab your fanciest hat and prepare for a tea-riffic adventure. Let's dive in!
Meanwhile, if you are wondering about the best high tea in Pittsburgh, you can read all about that in this article I have written.
Prepare to step back in time at the Victorian Belle Mansion, an enchanting venue that's a high tea dream come true. This historic gem, nestled amidst lush gardens, exudes timeless elegance.
As you enter this splendid estate, you'll be greeted by the aroma of freshly steeped tea and the soft strains of classical music. The mansion's ornate decor and antique furnishings transport you to a bygone era.
Their high tea experience is a treat for all your senses. Savor delicate finger sandwiches, exquisite pastries, and a curated selection of teas that will make your taste buds dance with delight.
Whether you're celebrating a special occasion or simply indulging in a luxurious afternoon, the Victorian Belle Mansion promises an unforgettable journey into the refined world of high tea.
So, take a seat in their charming tearoom and let the indulgence begin!
Get ready to be treated like royalty at Emperor Georgiou's Tea Room, a Portland gem fit for a monarch's palate. This tea haven seamlessly blends tradition and luxury, creating an ambiance that whispers opulence.
Upon entering, you'll be transported to a palace-like setting, complete with regal decor and attentive service.
The menu boasts an array of teas, each brewed to perfection. From classic Earl Grey to exotic blends, you'll find your cup of tea here.
Indulge in their tiered trays laden with delectable sandwiches, scones, and sweets. The attention to detail in each bite is fit for an emperor or empress.
Emperor Georgiou's Tea Room is a true testament to Portland's love for sophistication and the art of tea. Prepare to elevate your tea experience to regal heights!
Dobra Tea and Té Café: Serenity in Every Sip
For those seeking a zen-like tea experience, look no further than Dobra Tea and Té Café. These sister tea houses in Portland are havens of tranquility where tea is not just a beverage but a spiritual journey.
Dobra Tea takes you on a global tea adventure, offering an extensive menu of teas from around the world, served in traditional teapots. The ambiance is Bohemian and peaceful, ideal for soul-searching sips.
Té Café, on the other hand, embraces a minimalist Japanese aesthetic. Here, you'll find matcha and other Japanese teas prepared with utmost precision and grace.
Both establishments prioritize the tea ceremony, and their knowledgeable staff will guide you through the art of tea appreciation.
Whether you're in the mood for chai or a delicate oolong, Dobra Tea and Té Café are serene sanctuaries for tea lovers seeking mindfulness in each cup.
Meanwhile, if you are wondering about the best high tea in Philadelphia, you can read all about that in this article I have written.
Transport yourself to the charm of a bygone era at the Wildwood Cottage Tea Room, a delightful oasis nestled in the heart of Portland. This cozy haven beckons with its quaint, rustic ambiance.
As you step inside, the scent of freshly baked scones and brewed tea will envelop you in warmth. The Wildwood Cottage Tea Room is like a page out of a fairytale, with its floral wallpapers, lace curtains, and vintage teapots.
Their menu features classic high tea fare with a twist, including savory quiches and mouthwatering desserts.
It's a place where time slows down, allowing you to savor both the flavors and the ambiance.
For those seeking a taste of nostalgia and a truly charming tea experience, the Wildwood Cottage Tea Room is the perfect choice. It's a place where moments are cherished, and the magic of tea is celebrated.
Prepare to embark on a whimsical journey into the fantastical world of Clockwork Rose Tea Emporium, where tea meets steampunk enchantment. This eccentric gem in Portland's tea scene offers an experience like no other.
Stepping through the doors is like entering a Victorian inventor's dream. Brass gears and cogs adorn the walls, while teapots with a touch of time-travel flair grace each table.
Their tea selection is equally imaginative, with blends inspired by the fantastical. Try the "Steam Engine Chai" or "Aetheric Alchemy," and you'll be transported to a world where tea and innovation collide.
Indulge in a feast of culinary inventions, including savory delights and sweet treats that could rival any mad scientist's creation.
Clockwork Rose Tea Emporium promises not just a tea experience but a journey through time and imagination, making it a must-visit for those craving a dash of whimsy with their cuppa.
Pix Pâtisserie: Tea and Temptation
Pix Pâtisserie in Portland offers a high tea experience that's a tantalizing fusion of French elegance and Pacific Northwest charm. This sophisticated pastry paradise is a must-visit for those with a sweet tooth and a penchant for luxury.
As you enter Pix Pâtisserie, the display of exquisite pastries and desserts is nothing short of breathtaking. Each treat is a work of art, tempting you with its vibrant colors and delicate designs.
Their high tea menu features a curated selection of teas paired with an array of delectable French pastries and savory bites. From macarons to éclairs, the desserts here are pure indulgence.
Pix Pâtisserie elevates the concept of high tea to a delightful crescendo of flavors and aesthetics. It's a place where tea is not just a beverage but an exquisite dance of taste and texture. Prepare to be seduced by the sweet side of high tea in Portland.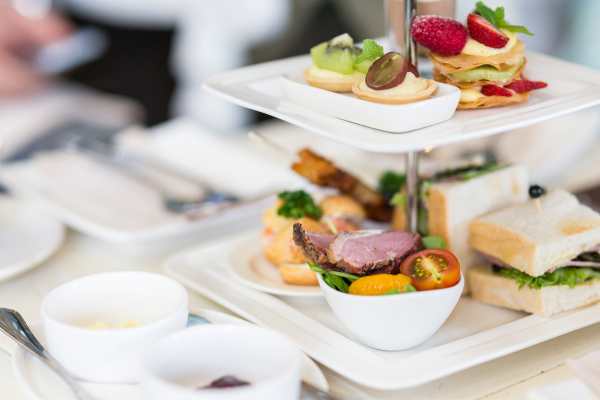 Escape the urban hustle and bustle and find serenity at Lan Su Chinese Garden, where the art of tea is beautifully intertwined with the tranquility of nature. This hidden oasis in Portland is a true gem for tea enthusiasts.
Nestled within the garden's lush greenery, the Teahouse offers an authentic Chinese tea experience.
The traditional ambiance, complete with bamboo furniture and delicate porcelain teapots, sets the stage for an exquisite tea ceremony.
Choose from a selection of premium Chinese teas, such as oolong or jasmine, and let the skilled tea masters guide you through the art of steeping.
Sip your tea while gazing at the peaceful koi-filled lake and fragrant blossoms.
Lan Su Chinese Garden is a place where tea becomes a form of meditation, and the beauty of nature adds to the experience.
It's a perfect spot to immerse yourself in the rich history and flavors of Chinese tea culture while surrounded by the soothing embrace of the garden.
Abigail Hall: Hip and Historic Tea Vibes
Abigail Hall, situated within the historic Jupiter Next Hotel, is the epitome of Portland's unique blend of vintage charm and modern flair.
This trendy spot infuses high tea with a dash of hipster coolness.
The atmosphere here is a delightful fusion of old and new, boasting mid-century modern furniture alongside classic teapots and teacups.
It's the kind of place where you can sip tea while appreciating the latest in design.
Their high tea menu is a refreshing twist on tradition, with inventive tea-infused cocktails and artisanal treats that celebrate local flavors.
Think lavender-infused scones and honey from nearby hives.
Abigail Hall is not just a tea room; it's a reflection of Portland's evolving culinary scene.
If you're looking for a high tea experience with a side of contemporary style, this is the spot to be. So, come for the tea, stay for the chic vibes!
For a dose of classic elegance in your high tea experience, Gracie's at Hotel DeLuxe is the place to be. This historic Portland establishment exudes timeless charm and sophistication.
As you step into Gracie's, you'll be greeted by a warm and inviting ambiance reminiscent of a bygone era. Crystal chandeliers, white linen, and fine china set the stage for a truly refined tea affair.
Their tea menu offers a curated selection of classic blends, including Earl Grey and Darjeeling, served with precision and grace.
The tiered trays are laden with delicate sandwiches, scones, and pastries crafted to perfection.
Hotel DeLuxe – Gracie's is a haven for those seeking a taste of old-world luxury in the heart of Portland.
It's where tradition meets opulence, making it the perfect setting for an indulgent afternoon tea. Prepare to be transported to a world of refinement and decadence.
Elka Bee's Coffee Haus may have "coffee" in the name, but don't let that fool you – this quaint Portland spot has an incredible tea selection that'll warm your heart.
Tucked away in a charming corner, it's a cozy retreat for tea lovers seeking comfort and community.
The ambiance is like stepping into a friend's living room, with plush couches and mismatched vintage chairs. It's an ideal setting for intimate tea gatherings or a solo tea contemplation session.
Their tea menu is a delightful surprise, featuring an assortment of loose-leaf teas from around the world. From soothing herbal blends to robust black teas, there's something for every palate.
Elka Bee's Coffee Haus offers a genuine, down-to-earth tea experience that feels like a warm hug on a chilly Portland day.
So, whether you're seeking respite from the rain or just a friendly chat over a cup of tea, Elka Bee's is your home away from home.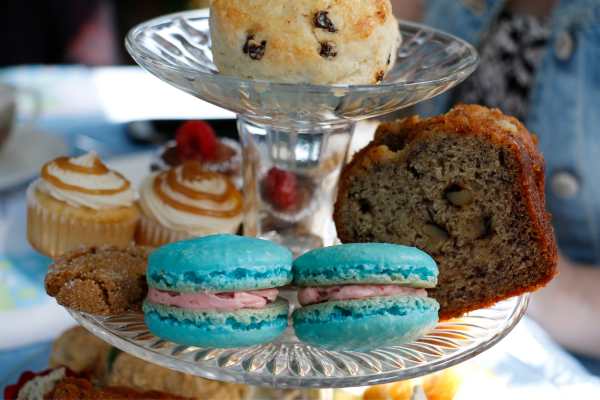 Tea's Me: A Hidden Gem in Portland's Eastside
Nestled in the heart of Portland's Eastside, Tea's Me is a hidden gem waiting to be discovered by tea enthusiasts.
This charming, family-owned tea shop boasts a cozy and unpretentious atmosphere that's a refreshing departure from the bustling city.
Upon entering, you'll be greeted by the warm aroma of loose-leaf teas sourced from around the globe.
The knowledgeable staff at Tea's Me are passionate about sharing their love for tea, guiding you through their impressive selection.
Their high tea experience is a delightful fusion of tradition and innovation, with a menu that showcases both classic and inventive tea blends. Savor the harmonious blend of flavors in their tea-infused dishes and pastries.
Tea's Me is a testament to Portland's diverse tea culture, offering a welcoming space for tea aficionados and newcomers alike. If you're in search of a genuine, heartfelt tea experience, this hidden gem is your destination on the East Side. Come for the tea, stay for the warmth and hospitality.
Frequently Asked Questions
What type of person would eat high tea?
High tea appeals to a diverse range of individuals who appreciate refinement and leisure. It attracts those seeking a sophisticated social outing, tourists exploring local culture, and enthusiasts of fine dining.
High tea can be enjoyed by couples, friends, families, and solo travelers, making it a versatile experience for anyone looking to indulge in a blend of culinary delights and tradition.
What alcohol to serve at high tea?
Traditionally, high tea is not known for alcohol service, as it focuses on tea, sandwiches, scones, and pastries. However, some modern variations may offer sparkling wine, champagne, or even tea-based cocktails like Earl Grey martinis or gin infused with botanicals to complement the tea flavors.
The choice of alcoholic beverages depends on the establishment and the theme of the high tea.
How many sandwiches per person for afternoon tea?
Typically, a serving of afternoon tea includes 3 to 4 finger sandwiches per person. These sandwiches are often small and delicate, with various fillings like cucumber, smoked salmon, egg salad, and ham.
However, the exact number can vary depending on the menu and the appetite of the guests. It's essential to offer a variety of flavors to cater to different preferences.