Hey there, fellow tea enthusiasts and wanderers of taste! Today, we embark on an exquisite journey through the enchanting hills of San Francisco, where delightful aromas and dainty bites await.
Get ready to experience the crème de la crème of high tea in this quirky and picturesque city!
Picture yourself nestled in the heart of San Francisco, where tea time is not just a ritual but an art form. From chic boutiques to opulent hotels, this city has something to offer to all tea lovers out there.
Whether you're a traditionalist seeking classic elegance or an adventurer in search of contemporary twists, we've got you covered.
Now, let's leave our mundane worries at the door, for the world of tiered trays, delicate china, and scrumptious scones beckons us. Follow along as we unravel the top spots where San Francisco masters the art of high tea.
So, loosen up that tea cozy and grab a napkin, because this is going to be one charming and flavorful ride!
Let's tea-riffic-ally explore the best high teas in San Francisco! ☕️🍰
Meanwhile, if you are wondering about best high tea in NYC, you can read all about that in this article I have written.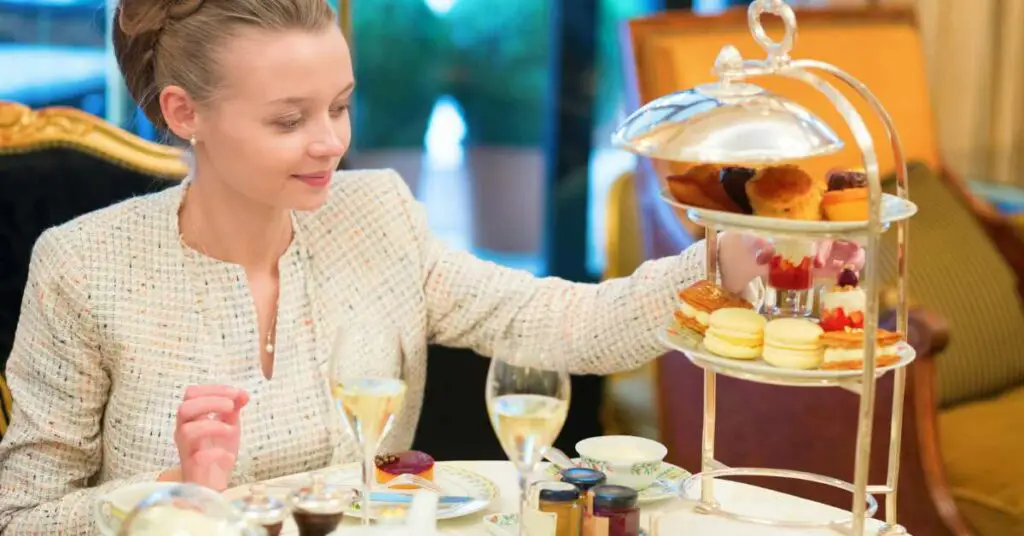 Maison Danel
Nestled in the heart of Hayes Valley, Maison Danel is a Parisian gem that exudes elegance with every sip. Their high tea transports you to the charming streets of France, where macarons and pastries are works of art.
Indulge in their delicate finger sandwiches, while savoring the rich flavors of their carefully selected teas. C'est magnifique!
The Garden Court at the Palace
Step into a world of grandeur at The Garden Court, nestled within the iconic Palace Hotel. With its breathtaking glass dome and ornate architecture, this place screams opulence.
The high tea here is a delightful fusion of traditional and modern, featuring both classic scones and innovative savory bites. Sip your tea like royalty in this enchanting setting.
Meanwhile, if you are wondering about best high tea in Los Angeles, you can read all about that in this article I have written.
The Rotunda at Neiman Marcus
Shopping and high tea, anyone? The Rotunda at Neiman Marcus offers an unparalleled combination of retail therapy and tea time.
Overlooking Union Square, their high tea features delectable treats like smoked salmon canapés and petit fours. As you raise your cup, you'll find yourself immersed in a world of sophistication and taste.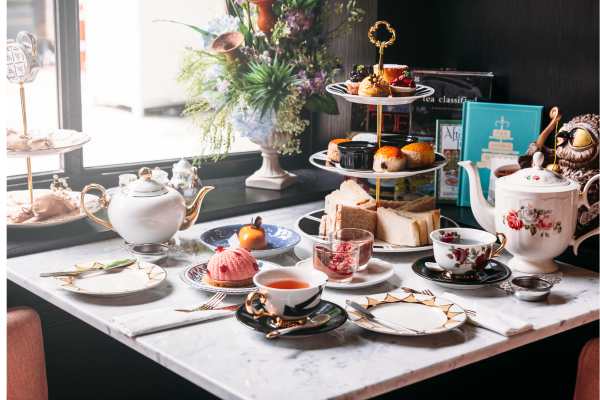 Crown & Crumpet Tea Stop Café
For those seeking a whimsical tea experience, Crown & Crumpet is a must-visit. This cheerful café in Ghirardelli Square is filled with vintage teapots and English charm.
Their high tea showcases a delightful array of sandwiches and sweets that will make you feel like you've wandered into a storybook.
Son & Garden
In the heart of Chinatown, Son & Garden brings a unique Asian twist to the traditional high tea.
Their fusion of delicate Chinese teas and delectable dim sum creations will leave your taste buds dancing with joy. Prepare to be enchanted by this unexpected gem.
Sip Tea Room
Step into Sip Tea Room, a hidden oasis in the bustling city. Tucked away in the Inner Sunset, this cozy spot offers an impressive selection of teas from around the world.
Their high tea is a celebration of global flavors, featuring delectable bites that cater to every palate.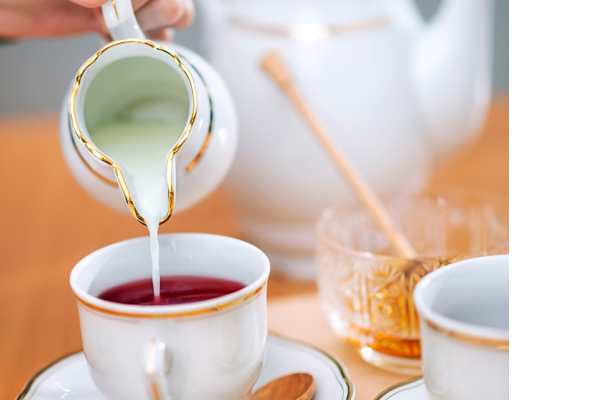 Lovejoy's Tea Room
Lovejoy's captures the essence of a quintessential English tea room right in Noe Valley. With its mismatched teacups and floral wallpaper, it's like stepping into a time machine.
Their high tea boasts traditional favorites, hearty soups, and delectable sweets that will make you feel like you're visiting your grandma's house.
Meanwhile, if you are wondering about best high tea in London, you can read all about that in this article I have written.
Dartealing Lounge
Hip and trendy, Dartealing Lounge in the Mission District reinvents the high tea experience. Expect a vibrant atmosphere with contemporary décor and bold flavors.
From matcha-infused treats to inventive tea blends, this place caters to the adventurous tea connoisseur.
Japanese Tea Garden
Escape the city buzz and find tranquility in the Japanese Tea Garden in Golden Gate Park. Immerse yourself in a serene setting surrounded by lush greenery and elegant pagodas.
While not a traditional high tea spot, it offers an authentic Japanese tea ceremony experience that's a true delight for the senses.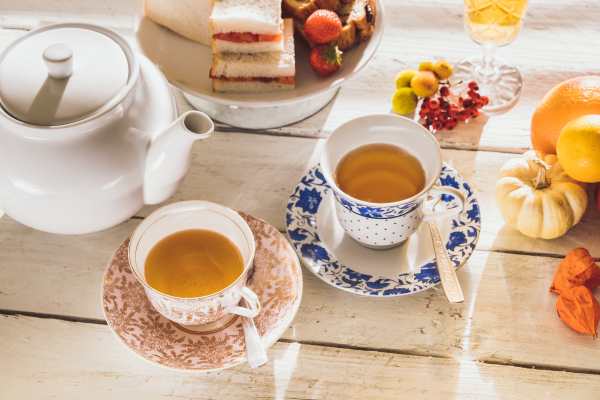 The Ritz-Carlton San Francisco
Last but certainly not least, The Ritz-Carlton takes high tea to the pinnacle of luxury. This Nob Hill establishment offers a refined and polished experience that leaves no detail unattended.
Prepare to be pampered with an indulgent high tea service that will create cherished memories for a lifetime.
Laurel Court Restaurant & Bar at the Fairmont
If you seek an indulgent high tea in a luxurious setting, look no further than Laurel Court Restaurant & Bar at the Fairmont. Nestled within the historic Fairmont San Francisco, this elegant spot offers a refined and upscale tea affair.
Enjoy a splendid selection of teas paired with gourmet delicacies, all while surrounded by the hotel's timeless beauty. This is high tea taken to new heights, creating memories fit for royalty.
Meanwhile, if you are wondering about best high tea in Jacksonville FL, you can read all about that in this article I have written.
Pardee Home Museum
For a high tea experience with a touch of history, the Pardee Home Museum in Oakland is a hidden treasure. Step into the Victorian era as you explore this beautifully preserved mansion.
During select dates, the museum offers high tea events, where you can relish delectable treats while surrounded by period charm. Sip your tea amidst vintage décor and imagine yourself in the elegant world of the Pardee family.
The Palace Hotel San Francisco
Located in the heart of San Francisco, The Palace Hotel is a timeless landmark that has been enchanting guests for decades. The hotel's high tea service is a grand affair, set in the breathtaking Garden Court with its awe-inspiring glass dome.
Feast on an assortment of finger sandwiches, scones, and delicate pastries while soaking in the opulence of this historic setting. This high tea at The Palace Hotel promises an experience of true sophistication and classic luxury.
Malaya Tea Room
Step into the enchanting world of Malaya Tea Room, where the flavors of Malaysia come to life in San Francisco. This charming spot offers a unique twist to the traditional high tea experience, showcasing the rich and aromatic teas of Malaysia.
Indulge in delectable treats like curry puffs, kaya toast, and Nasi Lemak, all perfectly paired with their exquisite tea selections. Get ready for a tea journey that will transport you to the vibrant streets of Malaysia.
Meanwhile, if you are wondering about best high tea in NYC, you can read all about that in this article I have written.
Stonemill Matcha
For matcha lovers seeking an authentic experience, Stonemill Matcha is a haven of green tea bliss. Located in the Mission District, this Japanese-inspired tea room offers premium matcha from Kyoto, Japan.
From traditional matcha ceremonies to innovative matcha-infused creations, this spot caters to every matcha enthusiast's dream. Savor the depth of flavor and health benefits in every cup of meticulously prepared matcha.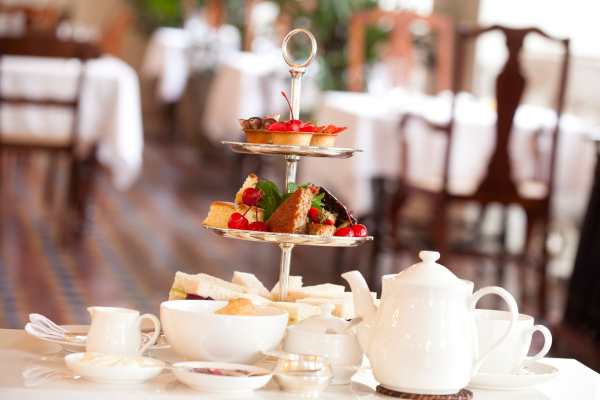 Frequently Asked Questions
What is the best tea to serve at high tea?
The best teas to serve at high tea are a classic English Breakfast tea, a fragrant Earl Grey, a soothing Chamomile, a refreshing Green tea, and a delicate Darjeeling. These selections offer a delightful range of flavors to complement the assortment of sweet and savory treats typically served during high tea.
What is a royal high tea?
A royal high tea is an extravagant and formal tea service that includes an extensive selection of premium teas, along with an assortment of lavish treats like gourmet sandwiches, fine pastries, and exquisite cakes. It is a grand affair, typically held in elegant settings and reflects a sense of opulence fit for royalty.
What is the difference between tea and high tea?
Tea and high tea are two distinct traditions. Tea generally refers to a light afternoon meal featuring tea, sandwiches, scones, and sweets, served on low tables.
High tea, on the other hand, is a heartier evening meal with stronger dishes like meat, fish, and vegetables, served on higher tables, and accompanied by tea.
Which tea is more expensive?
Generally, specialty and rare teas, such as certain types of rare oolongs, aged pu-erhs, and exclusive white teas, tend to be more expensive compared to common teas like black, green, or herbal varieties. Additionally, teas sourced from specific regions with unique processing methods can also command higher prices.